One Comment
2019 Ultimate Colorado Beer Events Calendar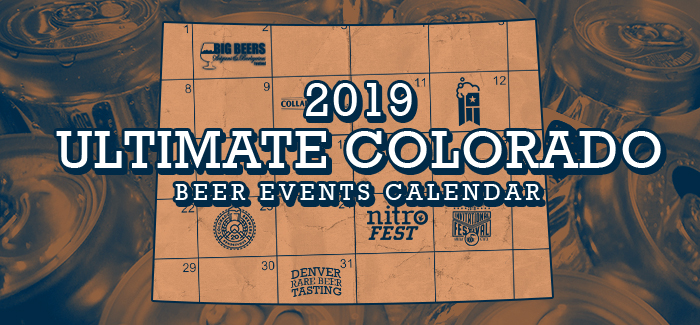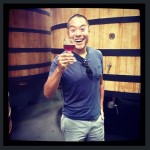 The state of Colorado currently holds the distinction as the state with 3rd most breweries in the country as well as the 5th most breweries per capita. Statistics aside, the Centennial State has quickly grown to become one of the best states for craft beer propelled by friendly legislation, a great foundation for industry growth established by legacy brands, and a population that's literally thirsty for new brands and innovative approaches to a centuries-old craft.
Colorado beer fans have plenty to look forward to each and every year, from hyped releases, some of the country's best beer festivals, to neighborhood brewery anniversary parties. We've taken on the indelible task of previewing the massive year ahead by creating the 2019 Colorado Craft Beer Lover's Calendar.
We'll be updating this post throughout the year as more major events and event dates get announced so be sure to bookmark this page and check back often because you never know when another must-attend beer festival will get announced in our backyard.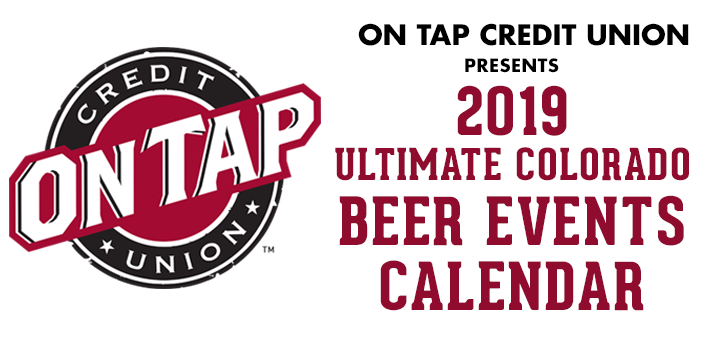 This post is brought to you by our friends at OnTap Credit Union, who have been crafting banking solutions for breweries, brewery employees and beer lovers for the past 64 years in Golden and Arvada.
Colorado's Can't-Miss Beer Events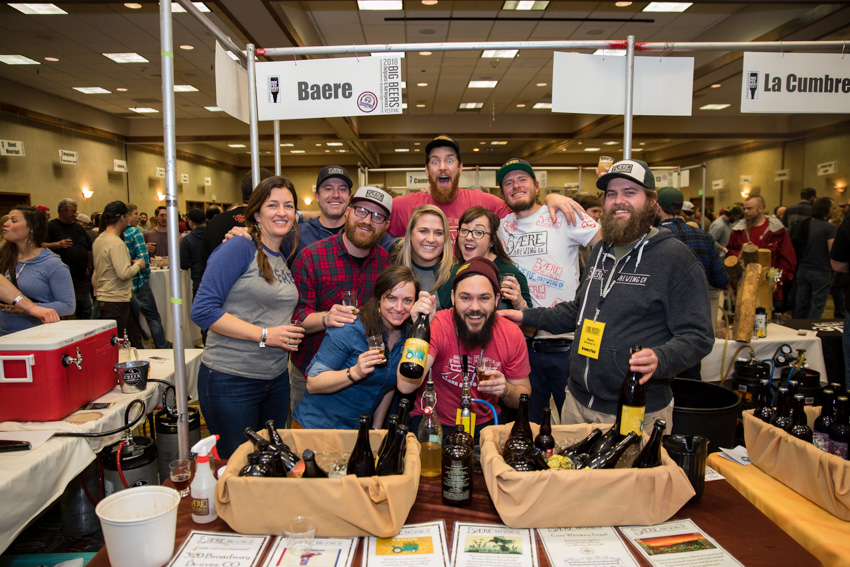 There's no better way to start the calendar year than with one of the country's best curated and thoughtfully executed beer festivals set to the backdrop of a world-class ski resort/mountain. Still one of the country's best kept secrets, Big Beers managers to assemble an all-star lineup of breweries for a full weekend of seminars, pairing events, panels, a homebrewer competition, and the main event, The Commercial Tasting.
---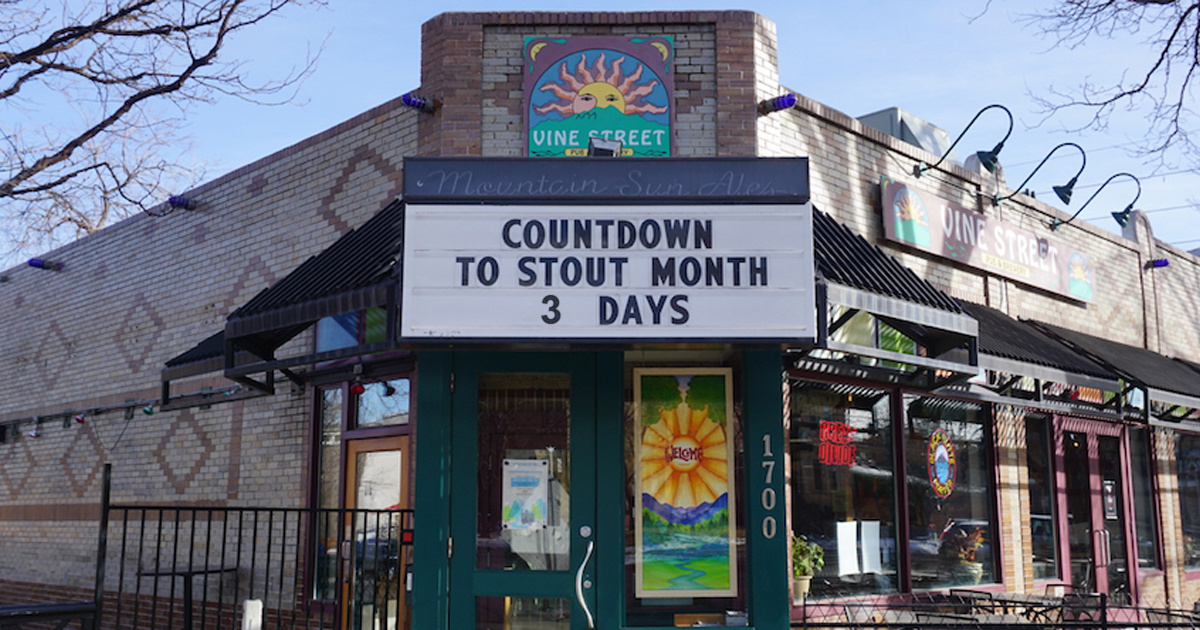 Mountain Sun Brewpubs Stout Month @ Mountain Sun Pubs – February 1-28, 2019
What began as a way to boost sales during the slowest month of the year has grown into one of the Front Range's most anticipated months for celebrating the dark and roasty diversity of Stouts. With brewpub locations in Boulder, Denver and Longmont, the Mountain Sun family dedicates almost the entirety of their draft lines at each location to a rotating lineup of in-house and guest Stouts that include everything from the adjunct Girl Scout cookie-inspired Stout to a more traditional Foreign Export Stout, to a variety of barrel-aged gems and rarities, all available throughout February.
---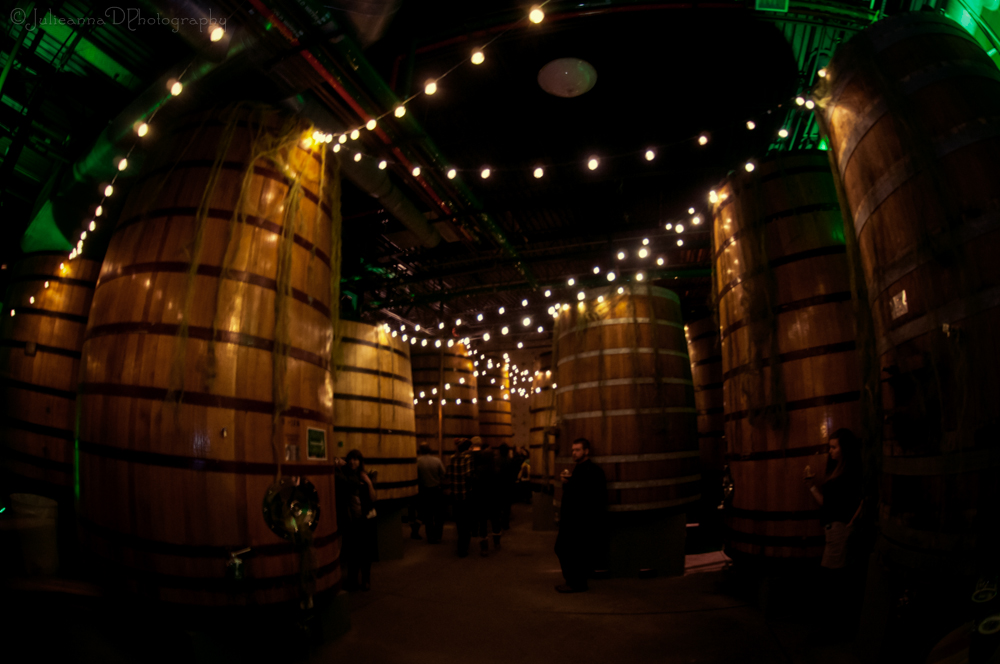 Perhaps one of the most unique beer events in the country, New Belgium Brewing's Lost in the Woods is part immersive art experience and part beer release party. Set in the iconic New Belgium Foeder Forrest, this party celebrates the release of La Folie and Transatlantique Kriek. Over the years installations have included massive fabricated owls, and moss-y mushroom covered barrels depending on the theme.
---
Bristol Firkin Rendezvous @ Bristol Brewing, Colorado Springs – February 16, 2019
I'll be the first to admit that many, including ourselves, don't really don't give Colorado Springs enough credit for its contributions to Colorado's craft beer scene, but the Bristol Firkin Rendezvous has become one of the state's stand-out events featuring only one-off experimental firkins, so you're guaranteed to try something new and exciting that you've most likely never experienced before.
---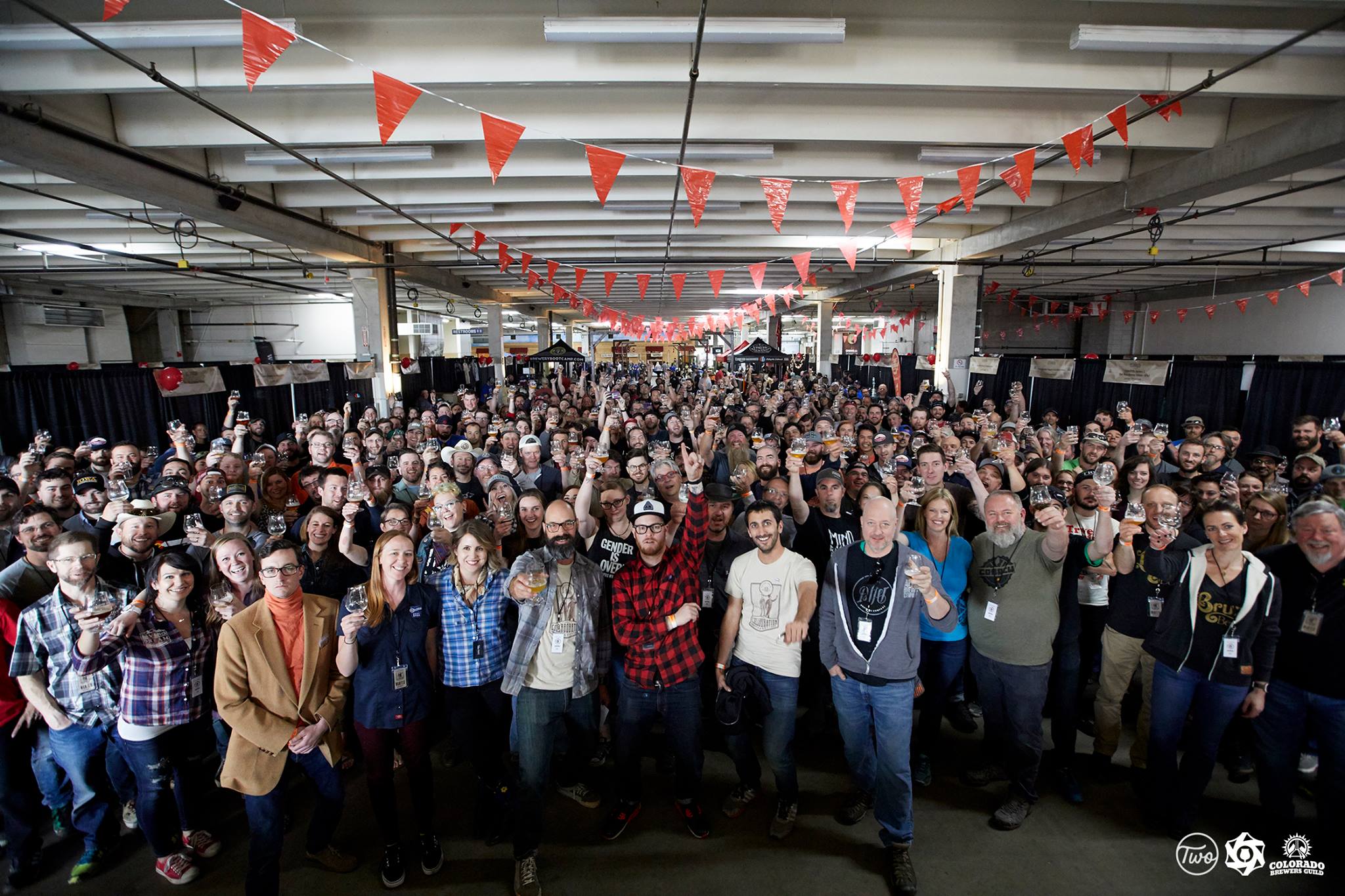 Collaboration Fest @ Hyatt Regency, Denver – March 16, 2019
There might be no better festival that captures the essence of what craft beer was founded upon than Denver's Collaboration Fest. Founded by booze-forward events company Two Parts alongside the Colorado Brewers Guild, Collaboration Fest allows breweries to team up to produce one-of-a-kind never before released beers through the spirit of community.
---
Craft Brewers Conference (CBC) @ Colorado Convention Center, Denver – April 8-11, 2019
Craft beer's largest industry facing professional development conference, which rotates to a different city each year, returns to Denver just 5 years since it last hosted, when the Brewers Association decided to move the conference from Indiana after Mike Pence signed the Religious Freedom Law in 2015 that allowed businesses the right to discriminate based on sexual orientation. Great move by the BA, and now Indiana's loss is Colorado's gain. While the conference itself is limited to industry members, all of the external events surrounding it is open to everyone, which means the city of Denver is about to see a whole lot of really top tier beer yet again. We've even heard rumors that a certain staple funk-focused festival might see a revival around this year's CBC.
---
It seems only appropriate that the country's first craft brewery to introduce canned craft beer for commercial distribution hosts a yearly celebration of the canned beer format. Over the years, Burning Can has evolved to include an exhibition of outdoor lifestyle programming, concerts and of course beer, with last year's event featuring over 70 participating breweries.
---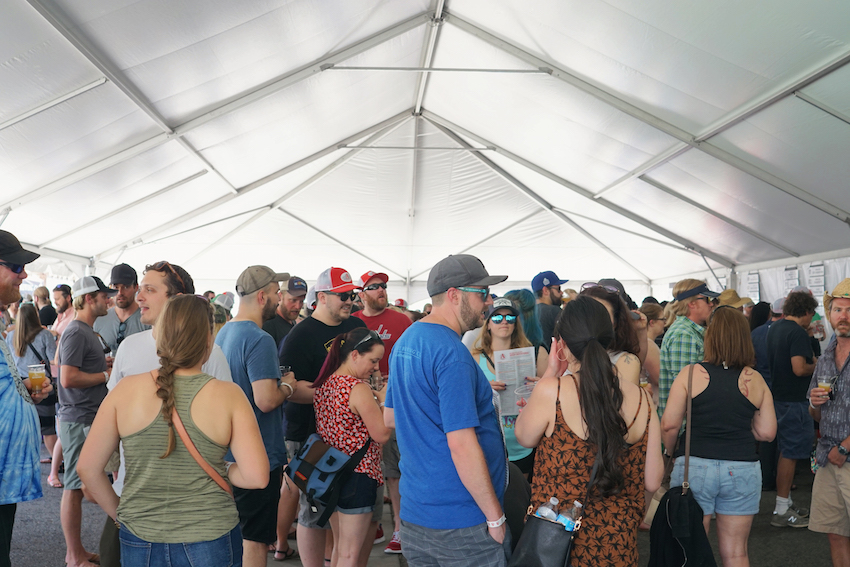 Over the years, Avery has earned a reputation for throwing top tier beer event, from their Sour Fest, to Strong Ale Fest, Avery dominated the niche festival game. However, recognizing that even the best events must be willing to reinvent and iterate, the Boulder-based brewery honed in on an Invitational Festival to celebrate their anniversary and bring together some of their favorite breweries from across the country. The newly created concept held up to the legacy set forth by its predecessors and we expect it to continue to grow and thrive in its second year.
---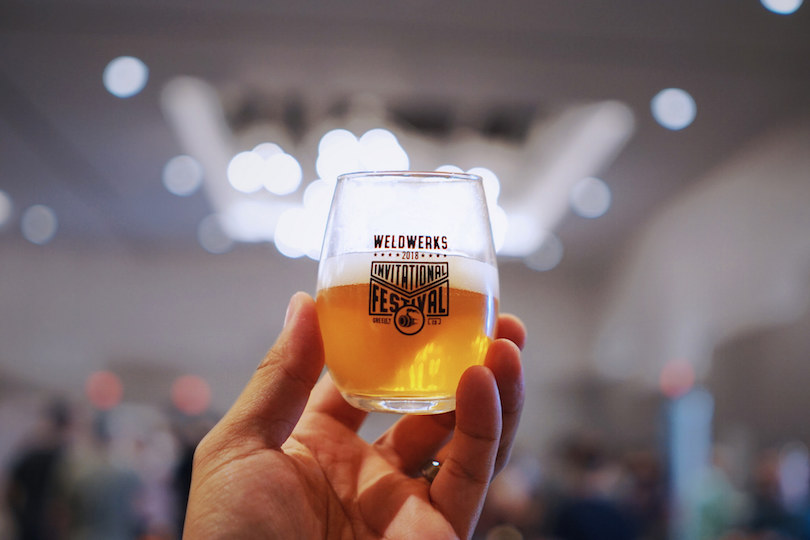 WeldWerks Invitational @ Doubletree by Hilton, Greeley – June 22, 2019
While we've already waxed poetic at great lengths about the impressive debut of last year's WeldWerks Invitational Festival, it certainly bears repeating. Not only was the Greeley-based brewery able to assemble a dream-team line-up of breweries but also convinced them to bring some of the best of the best in rarities and elite quality beer. In that debut, we're ready to pronounce the WeldWerks Invitational as one of the country's absolute can't miss events of 2019.
---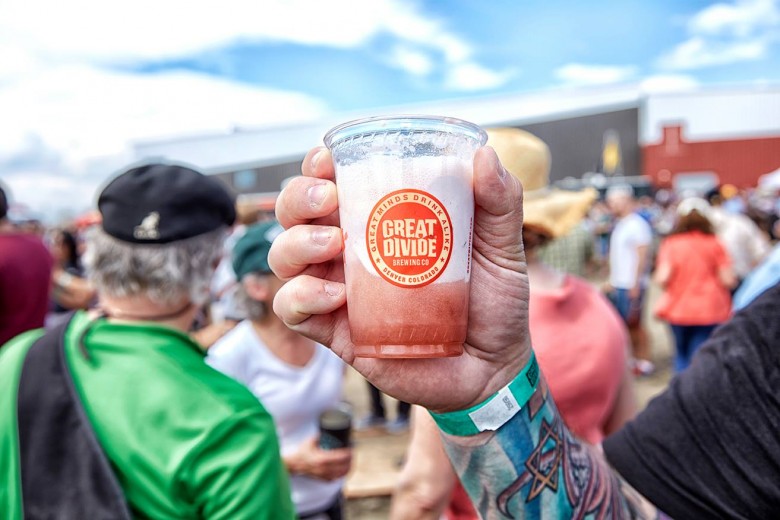 Great Divide's 25 Anniversary Party @ Great Divide Brewing, Denver – June 22, 2019
It'd be a tenuous task to try to list every single anniversary party from every single brewery in the state of Colorado but certain ones tend to stand tall above the rest, and after 25 years, Great Divide, one of the state's OGs has it pretty well figured out. For those die-hard fans who've lived in Denver since before the mass transplant pilgrimage, this year's party will serve as a welcome return to its humble beginnings, as the Great Divide Anniversary Party returns as a block party on Arapahoe St just like they did for so many years before.
---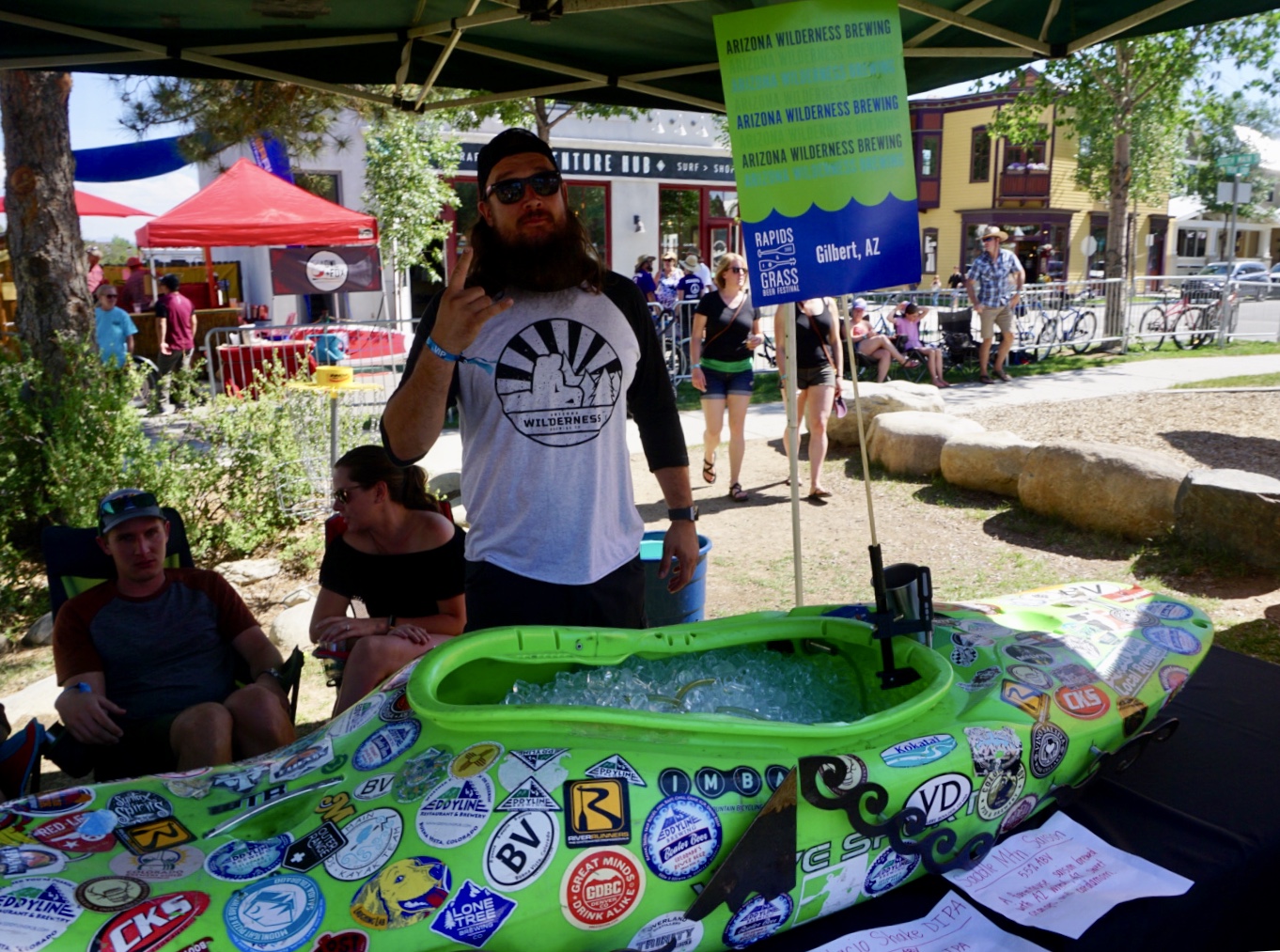 Rapids and Grass @ South Main, Buena Vista – June 28-30
When you live in a state surrounded by such immense beauty, you've got to get away from city life and reconnect with nature once in a while, luckily, you can do so while still experiencing high-quality beer. Sarah Haughey and Shane Stewart, founders of Buena Vista's The Jailhouse Beer Bar followed their dream to live surrounded by nature and now they bring the dream to intrepid beer fans set to the backdrop of the stunning collegiate peaks.
---
Colorado Brewers Rendezvous @ Riverside Park, Salida – July 13, 2019
Some festivals just feel like one giant industry reunion and the Colorado Brewer's Guild's Rendezvous which takes place in neighboring Salida captures that essence like none-other. Join Colorado Craft Beer's giant beer family in a weekend of camping and sharing great beers.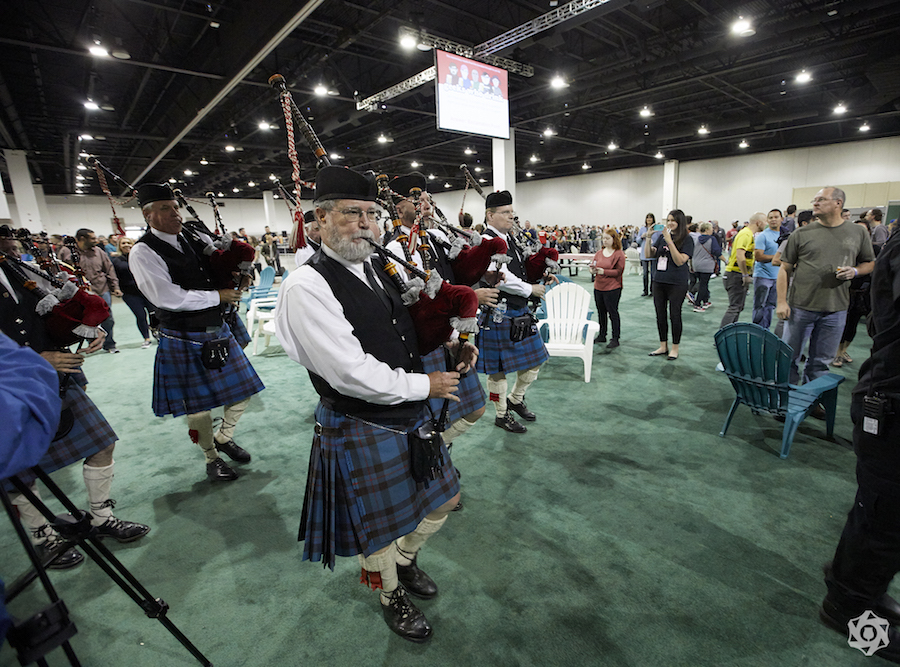 The world's second largest beer festival only to Oktoberfest happens to reside in the heart of the Centennial State, and while the event has grown far beyond the confines of the Colorado Convention Center to include a multitude of external tap takeovers, mini-festivals, pairings, and more, the four-session fest still continues to up its game and showcase some of the country's best of the best in craft beer. Now with over 800 breweries and nearly 4,000 beers, there's plenty of incredible beer to go around for all attendees.
---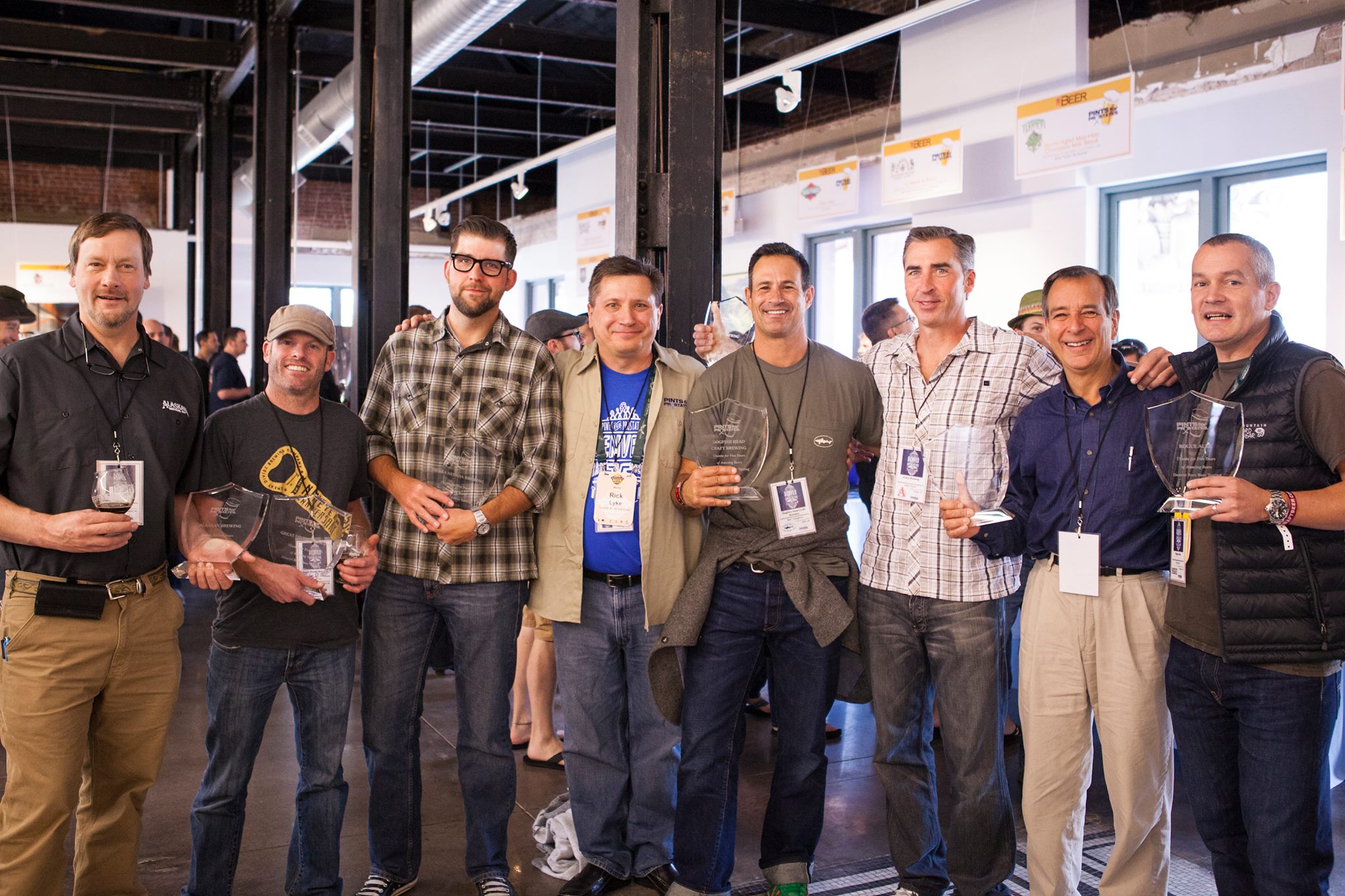 As we mentioned above, one of the best benefits of hosting GABF in Denver each year, is the excess of elite level events that surround the week. At the top of that list is the Denver Rare Beer Tasting, which features some of the country's best breweries pouring their best beers, many of which never actually appear at GABF. This benefit supporting Pints for Prostates has grown its own cult following and has become a yearly tradition the Friday afternoon of GABF week.
---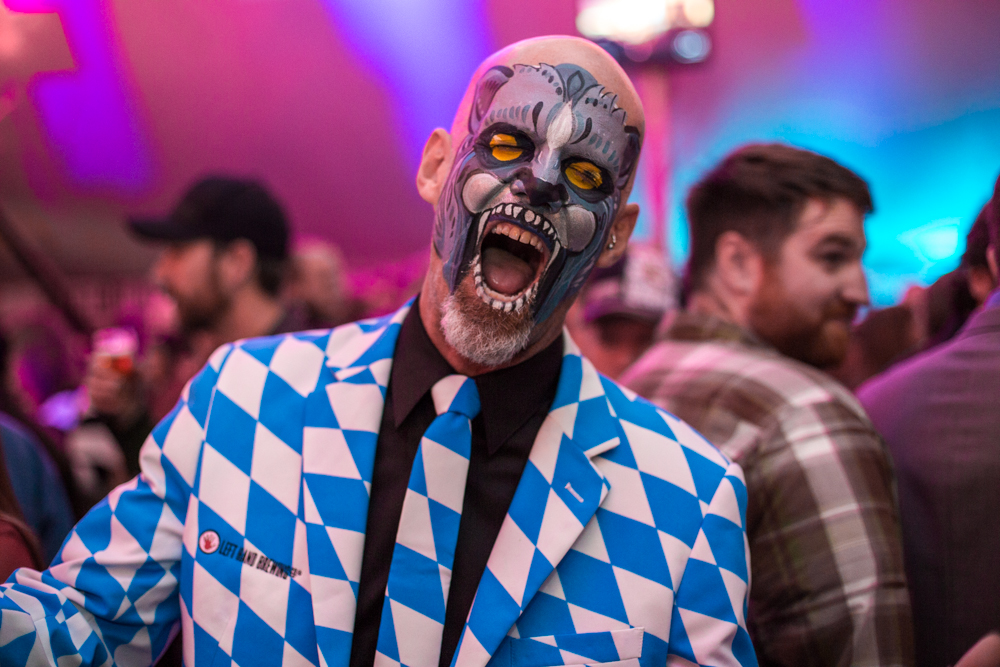 Left Hand Nitro Fest @ Armstrong Park, Longmont – November 9, 2019
Much like New Belgium's Lost in the Woods, Left Hand's Nitro Fest is just as much a visual spectacle as it is a showcase of incredible beer. Playing off of a circus theme, set under a massive tent, Nitro Fest encourages attendees to match the theme with ornate costumes and face painting. Not to mention wildly creative takes on nitrogenized beers from across the country as well as some international flavor in recent years.
---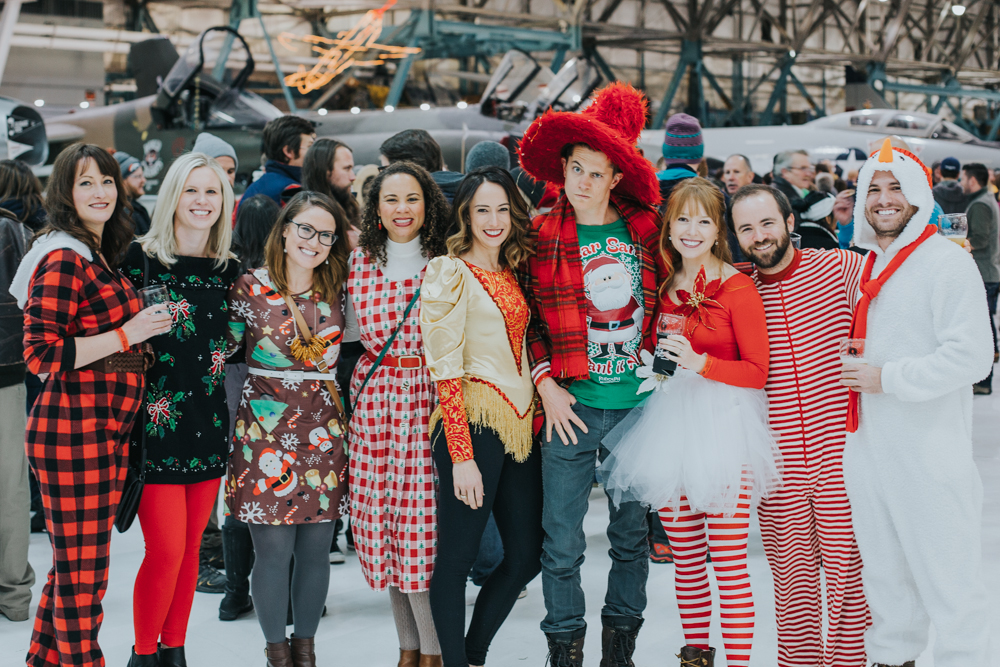 Another Two Parts original Denver Festivus began as one giant crunk fest playing off of the fictionalized Seinfeld holiday but has since grown to become a showcase of winter-y beers. This year's event included all of the Seinfeld inspired touches but has also grown to incorporate a maker's market, silent disco and luchador-style wrestling. This zany, beery celebration has evolved over the years to become the perfect way to cap off the year.
The Full 2019 Colorado Craft Beer Lovers' Calendar
Here are all the major beer festivals we know of in 2019. We'll add anniversaries as they are announced, and we tried to keep this list focused on major established beer festivals rather than include every beer release, tap takeover, or special tapping. Additionally, keep in mind, these are Colorado-centric events. Be sure to check back often as we'll be updating this throughout the year.
Once again, special thanks to On Tap Credit Union for sponsoring this post.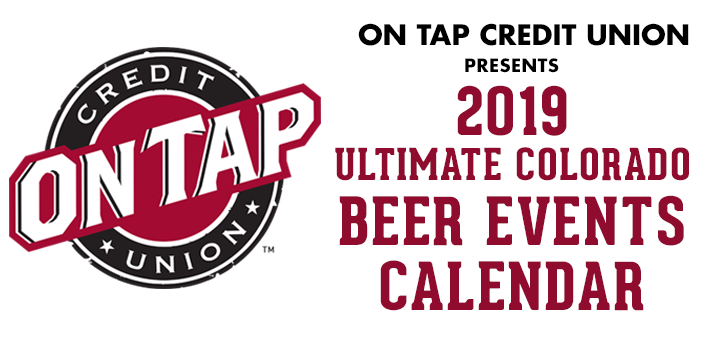 | Date | Beer Event | Location | | What kind of event? | Contact |
| --- | --- | --- | --- | --- | --- |
| January | | | | | |
| January 1, 2019 | New Years Day | | | | |
| January 10, 2019 | Crooked Stave's 8th Anniversary Celebration | Crooked Stave, Denver, CO | | | |
| January 11-13, 2019 | Big Beers Belgians and Barleywines | Beaver Run, Breckenridge, CO | | | |
| January 12, 2019 | 4th Annual Barrel-Aged Beer Festival | Lowdown Brewery, Denver, CO | | | |
| January 12, 2019 | Kokopelli's 5th Anniversary Party | Kokopelli Beer Company, Westminster, CO | | | |
| January 19, 2019 | Verboten's Inaugural Stout Fest | Verboten Brewing, Loveland, CO | | | |
| January 19, 2019 | Denver Beer Co's Beer, Bacon, and Coffee Fest | Denver Beer Co (Arvada) Arvada, CO | | | |
| January 19, 2019 | Estes Park Winterfest | Estes Park, CO | | | |
| January 19, 2019 | Cannonball Creek's 6th Anniversary Party | Cannonball Creek, Golden, CO | | | |
| January 19, 2019 | Stem Ciders' 5th Anniversary Party | Stem Ciders, Denver, CO | | | |
| January 25-26, 2019 | Winter Brewfest | Mile High Station, Denver, CO | | | |
| February | | | | | |
| February 1-28 | Stout Mouth | Mountain Sun Breweries | | | |
| February 8-10, 2019 | Ratio Beerworks Anniversary Weekend | Ratio Beerworks, Denver, CO | | | |
| February 9, 2019 | Wynkoop Brewing's Beer Drinker of the Year 2019 | Wynkoop Brewing, Denver, CO | | | |
| February 9, 2019 | New Belgium's Lost in the Woods | New Belgium Brewing, Fort Collins, CO | | | |
| February 9, 2019 | Harry Potter Inspired Beer Festival | The Church, Denver, CO | | | |
| February 14, 2019 | 7th Annual Firkin Fest at High Hops Brewery | High Hops Brewery, Windsor, CO | | | |
| February 15, 2019 | Factotum Brewhouse Four Year Anniversary | Factotum Brewhouse, Denver, CO | | | |
| February 16, 2019 | Bristol Firkin Rendezvous | Bristol Brewing, Colorado Springs, CO | | | |
| February 16, 2019 | River North Brewery 7th Anniversary Bash | River North Brewery, Denver, CO | | | |
| February 22-24, 2019 | Winter Wondergrass | Steamboat Springs, CO | | | |
| February 22, 2019 | Goldspot's 4th Anniversary Celebration | Denver, CO | | | |
| February 23, 2019 | 300 Suns Brewing 5th Anniversary Celebration | Longmont, CO | | | |
| March | | | | | |
| March 2, 2019 | Mile High Beer Festival | Denver, CO | | | |
| March 2, 2019 | 8th Annual Beer, Bacon, and Coffee Fest | Denver, CO | | | |
| March 2, 2019 | Winter Craft Beer Festival | Boulder, CO | | | |
| March 9, 2019 | Day of Dorks | Wynkoop Brewing, Denver, CO | | | |
| March 16 - 23, 2019 | Colorado Craft Beer Week | Colorado | | | |
| March 16, 2019 | Collaboration Fest | Hyatt Regency, Denver, CO | | | |
| March 22, 2019 | Brass Brewing 1st Anniversary Party | Brass Brewing, Colorado Springs, CO | | | |
| March 23, 2019 | The Big Reveal | Union Station, Denver, CO | | | |
| April | | | | | |
| April 6, 2019 | Breckenridge Spring Beer Festival | Breckenridge, CO | | | |
| April 7, 2019 | National Beer Day | Nation-wide | | | |
| April 8 - 11, 2019 | Craft Brewers Conference | Denver, CO | | | |
| April 13, 2019 | Barrel-Aged Beer and Whiskey Festival | Number 38, Denver, CO | | | |
| April 13, 2019 | Greeley Beer & Spirits Festival | Colorado Model Railroad Museum, Greeley, CO | | | |
| April 28, 2019 | SABROSO Craft Beer, Taco & Music Festival | Fiddler's Green, Greenwood Village, CO | | | |
| May | | | | | |
| May 11, 2019 | Bacon and Beer Classic | Broncos Stadium, Denver, CO | | | |
| May 13-18, 2019 | American Craft Beer Week | Nation-wide | | | |
| May 18, 2019 | Leftapalooza | Roosevelt Park, Longmont, CO | | | |
| TBA | Blues Brews and BBQs Festival | Beaver Creek, CO | | | |
| June | | | | | |
| June 1, 2019 | Highlands Ranch Beer Festival | Civic Green Park, Highlands Ranch, CO | | | |
| June 2, 2019 | Oskar Blues Burning Can | Lyons, CO | | | |
| June 8, 2019 | Avery Invitational & Anniversary Party | Avery Brewing, Boulder, CO | | | |
| June 8, 2019 | Lake Dillon Beer Fest | Dillon, CO | | | |
| June 15, 2019 | Hops & Harley | City Star Brewing, Berthoud, CO | | | |
| June 15, 2019 | Bristol Brewing 25th Anniversary Party | Colorado Springs, CO | | | |
| June 21, 2019 | Vail Craft Beer Classic – Sip At The Summit | Vail, CO | | | |
| June 22, 2019 | WeldWerks Invitational | Greeley, CO | | | |
| June 22, 2019 | Great Divide 25 Anniversary Party | Denver, CO | | | |
| June 30, 2019 | Rapids and Grass | Buena Vista, CO | | | |
| TBA | Rails & Ales | Alamosa, CO | | | |
| TBA | Snowmass Renedezvous | Snowmass Village, CO | | | |
| TBA | Colorado Brewer's Festival | Fort Collins, CO | | | |
| July | | | | | |
| July 4, 2019 | Independence Day | Nation-wide | | | |
| July 13, 2019 | Colorado Brewers Rendezvous | Salida, CO | | | |
| July 20, 2019 | Hooplagers IV! Urban beach bash meets Lager beer fest | Longmont, CO | | | |
| July 27, 2019 | Westy Craft Brew Fest | Westminster, CO | | | |
| TBA | Breckenridge Summer Beer Fest | Beaver Run, Breckenridge, CO | | | |
| TBA | GABF Tickets Go On Sale | Nation-wide | | | |
| August | | | | | |
| August 2, 2019 | International Beer Day | World-wide | | | |
| August 3, 2019 | Keystone Bluegrass & Beer Festival | Keystone, CO | | | |
| August 6, 2019 | IPA Day | Nation-wide | | | |
| TBA | Chef N Brew | Denver, CO | | | |
| TBA | Central City Brew Fest | Central City, CO | | | |
| TBA | Castle Rock Brew Fest Under the Stars | Castle Rock, CO | | | |
| TBA | Parker Brew Fest | Parker, CO | | | |
| TBA | Arvada Arts and Ales | Arvada, CO | | | |
| September | | | | | |
| TBA | Telluride Blues & Brews | Telluride, CO | | | |
| TBA | Lafayette Brew Fest | Lafayette, CO | | | |
| September 28-October 5, 2019 | Beer Flights | DIA, Denver, CO | | | |
| October | | | | | |
| October 3-5, 2019 | Great American Beer Festival | Denver, CO | | | |
| October 4, 2019 | Denver Rare Beer Tasting | McNichols Building, Denver, CO | | | |
| TBA | Falling Rock Fresh Hop Fest – Denver | Falling Rock Tap House, Denver, CO | | | |
| November | | | | | |
| November 9, 2019 | Left Hand Nitro Fest | Longmont, CO | | | |
| TBA | Wynkoop's Day of Darks | Wynkoop Brewing, Denver, CO | | | |
| TBA | All Colorado Beer Fest | Colorado Springs, CO | | | |
| December | | | | | |
| TBA | Denver Festivus | Denver, CO | | | |
| TBA | Bull & Bush's Christmas Beer Tasting | Bull & Bush Brewery, Denver, CO | | | |
---