No Comments
Oregon's Best Breweries and Beers by Region to Enjoy During COVID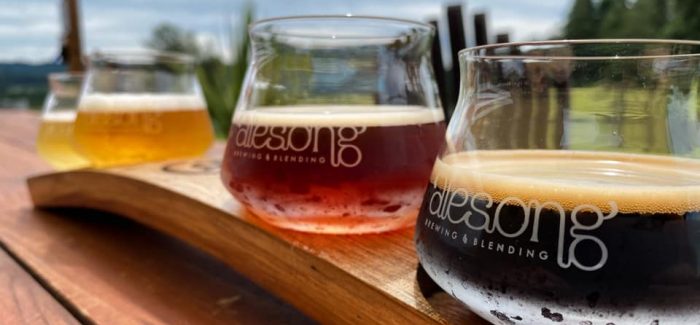 From the sea cliffs on the coast to the high plains desert in the east, Oregon beers bring a world of flavor and craftsmanship no matter where you're enjoying them. During the COVID-19 pandemic, we visited the websites of all 302 craft breweries in Oregon and built a database of over 2500 beers for sale. Then, we matched these beers with their reviewer rankings on Untapp'd to identify the very best beers and breweries in the state. We recently published the list of the top ten beers in Oregon. Here, we provide the top three beers and top five breweries in each of Oregon's eight regions, excluding the beers in our top ten list. Post-COVID, we hope you'll head out to support these local breweries. Until then, check brewery websites or call ahead to confirm availability and service hours. 
Central Oregon
Top Five Breweries
Home to almost 30 craft breweries, this adventure-seeking portion of the state hails Smith Rock State Park, the Deschutes river, the Cascade Lakes, and so much more. Whether you're taking a break from the rapids, trails, or pitches, make sure you check out the top-rated breweries in the area:
The Ale Apothecary (Bend)
Mystic Roots Brewing (Terrebone)
Boneyard Beer Company (Bend)

 

Crux Fermentation Project (Bend)
Sunriver Brewing Company (Sunriver)

 
https://www.instagram.com/p/B_3aaEdpQVz/
Top Three Beers
With lawn games like cornhole and a cozy fire pit to keep you warm on cool summer nights, Crux Brewing is a Bend staple. Stop by to try the top beer in the region, Crux's Ribbon of Darkness, from their Banished series. After enjoying the lawn at Crux, head over to GoodLife Brewing Company to check out their massive patio space. While there, make sure you try the region's second-best beer, the GoodLife Ancho Choco. In addition to The Ale Apothecary beers in our top ten list, the brewery is also home to a three-way tie for third-place beers in the region: Lager, Sahalie (Golden Ale), and Ralph (Farmhouse Ale). 
---
Eastern Oregon
Top Five Breweries
Enterprise and the Wallowa mountain range have been on our bucket lists for a few years now, and post-quarantine, we can't wait to get back out to the Eastern side of Oregon. When we do, we'll be checking out the region's top five breweries:
Barley Brown's Beer (Baker City)
Dragon's Gate Brewery (Milton Freewater)
Ordnance Brewing (Boardman)
Burnt Field Brewing (Boardman)
Prodigal Son Brewery (Pendleton)
https://www.instagram.com/p/B3c5fjwH3ML/
Top Three Beers
The Dragon's Gate is giving us the Tolkein fantasy that we need right now. Step back in time while sipping on the region's top beer, Le Morte d'Arthur and then search for the mythical Arkenstone, the region's second highest rated beer; both found at Dragon's Gate Brewery. Afterwards, recover from your journey at Barley Brown's, where you'll try the third and fourth best beers in the region, Don Vanuchi "The Killer" Stout and the TankSlapper IPA. 
---
Mt. Hood and the Gorge
Top Five Breweries
When the snow begins to melt off of Mt. Hood, stow your skis and snowboards and bring out the windsurfing gear as you head out toward the Gorge. While you are there, stop by the top-rated breweries of the Mt. Hood and Gorge region:
Logsdon Farmhouse Ales (Hood River)
pFriem Family Brewers (Hood River)
Ferment Brewing Company (Hood River)
Double Mountain Brewery & Cidery (Hood River)
Solera Brewery (Parkdale)
https://www.instagram.com/p/B_F9cjbhjOG/
Top Three Beers
When you're all done for the day, cool off with a Peche Cuvee 2018, the top-rated beer in the region, while enjoying the stunning view of Mt. Hood from Solera Brewery. The region is ripe with fruit-based beers of all styles; Logsdon Farmhouse Ale is home to a second summer peach classic and the second-place beer in the region, the Peche 'n Brett. While there, also try their Longsdon ZuurPruim from 2019, the plum ale predecessor to the 2020 version in the top-ten list and the region's third-best beer.
---
Northern Coast
Top Five Breweries
Whether watching the June whale migration at Cape Lookout or enjoying long walks on stretches of uninterrupted beach, the Northern coast has long attracted Oregonian's in search of cooler summer temperatures and breathtaking views. After exploring in the months ahead, stop by the region's top five breweries:
de Garde Brewing (Tillamook)
Fort George Brewery (Astoria)
Newport Brewing Company (Newport)
Yachats Brewing (Yachats)
Beachcrest Brewing Company (Gleneden Beach)

 
https://www.instagram.com/p/B_v-1O2H3Wz/
Top Three Beers
Tied for best brewery in the state (alongside The Ale Apothecary in Bend), de Garde Brewing calls Tillamook home. de Garde Brewing predominately brews Wild Ales and Sours; the best beer in the region is The Peach, which we suspect will pair well with the cheese down the road at the Tillamook Creamery. In second place is Fort George Brewery's 2020 batch of the Matryoshka (see top-ten list for details on this unique brewing process). While there, also pick up the third-place beer of the region, 1001 Years of Silence; tell all your friends! 
---
Southern Coast
Top Five Breweries:
Giant sand dunes, ancient redwood forests, striking ocean cliffs, and the southern half of the Oregon Lighthouse Road Trip Trail are all part of the attraction and charm in this region. Although the Southern coast is more rugged than its northern counterpart, it is unrivaled in its beauty. After a day of tide-pooling and sand-boarding, head to these top five breweries:
Misty Mountain Brewing (Brookings)
Arch Rock Brewing Company (Gold Beach)
7 Devils Public House (Coos Bay)
Chetco Brewing Company (Brookings)
Bandon Brewing Company (Bandon)
https://www.instagram.com/p/CBvyl9YnDVk/
Top Three Beers
The artfully-designed 7 Devils Public House in Coos Bay is home to the region's top brew, the Spindrift Juicy IPA. Grab a pint on their patio and listen to some live music, or peer into the heart of their brewery through their giant glass garage door. In second place, Chetco Brewing Company prides itself on "Small Town Brewing, World Class Beer"'; they live up to their name with the Block and Tackle Stout. Finally, our second Tolkien-inspired pub, Misty Mountain Brewing, has the third-best beer in the region, the Black Gate IPA. 
---
Portland
Top Five Breweries
Unsurprisingly, the greater Portland metro area hails the greatest number of craft breweries in the state. After a classic Portland day of getting lost in Powell's, appraising coffee beans at Stumptown, hitting all of the local thrift stores, and scarfing down some Blue Star Donuts, make sure you swing by these top-six breweries:
Great Notion Brewing (Portland)
Cascade Brewing (Portland)
Ruse Brewing (Portland)
Inner Fire Brewing Company (Portland)
Tiny Wolf Brewing (Tualatin; tied)
Hair of the Dog Brewing Company (Portland; tied)
https://www.instagram.com/p/CALdt3YpVew/
Top Three Beers
Known for fruit-forward hazy IPAs and sours, the Blueberry Muffin from Great Notion Brewing in Northwest Portland holds the top-place for beer in the metro area. Barring earthquakes and oncoming boat traffic, head across the Willamette River to Gigantic Brewing Company. Their 2019 Rye Barrel Aged version of the MASSIVE! Strong Ale is second in the city. Mirrored Memories, a rousing, smooth triple IPA from Ruse Brewing in the same quadrant, is third. 
---
Willamette Valley
Top Five Breweries
With the premature end to all sporting events across the country, it is a great time to start mapping out where to find quality beers while supporting your local Oregon university team this fall. Whether you are a Beaver or a Duck fan, these top-five breweries of the Willamette Valley are bringing home the W:
Alesong Brewing & Blending (Eugene)
Block 15 (Corvallis)
Bine Valley Brewing (Salem)
Claim 52 Brewing (Eugene)
Wolves & People Farmhouse Brewery (Newberg)
https://www.instagram.com/p/CAL1j3hJ__z/
Top Three Beers
If you are looking for a beer and a quick bite, check out Oakshire Brewing's top-rated beer, the Hellshire IX and pair this bourbon barrel-aged imperial stout with a burger or BBQ sandwich from one of the many rotating food trucks on site. Move on to your next meal with the second-place beer from Block 15, Breakfast with the Turkey. Wait thirty minutes before stepping into the hot springs along the McKenzie River. On your way back into town, stop by McKenzie Brewing Company to round out the day with their third-place beer, the John Adams 2.0.
---
Southern Oregon
Top Five Breweries
"Blessings of your heart, you brew good ale", said Shakespeare, and us, upon leaving Ashland, Oregon this past summer. Whether you're in Southern Oregon to check out one of the world's oldest and largest Shakespeare festivals, passing by (perhaps on the Pacific Crest Trail!), or peering into the depths of Crater Lake, look for these top five breweries of the region:
Skyline Brewing Company (Klamath Falls)
Old 99 Brewing Co (Roseburg)
Draper Brewing (Roseburg)
Lookingglass Brewery (Winston)
Opposition Brewing Co (Medford)
https://www.instagram.com/p/B_QJTFIgbsf/
Top Three Beers
Oregon marionberries are a thing of beauty. We haven't tried this Marionberry Pear Berlinerweisse that holds the spot of top beer in the region, but if it's half as good as reviewers have made it sound, we know we'll be happy. Caldera Brewing Company was the very first brewery to brew and can their own craft beer on the West Coast (back in 2005), and their top-notch beers continue to impress. They're home to the region's second place beer, the Bourbon Barrel Aged Mogli, a dark ale. Finally, Skyline Brewing Company in Klamath Falls brews the third-top beer, Liquid Vacation IPA; more like liquid heaven if you ask us. 
Though we miss the days where we could go to our favorite breweries to play board games, eat at their food trucks, and try out new brews, we've enjoyed trying new beers at home and thinking of ways to support these small businesses so that they can survive post-quarantine. We hope that you'll join us in supporting local craft brewers as well as their staffs and families, now and in the months ahead. 
Cover Image Courtesy of Alesong Brewing & Blending
---