No Comments
Dogfish Head and Indigo Agriculture Fight Climate Change with Re-Gen-Ale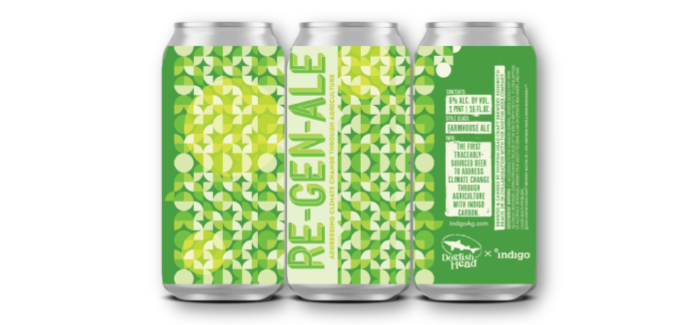 Dogfish Head Craft Brewery is on a mission to fight climate change, one beer at a time. On September 19, Dogfish Head and Indigo Agriculture, a company intent on "harnessing nature to help farmers sustainably feed the planet," released an Earth-friendly Re-Gen-Ale to its local beer fans. As explained by Dogfish Head, the beer serves as the first traceably-sourced beer to address climate change through agriculture using Indigo Carbon, a program that provides growers with a financial incentive to store carbon in their soils." The beer release arrives in time for Climate Week (Sept 21 – 27).
It's not the first time Dogfish Head has embraced and supported sustainability. In the last two years, the brand's restaurants became Ocean Friendly Certified by The Surfrider Foundation, and its Beer & Benevolence program lent support to the Nature Conservatory and local waterways, as well as promoted bicycling and fishing conservation.
And in 2016, Dogfish Head reclaimed the water used in its brewhouse to irrigate roughly 100 acres of farmland in an effort to support of sustainable agriculture practices. As result, they harvested winter wheat from that land that benefited from the reclaimed water,  and then used the wheat to produce a Belgian-style Witbier. For more, see Dogfish Head's short video clip about that 2016 project:
With this latest project, Dogfish Head explored Indigo's Grain Marketplace to secure the traceably-sourced ingredients necessary to produce Re-Gen-Ale, including sustainable wheat grown with regenerative farming. Dogfish Head has also committed to purchasing carbon credits that exceed what is needed to offset Re-Gen-Ale production, allowing Dogfish Head to help incentivize farmers to transition to regenerative growing practices that lower atmospheric carbon dioxide levels.
"With the brewing of Re-Gen-Ale, Dogfish Head has set a compelling example for brewers to consider the role of their suppliers – and agriculture more broadly – in the effort to address climate change," said Noah Walker, Director of Carbon Product & Business Development at Indigo. "The partnership demonstrates that with the right tools, brands across the beer industry and beyond can efficiently unlock the potential of supply chains to address corporate sustainability and climate goals."
Dogfish Head founder Sam Calagione commented, "Though this beer is just one small step toward developing more sustainable business practices, working with Indigo to brew Re-Gen-Ale has been a truly rewarding and thought-provoking experience." 
He added, "It's shown us how thoughtful and sustainable choices, both big and small, can impact our environment. It has also taught us about new, nature-based solutions we can implement to reduce our carbon footprint and help combat climate change while brewing unique and delicious beers, like Re-Gen-Ale. We had originally planned to release this beer on Earth Day but decided to push the launch to celebrate Climate Week. It's been a long time coming, but I think I speak for all of us at Dogfish Head and Indigo when I say, we can't wait to share Re-Gen-Ale with all you beer and nature lovers!"
https://www.instagram.com/p/CFUoaO7Ak9G/
Indigo worked closely with Dogfish Head brewers to produce Re-Gen-Ale, a farmhouse-style Saison. In addition to relying on house-grown Saison yeast and sourcing hops from Maine and Michigan, the beer's malt and wheat come from farmers committed to regenerative farming. In short, regenerative agriculture consists of increasing crop diversity, integrating livestock, avoiding tilling the land and reducing both pesticide and fertilizer use. 
The malt comes from Epiphany Malt in North Carolina, a maltster dedicated to embracing regenerative farming. The wheat for Re-Gen-Ale was grown by Kansas-based farmer Doug Keesling, who has implemented regenerative growing practices for over twenty years. 
"Agriculture has always wanted to do the right thing for the environment," said Keesling. "By partnering with farmers to adopt practices that conserve our soil, water and environment, Dogfish Head and Indigo created a product that starts with protecting our valuable resources and ends with friends sharing a beer together. What's not to love about that?" 
Re-Gen-Ale will be available on draft and in 4pk/16oz cans at Dogfish Head Brewings & Eats in Rehoboth, starting Saturday, September 19. Packaged using bio-degradable, ocean-friendly beverage carriers from E6PR, each 4pk/16oz cans is priced at just $17. 
---