No Comments
Tired Hands I VOTED TODAY Beer Encourages Craft Beer Drinkers to Vote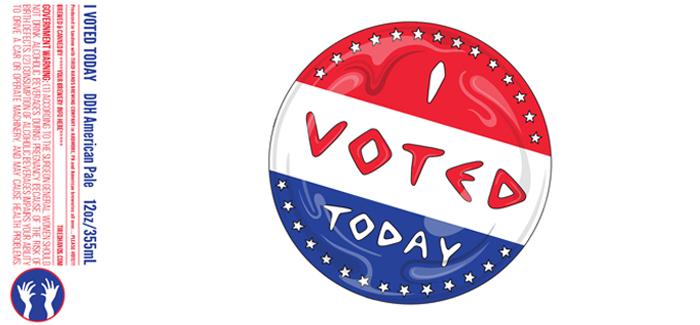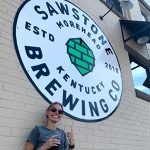 It is no secret that the 2020 Presidential Campaign is an unprecedented one. There has never been such an emphasis on people exercising their right and democratic duty to vote. Everyone from athletes, to singers and actors, to craft breweries are encouraging the public to vote this election season.
To encourage craft beer drinkers around the country to vote, Tired Hands Brewing in Ardmore, PA created the I VOTED TODAY nationwide voter awareness beer initiative.
"This election is particularly challenging with the pandemic, with voting restrictions, and at times, disenfranchising voters," Julie Foster, co-owner of Tired Hands, said. "And the many different ways that people can vote and how those ways can sometimes change on court decisions. We've done voting promotions things in the past internally on staff, but we wanted to have an external opportunity to share and use our platform to share information with voters in our state of Pennsylvania and also with states that our wonderful collaborators all across the country are in."
I VOTED TODAY is double dry hopped American Pale Ale. Tired Hands says it is "designed to support every American's right to vote this November 3. We are on the precipice of one of the most important and consequential elections of our generation. We have the power to create real, lasting change in this and every election season by exercising our constitutional right to vote and encouraging others to do so as well."
Tired Hands chose the American Pale Ale style because it's a beer style breweries can tailor to themselves and showcase a hop they love. For Tired Hands, it's the Simcoe hop.
"That's a hop that's been close to Jean's [Tired Hand's co-owner] heart for pretty much his whole brewing career," Foster said. "So it's a way for every brewery to kind of personalize it a little bit, have a little fun. It's also a great beer for this time of the year. It's nice and crisp. It's an American Pale Ale, so the theme kind of fits as well."
Similar to Sierra Nevada's Resilience IPA, Weathered Souls' Black is Beautiful and Other Half Brewing's All Together, I VOTED TODAY is a nationwide voter awareness initiative in the form of a DDH American Pale Ale.
In addition to brewing the beer and encouraging customers to vote, Tired Hands Brewing asks that all participating breweries donate some or all of their profits to an organization that helps make voting accessible and fair to all Americans. Tired Hands chose HeadCount, Common Cause, ACLU, League of Women Voters and Democracy Works.
Foster and Tired Hands want to make it clear that this beer initiative is non-partisan. The only goal of this beer is to raise funds for voting groups and to share information on how to vote this year.
"Most breweries engage in their local communities in various types of fundraisers," Foster said. "Civic engagement is one of those core values that isn't political, it's more supporting civic and community life. Every brewery has its own take on that."
One of the participating breweries, Mile Wide Beer Co. in Louisville, KY echoed the same statement.
"We actually tried to take a very non-partisan approach to this beer," Mile Wide Beer Co. co-founder Scott Shreffler said. "This isn't about Republicans, or Democrats, conservatives, or liberals. This beer is about encouraging and empowering the citizens of this country to exercise their Constitutional right to vote. It's such a simple thing, that holds immense power, and yet there are millions of eligible voters every year who either don't get registered or simply don't go to the polls. That's what really motivated us to take part in this initiative."
Mile Wide, who is known for Northeast style Pale Ales, knew this beer and initiative was a perfect fit for them. Mile Wide also participated in the Black is Beautiful beer collaboration. The Louisville brewery's I VOTED TODAY beer was brewed with citra & azacca.
"The base beer, being a double dry hopped Northeast style Pale Ale, was right in our wheelhouse, so that was the first part that was intriguing," Shreffler continued. "We have an immense amount of respect for Tired Hands as a brewery. Being a part of their initiative held its own allure. And third, this is an incredibly important election, from top to bottom, and it's so important for people to get out and vote. If we encouraged even a few people to get registered and vote, then it's absolutely been worth it."
According to the Washington Post, at least 91.7 million had already voted in the 2020 Presidential Election by Saturday – two days before the election. Experts predict that this year's election will break the 2016 record of 139 million votes. Many states across the country have already surpassed, or are close to surpassing the number of voters in 2016.
Since announcing the I VOTED TODAY initiative in September, breweries from all over the country have signed on to participate, including Crooked Stave, Evil Twin Brewing, Jester King Brewing, Monkish Brewing, The Virginia Beer Co. and many more.
"It's wonderful especially the number of breweries in swing states and also states that historic challenges with disenfranchisement," Foster said.

If you have not voted early and are still thinking about voting, please visit vote.org.
---