No Comments
Brewery Showcase | Spring House Brewing Co.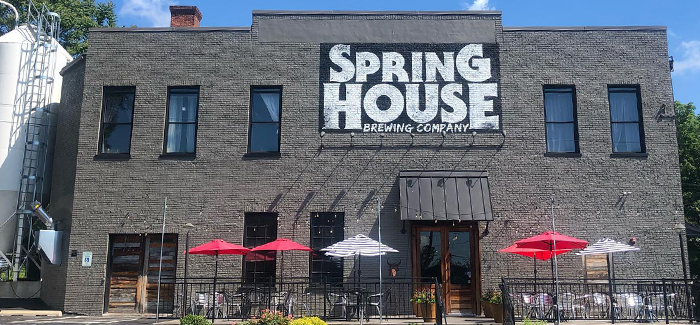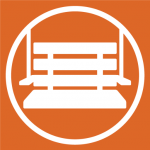 We've all been there. You go to a bar, try a new beer from a local craft brewery and fall in love. After a quick Google search, you realize this brewery is within driving distance, and pretty soon it becomes your favorite hangout. You grow to enjoy their other brewed libations, and before you know it, your local brewery grows a little too fast. Suddenly the attention and focus shifts from the beer to basically everything else: new locations, keeping up with wholesaler demand, a new kitchen, etc. etc. Before you know it three years have passed and you notice that the draft beer menu is always the same, and you're no longer in love with your old, favorite brewery. So, you find a new place to call home, and hope the cycle doesn't repeat itself.
This is the story of one brewery, Spring House Brewing Co. in Lancaster, PA, that recognized this all too familiar pattern, and worked hard to rebrand and revitalize itself. And much to this writer's surprise, it is working.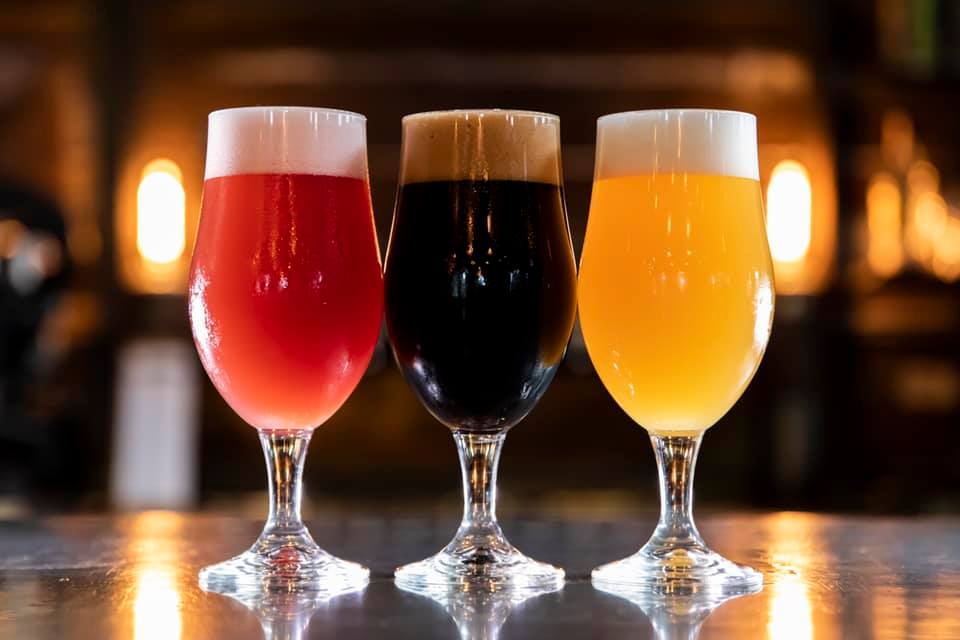 Background
Spring House Brewing Co. began its humble roots in a 200+ year-old barn located in Lancaster, PA in 2007. After several years of successfully producing and showcasing their brews, the Spring House Taproom was opened in the heart of downtown Lancaster in 2011, and four years later the company continued to grow, as brewery operations were relocated from the barn to a new location that served as both the new Brewery and an additional restaurant/taproom. The following year, in 2016, Spring House's Imperial Chocolate Stout, Kerplunk!¸ earned a Bronze award at the World Beer Cup. The next year saw the grand opening of the Hazel Street location's Hell's Attic Arcade, which includes old-school arcade games, foosball, bubble hockey, a pool table, cornhole, and an additional bar. In the summer of 2019 the first canning line was installed, whereas previously they had to rely on an outside vendor to come in and do the canning for them.
Around this time, things really begin to change. After so many years of successful growth, some might say that the brewery began to rest of their laurels. They continued to rely on the staples that made them standout in the first place. Their flagship beers, Seven Gates Pale Ale and Big Gruesome — a chocolate peanut butter Stout, were in continuous production and featured heavily at both craft beer festivals and their restaurants alike. By 2018, craft beer enthusiasts and locals noticed that the brewery didn't really have anything new that they were bringing to the table, and instead seemed to rely on the same six or seven beers to satisfy the public's demands. After a while, some people got bored of the same old offerings and began to look elsewhere.  Additionally, there was a big quality control problem, with the beer not seeming to taste as good as it used to, and reports of exploding cans out in the wild.
Enter Scott Richardson, director of operations and market research since 2018. After unknowingly commenting to the owner that Spring House "used to be his favorite brewery," Scott outlined where he thought the company went wrong, and how he would approach fixing their issues. With a background in Education and no restaurant or brewery experience, it may seem like an odd choice to have offered him the chance to come in and completely restructure the brand, but Scott had a solid plan: update the Spring House brand to better reflect the brewery's values, and create and produce better beer.
Phase One: The Re-Brand
Traditionally, Spring House's visual marketing was more akin to what you'd find in a traveling circus or haunted house. Skulls, spiderwebs, and pentagrams featured heavily at all locations and were prominently displayed on the beer labels. To some, this kind of branding was intimidating and may have led to unfair judgements before even tasting the beer. As part of the re-brand, the old skull motif was removed from the brewery, which allowed guests to instead focus on the beautiful wood and metal architecture displayed throughout the historical building. With the fake spiderwebs now removed, the open floorplan allows visitors to view the brewery's massive tanks along with the found artwork — graffiti — unearthed during the initial renovation of the old contractor's warehouse. Visitors may also be interest to learn that the wood floor was the ceiling of the first floor at one point, which was partially removed to create space for the brew works.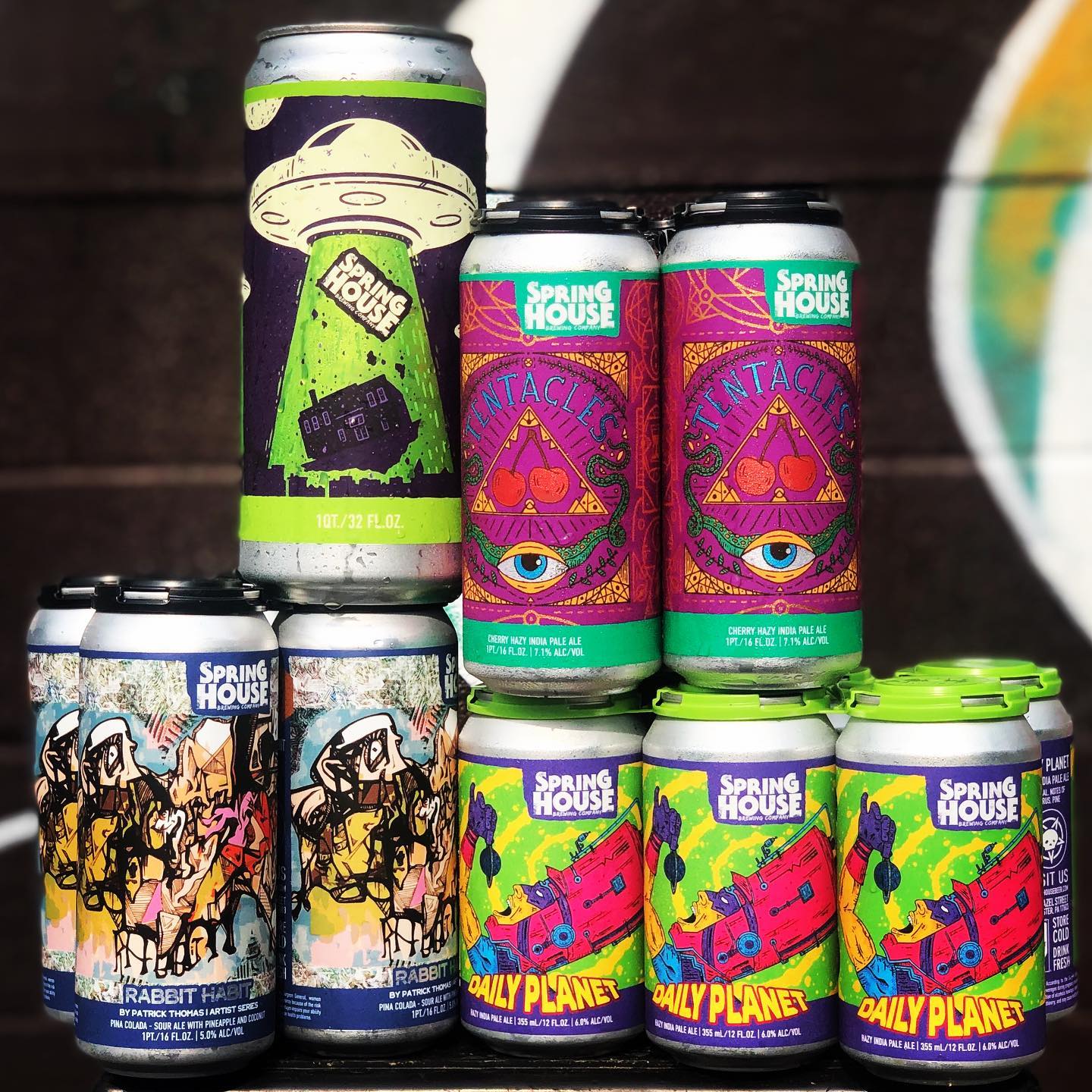 Another important part of the re-brand was the introduction of Spring House's new Limited Artist Series. While the artwork on their core brand of beer (year-round and seasonal offerings) moved from skulls and pentagrams to a more eclectic style consisting of robots and spacemen, the Limited Artist Series is constantly changing. These unique, small-batch brews are inspired by and feature original works from local artists. Each year the brewery receives entries from 300-400 artists within the areas where their beer is distributed. If selected, the artist is paid for their work, and their art (regardless of its medium) becomes the label on one of the limited brews created that year. The best part?  The artist's name is displayed prominently on the beer and Spring House allows them to retain the trademark used on the label. If visiting Spring House, be sure to checkout the artwork displayed by these artists on the second floor of the brewery.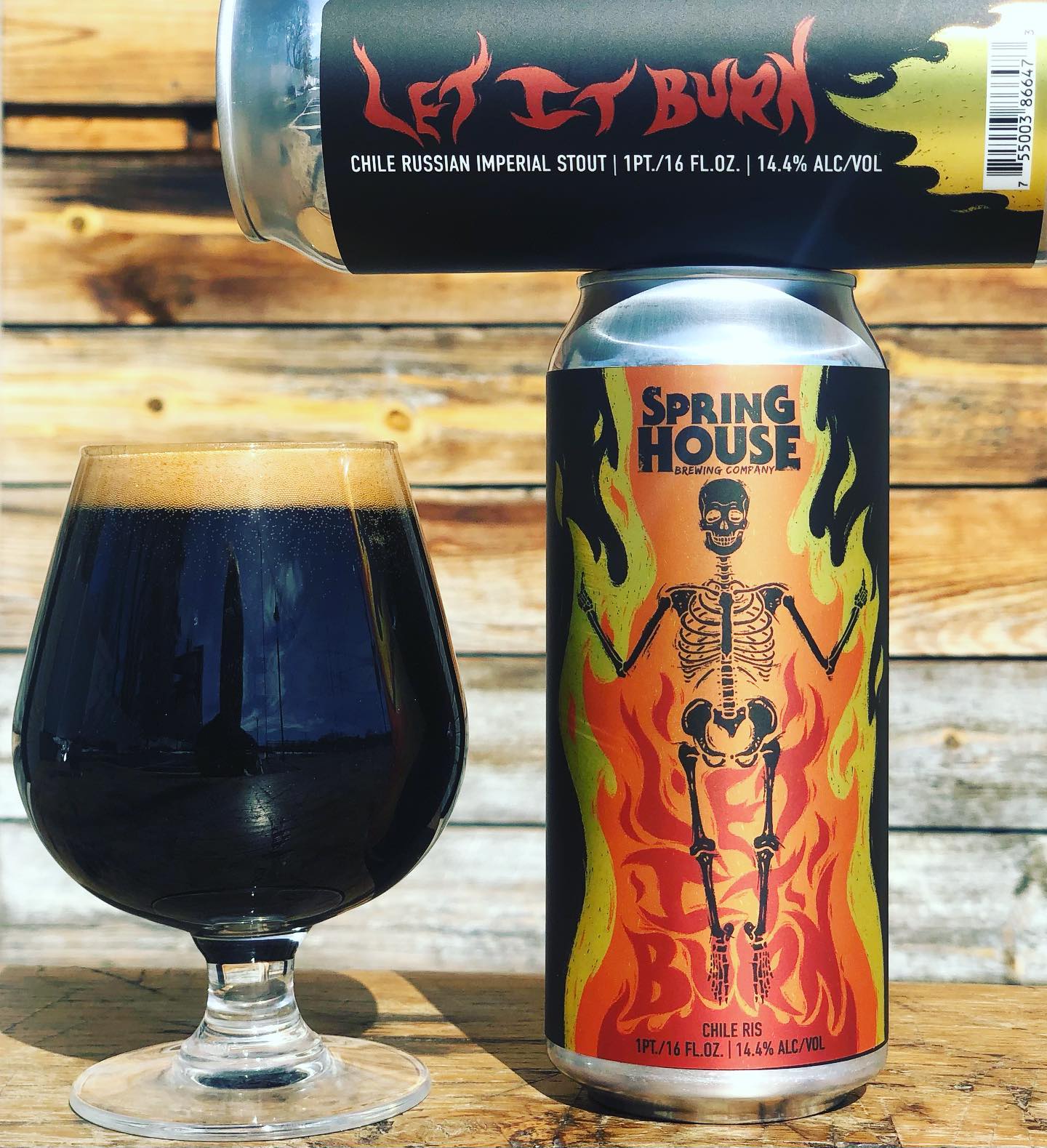 Phase Two: Brew Better Beer
Part of growing includes taking a closer look at yourself and your flaws.  When the team at Spring House realized they were no longer excited to drink their own beer, they knew something was amiss. After a careful reevaluation, the team focused on two fatal flaws that were killing their business: not keeping up with beer trends, and major issues with quality control. For years, Spring House devotees wanted the old familiar offerings of chocolate porters, flavored IPAs, and simple Pale Ales, so that's what was in constant production. The team at the brewery wasn't paying attention to how beer trends were evolving, and their styles and flavor profiles were not on par with what was being offered at other breweries. Quality control, in terms of both beer tastes and production, was also a problem. Reports began to trickle in of beer cans exploding while sitting on shelves at beer distributors, and some consumers complained of that dreaded "vinegar" taste we've all encountered at one point or another.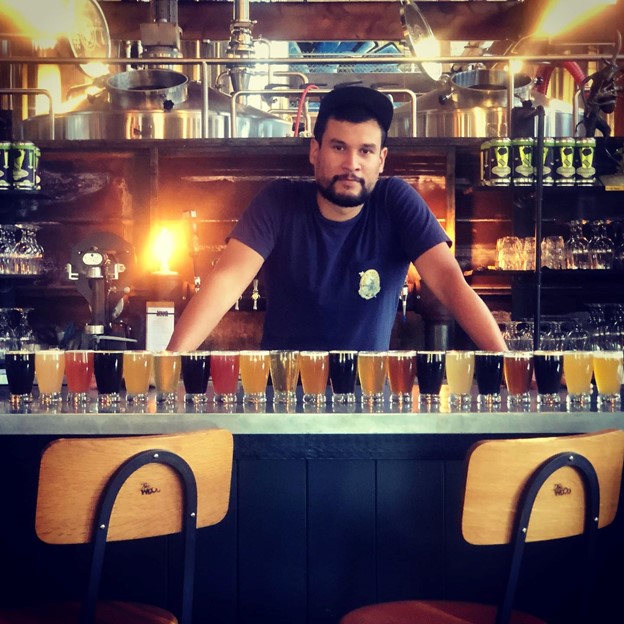 So how does one go about fixing these issues? For starters, Spring House brought on the gifted Eddie Lopez Jr. as their new head brewer. Eddie had experience with Hangar 24 in California, and as head brewer at Dock Street Brewery in Philadelphia. He brought with him a great wealth in terms of science and quality control and, perhaps just as importantly, a passion for creating drinkable, lower ABV brews. Eddie is just what Spring House needed. A science-minded  brewer who knew how to stop the exploding can dilemma, and who was also a well-read beer lover favoring styles more on-point with today's trends, including California (not necessarily West Coast) style IPAs, Kölsch, and Barrel-Aged specialties. Some of his interesting beers currently on tap at the brewery includes Tentacles — a fruited Hazy IPA brewed with cherries, Commander Salamander-their kumquat, cucumber lime Sour, and Liquid Afrofuturism — a creamy Stout with notes of almond, vanilla, and roasted chocolate.
Fin: The Re-Introduction
So, what's the deal?  Did the re-invention work? On June 25th of this year the team announced via their Instagram account that, after taking the past year to reinvent itself, they were happy to now offer better beer, better service, and better food. After reading recent reviews, and of course doing some "research" by visiting the brewery and drinking the latest offerings, it's apparent that the hard work paid off. Visitors are happy and excited again to see what the team at Spring House has on draft. Gone are the days where you walk in to find the same old tired lineup.  Instead, visitors can expect to find great food, friendly service, and bold yet innovative brews. Cheers to a job well-done.
Feature image by Spring House Brewing Co.
---