No Comments
Conshohocken Brewing Company | Tripel Deke Belgian-Style Tripel Ale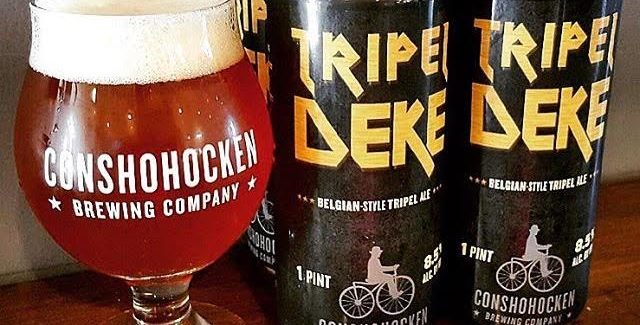 Featured photo credit: Conshohocken Brewing
ABV: 8.5%
Philadelphia suburban towns that fall along the Schuylkill River have seen quite a revitalization of both business and community in the past decade. Multi-use recreational trails are being created and communities are investing in the areas through the spawning of local businesses. With the beloved Schuylkill River Trail at their back door (literally, the trail is right through the backdoor), Conshohocken Brewing Company's slogan "Go where the path takes you" has been taken quite literally. The path seems to be leading people and well-garnered praise right to their front steps.
Through its creation of bold and interesting brews, Conshohocken Brewing prides itself for being founded on the American industrial spirit of the local area. Conshohocken, Pennsylvania was considered an industrial hub in the late 1800s and the brewery has paid homage to the time of invention and prosperity by using the velocipede bicycle as the brewery's logo.
Tripel Deke is Conshohocken Brewing's seasonal offering of a Belgian-style tripel ale. At 8.5% ABV, this tripel is deceptively smooth and milder than some tripels. The booze is well-hidden in this low-profile brew, so be careful!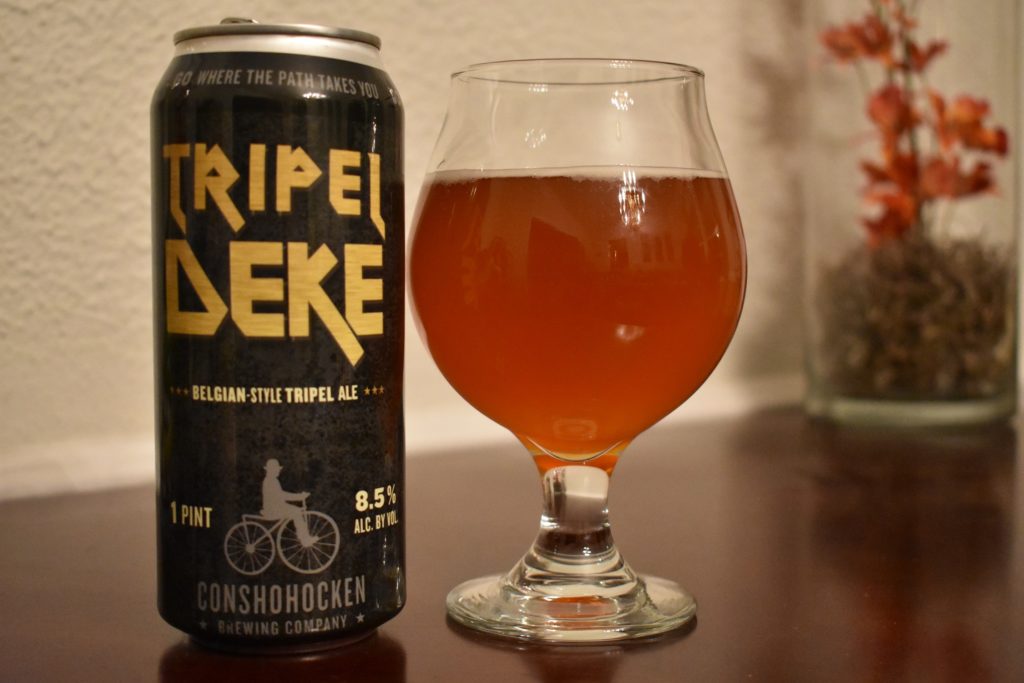 The fragrance is a sweet aroma of fruit and spice, accompanied by a yeasty-banana undertone. With a golden-orange hue, the pour creates a fairly light head, approximately the width of one finger. Each sip is filled with the flavor of clove, dark sugary candy and fruity notes, with a bit of a peppery bite on the end. The mouthfeel is medium-bodied with slight carbonation and the finish is warm and inviting.
I love pairing food with my beer. I recommend pairing the Tripel Deke with a soft cow's milk cheese such as bleu or Colby Jack (on top of your favorite burger, of course) or dishes that include herbs like parsley and basil (one word: PIZZA).
Beyond the seasonal Tripel Deke, Conshohocken Brewing Company's Puddler's Row ESB and Conshohocken IPA are two year-round selections that have garnered praise for this brewery just shy of three years operating. Opening its flagship location in 2014, the brewery opened a second taproom and pub in the nearby town of Bridgeport, PA in late 2016.
All beers are brewed and canned by Conshohocken Brewing Company. Tripel Deke is available in a four-pack of full pint cans.
https://www.instagram.com/p/BRTdQAzlxXr/?taken-by=conshohockenbrewing
---