No Comments
5 Questions with The Ale Apothecary's Paul Arney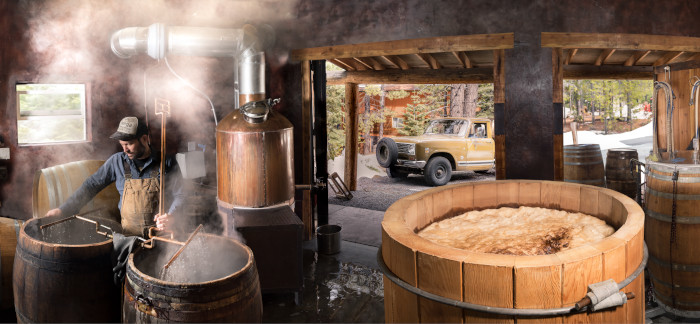 Paul Arney, co-owner and head brewer of The Ale Apothecary in Bend, OR has a bit of a reputation. Words like "legendary" are often thrown around to describe his brewery and the unique, place-based wild beer he brews. Arney has a bit of a nutty–yet deeply intellectual–personality. It's not uncommon to hear him lovingly referred to as bats#&@ crazy. We sat down with Arney for five questions about Ale Apothecary and to see how he's holding up during the pandemic. We were relieved to hear that he hasn't let up one bit on his unrelenting "art over industry" philosophy.
Can you tell us a bit about the history of The Ale Apothecary and your background in brewing before starting your own brewery?
I worked at Deschutes Brewery from 1996 to 2011, with a hiatus from 2003-2004 when my wife [Ale Apothecary co-owner Staci Arney] and I traveled for a year. I apprenticed at a couple breweries beforehand in the Seattle area and put myself through the UC Davis Master Brewers Certificate Program in early 1996. The Ale Apothecary came out of my desire to stay in Bend and keep our property after I left Deschutes. I had quit before I had a plan due to my uncomfortable-ness with becoming a desk-sitting manager. I decided that if I could tie the Apothecary to the land we had acquired, I could keep it!
The Ale Apothecary's beers are a bit … off-kilter. On your website, you refer to the brewery as "a vintage batch oak barrel brewery" and your beer as "hand-made Oregon beer." Can you elaborate on what makes your beer and your brewing techniques unique?
I have gained inspiration in many areas; my process is made up of stuff I've learned throughout my career from breweries, wineries and other food/beverage producers. I have in my mind how I want to treat my beer and I'm limited on how I can accomplish what I want by lack of funds, size, etc.; the resulting creative process to find a solution is where The Ale Apothecary lives. I'm also a lover of the creative process and the people that push the creative envelope to explore what's possible. I love music and literature and find all sorts of helpful encouragement by listening to my favorite artists. My desire to avoid placing an endpoint in terms of flavor and style have allowed my brewery to grow into what it is. I try to avoid telling people what my beer is going to be because I simply don't know. I'm exploring.
You're an unflinching proponent of sustainability, ethics and localization in brewing. Can you talk about why you don't want your brewery to contribute to the continuing depletion of resources and what challenges (and rewards) this mindset has provided you?
I have kids and I want them to have a decent place to grow up in. It seems we're in such a crazy time and we humans are the source of virtually all our problems. I think we are smart and can figure this out, but the convenience and ease of our age cripples us. I've felt from the beginning that my brewery is more of a concept than a reality. How likely is it that people can operate larger businesses with my ethics? How likely is it that people will want the products those businesses turn out? I think the bottom line is I want to be a source of hope more than anything because I don't have the answers. But I'm not willing to simply give up. So, I struggle. I don't need to get rich. However, I wish that my business could have a larger and more positive effect on my suppliers. My brewery is so small that we don't really factor in as a 'make or break' part of anyone else's business. I wish I could have more impact on the lives of our farmers; we simply don't buy enough to be able to do that.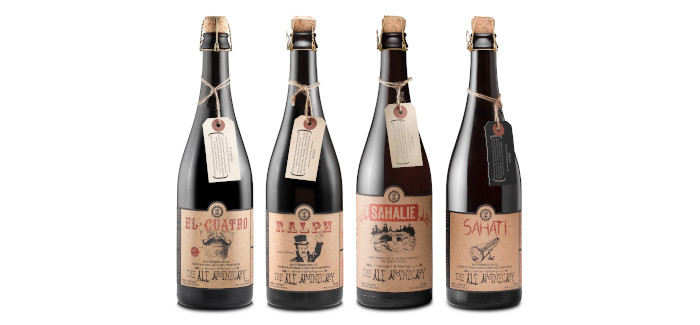 You like to use the term "art over industry" and seem to have a general "industry be damned; art be praised" mentality. Can you tell us how you feel about the beer industry and why you feel art should be a priority in beer?
I consume industrial products; I try to be as clear as I can about this to my customers. My brewery is more like an art installation where I try my best to eliminate the industry, but it's impossible. So, I am trying not to be a hypocrite, but it may be impossible! I feel like the brewing industry can be compared to the current state of the automotive industry right now… the IPA is the SUV of beer. I still drink it, but maybe not as much as my friends. For someone who likes to explore, who likes new experiences, it seems like the beer industry is failing me somewhat. And I will say, that for someone who isn't really all that inspired about the pastry stouts or the hazy beers, this was about the best attempt at infusing some punk rock into the beer industry. It just seems to be a joke we are playing on ourselves. I like jokes, but in relation to substance, they make up a small portion of what I want in my day. The beer industry seems to be a parody of itself in many ways; not really alive, not really anything in particular. Faceless and kind of emotionless.
How have you adapted to the new world the global pandemic has introduced us to? Being essentially a "straight to the customer" sort of brewery, what changes and innovations have you had to introduce to keep the beer flowing?
We adopted an online sales platform and reduced our hours and seating at our tasting room. Luckily, we have been able to rely on existing distribution channels and our Ale Club. Since our product ages well and we hold quite a bit of inventory that isn't kegged, we transitioned fairly easily in this regard. The hardest part was letting go of a few key employees in order to avoid the possibility of things getting more serious. Right now, our numbers are down when compared to last year, but since we reduced our overhead we seem to be managing fine. We're looking ahead to light at the end of the tunnel with COVID-19 so we can start developing our tasting room in the way I'd like to for the future. But, for the time being, I am content with treading water and finding time to read books.
Editor's note: As of November 2020, The Ale Apothecary taproom and online beer store are closed due to a positive COVID-19 test result. If you have previously ordered anything, you can contact Ale Apothecary via their website to arrange a safe pickup.
---