No Comments
Bewilder Brewing Co. | Mole Porter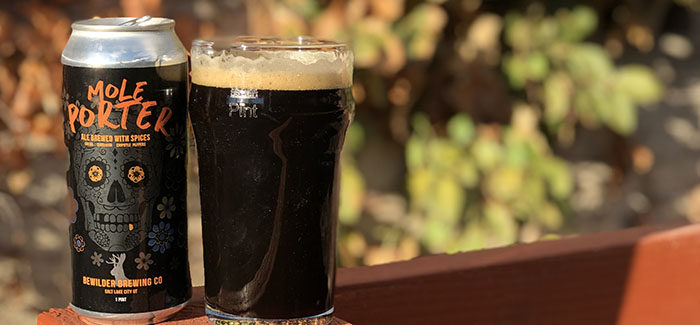 Bewilder Brewing Co., one of Utah's newer breweries, recently released its first higher-alcohol packaged beer. Mole Porter is a 6% ABV brew that delicately blends sweet and spicy in a mouth-coating, enjoyable sipper.
The beer marks Bewilder's foray into so-called "high point" beer. In Utah, draft beer must be 5% ABV or lower. That limited the brewery, which opened in December 2019, leaving it without a way to package higher-alcohol beers.
To expand its offerings, Bewilder bought a small-capacity canning machine and planned to deliver its first 16-ounce canned beer in time for Halloween and Día de los Muertos.
Mole Porter: Dark Chocolate, Subtle Heat
Bewilder's Mole Porter is brewed with cinnamon, cocoa nibs and chipotle peppers. It pours an opaque chocolate brown with a graham cracker-colored cap of foam.
The beer features aromas of chocolate and a hint of cinnamon. First-sip flavors include chocolate-covered cinnamon bear with a toasted-bread maltiness. A subtle, smoky chipotle spice fills the mouth. A little residual heat remains as the beer makes its way down the throat.
Roasted pepper emerges as it warms in the glass, as do some chewy raisin notes. A second tasting a week later revealed practically no noticeable heat.
View this post on Instagram

Bewilder Brewing, located in downtown Salt Lake City, is owned by two childhood friends who for the last decade have operated a pair of homebrew shops.
It took more than a year from the time Cody McKendrick and Ross Metzger signed the lease on Bewilder's building for them to serve their first pints across the bar.
Three months after opening, the world changed. Measures to help slow the spread of coronavirus impacted many businesses, including Bewilder. Throughout its first year, Bewilder angled to keep its dream afloat. It refocused its website to cater to a to-go audience. It made its sausages available for customers to cook at home. And Bewilder slowly began creating socially distanced events, such as beer pairing dinners.
Now, nearly a year after opening, Bewilder Brewing enters its next phase of development. It's supplying Utah's beer drinkers with creative, high-point offerings to-go. Mole Porter is a strong first effort.
---