No Comments
Central State Brewing | Table Rustic Blonde Ale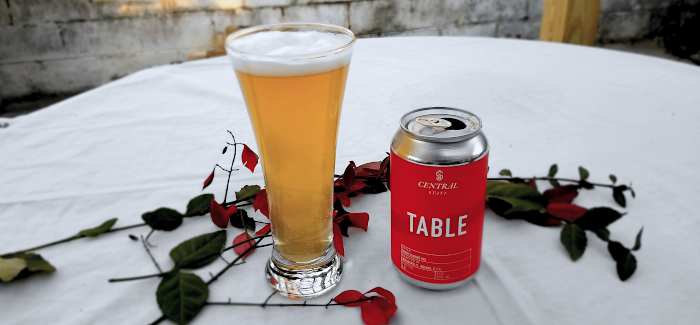 January 2021 is here. Finally.
A time-honored tradition among many craft-beer drinkers every January is Dryanuary or, a month without alcohol. But this January, craft breweries need our help more than ever. And, let's face it, we all need a beer more than ever. So what's a good compromise between cutting out drinking altogether for a month and giving craft breweries our support? Let's go with drinking more low-ABV beers. If you indulged in a lot of high-ABV beers over the holidays like we did, it's time to cleanse the palate anyway.
Indianapolis' Central State Brewing (now brewing as The Koelschip) has the perfect solution: an elegant yet rustic Farmhouse Blonde Ale called simply Table. Coming in at 4% ABV, Table is a Brett-fermented rustic blonde ale brewed in the style of French and Belgian table beers. Historically, a table beer was literally a beer that everyone at the table would drink, even down to the wee ones. It would have been very lightly fermented and only around 1% ABV. While the ABV has climbed a bit in modern times and we don't recommend serving it to the wee ones, table beers are still meant to be a low-ABV palate cleanser.
View this post on Instagram
Central State's Table goes well with lighter meals such as seafood, poultry or fruit and cheese dishes. While light in body, Table has a surprising complexity. Fermented with Brett, it has a rustic drying tartness that slides down easily. Bits of spicy rye intermingle with a slight lemony flavor that closes off with notes of earthy bread. The hops are there but mostly play a supporting role. Bitterness is slight, and there really isn't any hoppy aroma, as is expected for a table beer. The Brett influence is slight. Don't expect any strong barnyard or sour flavors. While table beers can be anywhere from lightly carbonated to flat, Table keeps a nice pillowy head in the glass. It's not overly carbonated by any means, but it does have a pleasant soft fizz.
Enjoy it at the dinner table or during a relaxing chill-out evening on the patio.
---