No Comments
Brewery Showcase | Bad Dad Brewing Co.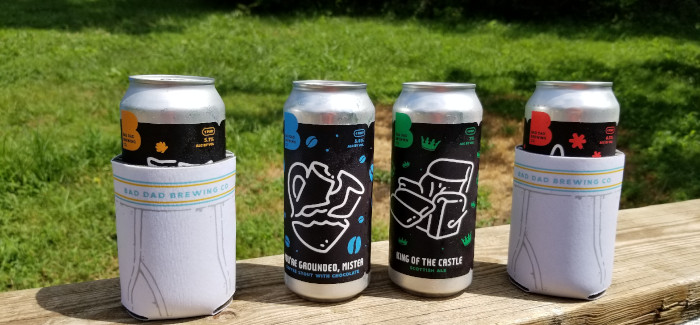 Bad Dad Brewing Co. isn't the sort of brewery you're likely to stumble across accidentally. Barry Howard has no qualms saying that the brewery he and his sons founded in Fairmount, Indiana, isn't in a location people generally think of as a destination. Instead, he's proud of the fact that he made the brewery and its associated restaurant and brewpub into the destination.
"We're the quintessential definition of a destination location," said Howard. "…the kind of place where you don't accidentally end up. We have a tremendous pull out of Indianapolis and Fort Wayne. People, especially on Thursday, Friday and Saturday nights, will come to make a night of it." Howard and his wife, Joanie, ran a successful restaurant, Grains and Grill, before starting the brewery and brewpub. "We had the fortunate problem of there being hour and a half, two-hour waits," he said.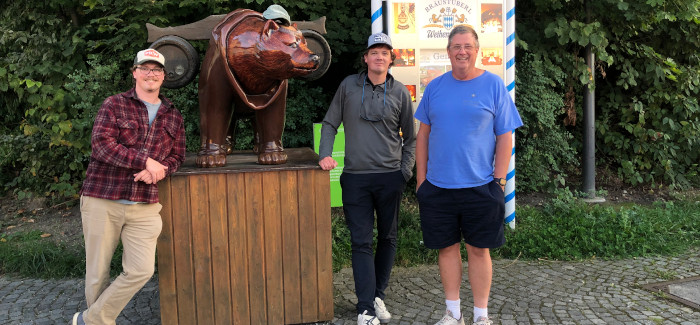 What's something a lot of people like to do while waiting for food? Drink beer, of course. Howard had already been enjoying homebrewing. "I was having a lot of fun," remarked Howard. "I got to think of scaling up so I could have a LOT of fun!" Eventually, he put two and two together and made the decision to brew beer in an effort to keep customers on-premise as they waited for a table. In 2015, two years after starting the restaurant, Bad Dad Brewing Co. was born.
In early 2018, Howard asked if his son Pat, who worked in logistics, wanted to work full-time for the brewery. The answer was easy: "Absolutely!" Howard's other son, Derek, who worked as an analyst in New York City, wanted in on the action too, so he came up with a plan to turn the brewery into a brewpub serving Neapolitan-style pizza. The idea panned out so well that Bad Dad's was featured in the pizza industry's premier publication, Pizza Today, in early 2020.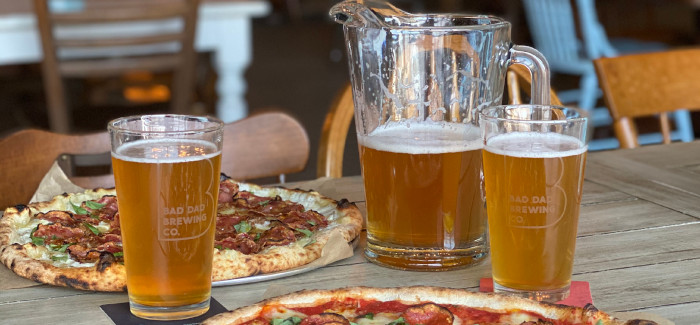 The brewery's name is part inside family joke and part nod to the fun (and requisite bad jokes) of being a dad. Patrick and Derek often told their friends as a kid that they had a "bad dad" because they always seemed to have to work for their Dad while their friends were out having fun. These days, they get to have fun working for dad. "Our deliberate play is that beer is fun," notes "Dad" Howard. "It's a nod to dads and all the silly things we dads do." Wanting to make sure this message came across in their branding, the company enlisted Pivot Marketing to develop a marketing strategy and create art for their cans. "We want you to look at the can and think of something your mom or dad said or did once," Howard added.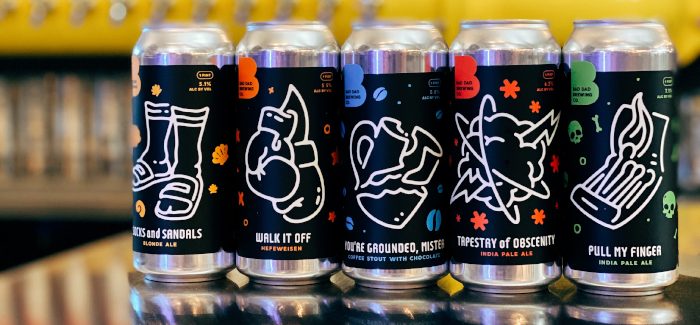 Most people can relate to beer names like Socks and Sandals (Blonde Ale), Chip Off the Ol' Block (Imperial IPA) and You're Grounded, Mister (Chocolate Coffee Stout). The cans even have bad dad jokes on them, something all dads can appreciate (and the rest of us can groan over). One beer name that often requires explanation, but receives a chuckle by those who get the reference, is the Tapestry of Obscenities IPA.
For those of us who grew up watching the cult classic A Christmas Story, quoting its every line, Tapestry of Obscenities should require no explanation. When little Ralphie's father, who "worked in profanity the way other artists might work in oils or clay," swears up and down while trying to fix the furnace, grown-up Ralphie recollects, via voiceover, how "In the heat of battle my father wove a tapestry of obscenity that as far as we know is still hanging in space over Lake Michigan." Besides the clever namesake, Tapestry of Obscenity is also a darn good IPA, with minimal bitterness and oodles of smooth, citrusy hoppy aroma.
https://www.instagram.com/p/CDPdBNlHz_c/
The brewery, brewpub and restaurant often receive rave reviews from locals and out-of-town visitors alike. Recently Bad Dad's was named Best Brewery in Indiana by Visit Indiana (you can check out the stiff competition they were up against here). When asked about how they're faring during the times of COVID-19, Howard noted that the Grains and Grill restaurant definitely took a hit, as it is very much a dine-in destination. The brewery and pizzeria, however, have been booming.
"If there's a positive thing that came out of COVID at all, it allowed people to find us," said Howard. "People from bigger cities with extra time on their hands are looking for excuses to leave the city, and locals are eating (and drinking) up the to-go pizza and beer. With restaurants in Indiana open with restrictions now, the brewpub and brewery are doing extremely well."
Realizing that not every brewery, restaurant or brewpub is doing as well, Bad Dad Brewing Co. participated in the All Together global brewing collaboration, with all proceeds going to the Restaurant Workers' Community Foundation. Although they try to stay out of hard politics, as long-standing members of their local community, they participate regularly in local sponsorships and other community initiatives.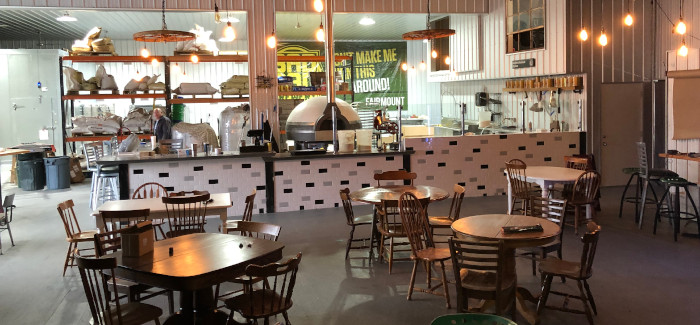 The Howard crew has no reservations about proceeding with their planned expansion. They were already brewing beyond capacity with the original 5-barrel system they purchased from Portland Kettle Works. "We're running out of product because demand is so high and we're expanding so quickly," said Patrick Howard. In Fall 2019, the family picked up a 3-vessel, 15-barrel system from BrewFab in St. Petersburg, Florida. "Barry's always thinking," said Patrick when asked if they plan on continuing to expand. "When we finish a product, he's always looking at empty areas." Currently, the brewery distributes in Indiana only, which they plan on continuing, but they also want to increase distribution throughout the state, a hurdle Patrick is working hard to resolve.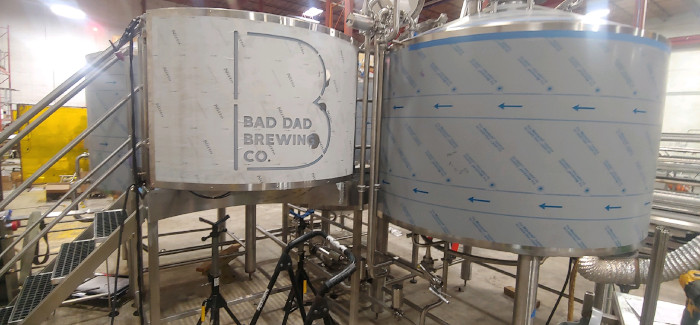 Bad Dad's beer lineup doesn't exactly reflect the current trend of one-upping the next brewery by making insanely out-there beers. They do have some specialty beers, but their core lineup consists of four solid standards: a Blonde Ale (Socks and Sandles), a House IPA (Tapestry of Obscenities), a Scottish Ale (King of the Castle) and a Chocolate Coffee Stout (You're Grounded, Mister). They also brew a rotating seasonal, which is currently The Sodfather, a Honey Lemon Ginger Shandy. The goal is to have people see these brands and the associated imagery and immediately think of Bad Dad's Brewing. Other specialties include a NEIPA (I'll Turn This Car Around), a Berliner Weisse (Ask Your Mother), and a Belgian Quadrupel (Plummer's Crack).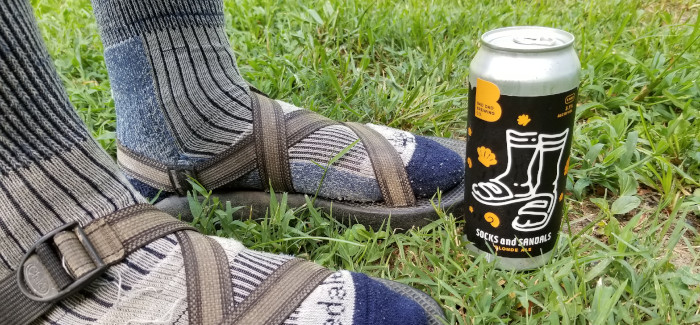 If you want to pick up some pizza and beer to go and enjoy a relaxing drive through some Indiana back roads in the process, consider stopping Bad Dad's at 407 W Washington St, Fairmount, Indiana. To place an order in advance, use the Toast online ordering app. Be sure to tip your server! Who knows, they may even tell you a bad dad joke.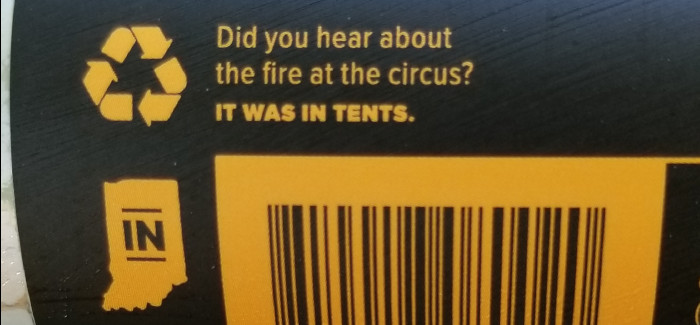 A bad dad joke on every can (this one is from their Socks and Sandles Blonde Ale). Photo by Jereme Zimmerman. 
---