No Comments
Goodwood Brewing Co. | Shoot Your Eye Out Milk Stout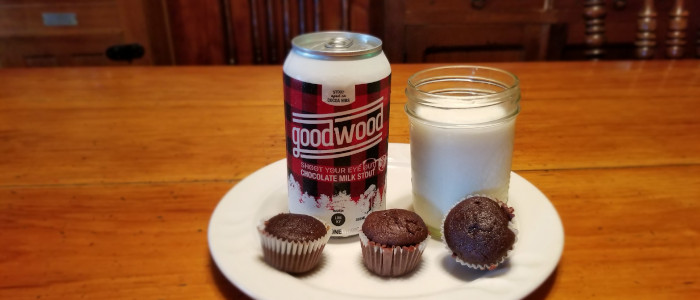 Goodwood Brewing Co., headquartered in Louisville, Kentucky — with an additional taproom and brewpub in Frankfort — has a solid reputation for releasing flavorful brews that are unique enough to stand out, yet approachable enough to not turn off less-adventurous beer drinkers. Their Shoot Your Eye Out Milk Stout is no exception.
Although technically a winter Stout (taking its name from the holiday classic "A Christmas Story"), it's delicious any time of the year. It doesn't jump up and down and scream at you. It simply goes down smooth with minimal bitterness. The sweetness of lactose (milk sugar) doesn't stand out, but it's definitely there, and the chocolate hangs out somewhere in the background — like dipping a chocolate-chip cookie (or chocolate muffin) in some milk and then taking a sip of the milk to let the flavors linger on your tongue. One thing the lactose definitely does for the beer is give it some nice, milky body. Rounding out the flavor are hints of coffee and a bit of nuttiness from chestnuts (roasted over an open fire, we imagine).
IT'S A MAJOR AWARD! 🏆 Shoot Your Eye Out Milk Stout 🍫 will be available in cans AND on tap Thursday November 21st at 5PM at the Louisville and Frankfort locations!

Posted by Goodwood Brewing on Wednesday, November 20, 2019
Rather than using cacao nibs, Goodwood brews Shoot Your Eye Out with Cholaca — the liquefied form of cocoa. This enables them to extract straight chocolate flavor without worrying about anything else interfering with the process. As Goodwood notes in the Beers section of their website, Shoot Your Eye Out is a "big boozy adult Ovaltine [that] will have you saying whoopee, a zeppelin!" With an ABV of 6.9% and an IBU of 30, we can't argue with that. Just wait to drink this until after you've tried out your new Red Ryder BB Gun (if you were lucky enough to get one). We wouldn't want you to shoot your eye out!
---