No Comments
Funkwerks | Barrel Aged Provincial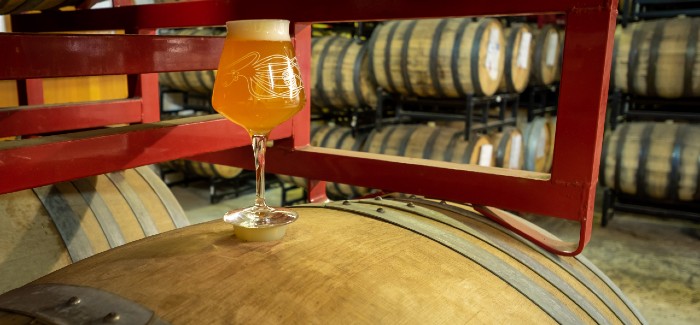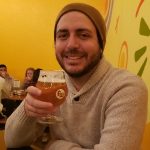 Funkwerks has been brewing Belgian-inspired beer and doing their part to "keep Fort Collins Funky" since 2010. They have managed to simultaneously be one of Colorado's rising stars and maintain a Fort Collins hidden-gem vibe. While possibly best known for their flagship Saison, their GABF Gold Medal-winning Raspberry Provincial Sour Ale is also a crowd favorite from their core line up. Its popularity led them to create multiple variants, featuring other fruits such as pineapple, guava, passionfruit, apricot and strawberry rhubarb. The Rhuberry Provincial — the strawberry rhubarb variant — was the lucky liquid they put into a barrel to create Barrel Aged Provincial.

A Provincial Tale
Brad Lincoln and Gordon Schuck met while studying Brewing Science at the Siebel Institute. In 2010, they opened Funkwerks in Fort Collins and began brewing Raspberry Provincial in 2013. According to Lincoln, "All Provincials start the same way." Pils malt and plenty of wheat go through a multiple-temperature mashing process known as step mashing. Funkwerks uses this process while brewing all of their beers, partly to ensure good food sources for the bugs during the souring and fermenting stages of the brew. This extra step may not be readily apparent to most, but it demonstrates how Funkwerks ensures quality by refusing to cut corners.
The relatively low hopping rate provides slight bitterness, but does not play a big role in the final product. All Provincials are kettle-soured with lactic acid, producing Lactobacillus bacteria. This type of bacteria is commonly used in sour beers as well as other fermented products such as yogurt, sauerkraut and kimchi. Provincials are fermented with the B22 Belgian yeast strain. This yeast, made famous by Brasserie D'Achoufee, normally results in that well-known spicy, fruity Belgian yeast character. However, in the Provincial series, the yeast takes a backseat to acidity and high quality fruit, which is added after primary fermentation is complete.
Happy Accidents
That is where the story of Barrel Aged Provincial diverges from the other provincials. Lincoln said in a way reminiscent of Bob Ross, "It's a beer that wouldn't exist if a couple happy accidents didn't come into place." Those happy accidents include having an extra barrel that needed to be filled, and losing track of that barrel in their cellar for almost one and a half years.
The barrel in question is a neutral oak wine barrel that most recently housed a Sour Blonde Ale. Part of what makes this beer different is the fact that it is a fast soured beer aged in a barrel, which is a process normally reserved for slow souring beers. When they recently rediscovered the barrel and tasted it, they were ecstatic to learn that it was delicious and ready to put on tap.
A Barrel Aged Kettle Sour
Although Barrel Aged Provincial wasn't soured on oak, the residual brettanomyces and slow ingress of oxygen gained from time in the barrel resulted in a mellow, nuanced and rustic Sour Ale at 5.2% ABV. In Lincoln's words it "doesn't necessarily have all the big complexity of Funkwerks Oud Bruin or Barrel Aged Tropic King, but it does have some of those characteristics mixed in with the lightness of a Kettle Sour. So, it works really well as an intermediate beer." Perhaps it's a beer that bridges the gap between kettle sours and barrel-aged sours.
It pours a cloudy, dark gold with a tight, persistent foam. The musty and earthy aromas bring the standard Farmhouse characteristics into focus. Almost surprisingly there's a faint, overripe strawberry note leftover from the base Rhuberry Provincial. The acidity — bright but tamed by time in the barrel — plays with the oaky tannins and effervescence to create a complex yet approachable and utterly refreshing barrel aged Sour Ale.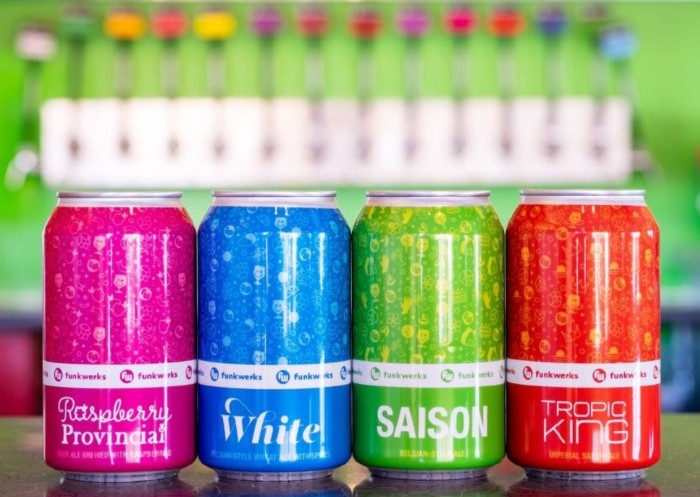 Keep Fort Collins Funky
Many may have heard that Funkwerks partnered with 21st Amendment and Brooklyn Brewery to contract brew and sell their beer. Due to the effect COVID-19 has had on the industry, along with a variety of other factors, they have decided to pull back on that production and distribution deal. Fortunately, Lincoln has another "happy accident" perspective on the situation. He said, we are "probably going to see a lot of change from Funkwerks in the next year… In terms of what I want us to become now is quite a bit different. We have so much more leeway than we did two years ago. So, that allows us to explore a lot more of what we want to do and I'm excited about that."
All Funkwerks beer is once again brewed exclusively at the Funkwerks brewery in Fort Collins, and they have no plans to change that. Also, they have reined in their distribution to include only Missouri, Minnesota and Colorado. This has freed up some of their production capacity, which allows them to "focus on fun, new, cool things" as Lincoln put it. Thankfully, they plan to continue brewing all of the Funkwerks year-round beers while showcasing their versatility in their taproom and with special releases.
How and Where to Get It
Barrel Aged Provincial doesn't smack you in the face with fruit or acidity. It doesn't smack you in the face with anything, which is what makes it such an excellent all day, everyday drinker. Of course, they only made one barrel of it, and they have no plans to make it again. Whether you are exploring Barrel Aged Sours or just looking for something funky, you can only get it at Funkwerks and only until that fortuitous barrel runs dry.
Feature Image provided to PorchDrinking.com by Funkwerks.
---