No Comments
Sneak Peek | Revolution's Final Deep Wood Release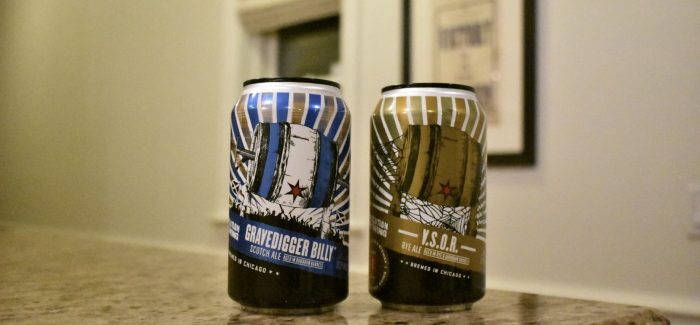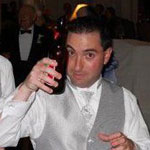 First announced in July of last year it seemed like it would take a long time to get through all of the Revolution Brewing Deep Wood releases. But as the last two beers are about to be released, they've once again kept us wanting more.
To round out the four-month release schedule, the brewery is releasing Gravedigger Billy and V.S.O.R. They say to go out with a bang and that's exactly what Revolution is doing.
There will also be a taproom release party as has been the norm, pandemic aside, where both beers will be on tap with a variety of draft-only variants that showcase super rare beers the brewery has thought up and some that could be auditioning for the canning line in future years. The variants being poured are down below.
While V.S.O.R. is sold out for pre-order, Gravedigger Billy is still available for $30 a four-pack with a limit of two per person. Both beers are brewery-release only and will not see distribution.
Gravedigger Billy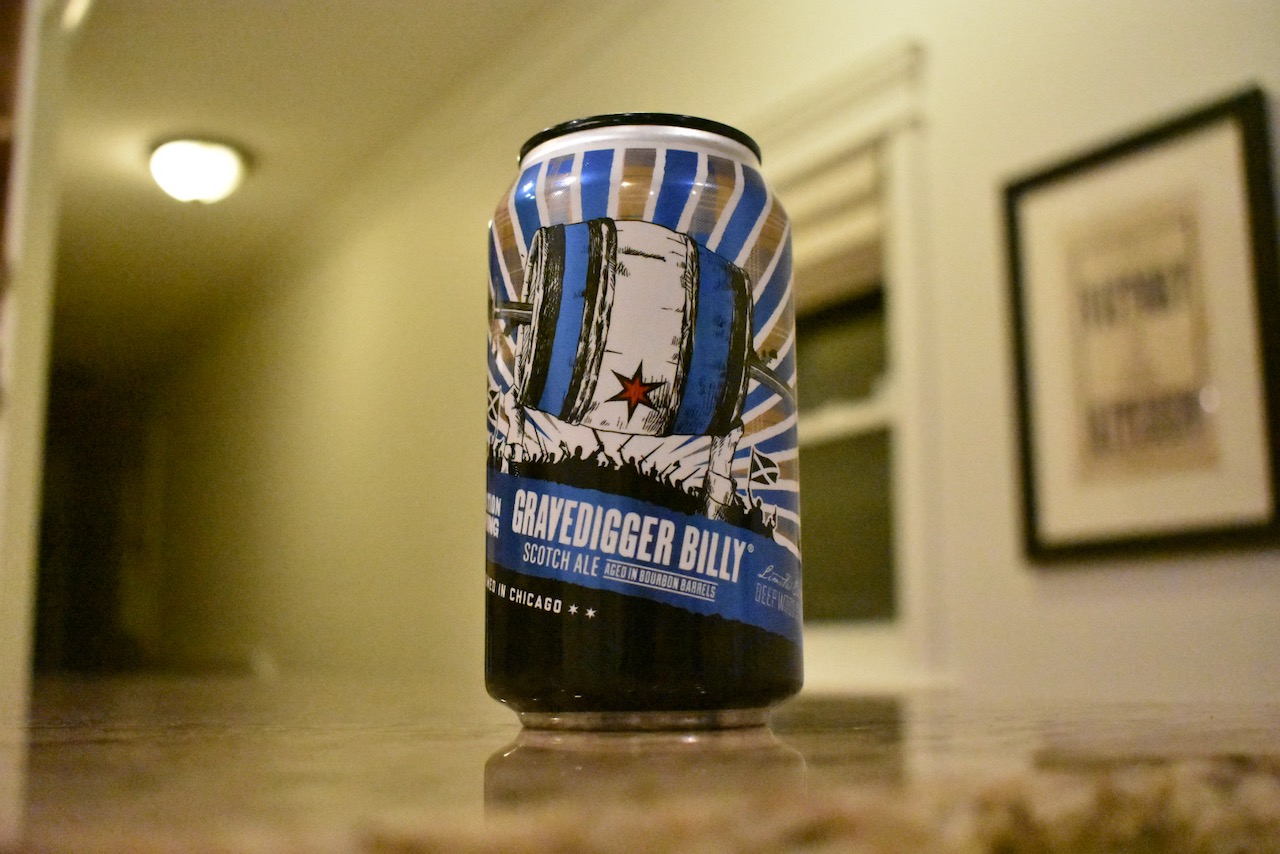 Scotch Ales create a lot of emotions in people when they see the style. They tend to think big smoky, peaty beers that will just wreck their palate, and based on past experiences they might be right in thinking that. 
Gravedigger Billy is a Scotch Ale that skews towards being a Barleywine that creates this sweet and slightly smoky beer that I enjoyed way more than I thought I would. It starts more like a Barleywine upfront with flavors of caramel, raisins, and dark fruit. The smoke comes at the end and it's present but it's not overpowering. 
Revolution's Head Brewer Jim Cibak noted that they used Beechwood smoked malt instead of Peat smoked malt and that helps keep the intensity of the smoke profile under better control.
The origins of Gravedigger Billy are interesting as the beer came from another well-known Revolution beer, Willie Wee Heavy. This Wee Heavy came in at 8.9% ABV and the brewery wanted to try barrel-aging it. But they had to increase the starting ABV so it could go into the barrels. They kept increasing the ABV and eventually got to 10% but by that point, it was no longer Willie Wee Heavy but an all-new beer: Gravedigger Billy was born.
"Willie Wee Heavy was Willy Wee Heavy since the dawn of the Revolution," Revolution's head barrel brewer Marty Scott said. "Willie Wee Heavy was like a Barleywine and Gravedigger is similar to that."
As Gravedigger Billy warms up the smoke profile does become a lot more noticeable but with the big sweetness upfront, this beer works so well and I think will surprise a lot of people. 
Call me crazy, it's my favorite of this release.
V.S.O.R.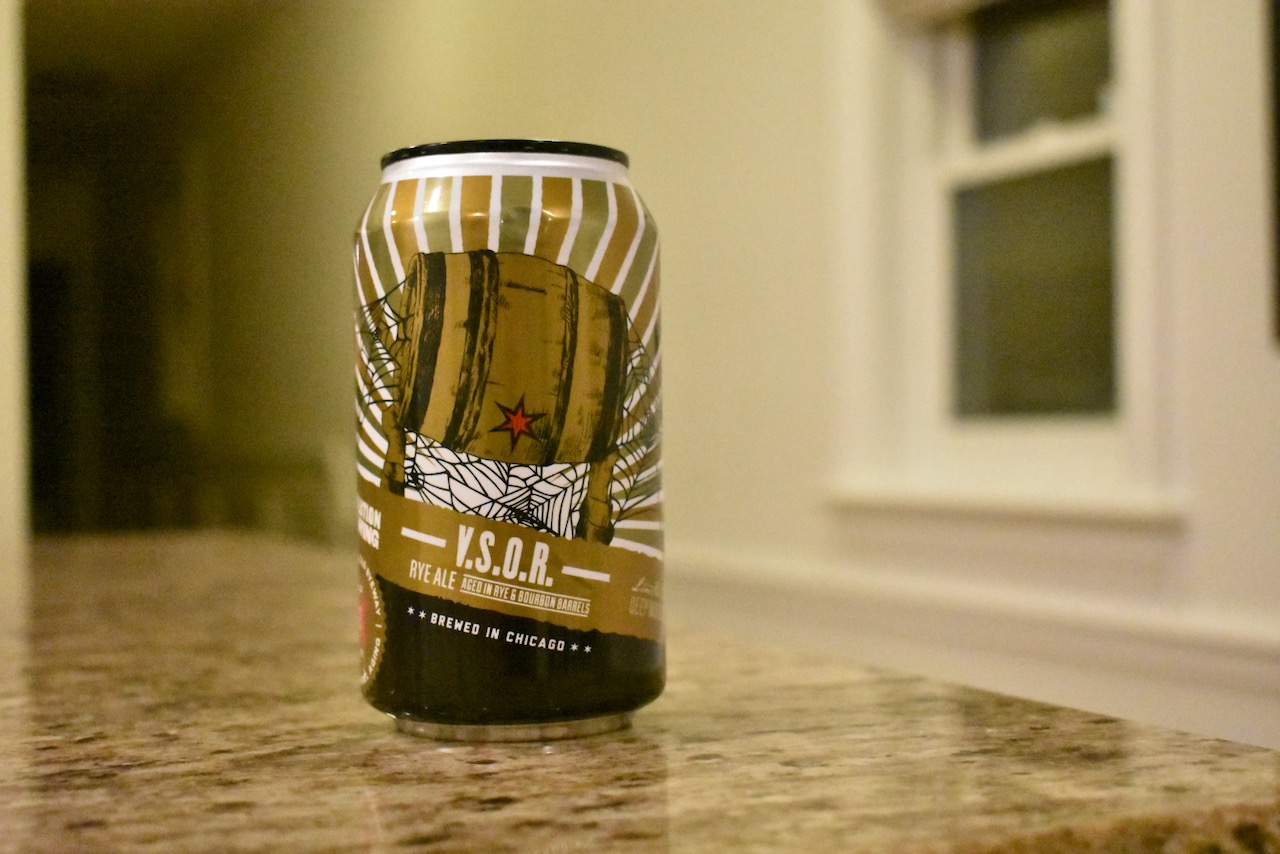 Very Special Old Ryeway returns to the Deep Wood lineup and like the others that have been anointed with the "Very Special Old" tag, it created some hype. Revolution doesn't always release these beers that sit in barrels for at least two years, but in the recent past we've seen V.S.O.D. and V.S.O.J. – both were excellent beers and V.S.O.R. is no exception.
At 15.4% ABV, it is the highest ABV Deep Wood beer released this year but it doesn't taste like it – not even close.
It's incredibly well-balanced and dare I say it, easy drinking. On the aroma, you get big notes of rye and spice and you're buckling yourself in for what is going to be a big spicy sip of Rye emotion. But then you take a sip and the first thing you'll notice is this silky viscous sip that coats your mouth is unlike any beer in the Deep Wood lineup this year. 
Oh, that aroma you got was misleading. The beer starts just a bit sweet and ends with a big hit of Rye but nothing that's going to overwhelm your taste buds. It's all delicious and it all works together. 
If anything I wanted a tad bit more Rye spice at the end of this beer but as I type that if it went even slightly over the exact amount of Rye I wanted I'd be sitting here telling you I wanted less. And if I want slightly more or slightly less, I'd prefer to be slightly under as I want to drink these beers now and not wait and see if things would dissipate. 
V.S.O.R. will be a crowd-pleaser but I hope people won't sleep on Gravedigger Billy.
Draft-Only Taproom Variants
Sanctuary #14 – Double Barrel V.S.O. Boss Ryeway – 16.1%
This blend of sweet Ryewines were first aged in Armagnac and Woodford Double Oak barrels before being blended into a single Heaven Hill Bourbon barrel for a further forty months. Aromas of oak, dried stone fruit, and spice precede a wave of cherry pit, maple and cocoa, punctuated with a flash of tannin and alcohol. 
Sanctuary #16 – Double Barrel X.O. Flak Jacket – 15.0%
A blend of batch one V.S.O.R. from a Woodford Double Oak barrel and V.S.O.J. dry component aged together for an additional forty months in a single Heaven Hill Bourbon barrel. Aromas of vanilla, baking spice, and American oak soar above a current of caramel, date and maple.
Apple Brandy V.S.O.R. – 12.5%
This sweet component Ryeway to Heaven spent two years in a pair of American oak ex-Apple Brandy barrels. A few pounds of prized single-origin French oak weave delicate earth and smoke essence into a mélange of maple, caramel, stone fruit and pomme.
Peach Brandy V.S.O.R. – 13.0%
We've been itching to release this beer from the moment we first laid nostrils on this pair of peach brandy barrels, one a steely American oak ex-bourbon, and the other a luscious, soft, French oak ex-wine cask. Two agonizing years later this off-sweet component of Ryeway to Heaven layers stone fruit and maple betwixt a latticework of rye-imbued spice and firm, silken texture.
---