No Comments
Chicago's Howells & Hood | One Last Summer Fling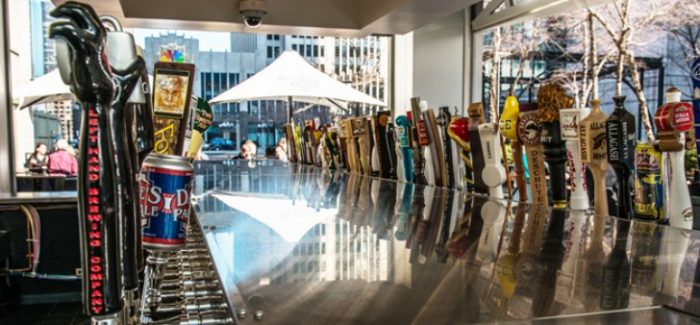 Chicago's Howells & Hood restaurant and pub, with its 119 beers on tap, lies at the confluence of two Chicago icons—the "Mag Mile" and The Tribune Building. Besides the lauded culinary program and extensive beer list (and draft wine, and cocktails and more), H&H boasts of a fabulous patio that provides patrons with an exceptional, photogenic view of the Chicago skyscape. On March 1, Howells & Hood raided the Bourbon County barrel cellars of Goose Island for its five-year anniversary. The Goose presence served to be somewhat symbolic, sort of speak, as is proved to be Howells & Hood's Anniversary Party swan song; renovations to the Tribune building will force H&H out on September 30. That leaves fans of the pub (and tourists) one more summer to drink beer surrounded by Chicago's architectural big shoulders.

Operated by Bottleneck Mgmt. Group, who also manage several other craft-beer friendly restaurants and pubs in Chicago and throughout the country, Howells & Hood serves as the opening act on the Group's website. In other words, the gorgeous patio view invites visitors to explore their entire brand. Of course, most who frequent the establishment never consider (or remotely care about) H&H's place within a larger business venture. For H&H fans, it's all about beer, a view, patio parties, beer events and summer nights cooled by Lake Michigan breezes. Although it will be closing at the end of September, there's plenty of time to enjoy it while it lasts.
In the meantime, spring has only barely made an appearance in the Second City, demonstrated by the 40-degree day that accompanied the March 1 anniversary party. Until the patio opens, H&H remains a beer haven, noted by its nearly wall-to-wall tap handles.
ABInBev issues aside, the Howells & Hood party exemplifies its attitude about beer. One didn't just choose amongst the standard selection of Goose BCS variants; one chose from thirteen BCS beers dating back to 2013 when Howells opened. Most didn't seem to care about the lines, chilly weather or the sometimes $20/beer price that day. Indeed, the events room was packed. But, if supporting corporate beer isn't your thing, you can just drink from the hundred-plus handles that put Buckledown, Deschutes, Two Brothers, Surly and Goose all on a level playing field. And that's the case at the other Bottleneck establishments such as Sweetwater on Michigan Ave and the three Old Town Pour House locations—all successful establishments on their own.
Still, only H&H provides that stunning view. As they say: "location, location, location!" Sure, Howells & Hood may very well pop-up again in a new spot, but it will be an arduous task to replicate the ambiance found at the current site.
Luckily, akin to one's college senior year; you know it has to end but there's plenty of time to enjoy every last second until that time arrives.
---