No Comments
Gluten-Reduced Beer is Having a Moment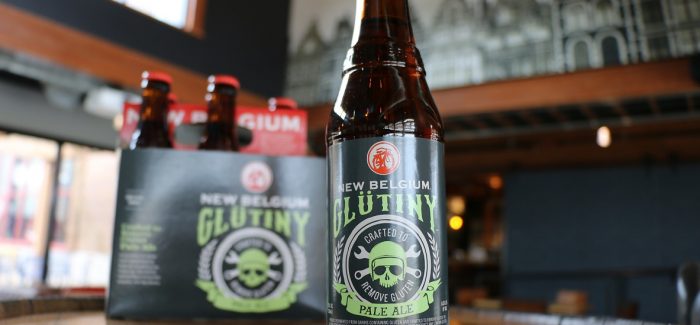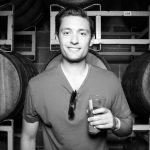 Craft beer seems to go through phases. Right now, you can't find a new brewery that isn't making something exceedingly bitter, hazy or barrel-aged. In some ways, consumers' preferences for different craft beer styles mirror their often-fleeting style, dietary and exercise obsessions. Every year there seems to be a new trend popping up that captures the minds of the economically important 25-34 age demographic. One dietary preference that has weathered the storm of fleeting fads has been the rise of gluten-free and gluten-reduced diets due to its digestive health benefits. Now, several prominent craft brewers are joining the fray by introducing gluten-reduced beers. Are these new options a simple novelty or a beer style that is set to explode? We asked two brewers leading the charge.
New Belgium Brewing

The 100% employee-owned brewery has been at the forefront of the gluten-reduced trend since the introduction of its Glutiny Pale Ale a few years ago. After several rounds of experimentation using gluten-free grains like quinoa and rice, New Belgium made the shrewd decision to keep using a typical malt base that contained gluten while counteracting it by adding a special enzyme called Brewers Clarex during the brewing process that effectively cancelled out the gluten particles in the beer. The result was a tasty pale ale that fit New Belgium's high brewing standards, while also containing under 20ppm of gluten—below the FDA standard. Because the FDA is involved in the testing of products that say they are gluten-free, New Belgium, along with any brewer crafting a gluten-reduced beer, had to test their beer in a lab with the R5 Competitive ELISA method, which is the industry-approved mechanism for testing for gluten in a final food product.
https://www.instagram.com/p/BbxWhjSAfIk/?tagged=glutiny
Why go through all of these extra steps to make a gluten-reduced beer when you could add another variation to the popular Voodoo Ranger series? For New Belgium spokesman Jesse Claeys, the answer was simple: the demand for the beer was there, and New Belgium had to deliver.
"We had been hearing from people for years that they would love to see a gluten-reduced beer crafted by New Belgium…We didn't want to compromise on flavor, mouthfeel or body, so we took our time and went down many roads until we found the right process resulting in the right flavor. In the end, we landed at Glutiny Pale Ale, which offers the full-flavored experience craft drinkers expect foremost with the added benefit of being gluten-reduced."
Now with a few years in national circulation, Glutiny has provided New Belgium, and the larger craft beer market, with an interesting barometer on whether there actually is sustainable demand for a gluten-reduced offering. The answer? Absolutely. "Since we released Glutiny Pale Ale a few years back, the beer has been well received and the popularity of the liquid continues to increase," said Claeys. "We believe the gluten-reduced beer category will continue to grow as consumers realize that breweries like New Belgium are crafting offerings that do not compromise flavor, body and mouthfeel."
Surly Brewing Company

Enter the oft-adventurous Surly Brewing. Surly's expert usage of hops throughout their beer portfolio has been an integral part of their success, so keeping to that  hop-forward approach when creating a gluten-reduced beer was paramount. The Minnesota craft brewer knew that the gluten-reduced trend in beer was not going away, thanks to the success of beers like Glutiny, so they knew they had to brew something that would fit with the increasingly complex dietary requirements of consumers. Coincidentally, their Beer Hall had been serving gluten-reduced options on their menu for some time now, which laid the groundwork for the development of Hopshifter. First introduced on-draft in their tap room in 2017, Hopshifter is also brewed with the Brewers Clarex enzyme. The uniqueness of Hopshifter is that you really couldn't tell that the beer didn't contain gluten because it is so heavy on the hops—which were different in each batch. The result is an intensely drinkable, hop-forward beer with a light body. The beer series quickly became a hit for Surly which made the decision to can it in early 2018 an easy one.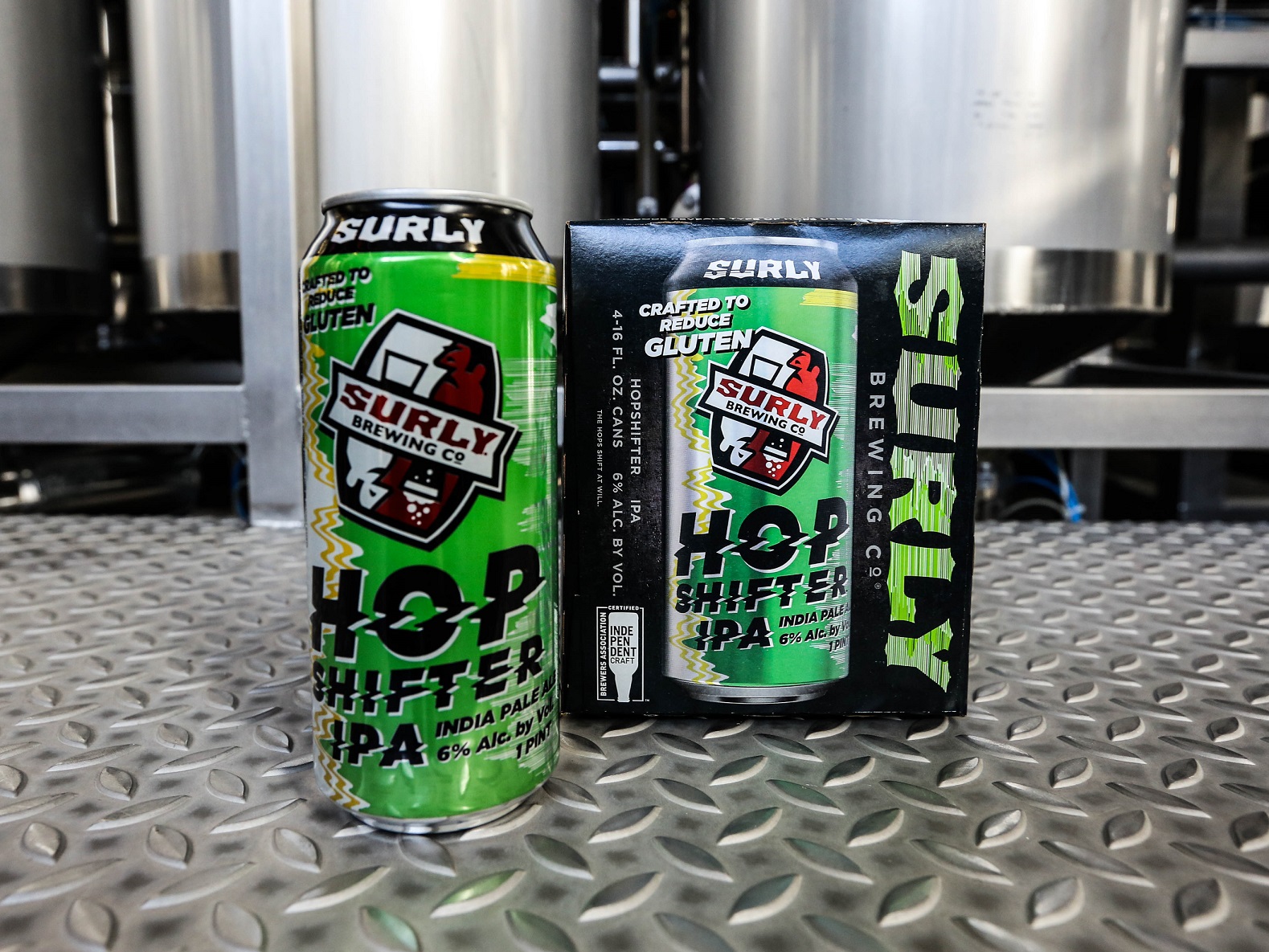 The newest version of Hopshifter that you will see on-shelves across Surly's expanded distribution footprint has less than 10ppm of gluten, is certified by the independent gluten-testing facility White Labs, and includes three hop varieties: the experimental Bru-1 hop, Citra and Chinook. The new offering comes in 4-packs of 16oz cans and will be constantly rotated as new batches, with new hops, are produced and distributed—a very appealing notion for beer drinkers concerned about beer shelf life.
With all of its beers, Surly expects strong demand among typical craft beer drinkers, but to Bill Manley, Surly's (New!) Director of Brand Development, Hopshifter has the chance to bring something different to the gluten-reduced market.
"For us, it couldn't be just ANY gluten reduced beer, it had to be Surly style…In the beer market, the [gluten-free] segment is still small, but it is growing as drinkers realize there are more and better options available. Nearly every day, we have visitors inquiring what we have on offer for those with gluten sensitivities…Hopshifter isn't just a great gluten-reduced beer, it's a great beer. Period. Hop heads appreciate the complex flavors, and those who need to monitor their intake of gluten appreciate drinking a super flavorful beer without having to compromise flavor. Who can't get behind that?"
Hopshifter has only been on shelves for a few weeks now, but the demand for Surly's hop-focused beers is constant, so I don't see too many obstacles for the new offering. Regardless, both Glutiny and Hopshifter are exciting examples of how craft beer is maturing with its consumer base and responding to their evolving needs. I'd be shocked if other brewers didn't follow suit. Cheers!
Feature image courtesy of New Belgium Brewing.
---