No Comments
Event Recap | The Brewer's Table at New Belgium Beer Dinner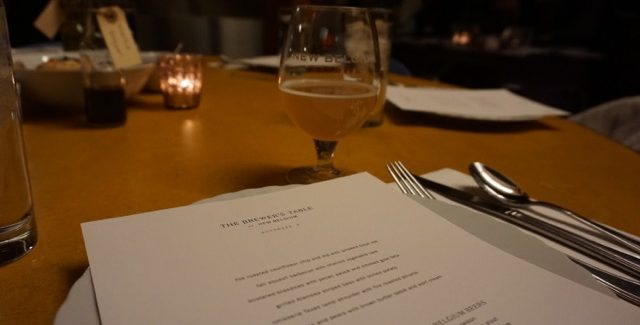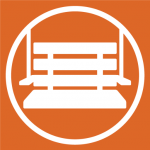 Roughly 50 lucky diners got a double sneak peek November 9 at The Brewer's Table dinner at New Belgium. Attendees enjoyed an unforgettable six course meal, featuring preview dishes from The Brewer's Table, a restaurant and brew pub opening in Austin early next year. Served family style, each course also featured a treat from New Belgium, with pairings featuring beers not yet released to the public.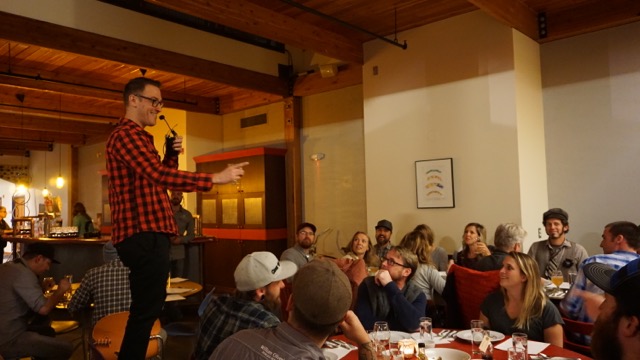 To kick things off, The Brewer's Table founder Jake Maddux shared his mission to create "beer as good as food, as good as beer as good as food." Maddux has joined forces with executive chef Zach Hunter and brewer Drew Durish (formerly of Live Oak Brewing Co.) to create a menu focused on wood-fermented brews and wood-fired food. Their aim, Maddux said, is to pay respect to where beer comes from by incorporating not only beer-inspired flavors in their food, but also processes and techniques from brewing. Likewise by wood-fermenting every beer, they plan to bring elements of their wood-fired cooking into the brewing process.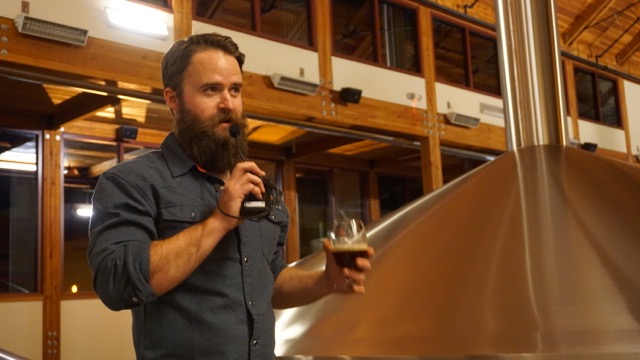 The real kicker about Chef Zach's creations for The Brewer's Table wasn't that they were delicious (they were), or that they incorporated elements of beer and the brewing process in new and interesting ways (they did). It was that he did it all without a kitchen. In fact, he cooked the entire meal in one of New Belgium's parking lots, using 300 lbs of oak for fuel. If this is the type of meal he can create with a few picnic tables and a fire pit, I can't wait to visit Austin next year and taste the full menu at The Brewer's Table.
Here's what we enjoyed.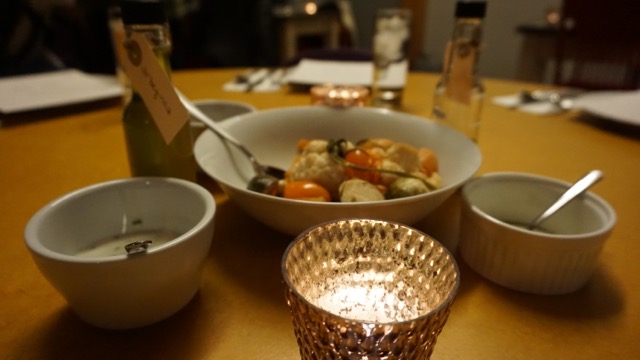 Fire Roasted Cauliflower Chip and Dip with Smoked Trout Roe
Beer Wort Pickles
Sour Blended Saison

We began our meal with a fire roasted cauliflower chip and dip with smoked trout roe, a variety of vegetables pickled in beer wort and a sour blended saison. The smokiness of the roe and tangy sweetness of the pickles paired perfectly with the beer's lightly sour notes, creating balance and complexity. Also on the table to mix and match with different courses: fresh hop salt, spiced brewer's yeast, fermented bear buttermilk dressing, malted vinegar, and hop flower olive oil.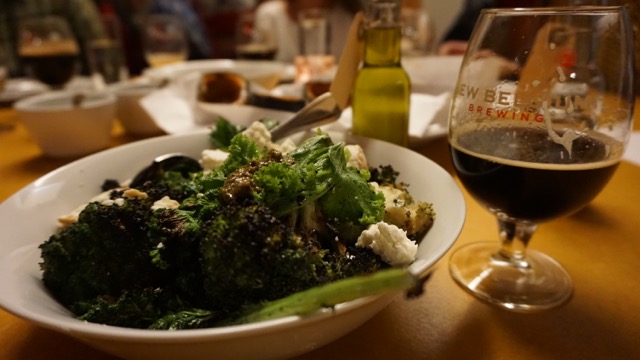 Fall Squash Barbecue with Charred Vegetable Tare
Imperial Coffee Sour Stout on Nitro

Next came a fall squash barbecue with charred vegetable tare, accompanied by a nitro imperial coffee sour stout. The stout, featuring Ethiopian coffee beans from local roaster Bean Cycle, was shockingly light bodied and easy to drink, with smooth coffee flavor and just a hint of sourness. The fall squash, cut in half and roasted in its skin, echoed the same flavors with a slightly bitter char from the fire and sweet, roasty insides.
Blistered Brassicas with Pecan Sauce and Smoked Goat Feta

While still savoring our stout, we received a gorgeous plate of fire-roasted brassicas with pecan sauce and smoky, salty crumbled cheese. Like the roasted squash, the lightly bitter greens combined with the sweet and smoky sauce and cheese clearly reflected the complexity of the beer.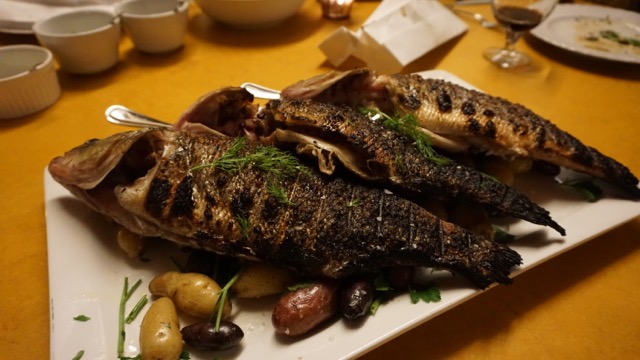 Grilled Alamosa Striped Bass with Boiled Potato
Whiskey Barrel-aged Fat Tire

The Brewer's Table then served us the most visually striking dish of the evening: a whole grilled bass on a bed of baby potatoes. The fish, charred to perfection on the outside and deliciously moist on the inside, retained its clean freshwater flavor while somehow also tasting earthy and roasty. Sprinkled with a bit of the fresh hop salt and paired with New Belgium's whiskey barred-aged Fat Tire, this was far and away my favorite course of the night.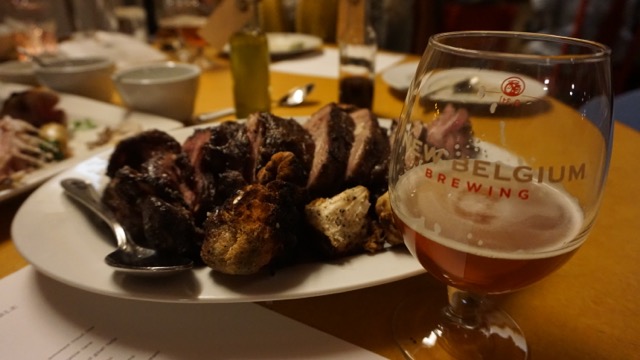 Rotisserie Texas Lamb Shoulder with Fire Roasted Alliums
Love Blackberry Oscar

For the main course, Chef Zach slow-roasted a delicious lamb shoulder—brought here from Texas!—rotisserie style for more than eight hours, and served it with fire roasted alliums. The deep complex flavors of the lamb were balanced by the Love Blackberry Oscar, a deep blackberry sour that cut through the richness and added just the right amount of tartness. Our table's spiced brewer's yeast and fermented pear buttermilk dressing also added more complexity and deliciousness.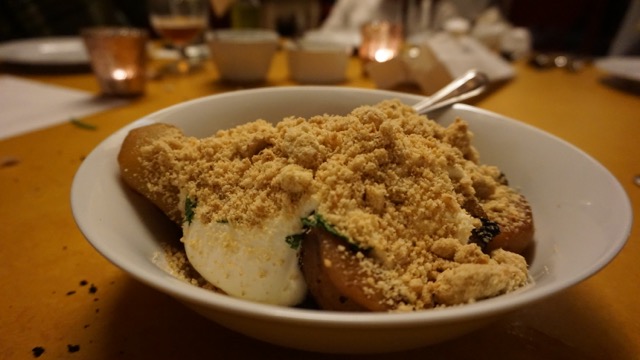 Poached Apples and Pears with Brown Butter Sablé and Wort Cream
Honey Orange Tripel

Our final course of the evening was the perfect blend of sweetness and tartness, with fruit that was soaked with flavor but not mushy, topped with rich, sweet brown butter crumble and the most complex cream I've ever tasted. By sweetening the cream with wort instead of sugar, Chef Zach added another brewing element to the dessert while also giving us a topping that was both savory and sweet at the same time. New Belgium again reflected these flavors perfectly with the honey orange tripel. With light sweetness, beautiful citrus notes and just a touch of coriander, this was the ideal beer to round out a delicious evening.
After a contentious and divisive election season, it may be easy to forget how much unity exists in our daily lives. It was uplifting and encouraging to witness the collaboration between The Brewer's Table and New Belgium, and the respect and admiration they have for each other was clear throughout the evening. I highly recommend keeping an eye on The Brewer's Table team, and wager this won't be the last we hear of them.
---