One Comment
Bale Breaker Brewing Company | Field 41 Pale Ale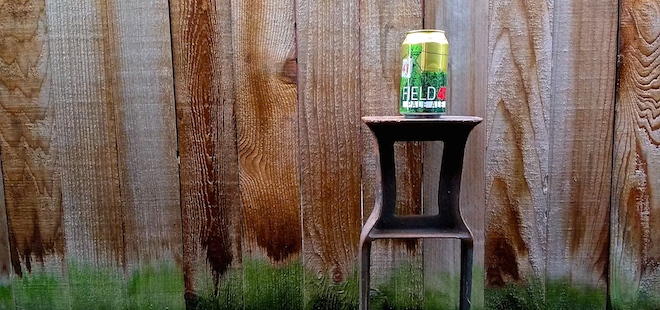 ABV: 4.5% | IBU: 38
Recently, at a north Seattle neighborhood taproom, I overheard a patron declare her aversion to "hoppy beers." Puzzled, I wondered if it was the hop aroma, earthy flavors or customary bitterness that displeased her. Maybe she hadn't yet tried a hop forward session ale that didn't clobber her with an intense and boozy ABV. Did she really dislike hops? I didn't ask—and she didn't say. But I did think back to this occasion the first time I tried Bale Breaker's Field 41 Pale Ale. Let me explain.
Hailing from the country's top hop-growing region of Yakima Valley, Washington, Bale Breaker Brewing Company is nestled among acres of family-owned, commercial hop fields. Co-owned by a small group of fourth-generation hop farmers, Kevin Quinn, his wife, Meghann, and her brother, Kevin Smith (formerly of Seattle's Two Beers Brewing Company), Bale Breaker epitomizes the idea of a "locally-run" and "locally-sourced" brewery. So, it's no surprise that Bale Breaker's beers are hop forward. In fact, the owners even named their Field 41 Pale Ale after the vast hop field the brewery occupies.
https://www.instagram.com/p/BIYdlpRBl3D/
One of Bale Breaker's flagship beers, Field 41 is an easy-drinking session pale ale, dry-hopped with the brewery's star ingredient—locally grown hops. This light-bodied, golden brew has an aroma of citrus, floral hops and pine, supported by a huge hop flavor, but without too much bitterness. It's a smooth and balanced ale with a gentle malt backbone, crisp mouthfeel and dry finish.
Field 41 is a beer for all occasions—and for beer enthusiasts of all tastes. Equally suited for a winter day on the ski slopes, a sunny picnic at the beach or a chill evening with Netflix, this brew has the juicy hoppiness of an IPA, but without the bitterness or heavy ABV.
https://www.instagram.com/p/zGEIY5C-XP/
Thinking back, perhaps I should have recommended Bale Breaker's approachable Field 41 to my hop-adverse neighbor that day in the taproom. It may have changed her mind about "hoppy beers." Or not. Regardless, Bale Breaker's Field 41 Pale Ale is a satisfying sipper for anyone who loves hop forward beers, or is willing to give them another try.
https://www.instagram.com/p/X8SDu5C-Za/
---