No Comments
Ultimate 6er | Best Beers to Hibernate with in St. Louis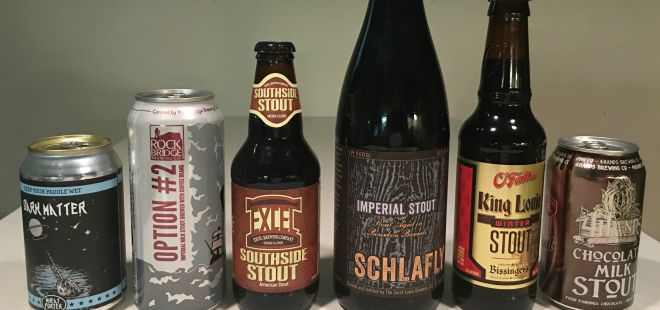 Walking down the sidewalk last week with my son, we literally saw a squirrel with an acorn in his mouth. "He's stocking up for the winter," said the 12 year old. "How cool would it be to hibernate?" Wow. Hibernate. I could deal with that. Take off for a few months, do nothing but sleep, eat and drink beer. But the key to a successful hibernation is that you can't go out. Actually I think that is the definition of hibernation.
Six weeks should be enough. So, we'll need to choose six beers that are either bottled or canned for proper hibernation storage and get enough of it to last a full week. Sounds like a plan to create an ultimate hibernation St. Louis 6er.
ABV 6. 5 %  | IBU 40
Probably one of the St. Louis area's most underrated breweries, Excel's flagship brew center's their year round menu for a reason – it's as good at 100 degrees as it as 10 degrees, and that's what counts here. Not very heavy and at 6.5% ABV, it's what we consider a sessionable winter beer. Not as chocolatey and creamy as the rest of our 6er, but just a solid stout. Roasted barley and dark caramel malts combine with citrusy American hops creating this Dark American Stout from Breese's Southside.
---
Imperial Stout | Schlafly
ABV 10% | IBU 40
St. Louis' granddaddy brewery is never short on surprises and this one is a sneak attack, a stout that has sort of flown under the radar because until now few have recognized this beer's true purpose – hibernation. Aged in Kentucky bourbon barrels and aged before being bottled, this is a big beer, thick with bourbon, toffee, chocolate, molasses flavors. Even served cold, this imperial stout is spicy, has a trace of vanilla and a warm finish, perfect for what we need it to do.
---
9.2% ABV | 30 IBU
Rock Bridge Brewing, located in Columbia, Missouri is relatively to our region, or at least new to us. This is an Imperial milk stout brewed with coffee beans which give it a rich creamy texture. A heavy beer a 9%, but heavy also in taste. Pours rich black with at tan head, and drinks sweet at first but then continues smooth with bursts of chocolate and just hints of the coffee. A really solid stout that should keep us warm for a solid week of our hibernation.

---
6.6% ABV | 25 IBU
A very approachable beer, compared to some of our other heavier hibernations beers, this is the first beer we've run across that has its bio right on the can. "Dark Matter is dosed up with wheat malt to give it a smooth, subtle breadiness and extra body. Hints of dark chocolate and roasted coffee flavors meld like thermonuclear plasma. Smoke a brisket and pour a Dark Matter… portals!" Whoa! That is quite a description. It also says it's a wheat porter, but we didn't get much wheat flavor, but more chocolate. They also say it pairs well with candy bars, pudding and peanut butter cookies, which makes sense. You will like.
---
6.3% ABV | 26 IBU
How did the commercial go? "Two great tastes that taste great together." That is the recipe for success for this beer crafted by O'Fallon Brewing in partnership with our town's premier chocolatier.
Not a very heavy beer, but rather full bodied with full flavor. Look for a combination of dark and white chocolate flavors, caramel and roasted notes. Bissinger's and O'Fallon developed a unique toffee blend with hints of caramelized sugar and vanilla to round out collaboration. A bit sweet but sessionable.
---
5.5% ABV | IBU N/A
This beer quickly became a St. Louis winter beer classic when it debuted back in in 2012. To us, this beer tastes just like one would expect if you mixed a tall, creamy glass of chocolate milk with your favorite beer. It's really that simple really. This beer pours black and smooth and quickly rewards with bursts of chocolate as you would expect. It's sweet, but not too sweet, which makes a second and third or more approachable. That and the fact that at 5.5% ABV, your hibernation drinking session can go on pretty deep with this one. Not be missed.
---