No Comments
Collaborating for a Cause | Bear: Stay Strong Alex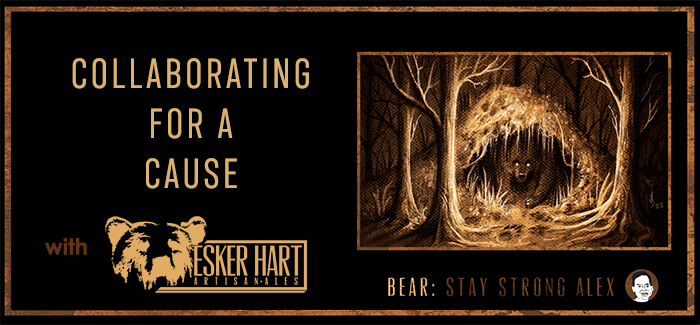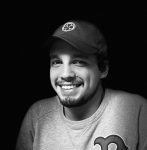 The Stay Strong Alex initiative continues this week with a special iteration of Esker Hart Artisan Ale's Bear series. With his first full-production location slated to open in early 2024, Bob D'Angelo started his brewing journey nine years ago. Early support from Alex served as a huge kick start to what has now become Esker Hart, and in the wake of his unanticipated cancer diagnosis, Bob knew that he wanted to honor and dedicate this second Blend of Bear to him in support of the long road ahead. We had a chance to talk with Bob and learn more about his history with Alex as well as the beer itself and the special raffle that was set up to help raise money for the Kidd family.

The Esker Hart Cause
Esker Hart Artisan Ales is rooted in simplicity, meant to represent the road where Bob D'Angelo started his brewing journey. The term 'esker' is defined as a long ridge of gravel that typically winds upward and is transported by meltwater from a glacier or ice sheet. Hart represents the uphill gravel driveway to his parent's house on Hart Drive, where Bob first started home brewing in 2014 at the recommendation of one of his best friends.
The Esker Hart brand has commercially contracted recipes through Twelve Percent Beer Project out of New Haven, CT, since 2022. Now, in July of 2024, Bob and his wife Brielle will officially be launching Esker Hart Artisan Ales as an independent, full-production brewery in High Bridge, NJ. The D'Angelos are beyond excited for the opportunity to be a part of such a close knit community making the best beer they can.
The beer that Esker Hart released for Don't Drink Beer came from a very personal place. In 2018, Bob sent Alex his first batch of their homebrew version of Barrel Aged Breakfast With Squatch. As they were still in their infancy, Bob was just looking for some feedback from someone outside of their friend circle; a true, unbiased opinion. Alex posted a picture of the beer with some very nice notes, and according to Bob the post quite honestly kick-started Esker Hart into the next level as a home brewer. Five years later and after the exchange of many batches of beer between the two, Bob didn't hesitate for a second when the opportunity arose to fundraise bottles of this unique Bear blend to help Alex kick cancer in the ass.
Bear: Stay Strong Alex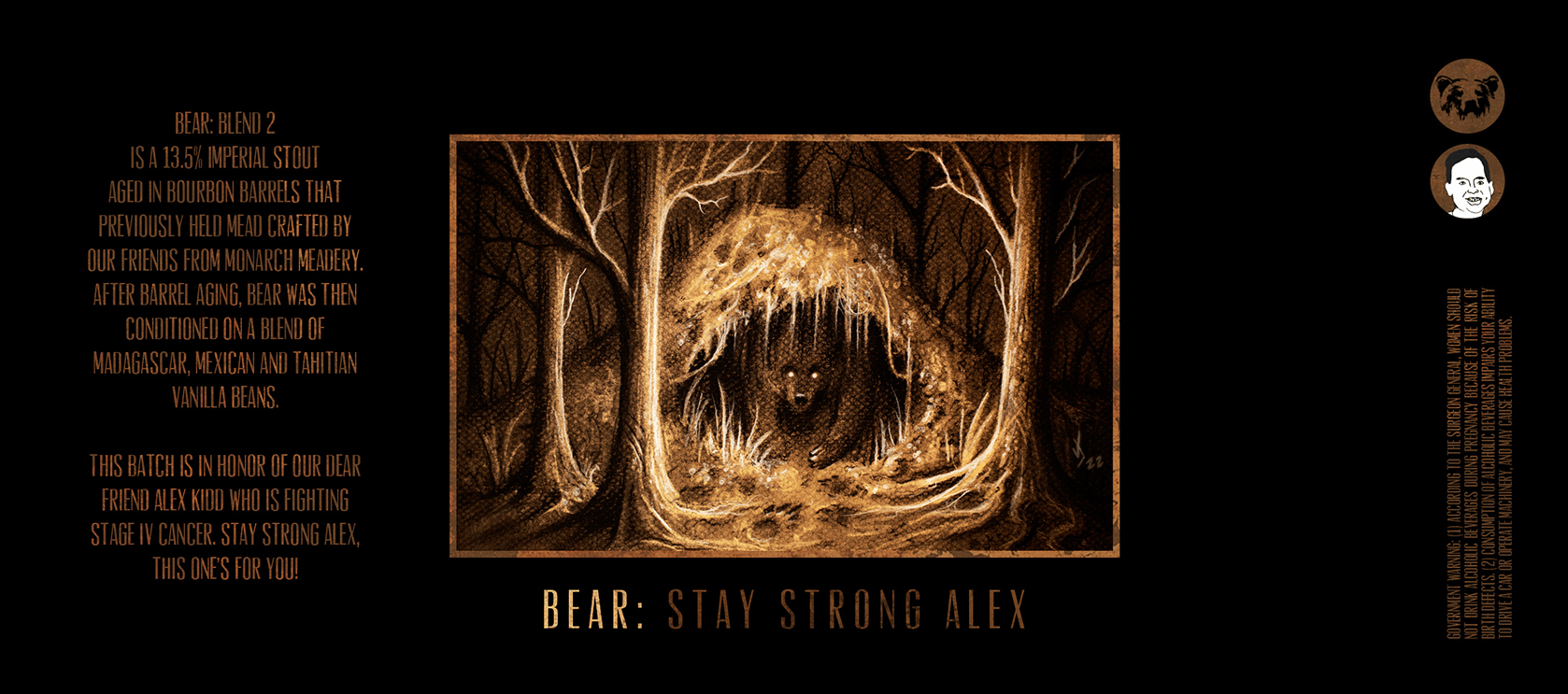 Beginning June 23rd of this year, Bob and Esker Hart opened up a link to Alex's GoFundMe on their Instagram. Every $5 donation (and associated proof) earned an entry toward their lottery for a bottle of Bear: Stay Strong Alex. Entries remained open until July 8, at which point winners were randomly selected. This fundraiser ended up raising an incredible $1,500 for Alex and his family.
The beer itself is the second batch of Bear, Esker Hart's beloved Barrel-Aged Imperial Stout. Neither pastry sweet or motor oil thick, this is instead meant to be an interpretation of the Barrel-Aged Stouts that had craft drinkers falling in love with the style a decade ago. This Stay Strong Alex iteration finished at 13.5% ABV and was conditioned on Madagascar, Mexican and Tahitian vanilla beans after aging in bourbon barrels that previously held mead from Monarch Meadery. The first five winners picked from the Bear lottery also received a bottle of that very limited mead.
Bob was generous enough to send a bottle to us at PorchDrinking for review as part of this series. Thank you so much for allowing us to share our experience with this special beer!
The Review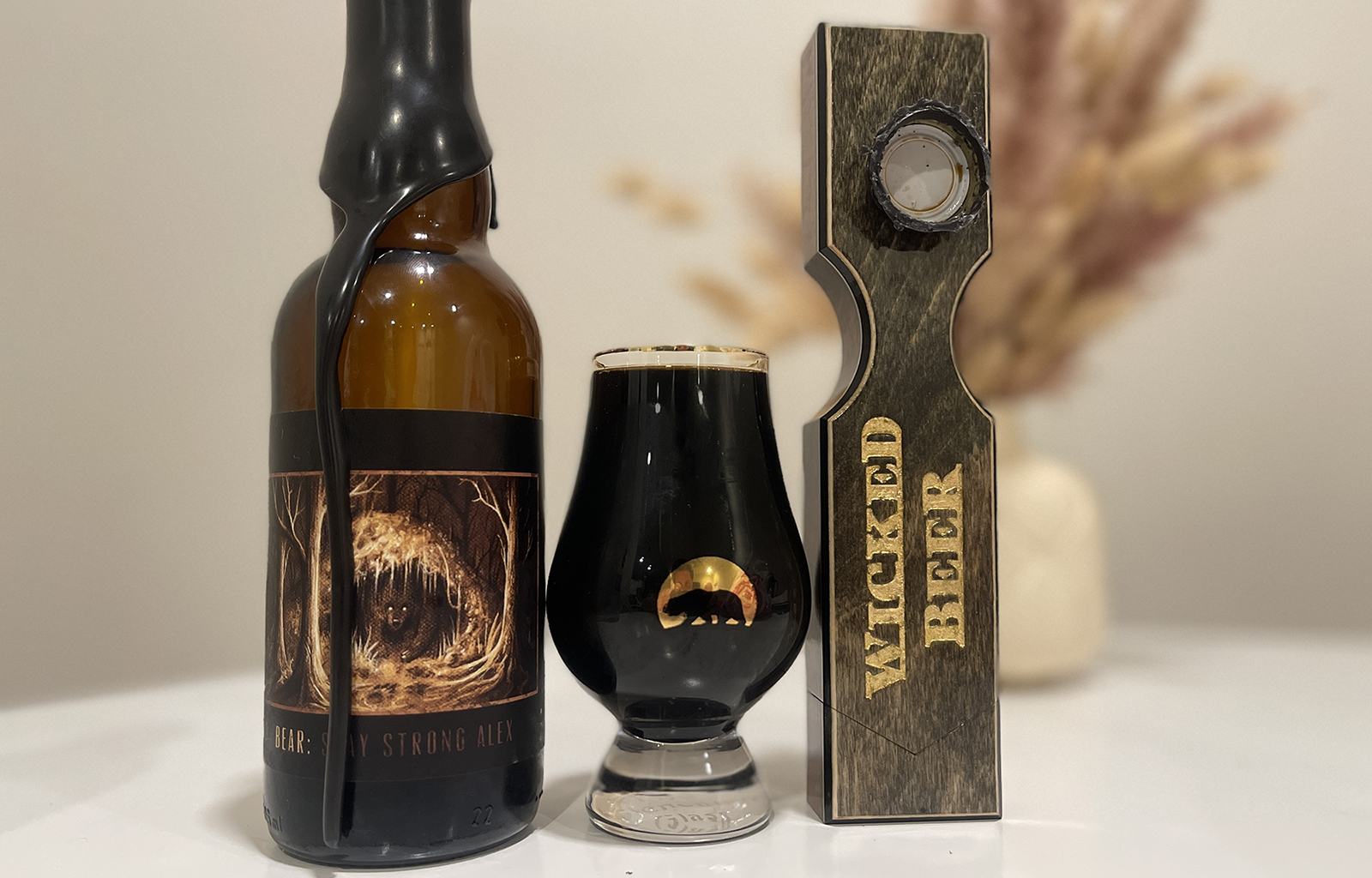 The pour on Bear is deep and brooding. It's not pitch black, nor does it have the appearance of being overly viscous, but it's intimidating nonetheless. While some dark brown bubbles of carbonation rise up initially, the beer settles virtually flat.
There is an abundance of dark fruit on the nose—prune, caramelized cherry and vanilla yogurt raisins. Temperature and time brings further complexity of Port wine and whiskey-soaked oak staves.
The palate showcases the barrel character, with underlying fruitiness from the base stout really working perfectly together. Dry oak combines with stewed prune, tobacco and boot leather.
The mouthfeel initially seems unassuming but really coats nicely. The carbonation is low but present, and it finishes dry. There's a touch of astringency and an abundance of ethanol warmth as it trails.

Supporting the Kidd Family
It's been nothing short of a humbling experience to talk to and share the stories of so many different breweries and the scope of impact that Alex Kidd, Don't Drink Beer and Malt Couture have had on their journeys in some way.
Unfortunately the journey ahead for Alex and his family is long and uncertain. As always, our hope with this series is to highlight how much Alex has provided for the industry and the special releases that breweries have dedicated to him in support. It's also our hope here at PorchDrinking that upon reading these installments of Collaborating for a Cause, you will consider donating to the Kidds as well.
A big thank you to Bob D'Angelo and Esker Hart for joining this series and cause. Please continue to follow along as more beer and breweries continue to do the same. Stay Strong Alex!
---