No Comments
Wax Wings Brewing Company | V Double IPA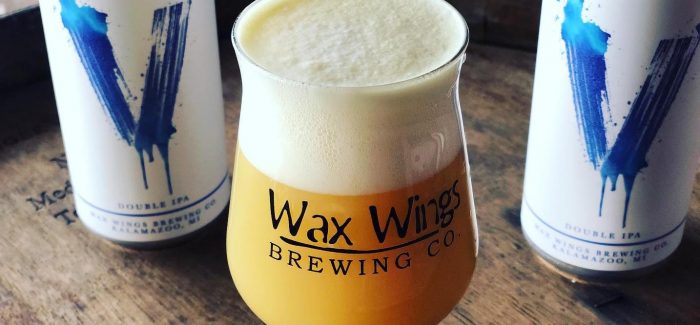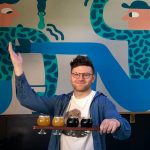 Wax Wings Brewing Company's love for IPA runs deep. In this past year alone, their Into the Labyrinth series has received seventeen iterations, each batch allowing for dynamic experimentation in process and flavor. Like Daedelus from the titular Icarus myth, owner Rob Hopkins is driven by a desire to invent and innovate—to approach the sun without torching his wings. He could talk hops until he's green in the face so when asked he happily divulged details on what some might consider their crowning achievement: V.  
But first, why V? While Wax Wings often leans into bird-themed branding, V is not named after the flight pattern of geese. Hopkins chose V to honor his son, Robert Wellington Hopkins V, who turned one this year. 
"Robbie's birth was the best day of my life and I wanted to design and brew a beer to celebrate the occasion," Hopkins said.  
Wax Wings intends to brew V annually and though it'll take twenty more birthdays before Robbie can properly enjoy a pint, that won't stop us from savoring it now. These namesake beers tend to hold a vaulted place in brewer's hearts, and Hopkins isn't shy to get a little sentimental. 
"When a beer is inspired by someone or something during its inception, the engagement and focus that go into brewing that beer are elevated," Hopkins said. "It brings out your best effort as a brewer, and you want the finished product to reflect the meaningful nature, hard work, and forethought that went into it. You want it to be special."
With V, we have a special beer on our hands.
View this post on Instagram
V is for Victory
For V, Hopkins set out on a specific mission. 
"I wanted to design a base beer that would support the most aggressive addition of hops for us, while still being soft and smooth," Hopkins said. "I was hoping it would be intensely aromatic, saturated with citrus and pine, and soft texturally."
Survey says: success. V glows a fluorescent orange—like a jellyfish stuffed with light bulbs—and like all the best hazies, this one pours cloudy, not swampy. 
As for the aromatics, they are indeed pungent. A cracked can immediately fills the room with a medley of tangerine, grapefruit and lemon. Huge flavor follows, each sip like whacking a pineapple piñata filled with hops. The mouthfeel leaves a plush impression… imagine sticking a straw in a cloud.
In a sea saturated with hazy IPAs, there's hope that the good ones will float to the top. With an exceptional lineup of ever-changing offerings, Wax Wings undoubtedly deserves a spot on your radar. 
---