No Comments
Six Bridges Brewing | Love Tractor Peach Milkshake IPA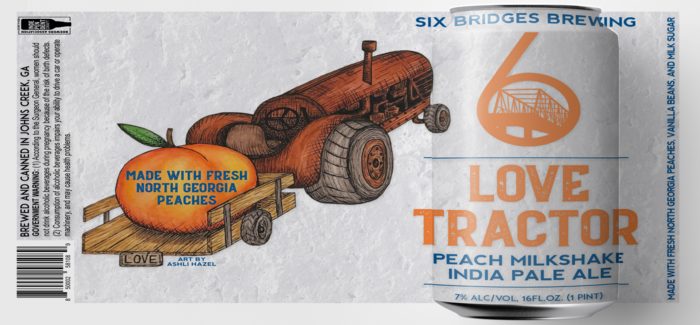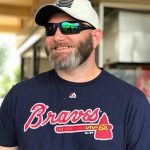 The state of Georgia is known for many different things: It's the birthplace of Martin Luther King, Jr.;  the home of Atlanta Braves baseball and the Augusta National Golf Club (which hosts the Masters Tournament) and the place where Coca-Cola was invented. These are all great things, but one other thing is synonymous with Georgia, even for those folks residing outside the state–peaches. Yes, Georgia is widely known as the Peach State. So what happens when a local brewery uses peaches in one of its seasonal offerings? Come along for the ride as we dig into Love Tractor from Six Bridges Brewing.
Love Tractor is a Peach Milkshake IPA brewed by the great folks over at Six Bridges Brewing in Johns Creek, GA (located approximately 25 miles northeast of Atlanta). Six Bridges has done an impeccable job with the seasonal offerings they release every year. This year's version of Love Tractor is even more peach-forward than past releases. They make this beer so well that the peaches aren't overpowering–it's a perfect blend of everything they put into this beer that makes it work so well. There are beers out there that are brewed with peaches that have a medicinal taste, or a fake candy taste to them; this beer is not one of those. You really do get that quality peach flavor that's very juicy and fresh tasting.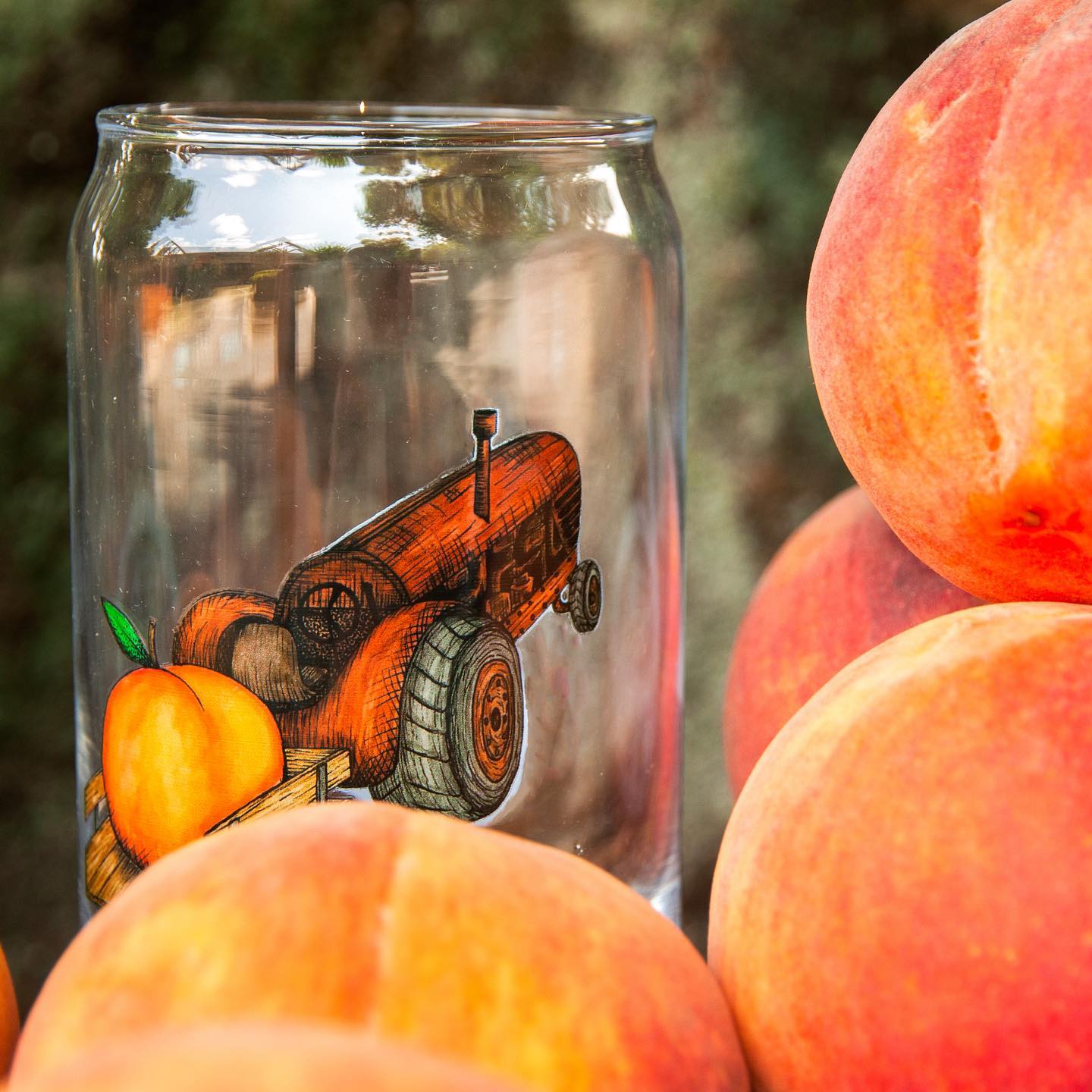 Love Tractor is brewed with local peaches harvested from Jaemor Farms in Alto, GA. This year's version is brewed with Loring peaches. Clay Gridley, co-founder of Six Bridges Brewing explained that the Loring varietal of peach is a mid-season, large peach and it's an excellent "eating" peach. Its firm, has yellow flesh, is freestone and has great flavor.
"We always reach out to Jaemor months in advance when planning this beer and we want whatever variety is in peak season at that time," Gridley said.
How it's made
The peaches are all painstakingly processed in-house by the Six Bridges Brewing crew. "We had a crew of fourteen people come in and knock this out," Gridley said.
Gridley explained that they set up an assembly line where they blanched the peaches; removed the skins and pits; pureed; simmered and sent them to a cooling vessel overnight. They then added this to the beer during fermentation so that all the sugars would be consumed to keep from having exploding cans because they contain fresh fruit.
When asked about the hops used in this beer, Gridley explained that it was a very simple decision to use Mosaic. Gridley said that Mosaic is probably his favorite hope for juicy IPAs. "We have a good crop of Mosaic this year, flavors make me think of blueberries, it's hard to go wrong with Mosaic," he explained.
Love Tractor is also brewed with flaked oats and wheat to add a little extra body and softness: This beer has a very soft, plush mouthfeel that coats the palate.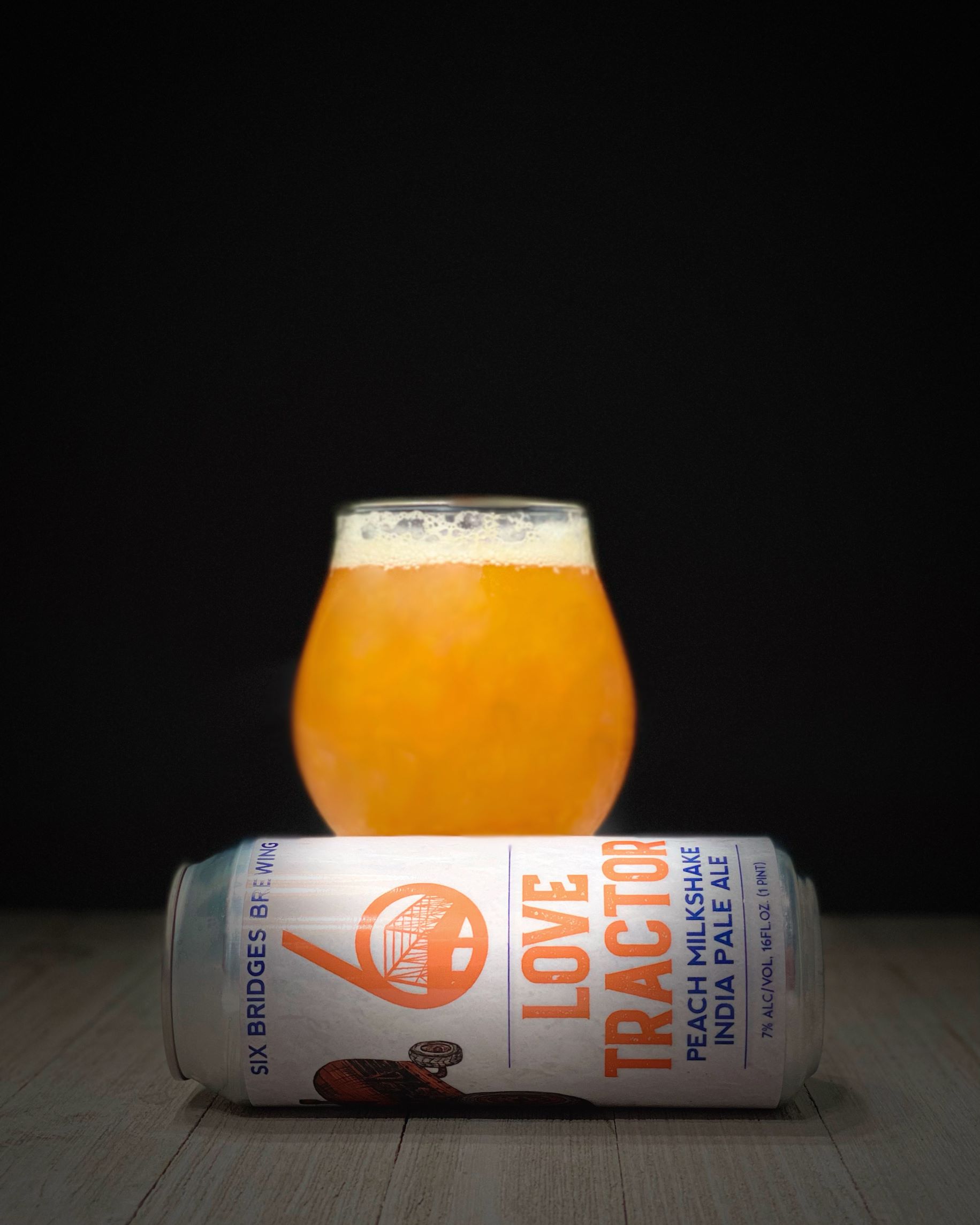 The name is the game
So just how did this beer get the name Love Tractor? Well, according to Gridley, it has multiple meanings.
"We were trying to think of a name that could tie in with Jaemor Farms for all the work they put into their craft," he said. Hence, the tractor and the peach on the label design.
"We're also a bunch of music lovers here and Grayson, our cellarman at the time, said how about Love Tractor? after the band and Widespread Panic song (about the band)," Gridley said. "We thought it was perfect, our love of beer and the farmers' love of agriculture."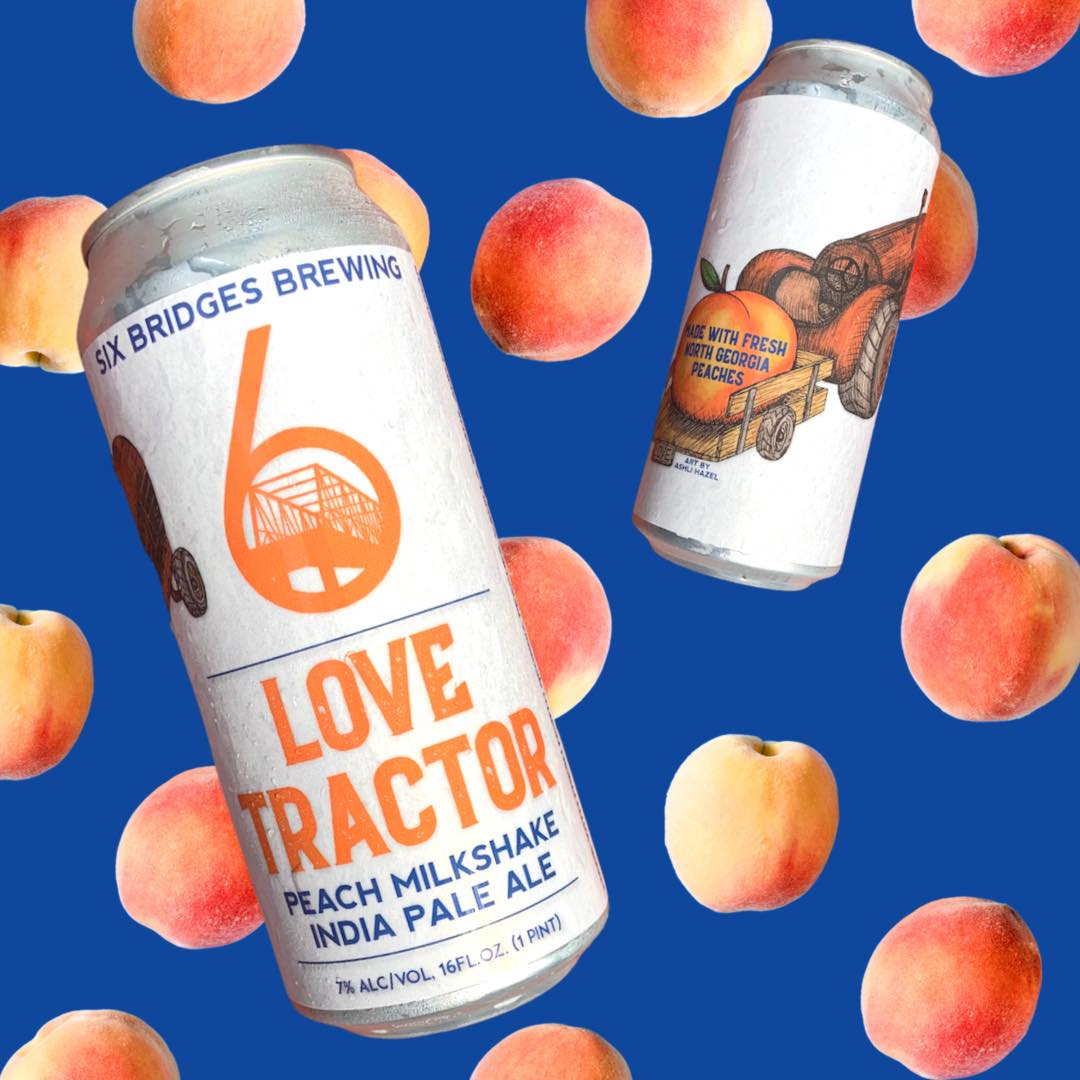 If this is your style of beer, or if you are looking for a nice summer beer to help combat the sweltering heat, then look no further than Love Tractor. Or, perhaps you like both peaches and beer, but have never tried them together. If that's the case, then what are you waiting for? You'll be hard-pressed to find a better peach IPA that boasts such outstanding quality and flavor all the while supporting your local community. So climb in the wagon, the tractor is running!
---