No Comments
Walker Brothers Beverage Co. | Rest in Peach High Gravity Kombucha
Nashville's Walker Brothers Beverage Company has been brewing innovative craft beverages since it was founded in 2018 by Boston-born brothers Luke and Sam Walker. Although their offerings can be appreciated by craft beer consumers, they can't technically be called beer.
New Kid On The (Kombucha) Block
What Walker Brothers brews is non-alcoholic and high-gravity kombucha products. "We're bringing more craft mentality to the kombucha space," said Luke Walker. Many of the brewing techniques Walker Brothers employs are similar to what is being done on the more creative ends of the craft beer spectrum.
Walker says that their high-gravity kombucha—which is open-fermented with Walker Brothers' house culture of bacteria and yeast and an additional yeast strain propagated on sorghum—can be thought of as similar to the complex flavors that are produced in Sour Beers and Lambics. Think of it as something between gluten-free Farmhouse Ale, Sour Beer and Natural Wine.
"The goal," said Walker, "is to bridge the gap between beer culture and kombucha culture." Luke Walker, whose background is in natural foods and kombucha, took interest in beer from his brother Sam, who has worked for beer distributors and in brewery sales. As their interests converged over time, they took note of how rich the craft beer culture is and realized this culture is missing in the world of kombucha, which is much more proprietary than the collaborative world of beer. The kombucha world, though, has an emphasis on wellness, natural ingredients and ethical sourcing (which exists in some, but not all facets of the craft brew world). The brothers realized there was an opportunity to combine the strong suits of both cultures and began coming up with a plan.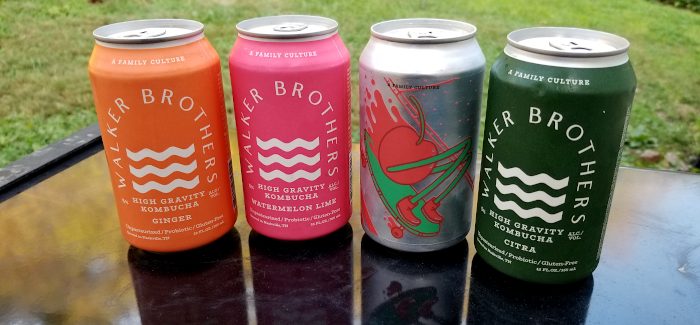 Problem-Solvers
While kombucha is good for your body and helps balance your gut, craft beer can be a problem for those with sensitive guts. The Walker brothers both have had these issues in the past and wanted to craft a beer-like beverage that was better on their gut flora. After experimenting at home, they decided to start a business once the flavors (and alcohol level) reached what they were looking for.
Beer and kombucha are both "brewed," but the ingredients and processes are very different. Kombucha is brewed from a SCOBY (symbiotic culture of bacteria and yeast). This slimy, alien-looking, mushroom-reminiscent "mother" is what ferments a sugary tea into an acidic, tangy health tonic. For beer, a "tea" made entirely (with the occasional adjunct) from malt sugars is fermented with yeast (primarily Saccharomyces cerevisiae), although some beers are brewed with additional bacteria or bacteria-laden wild yeast.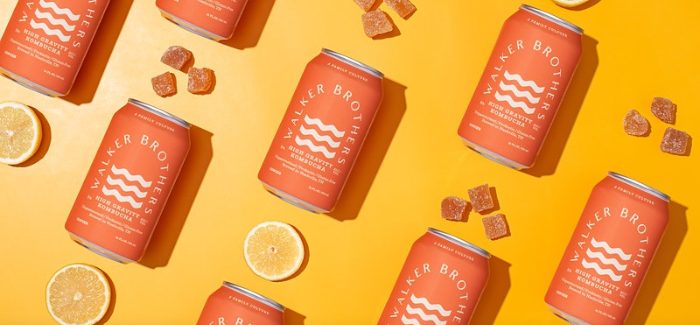 Although they want to keep some of the specifics proprietary, the goal of Walker Brothers is to be much more transparent and collaborative than the traditional kombucha space. "We've been treated so well by so many breweries who have helped us with things like equipment and technique recommendations that we want to do the same."
Most of their high-gravity brews are on the lower end of the ABV spectrum at around 5%, but they have recently begun a barrel-aged series that will comprise special one-offs with higher ABV. The first of this series, Rest in Peach, was only recently bottled. "This release is the furthest we've pushed the boundaries yet," noted Walker.
View this post on Instagram
Rest in Peach
Rest in Peach is a 7% ABV high-gravity kombucha aged in Tennessee Whiskey barrels from Nelson's Green Brier Distillery. To make it they started with a high gravity kombucha base, which they added to barrels with a Chai Tea blend, and let it condition for nine months. At this point it was delicate and dry, almost wine-like…but they weren't done yet. They then re-fermented it on 80 pounds of Georgia peaches from The Peach Truck.
This resulted in an exquisite blend of flavors that includes oak and vanilla from the barrels, a bit of baking spice from the Chai, and rounds out with the delicate flavor of peach. The end product is still a bit dry but has just a bit of peachy sweetness and some fizz from the re-fermentation. In sharing his thoughts on how the special release turned out, Walker noted, "I love that odd space where you're confusing your palate because there's no clear box."
Party Time
If you're in the Nashville area or are considering a road trip to Music City, Walker Brothers will be hosting a party at Rosemary & Beauty Queen to celebrate the launch of Rest in Peach along with their two-year anniversary. The event will be held on Thursday, November 4 from 5 to 9 pm. General admission is free and registration is appreciated, but walk-ins are welcome. Attendees will enjoy live music, specialty kombucha cocktails, a live screen-printing from Friendly Arctic, and more. For an extra $25, VIP guests will receive several gifts, including a commemorative T-shirt and one bottle of Rest in Peach to take home.
To keep things safe, proof of COVID-19 vaccination or a negative test is required for entry.
TICKET LINK: https://www.eventbrite.com/e/walker-brothers-anniversary-party-tickets-182606319417
Feature photo by MJ McGeeney, courtesy Walker Brothers Beverage Co.
---