No Comments
Event Recap | Dry Dock Brewing Can Bash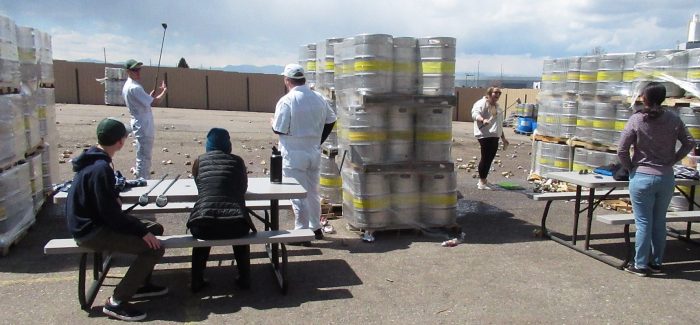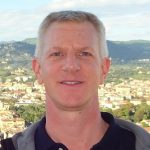 The crack of exploding cans and an intermittent mist of beer announced the return of Dry Dock Brewing Can Bash to its North Dock location last Saturday. Participants received cases of expired beer, golf clubs and permission to tee off, with messy results.
Dry Dock set up a "driving range" on its spacious Aurora, CO – North Dock patio to facilitate the event. For safety's sake, stacks of kegs separated golfers so they could swing with abandon. The size of the cans made it easy for even novice golfers to hit entertaining, though sloppy, drives with almost every swing.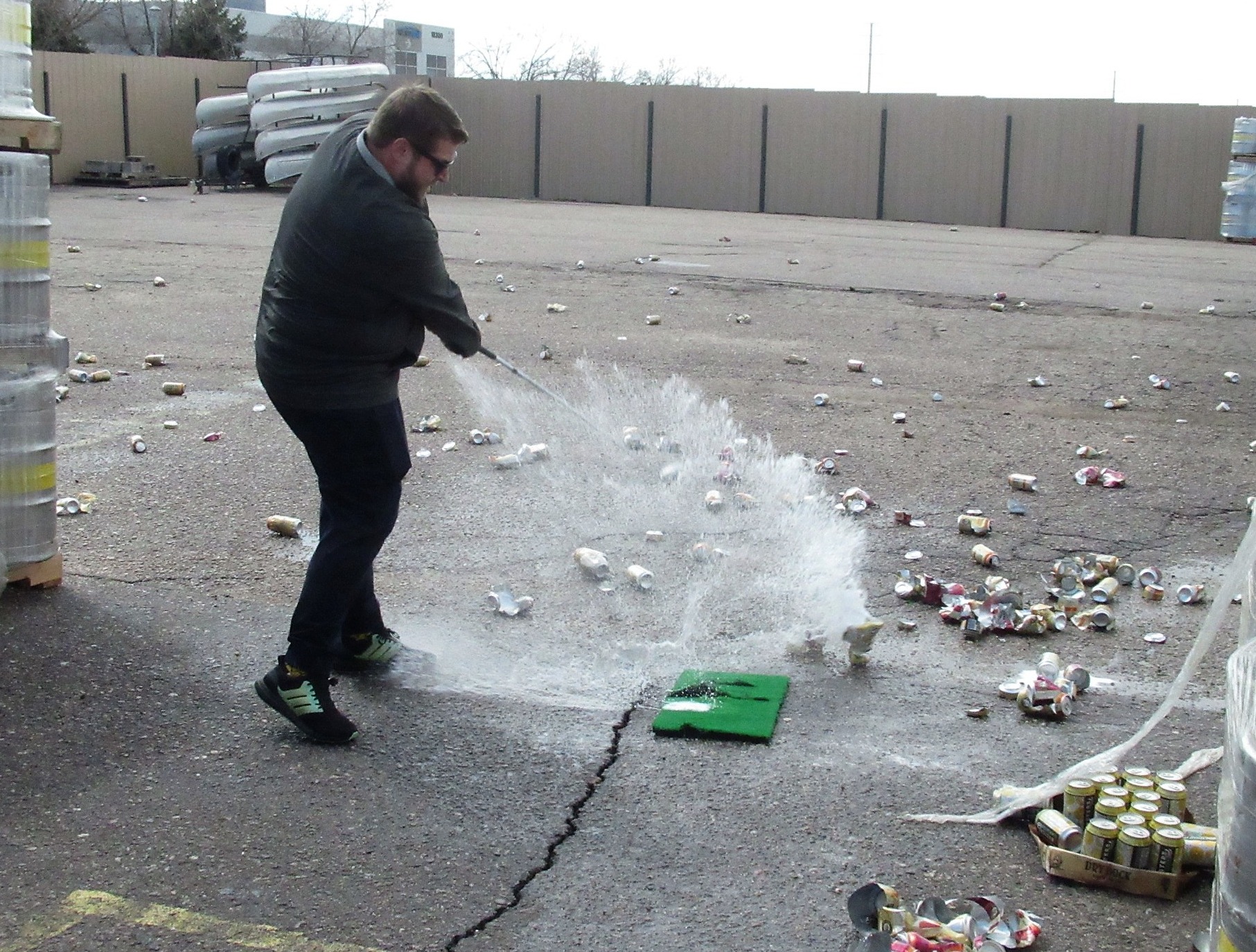 Beer Showers & Stress Relief
Golfers entertained themselves and their friends as some cans burst like balloons while others spun through the air showering sparkling beer like fireworks. Needless to say everyone in the vicinity received a shower of beer at some point, though nobody seemed to mind as the crowed laughed and cheered the golfers.
While most breweries feed low-fills to staff and friends, Dry Dock thought that a sporting event would be a unique and entertaining way to help customers relieve some stress. Plus it helps relieve employees of a tiresome and wasteful job. Says Dry Dock co-owner Michelle Reding. "Emptying cans you can't sell so that you can recycle is tedious and no-fun work. But whacking a can with a golf club or a bat is definitely fun! With Can Bash our fans get to blow off some steam and have a few laughs, while putting those cans to good use and saving our staff from a boring task."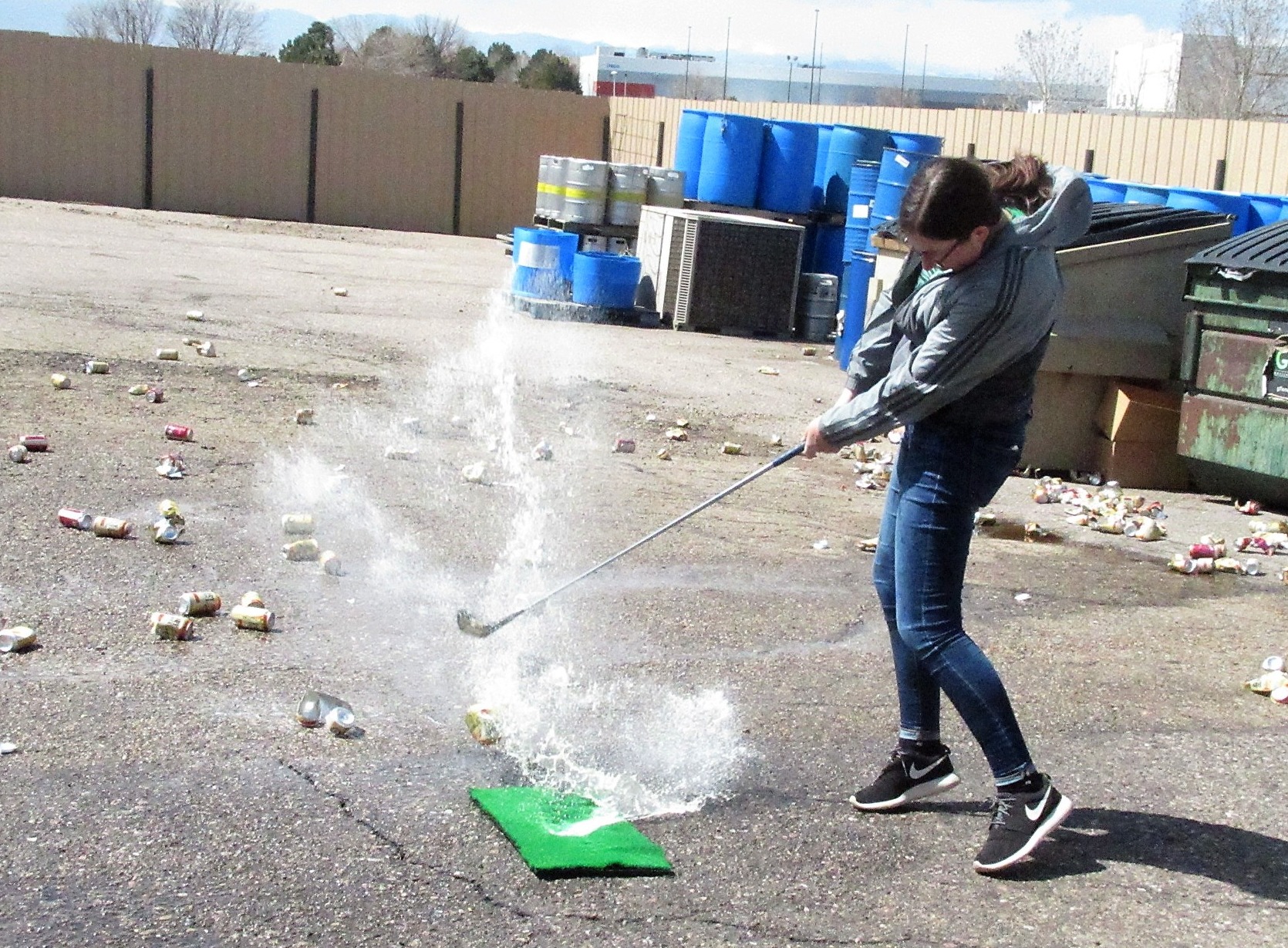 Practicing Technique
I was fortunate enough to take a couple of shots (in the interests of objective journalistic research of course). On my first swing I noticed that the cans offer almost no resistance, much less than a golf ball. This was immediately followed by the realization that there's no way I was staying dry as beer sprayed in every direction.
Golfers tried various techniques to maximize the fireworks and try to gain distance. Some set their cans upright, others on their side and some players cracked the seal just a bit first. In my experience, woods tended to explode the cans and send them further out onto the patio while irons simply sliced them in half, leaving the bottom still on the mat. Surprisingly, none of the various techniques resulted in much distance.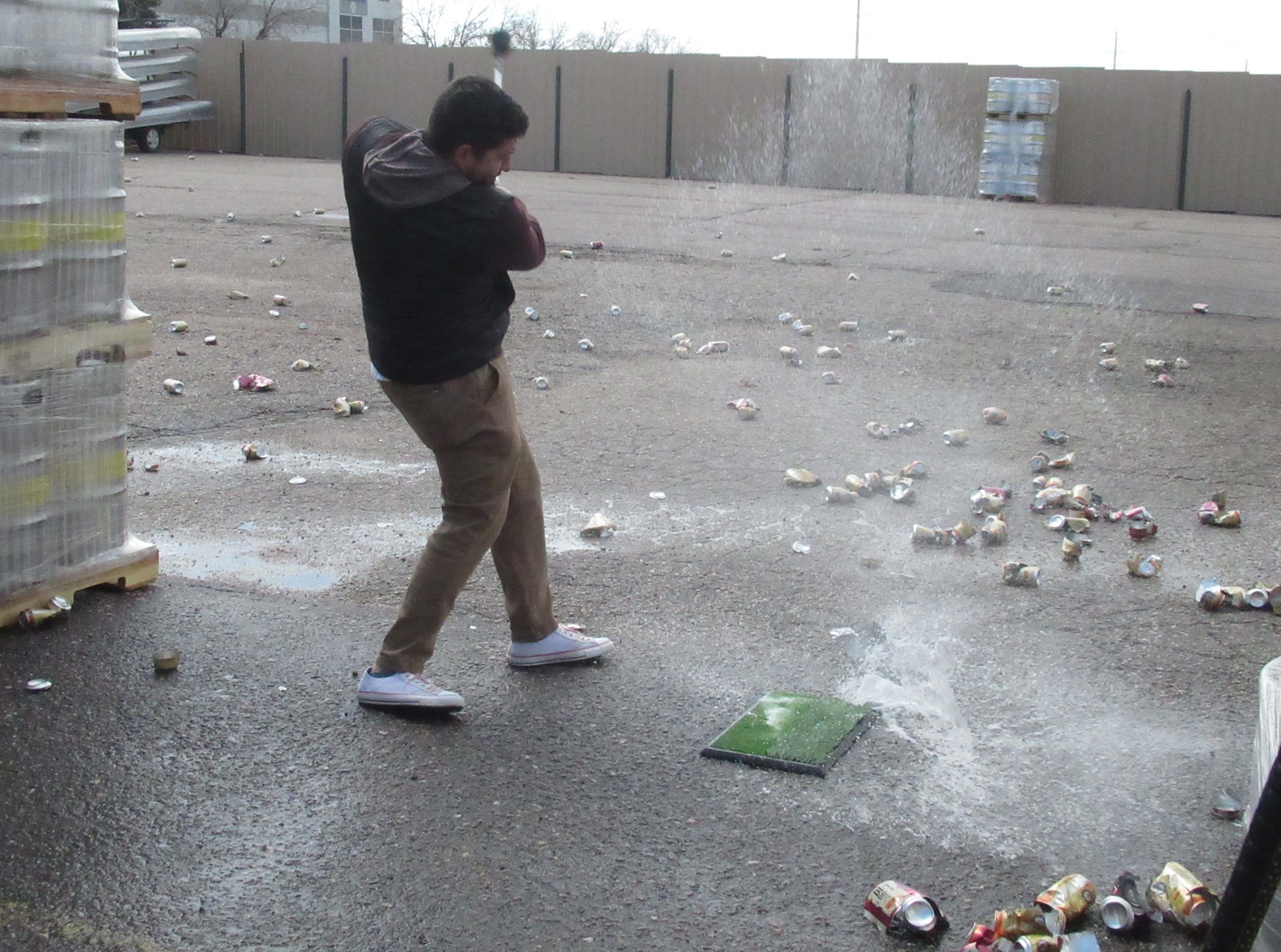 Can Bash Becomes Nautoberfest
This year, Dry Dock Brewing Can Bash became part of a larger event called Nautoberfest, which is sort of like celebrating Half St. Patrick's Day on September 17. Nautoberfest is essentially a spring version of the brewery's Docktoberfest, an event that roughly coincides with Oktoberfest and celebrates German-style beers.
Explains co-owner Kevin DeLange, "We always have a Pilsner or Helles on tap and take great pride in our lineup of German-style beers. Since we brewed such a nice selection of these beers for World Beer Cup entry we decided to showcase these beers in a spring version of our popular Docktoberfest event. Why celebrate these classics just once a year?"
Festival Has Fun, But Also Serious Side
Along with celebrating German beer and supporting stress-relief, Nautoberfest offered live music, games and an indoor market showcasing local small businesses and causes the brewery supports via the Dry Dock Gives charity program. Additionally, Dry Dock wanted to recognize Oral Cancer Awareness Month.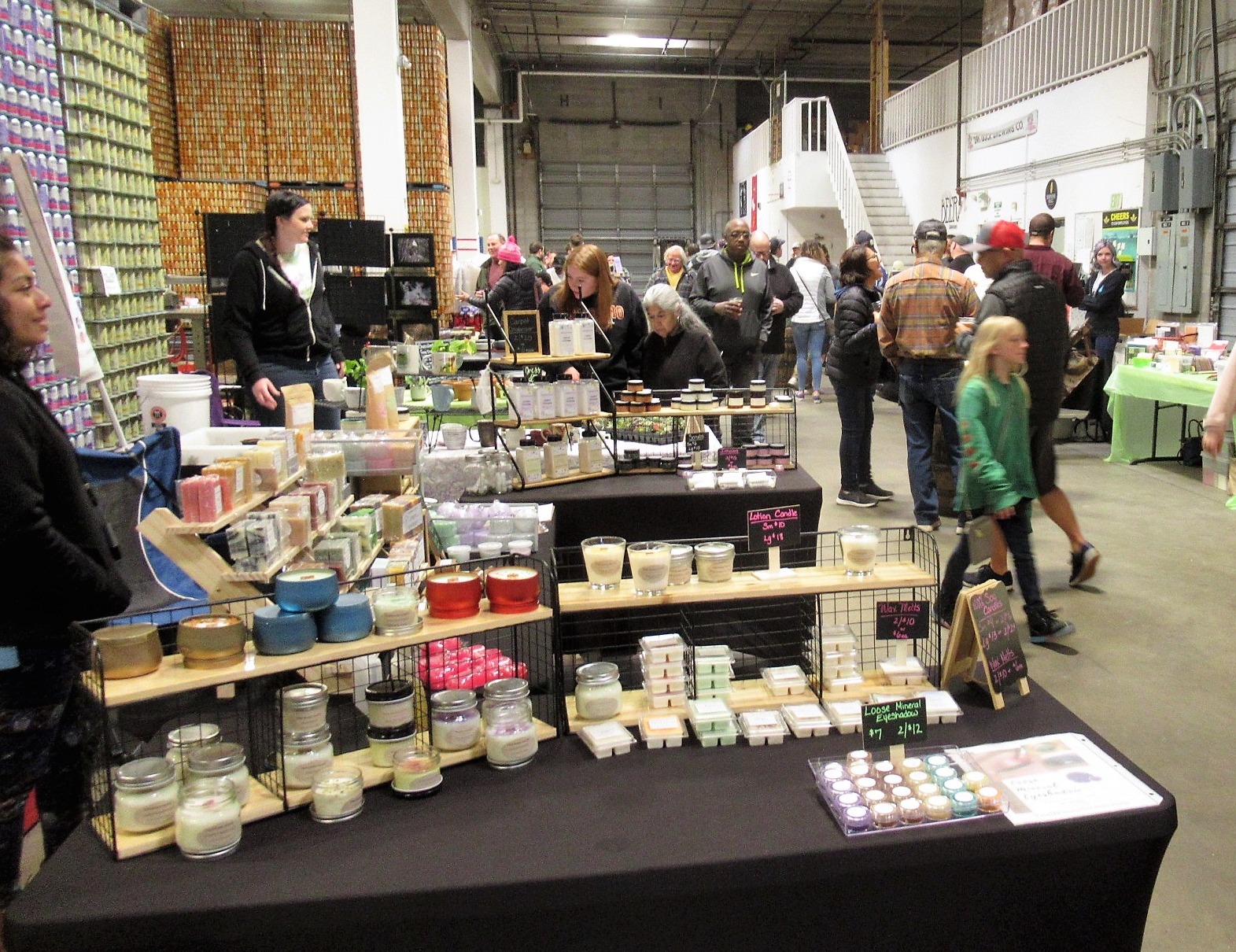 Marty Jones, who handles publicity for Dry Dock, has personal experience with oral cancer. He wanted to raise awareness of the disease and the benefits of early detection during April's Oral Cancer Awareness month. As a result, doctors from Concierge Medical were on hand to offer free screenings for attendees.
Like many of its other North Dock events, Nautoberfest proved that Dry Dock has a knack for innovation that goes beyond beer. The one-of -a-kind festival incorporated off-the-wall fun, serious causes and of course lots and lots of beer.
Feature image courtesy of Scott Grossman
---