No Comments
New Terrain Brewing Co. | Mirage Sour IPA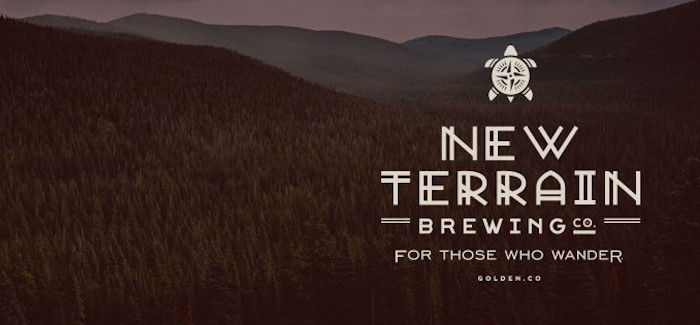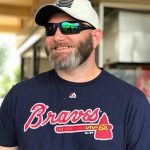 A mirage is an optical effect that is sometimes seen at sea, in the desert, or over a hot pavement, that may have the appearance of a pool of water or a mirror in which distant objects are seen inverted, and that is caused by the bending of reflection of rays of light by a layer of heated air of varying density. That's the literal definition of a mirage from Merriam-Webster. We will be talking about a mirage today as well, just not the literal kind.
We're talking about a beer from Golden, Colorado's New Terrain Brewing Company called Mirage, a Mosaic Sour IPA.
Have you tried a Sour IPA yet? If you haven't, then we would definitely recommend giving this specific one a try before you try anything else. We're not taking anything away from any other beers of this style, but we are saying that this one is so well balanced that even if you aren't a fan of Sour beers, there's a chance you will like this one. Some Sour IPAs still give you a mouth-puckering wallop that, if you're not ready for it, can inadvertently turn you away from the style.
The key to Mirage is the Mosaic dry-hopping. If you're a fan of Mosaic hops, then you know they easily pair with just about any other hop and most other non-hop ingredients. Mosaic hops work similar to how mosaic tiles or glass are put together. Small fragments or pieces of tile or glass are formed together to create one larger, yet whole, creation. The Mosaic hop was actually named in honor of the artistic assortment of aromas and flavors it's capable of presenting.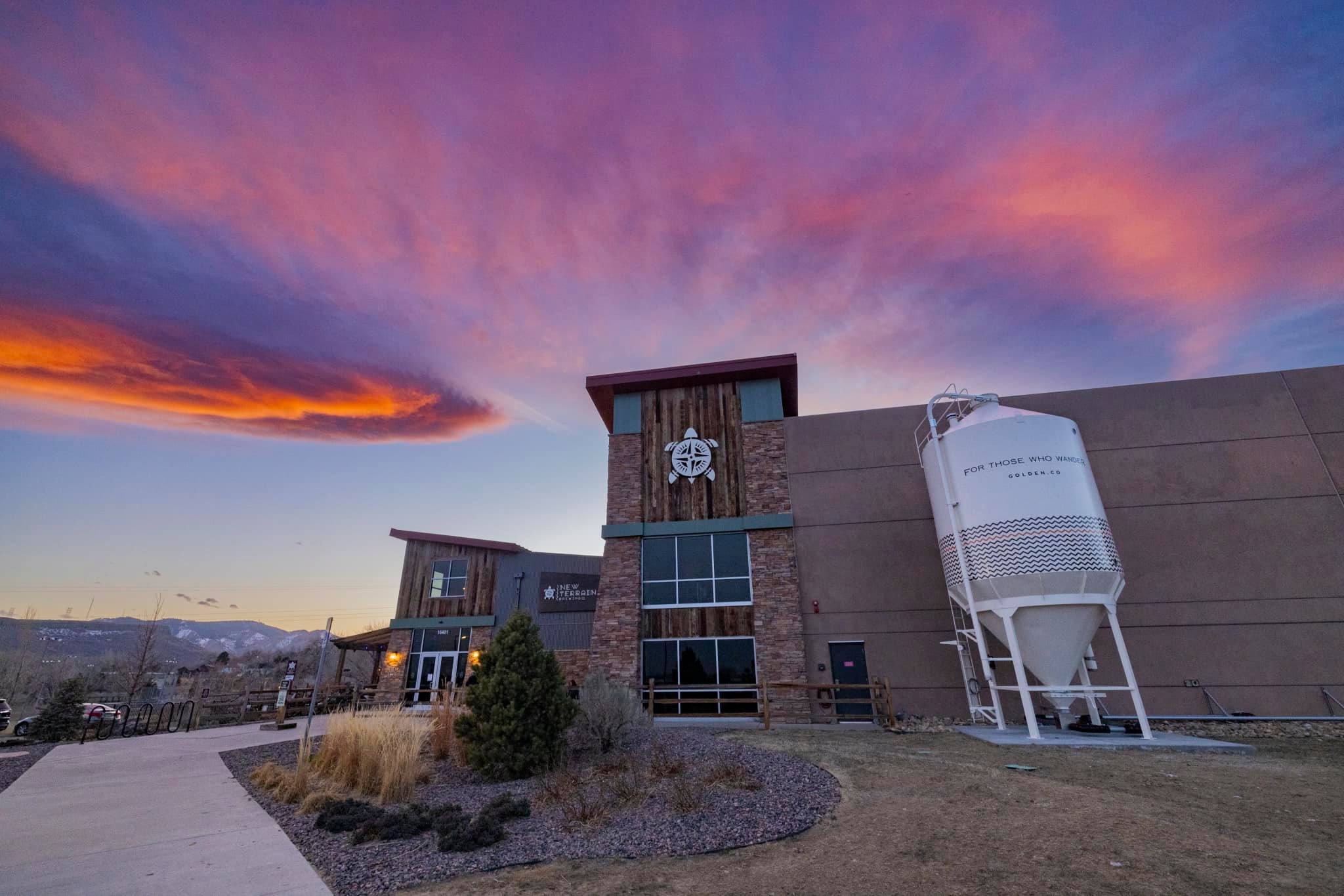 The Genesis of Mirage
To find out more about Mirage, we spoke with Michael Roberts, the Director of Marketing and Social Media for New Terrain Brewing Company. Michael explained that they kind of worked their way backwards, starting with their house culture to create Mirage. "After noticing the Lactobacillus blend that we propagated for use in our sour beers was full of pineapple and citrus notes, we thought it would be fun to pair hops to that already existing juicy profile," said Michael.
Known for their tropical and fruity characteristics, a blend of Mosaic and Citra seemed like a perfect fit. The result is Mirage, a deceivingly juicy dry-hopped Golden Sour that imparts pineapple and grapefruit flavors upfront, followed by a tart, dry and refreshing finish. "It's complex to the senses, yet simple in concept and still approachable for those who might typically steer clear of the word sour," noted Michael.
Precious Medals
Apparently, we're not the only ones who are big fans of Mirage. Mirage won silver at the Great American Beer Festival in 2020 and again in 2022! "We are absolutely thrilled to see Mirage getting some recognition as the whole team here believes it is one of the best beers we have to offer," said Michael.
It's first win was in 2020 during the year of COVID isolation. "We put a large TV on the scissor lift and had a socially distanced watch party in the warehouse for the brewing staff," noted Michael. In 2022, a few of them were able to attend the award ceremony so the rest of their team set up a TV at the brewery again to watch the awards live. "It's always such a great feeling to take home a GABF medal for the entire staff," said Michael.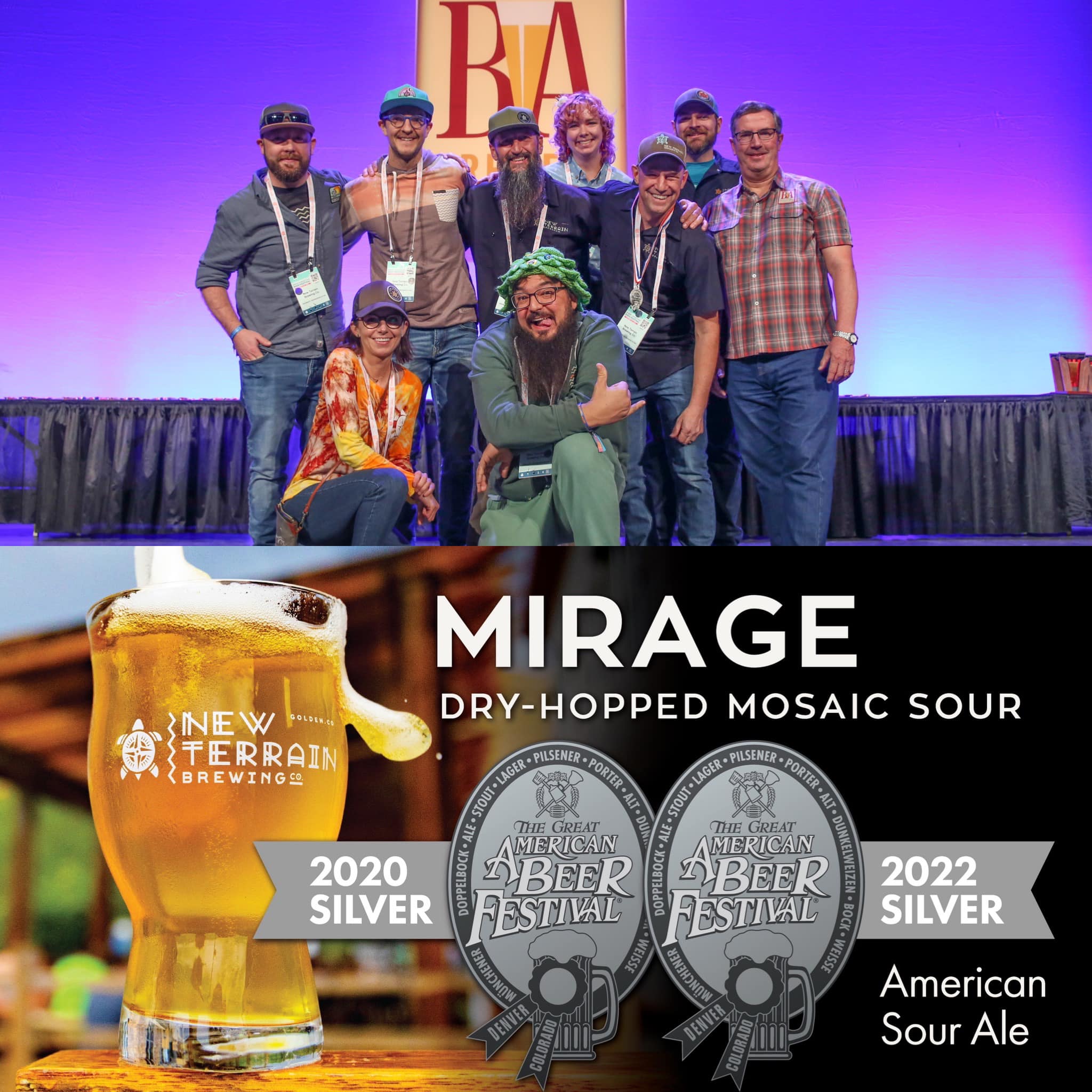 The Process
The basis for the beer was a light sour base with hop additions similar to a crushable pale ale. The first edition was called Hoppy Sour # 1 in the brewer's notes. Surprisingly, the recipe has not changed much at all since 2017. Over time the grain bill has changed to add a bit more body and increase the alcohol to the current levels. "A lot of thought went into the recipe before brewing it and we felt we pretty much hit the nail on the head," said Michael. "We have, however, used the base recipe for Mirage as a starting point for a few of the beers in our ever-evolving Terra Firma Sour Series.
The house Lactobacillus blend was started in 2016, consists of three different Lactobacillus strains and has been propagated through every batch of Mirage, as well as Terra Firma, ever since. "We developed a specific technique for propagating the lacto culture, encouraging it to evolve in a way that sped up the kettle souring process from 36 hours to less than 10 hours, all while imparting the signature tropical and citrus zing that Mirage is known for," noted Michael.
In Closing
Mirage is available year-round at the brewery. Also, after winning their second silver medal, they now seasonally package them in sixteen-ounce cans around GABF, which means you can grab some now! Four-packs can be picked up at the brewery or in select package stores in the Denver area. This years batch was canned on September 12th and will be available through early October.
---