No Comments
No-Li Brewhouse | Big Juicy IPA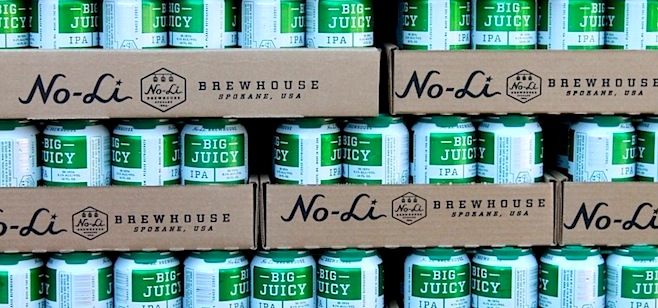 Photo courtesy of NoLiBrewhouse
ABV: 6.1% | IBU: 55
Featuring four distinct varieties of Washington-grown hops, No-Li's Big Juicy lives up to its bold name: bright citrus and tropical fruit flavors burst from the refreshing, hop-forward West Coast-style IPA.
With the vibrancy of fresh mango wedges sprinkled with grapefruit zest, Big Juicy IPA is a balanced hop bomb with a medium body and mellow bitterness. Notes of pomelo, passionfruit and lychee from Citra Hops mingle on the palate with pineapple and pear from El Dorado Hops. Belma Hops dial in a tangy orange juiciness with honeydew melon that makes way for resinous Meyer lemon and notes of spicy pine from Azacca Hops.
Clocking in at 6.1% ABV and 55 IBU, lightly roasted malts lay a foundation for the fruity juiciness of the hops to shine through. With an aroma of honeysuckle, tangerine pith, and hints of freshly cut grass, Big Juicy IPA finishes bright and crisp, like sipping a chilled agua fresca—with a hoppy kick.
https://www.instagram.com/p/BPku4FQAeTB/
No-Li Brewhouse brings over two decades of hop-expertise to Big Juicy IPA. Committed to sourcing 100% of the brewery's ingredients from within a 300-mile radius of the Spokane, Washington brewhouse, No-Li's proximity to the country's top hop-growing region of Yakima Valley allows for finely tuned hop selection and impeccable West-Coast hop mastery.
Big Juicy is an essential sipper for hopheads who like IPAs brimming with big, bold, juicy character. You'll find it on draft at beer bars throughout the Pacific Northwest and in 12 oz. cans at select bottle shops beyond the region.
https://www.instagram.com/p/BD6QxtkgvOb/
---