No Comments
The Best of San Francisco Beer Week 2017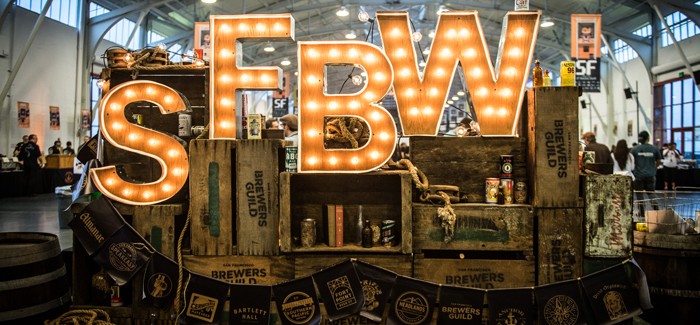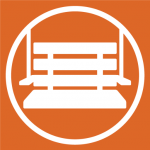 Sadly, San Francisco beer week is over. It was another incredible week, full of amazing events and new and innovative beers. Pounds were gained, work was neglected, but it was all worth it. From the Opening Gala to the last day, Beer Week was loaded more than any prior year. Each day had more events for any one person to handle, but that is the beauty of Beer Week.
Opening Gala
The Opening Gala was once again the event of Beer Week. With over 125 breweries from Northern California, the region was well covered. Breweries brought their "A" games, with countless new and special beers that debuted during Beer Week and/or at the Gala.
The most popular booths, in no particular order, seemed to be The Rare Barrel, Cellarmaker, Alvarado Street and Russian River. Russian River had a separate line just for Pliny the Younger, which was frighteningly long all night (the line was even long during the media and VIP hours). These breweries all deserved the long lines, as they brought their too-be-expected great beers.  Alvarado Street had a couple of my favorite beers of the night, including their Trois Cabrones (a collaboration with Amplified Ale Works) and When Doves Cryo (a collaboration with Cellarmaker).  Cellarmaker had a winner in Mocha and Cigarettes, a slight tweak of the popular coffee and cigarettes.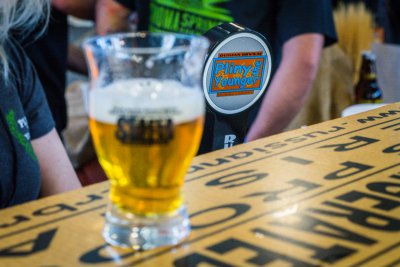 A few lesser known/ up and coming breweries also stepped up. Hop Dogma had a solid NE Style DIPA called Silly Gimmick which turned out quite nice. Sonoma Springs also debuted a NE Style IPA, Juice in the Sky, which was the best beer I have had from them. Tahoe Mountain Brewing Company brought a couple of great sours in Old Bayard (a sour brown) and Auerlia (a golden sour). Altamont had a few solid hop bombs, including NE-ish IPA Juice Above the Clouds and Scarcity IIIPA.
Overall, it was another incredible Opening Gala, and even better than year's past. Pier 48 was a great upgrade of a venue. It was large, open and dry. The large outdoor area was a nice addition, and no lines for the bathroom (this was a bit of problem last year). The breweries were arranged by region as usual, and although it got very busy by around 7 PM, lines moved quick and it was impossible to complain.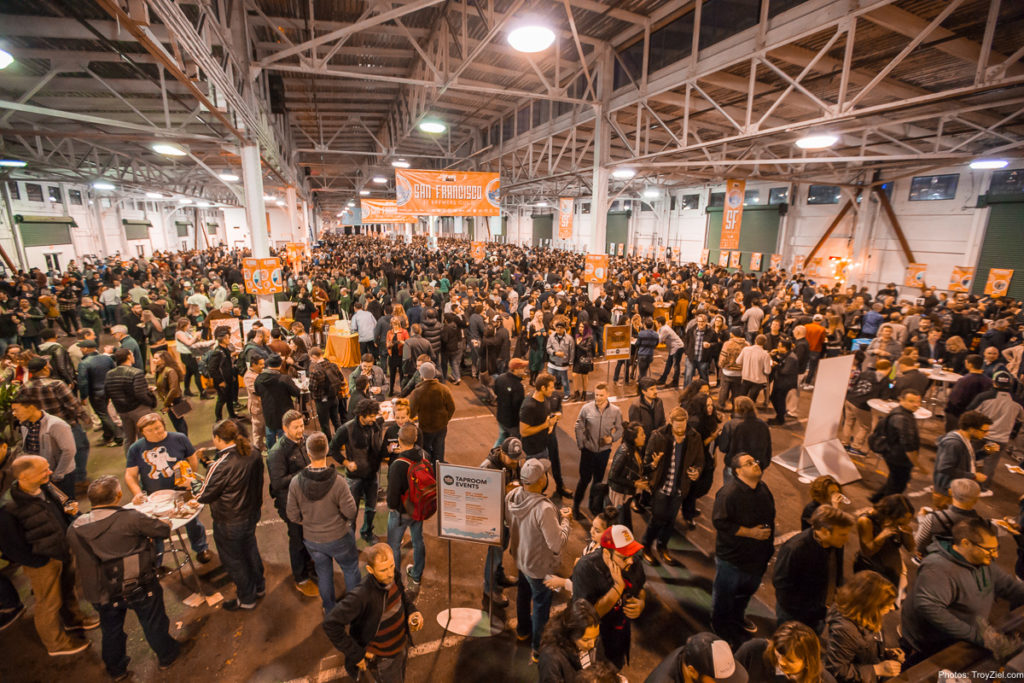 SFBW Opening Gala will always be one of my favorite beer events to go to. It is a festival of everything local, from the food, vendors and most importantly the beer. The Brewer's Guild did a phenomenal job and the night went off without a hitch.
Vintage Night at Almanac
The first Sunday of Beer Week included "vintage night" at Almanac. Vintage beers, mostly from 2013, were available both on tap and to to take home. 2013 versions of Farmer's Reserve 1-4 were on draft, as were many other vintage crushers. Highlights included the Dogpatch Sour Batch 1, Brandy Barrel Peche and Farmer's Reserve 3.
One of the greatest things about Almanac are the tasters they offer (and the super cool flight sheets that come with them). This meant we were able to try every vintage beer they had on draft and still be able to walk afterwards.
Food was available, and since we got there fairly late on a Sunday it was not too busy. It was also fun to bring some vintage bottles home to crack soon.
https://www.instagram.com/p/BQb6DIAldMp/?taken-by=californiaipa
Tap Takeovers at The Crafty Fox
Crafty Fox had a busy Beer Week with several awesome tap takeovers and a full bar almost every night. They had Fieldwork, Almanac, Alvarado Street, Modern Times, Track 7 and Moonraker Tap Takeovers (among other events). Each night had several of these breweries top beers, and despite the packed house, the team did a great job handling the crowds.
Some of the top beers for me during these takeovers were the Alvarado Street Triple Cone, Moonraker Mosaic Crush, Modern Times Dinosaur World, Track 7 Mo'Suka and Fieldwork's 2017 Viking's Lament.
https://www.instagram.com/p/BQjplmFli6Y/?taken-by=californiaipa
https://www.instagram.com/p/BQl-cJRBkEL/?taken-by=californiaipa
Even if you could not get to the bar for the night of the event, with 30-plus taps, some of the beers rolled over to the next day, so the board all week was fire, with the aforementioned breweries plus Goose Island and other goodies.
Crafty Fox performed as expected for beer week, and one could have been content simply going there every night.
The Reunion at The Rare Barrel by Victoria Pratt
Sunday February, 19 was the single busiest day of festivities where there were a total of 129 events throughout the Bay Area. Our favorite event was "The Reunion" with Societe Brewing from San Diego, The Bruery from Placentia, and the Rare Barrel who hosted the event. Three separate bars adorned the barrel laden brewery in Berkeley, a new design to help accommodate the hundreds of patrons that attended the event. The ABV of the beers that were served ranged from a 4.7% IPA to a 19.8% Imperial Stout. There was something for everyone!
Favorites included The Savage 7.5%,  – Societe – wine barrel-aged dark sour with cherries, The Wanderer 8.2%, – The Bruery -dark sour aged in oak barrels with blackberries and cherries. The Bachelorette with Vanguard 5.6%, – Societe – single hop lager and Apropos of Nothing 5.8%, – The Rare Barrel – golden sour beer aged in oak barrels with elderberries and lavender.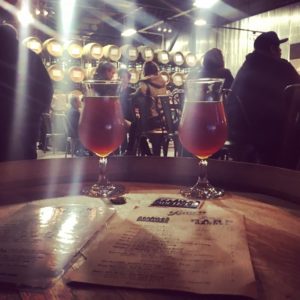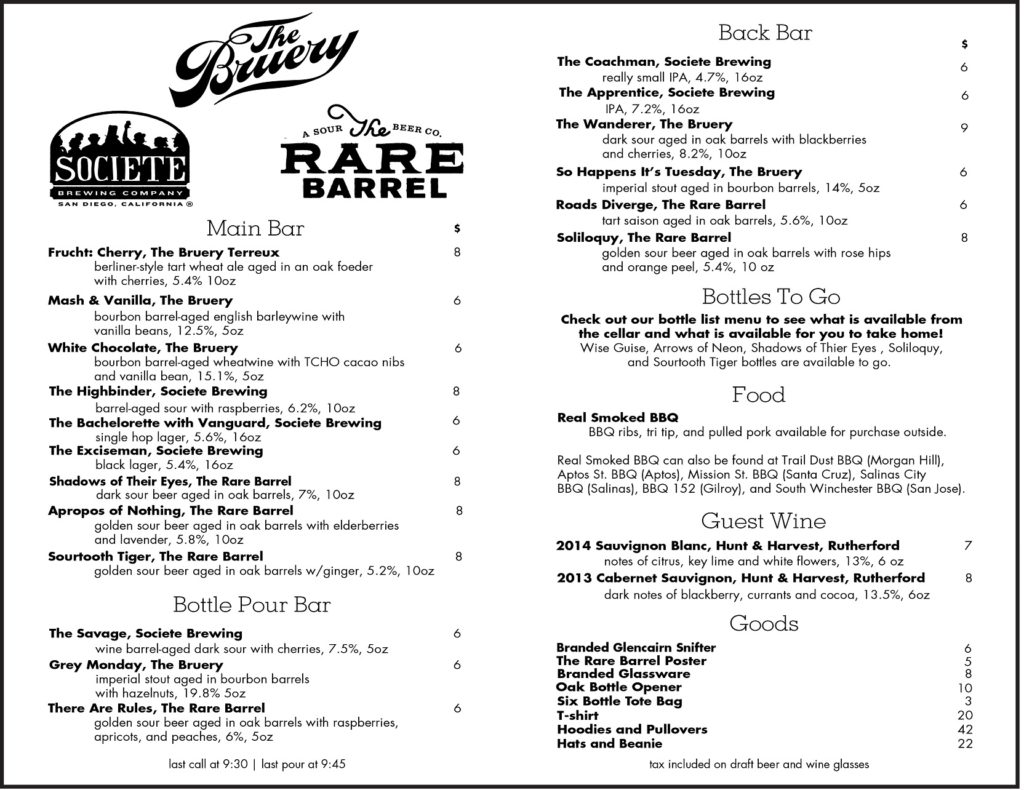 Sea of Sours at City Beer Store
On the second to last day of Beer Week, City Beer Store put on a nice sour take over, with several killer sours on deck. Some of the stand outs were The Rare Barrel/Cellarmaker collab Smashin' Fruit, Libertine Framboise, Sante Adairius Contact Barrier and Cascade's Tangerine Dream.
We arrived right when they opened at noon, which allowed us to get a seat at the bar and a chance to try many of the great options before it got too busy. As we were leaving it was standing room only.  All in all, a great event with some great beers.
https://www.instagram.com/p/BQqnEmbBFTT/?taken-by=californiaipa
Cellar Day at the Rare Barrel by Victoria Pratt
Approaching the end of beer week, The Rare Barrel put on one of my favorite events: Cellar Day. Cellar Day included delicious sours spanning the history of the Rare Barrel from 2013-Present. The highlight of the event was the the three, still barrel samples served uncarbonated and at room temperature accompanied with a souvenir tasting glass and poster to take home. It was amazing to sample the still barrel beer the way the talented blenders sample them during production. It made it even more special to taste them surrounded by the same barrels that aged the beer. The unique and special Still Barrel Samples available for tasting were:
Gold Sour with Coriander -> base for Across the Sea
Gold Sour with Blueberries and Boysenberries ->base for Super Massive
Dark sour with blackberries & raspberries -> base for In Our Words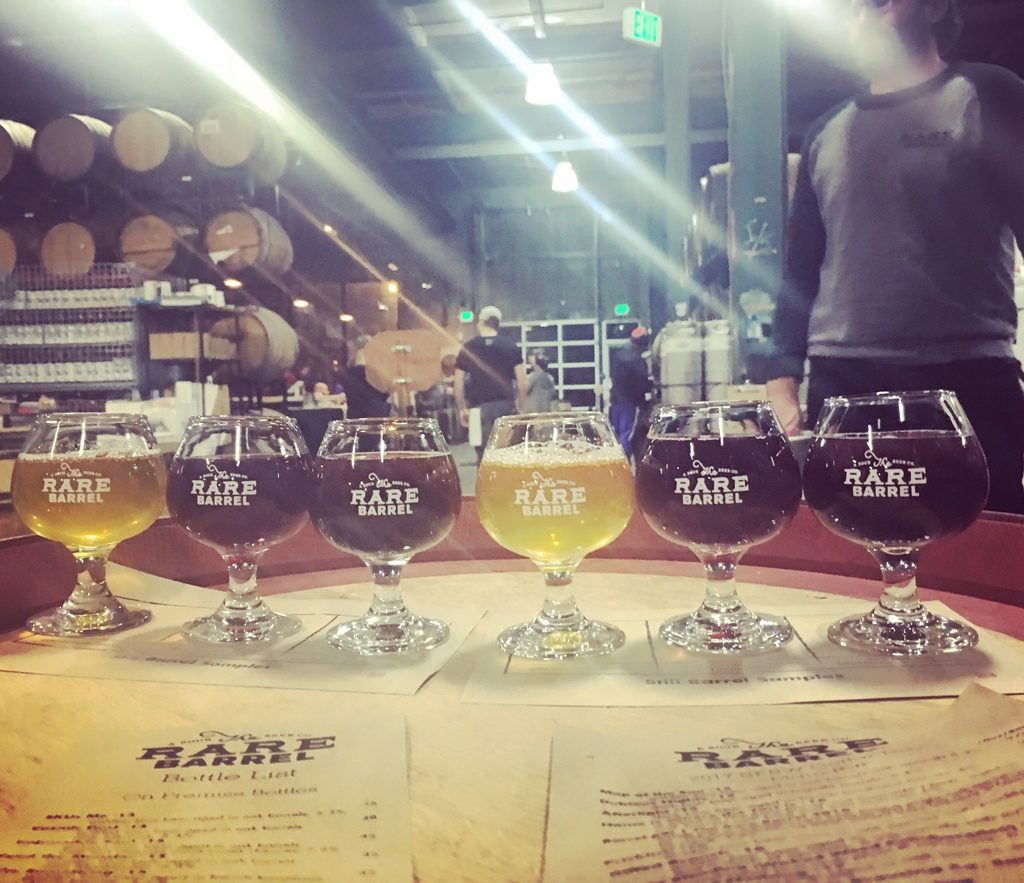 Juice Gymnastics Bottle Release at Cellarmaker
One of the most hotly anticipated "events" for Beer Week was the bottle release of Juice Gymnastics. Juice Gymnastics was a collaboration between Cellarmaker, Other Half and Trillium.  Hard to argue that these are not three of the best breweries in the country.
As usual for Cellarmaker releases, they opened at 2. However, the line was longer and flowing earlier than usual. By 1 PM the line was beyond the end of the block, and unfortunately if you were not there early you probably missed out on the bottle.
The beer was everything one would expect from these three breweries. Hugely juicy, but still a nice big hop bite at the end. An insanely crushable DIPA that may well go down as the best beer I will drink in 2017.
As always, it was great to grab a beer after buying the bottles in the bar and catch up with fellow beer nerds.
https://www.instagram.com/p/BQl8HUzh1vE/?taken-by=californiaipa
Menagerie of Distinguished Drinkers Welcome Party @ Cleophus Quealy
The energy at this party was electric for the members of Cleophus Quealy's Beer Club – The Menagerie of Distinguished Drinkers. The small batch alchemists at CQ concocted a variety of funky brews for Beer Week including their Sour Cherry Red and Fruits de la Forêt. These tart beers were easy drinking that made great for Instagram posts.
Beer "Brunch" with Pizza Port @ Harry's Hofbrau
Who doesn't love brunch?! This was brunch simplicity at its finest. There were boxes of doughnuts and platters of bacon. Yes, platters of bacon. Pizza Port stouts perfectly complimented the chocolate doughnuts. The Oatmeal, and Dusk Til' Dawn Imperial Stout brewed with Cocoa Nibs paired well with the oily dough for a perfect beer week hangover cure. This was one of several great events put on by Harry's Hofbrau, which had an excellent SFBW performance.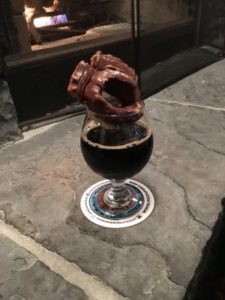 Overall, it was another immensely popular SFBW. The number of events was staggering, and it seemed new events were constantly popping up. The events listed only only begin to scratch the surface of what there was to do. Other highly rated events included the Annual Double IPA Festival at the Bistro, IPA at the Rose and Crown in Palo Alto, and the Puck Up! 8th Annual Sour Fest at Original Gravity in San Jose.
There were events for everyone, from IPA, sour or stout fiends, couples looking for a romantic date night, and family friendly events. The events spread out all across the Bay Area, with many great events in San Jose, the Peninsula and throughout the East Bay. I have said it before and will say it again, this is a week that should be taken off work to really enjoy everything the week has to offer (you may also want to take a few days off the next week to recover).
SFBW truly is one of the most wonderful times of the year for beer fanatics, and something worth traveling to San Francisco for. I already cannot wait for next year!
Follow Simon's beer adventures on Instagram @CaliforniaIPA
Follow Victoria's beer adventures on Instagram and Twitter @tapswithtor!
---