No Comments
San Francisco Beer Week 2018 | Opening Gala Preview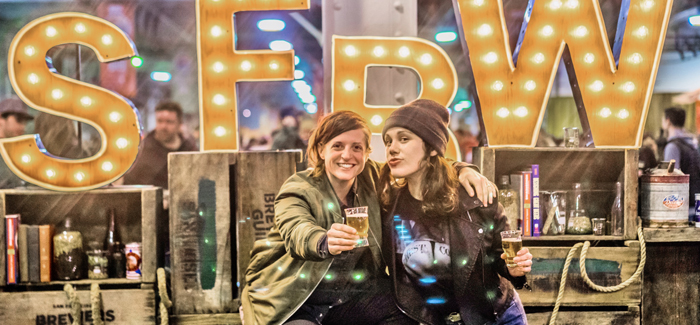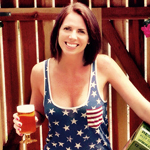 San Francisco Beer Week kicks off its 10th Anniversary on February 9, 2018. Like last year, this beer week runs a full 10 days, packed with events all across the Bay Area, ending on February 18, 2018. Get your livers and drinking boots ready. Make sure to check back for the PorchDrinking list of Can't Miss Events for each day! Below you will find the 10 beers we're most excited for, along with the full pour list (subject to change).
10 Beers I Can't Wait to Drink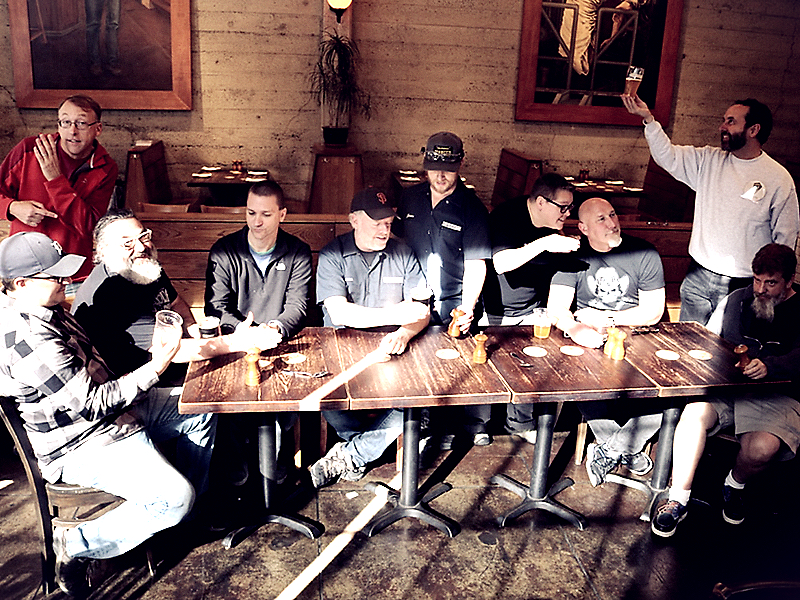 21st Amendment Brewery: 2001 OG Brewers' Collab Strong Ale
*Brew Team: Shaun O'Sullivan & Jaron Shepherd, 21st Amendment Brewery; Mike Pawlicki, San Francisco Journeyman; Steve Ryan, formerly Gordon Borsch; Andy French, formerly Speakeasy Ales & Lagers; Scott Turnnidge, formerly Beach Chalet; Frank Commanday, formerly E & O Trading Co; Melissa Myers, formerly Magnolia, now @ The Good Hop Bottle Shop; Ron Silberstein, ThirstyBear; Dave McLean, Magnolia; James Renfrew, formerly Potrero Brewing Co (pictured above)
Alpha Acid Brewing Co.:  Emerald Hills NE Double IPA
Alvarado Street Brewery: Contains No Juice Double IPA
Barrel Head Brewhouse:  Sour Diesel Oud Bruin
Cellarmaker Brewing Co.: Brainskillzzz Puncheon Saison Collab w/Highland Park and Automatic Brewing Co
Grav South Brew Co:  7 Figure IPA
Humble Sea Brewing Co: Mankini Line Foggy Double IPA
North Coast Brewing Co.: Barrel Aged Old Rasputin XX Imperial Stout
The Rare Barrel: 2017 Ensorcelled Fruited Dark Sour
Russian River Brewing Co.: Pliny the Younger Triple IPA
Draft List 

101 North Brewing Co: Two Hops For Sister Sara Double IPA; Indigo Blue Pale Ale; Naughty Aud Imperial Stout
21st Amendment Brewery: El Sully Mexican-Style Lager; Brew Free! or Die West Coast IPA; Blood Orange Brew Free! Or Die Fruit IPA; Baby Horse Belgian Quad; Strawberry Mountain Jam Imperial Cream Ale with strawberries; 2001 OG Brewers' Collab Strong Ale; Bock Solid (Cask) Weizenbock with coconut and cocoa nibs; Keepsake (Cask), Biere de Garde w/ Jarrylo hops, juniper and star anise.
A
Alameda Island Brewing Co.: Pedal to the People Barrel Aged Imperial Coffee Stout Porter; Island Haze New England Hazy IPA; Admiral's Best Bitter Special Bitter; Mt. Olympus Double IPA; Sea Haggis Scotch Ale
Alpha Acid Brewing Co.: Emerald Hills NE Double IPA; Stone Love Sour Ale; Barrel Constrictor Imperial Stout; No IBU's given NE IPA collaboration wth Track 7
Altamont Beer Works: Scarcity IIIPA; Lupulin Advisory IIPA collaboration with Boneyard Beer Co.; Maui Waui IPA; Mr. Bigglesworth ESB
Alvarado Street Brewery: Double Dry Hopped Mai Tai IPA; Contains No Juice Double IPA; Blue 'N Gold California Pilsner; Motor Oil Imperial Stout with Chocolate, Vanilla & Coconut
Anderson Valley Brewing Co.: Hop Hyzer Pale Ale; Framboise Rose Gose; Featherleggy Bulrusher Sour Stout
Armstrong Brewing Co.: Return of the Fog California Common; Naomi the Riveter Belgian Ale
B
Barrel Brothers Brewing Co.:  Hello Dankness My Old Friend 2.5x IPA; Dark Sarcasm Baltic Porter; Bockstreet's Bock, Alright! Doppelbock; You Had Me At Merlot Barrel Aged Blonde Sour with Russian River Merlot Grapes
Barrel Head Brewhouse:  Sour Diesel Oud Bruin; Blanc de Blancs Belgian Trippel
Benoit-Casper Brewing Co.:  Export Stout Foreign Extra Stout; Galax-C IPA; Whisky barrel-aged Imperial Stout
Black Hammer Brewing:  Sparkle Pony Belgian Style Blonde Ale; Blucid Dream CBD IPA; Extra En Yay Ho Imperial Stout
Black Sands Brewery:  Night Song SMASH IPA; Baja Kolsch
Blue Oak Brewing Co.: Roggen Brau Vienna Lager; Apollo 21 American IPA; Father Marc Belgian Quad
Brewery Twenty-Five:  Passionate Pepo American Wheat; 25 'til Infinity Hazy IPA; Coconut Moons Oatmeal Stout
Buffalo Bill's Brewery:  Alimony IPA West Coast Rye IPA; Blueberry Oatmeal Stout Fruit Beer; Ale X Barley Wine
C
Calicraft Brewing Co.:  Guava Trees Sparkling Ale; Passionfruit Trees Sparkling Ale; Barrel Project: Sour Hibiscus-Chamomile Sour Sparkling Ale; Karl the Foggier Foggy Double IPA
Campbell Brewing Co.: Realistic Simulations; Blueberry Kolsch
Cellarmaker Brewing Co.:  New Beer Smell Pale Ale; Moonage Daydream Pale Ale; Turok Juice Juicy IPA; From Yakima With Love Double IPA; Coffee and Cigarettes Lightly Smoked Coffee Porter; Lost Wisdom Solera Saison; Brainskillzzz Puncheon Saison Collab w/Highland Park and Automatic Brewing Co.; Nectarine Sour Project Sour Ale; Bourbon Barrel Vanilla Latte Vastness of Space Bourbon Barrel Aged Imperial Stout w/Vanilla and Coffee
Clandestine Brewing:  Milky Way Milk Stout; Wicked Brick Strong Hoppy Red
Cleophus Quealy Beer Co.:  Imma Let You Finnish Sahti; POG Saison Barrel-aged saison with fruit; Cherry Red Barrel-aged sour ale with fruit; Citrus Sour Barrel-aged sour golden ale with fruit; Baltic Porter Wine-barrel aged porter
Cloverdale Ale Brewing Co.:  Cloverdale Ale Amber; Floyd IPA
Cooperage Brewing Co.:  Brett Midler Sauv Blanc Barrel Aged Saison with Brett; Clear and Loathing Double IPA; Curt Cobain Pale Ale
Corralitos Brewing Co.:  Hop Kiss IPA; Raspberries at Night Fruited Wood and barrel aged Sour Beer; Hellbird Munich Helles Lager; Browns Valley English Brown Ale
D
Danville Brewing Co.:  925 Blonde American Blonde; Tres Diablos Triple IPA; Oatmeal Raisin Cookie Spiced amber ale; Collusion Bourbon Barrel aged Russian Imperial Stout
Das Brew: Double Das Double IPA; Mean Monkey Hefeweizen
Del Cielo Brewing Co.: Heavenly Nutty; El Paseo; Night Riders; Run Beaver Run IPA
Dempsey's Restaurant & Brewery: Double Axel Imperial IPA; Lumanator Doppelbock
Discretion Brewing: Trip Trap Trip Trap Bock; Jugo Nuevo Hazy IPA

E
East Brother Beer Co.: Gold IPA Wheat IPA; Bo Pils Bohemian Pilsner; Red Lager Vienna Lager; Baltic Porter
Eight Bridges Brewing, Inc.: I'm Easy Triple IPA; Tartass Sour
El Toro Brewing Co.: El Toro Poppy Jasper Amber Ale English Style Brown Ale; Ghost Chili Golden Ale infused with Ghost Chilis; El Toro Deuce Imperial IPA
Elevation 66 Brewing Co.: Vista Park Pale Ale; Molly Brown Ale
Elkhorn Slough Brewing Co.: Pajaro Gold Pilsner; Three Letter Acronym Bourbon Barrel Aged Flanders; Dharma Peel BBA Imperial Stout; Jewel Wild Ale
Epidemic Ales: Hopslayer Double IPA; Red Plague American Red
F
Ferment.Drink.Repeat: Cats In Fatsuits New England-Style Double IPA; Bayview Haze Pomegranate Double IPA; Spinderella Salt-n-Pepa Gose; Helles Afraid We'll Take Over Munich Helles
Fogbelt Brewing Co.: Prometheus Sour Farmhouse; Federation Giant Imperial Irish Coffee Stout; Yellow Vine Belgian Golden Ale; Outlier Red Wheat IPA
Fort Point Beer Co.: Animal Manzanita; Galaxy Park; Mosaic Park Single Hop IPA; Resonance Blended Saison; KSA Kolsch Style Ale; Animal Tropical IPA
Freewheel Brewing Co.: Zestier Shade of Pale Meyer Lemon Pale Ale; Big Tree ESB English Special Bitter; Shelterwood Chestnut Brown Brown Ale; Gold English Pale
G
Ghost Town Brewing: Last Caress Triple IPA; Foggy Memory Hazy IPA; Old Treppaner Barley Wine; Foreign Object Foreign Stout
Gilman Brewing: Champ Rouchax Nectarine Saison; Antifreeze IPA; 5w30 Imperial Stout; Vieux Rouillé Belgian Golden Strong
Golden State Brewery: Freshly Kilned English Pale Ale; Wham, Bam, Dank you Ma'am Triple IPA
Gordon Biersch Brewing Co.: CHUM Red Ale; Full Pressure
Grav South Brew Co: 7 Figure American IPA; French Vanilla Porter Oaked Robust Porter
H
Half Moon Bay Brewing Co.: Swing for the Fences Double IPA; Lost in the Fog Blackberry & Vanilla Milkshake IPA; Saison Sandwich Farmhouse Ale; Zeta Juice NE IPA
Hapa's Brewing Co.: Hungry Dog West Coast IPA; Don't Be Evil Kettle Sour w/ Raspberry
Harmonic Brewing:  Roast of the Town Coffee Brown Ale; Invisible Haze Double IPA; Prague Rock Czech/Norcal Pilsner; Nocino Dub Side Barrel Aged Belgian Dubbel
Headlands Brewing Co.: Hawk Hill Hefeweizen, Kirby Cove IPA, Double Bowknot Russian Imperial Stout; Wolfpack Ridge IPA; Imperial Stout aged on Rye Whiskey Barrels
HenHouse Brewing Co.: Saison; Oyster Stout; Golden Ale Belgian Style Golden Strong Ale
Hermitage Brewing Co.: Cherry Rocinate Inspired by Flemish Style Red Ale; Pineapple Ophion Foeder beer
Highway 1 Brewing: Road Trip Mosaic Single Hop Pale Ale; Highway 1 Hibiscus  American Lager
Hop Dogma Brewing Co.: Dogmabock Doppelbock; Greener Pastures Double IPA; Cucumber Rocket Surgery Belgian Witbier
Humble Sea Brewing Co.: Mankini Line Foggy Double IPA
I
Iron Springs Pub & Brewery: Compulsory Triple IPA; Voluntary Pale Ale; Screaming Eagle American Light Lager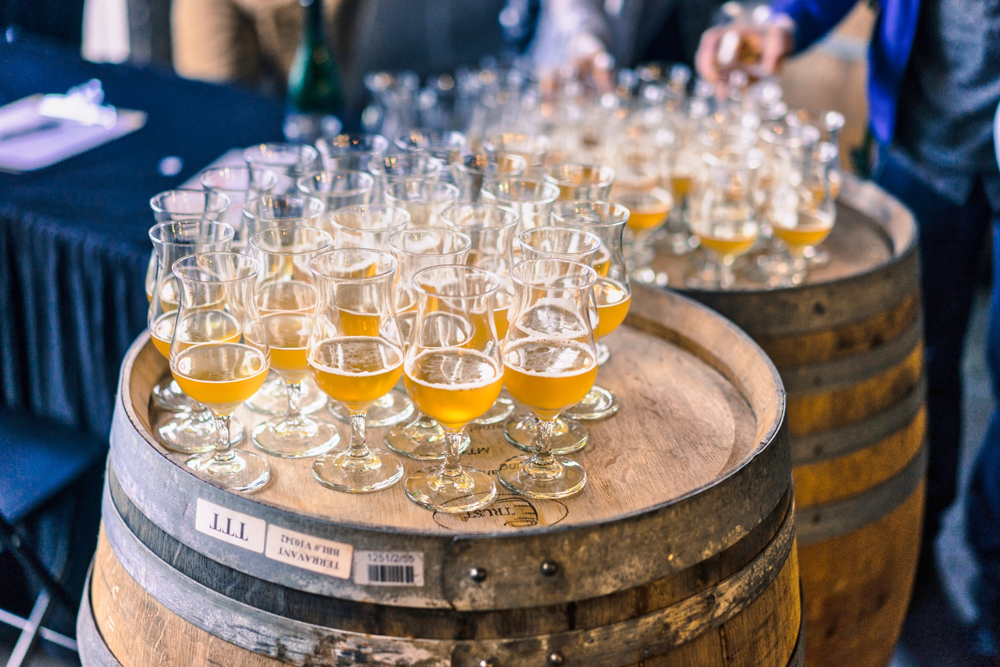 L
Laughing Monk Brewing Co.: Precious Cargo Whiskey Barrel Aged Imperial Porter; Pluot Pulpit Belgian Style Tripel with Pluot; Bayview Haze Pomegranate infused IPA; Coffee 'N Cream, Cream Ale infused with Light Roast Coffee; Evening Vespers Belgian style Dubbel; The Devil's Hoard Imperial Stout
Lucky Devil Brewing: Aleister Abbey Belgian Blonde; 2 Year Aged Oud Kriek
Local Brewing Co.: Galactic Strata Double IPA; Bourbon Sutro Bourbon Barrel-Aged Stout; Perfect Strangers Fruit Sour w/ Philz Coffee
Loma Brewing Co.: Greek God of Hops Double IPA; Boys Club American Lager
Lost Coast Brewery:  Imperial Stout; Mandarina Pale Ale with Mandarina hops
M
Mad Fritz Brewing Co.: Terroir Series-Napa Ale 100% Single Origin Ale Belgo-American Brown Ale; The Old Man and Death Imperial Rye Stout; Oast House Ale-Cascade Hops Sonoma County American IPA; The Birds and the Beasts Barleywine
Magnolia Brewing Co.: Promised Land Imperial IPA; California Kolsch; Prog Bock; Diesel and Dust
Marin Brewing Co.: Hella Art Wah Pilsner German-style Pilsner; Admiral Loral Navy Strength Super Saison; F.B.I.P.A. Double I.P.A.; Flake News Russian Imperial Oatmeal Stout
N
Napa Smith Brewery: Hopageddon Imperial IPA; Incubator West Coast IPA; Black Chasm Bourbon Barrel Aged Stout
New Bohemia Brewing Co.: Hellesexy Helles; Captain FGS Baltic Porter; NuLu Imperial Kolsch; NUBO Pils Czech Pilsner; Bourbon Barrel Barleywine
North Coast Brewing Co.: Barrel Aged Old Rasputin XX Imperial Stout; Cranberry Quince Berliner Weisse; Beachmaster American Imperial IPA; PranQster Belgian Golden Ale
Novel Brewing Co.: Peach Don't Preach Golden Sour Ale; Go, Dog. Go! NE Style IPA; Double Grainbow Double IPA; Brett on the Farm Brett Saison
O
Oakland United Beerworks: Brewbies Oceanside 2018 American Pale Ale; Oakland United Beerworks Bavarian Hefeweizen; #nofilterbananaslpitbock Weizenbock; Rauchschwarzbier Smoked Black Lager
Ocean View Brew Works: Champagne of the North; Fool Me Twice
Old Bus Tavern: Mystery Train Imperial IPA; Lemon Basil Saison with fruit & herb
Old Kan Beer & Co.: Old Kan Classic Common Lager; Àokèlán California Rice Lager
Original Pattern Brewing Co.: Amoris Saison; As You Wish American IPA; East to West Sunset English Brown; Edo Dry Irish Stout; Oakland Gold American Lager; Sequential Standard Belgian Witbier
P
Pedro Point Brewing: Coastal Cooler IPA NE style IPA; Hyggeweizen Chocolate Dunkelweizen
Peter B's Brewpub: Something Something Dankside New England IPA; Copper Clad Copper Lager Caramel Steam Lager; Cuffing Season German Eisbock; Arctic Fawkes Spiced White Stout Bourbon Barrel Spiced Winter Warmer; Craizon Cranberry French Saison
Plow Brewing Co.: Muggins IPA; Sonoma Coast California Pilsner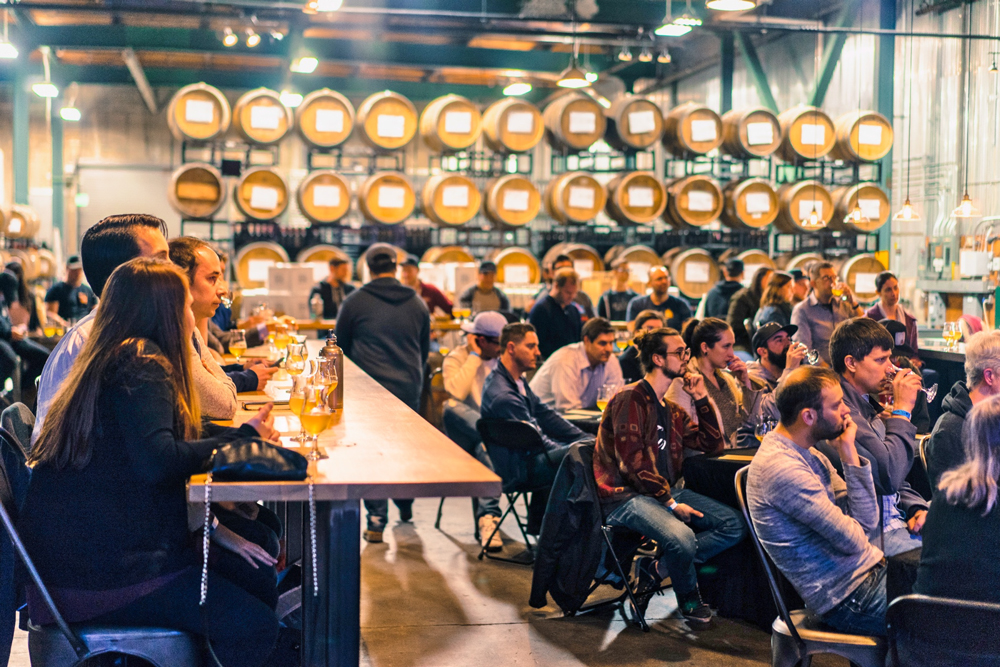 R
The Rare Barrel: 2017 Ensorcelled Fruited Dark Sour; Outlaw Bound Fruited Golden Sour; Stone Age Love Fruited Golden Sour
Russian River Brewing Co.: Pliny the Younger Triple IPA; STS Pils Pilsner; Supplication Sour Brown Ale Aged in Pinot Barrels with Sour Cherries
S
Sacrilege Brewery + Kitchen:  L'Ultima Crema Cream Ale; Peach, Love + Hoppiness Peach IPA; Mary's Cherry Pie Fruited Pale Ale; Like a Red Headed Step Child Red Ale with Beets; Bride of Pamplemousse Belgian IPA; Blueberry Rye Saison
Santa Cruz Mountain Brewing: Rail Trail West Coast IPA; Cucumber Buddha Hand Wheat Fruit/ Vegetable Beer; Flanders Oud Bruin collaboration with Brewery Twenty Five
Shadow Puppet Brewing Co.: Tartbreak Guava Berliner Weisse; Thin Blueberry Line Blueberry Wheat Ale; Kentucky Uncommon Amber Ale; Lush Nectar Hazy NE IPA; Barrel-Aged Shattered Saison
Social Kitchen & Brewery: SKB Pils German Style Pils; Rapscallion Belgian Style Golden Ale; Jolly Good Red wine barrel fermented brown ale; Bramling Cross Red wine barrel fermented English Style Rye IPA
Sonoma Springs Brewing Co.: NomaCloud Triple IPA; Women Are Smarter Wildflower Saison; Gonna Eat A Lot Of Peaches Milkshake IPA; Vernal Sunrise Pale Ale
Southpaw BBQ & Brewery: Bromden Brett IPA; A Faster Horse NE Style IPA; Who You Wit Belgian Witbier; All The Lees are Brown Barrel Aged Brett Beer
Speakeasy Ales and Lagers: Blind Tiger Triple IPA; Holdout Stout Oatmeal Stout; Syndicate 3 Vintage Ale
St. Florian's Brewery: Station 5 Session IPA; Sonoma Pride: Mutual Aid Northeast Style Blonde Pale Ale collaboration with Bear Republic Brewing
Standard Deviant Brewing: Kolsch; Imperial Stout; Sticke Alt; Saison
Strike Brewing Co.: El Diamante Golden Ale; Quick Pitch Imperial Kettle Sour with Strawberries and Kiwis; Field of Haze NE Style IPA; Two Seam West Coast IPA
Stumptown Brewery: Rat Bastard Pale Ale; Dirty Rat IPA; Blimey the Wanker ESB; Black Stump Porter
Sufferfest Beer Co.: Flyby Pilsner; Shakeout Blonde
Sunset Reservoir Brewing Co.: Double IIPA; Vienna Lager
T
Temescal Brewing: Dreamer Pils Pilsner; Wonder Why IPA w/ Simcoe, Citra, and Loral hops; Big News Double IPA w/ Mosaic and Motueka hops; La Fizz
Third Street Aleworks: Double Standard Double IPA; Mango Golden Kettle sour with fruit
ThirstyBear Organic Brewery: Tolstoy's Inkwell Russian Imperial Stout; Vienna Waltz Vienna- style Lager; Batch #1776 Colonial Ale; Panda Bear Golden Ale
Trade Brewing: Hatchet American IPA; Swing Shift Belgian Pale Ale
Triple Voodoo Brewery: Cask Conditioned Extra Pale Ale Extra Pale; Primary Colors Triple IPA; Strawberry Letter Kettle Sour
U
Uncommon Brewers: Uncommon Wit Wit Beer; Baltic Porter; Framboos op Eiken Barrel-aged fruit sour
W
Woods Beer Co.: Freeze Pop Pale Ale; Islay IPA aged in Laphroaig barrels; Smoothie Brews : Mango Tango Sour Ale with Mangoes; Divine Origins: Merlot Wild Ale Fermented on Grape Must;
Working Man Brewing Co.: The Intern New England IPA; Blood Orange Hanging Slider West Coast IPA
The full beer descriptions and food pairings can be found here.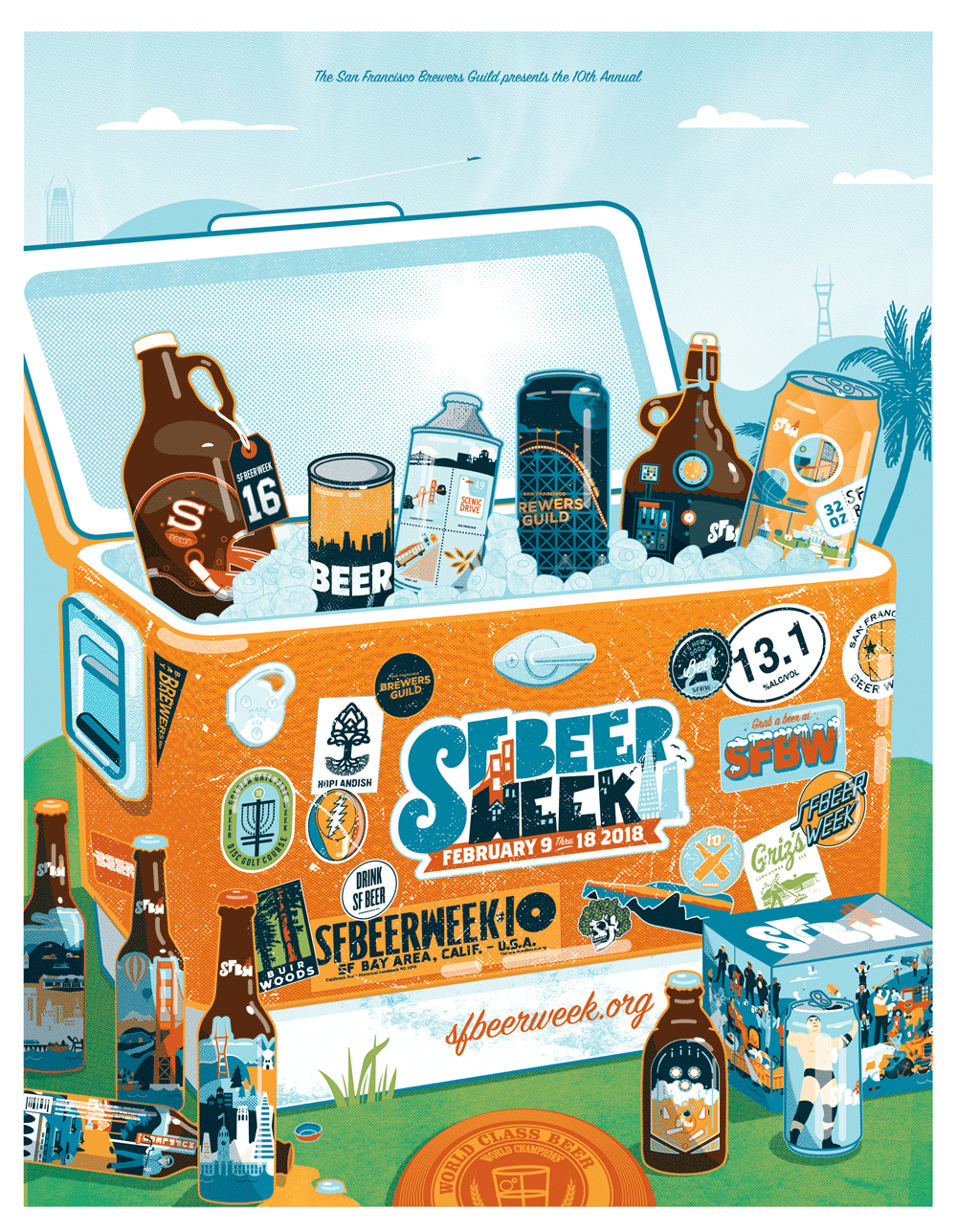 Feature image courtesy of Suni Sudhi
---