No Comments
2 Days, 2 Nights of Craft Beer in Salt Lake City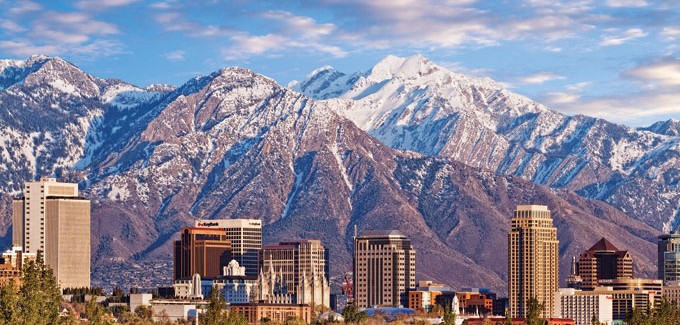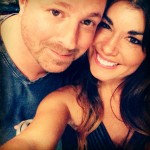 If you're looking for a beercation like the rest of us, we know you can have an exceptional one here. Utah is generally thought of as that dry place between craft beer mega states Colorado and California. Unlike the super states that surround us in virtually every direction, you can truly experience a good amount of what Utah beer has to offer in just 2 days and 2 nights, sightseeing along the way. 
Salt Lake International is a popular hub, so flights can be found at a really good price. From the airport you can easily rent a car, Uber/Lyft or use the public transport system, Trax.  With any option, you can be downtown within a few minutes after picking up your luggage. Once you get to downtown Salt Lake City, a majority of this venture can be done on foot – and if you are a Fitbit fanatic, you can easily win your weekend challenges.
Day One

Red Rock Brewing
Located in the heart of downtown SLC, Red Rock Brewing is the first stop on the tour. Head Brewmaster Kevin Templin has established himself as a champion of the state in traditional and experimental brews.  Proof is in the pudding.  Each new Red Rock special release is greeted with an ever growing line around the block, selling out within hours.  If the inflight peanuts and Fat Tire left you wanting a more, we recommend the pork belly sliders, adult mac and cheese (add jalapeno) and Utah's most popular hop monster, Elephino Double IPA. Offering excellent food and beer, Red Rock continues to be one of our favorites (if you cozy up to the bar, it may be difficult to leave).
---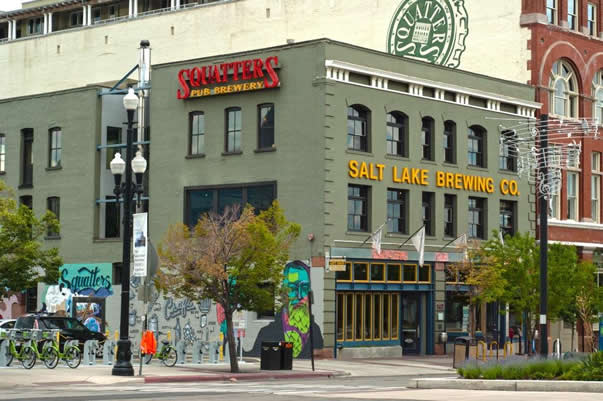 Squatters Pub Brewery
Just around the corner from Red Rock is one of Utah's oldest and most beloved breweries. Squatters Pub Brewery is an icon in Utah beer and the downtown landscape.  Since long before the craft beer boom, locals proudly sport their slogan 'Good for What Ales You' t-shirts with their Doc Martin boots.  Brewing staple beers such as award-winning Off Duty IPA and the gigantic Russian Imperial Stout, Outer Darkness, there is something for everyone.  You can't go wrong grabbing appetizing pub favorites along with a Hop Rising Double IPA.  Stop by, grab a beer and snap a picture.
---
Beerhive Pub
Ready to settle in and enjoy a larger selection of premium beers? Beerhive Pub is located just down the block from Temple Square and is a perfect place to plant yourself.  Boasting a vast array of local favorites (and not-so-local), the Hive is the whole ball of wax. They seek the chance to give beer lovers variations we might not be able to get normally. There have been many nights we have stopped in for a beverage and didn't leave for hours. Comb through the extensive bottle list thoroughly because it isn't uncommon to find pre-cellared gems.
---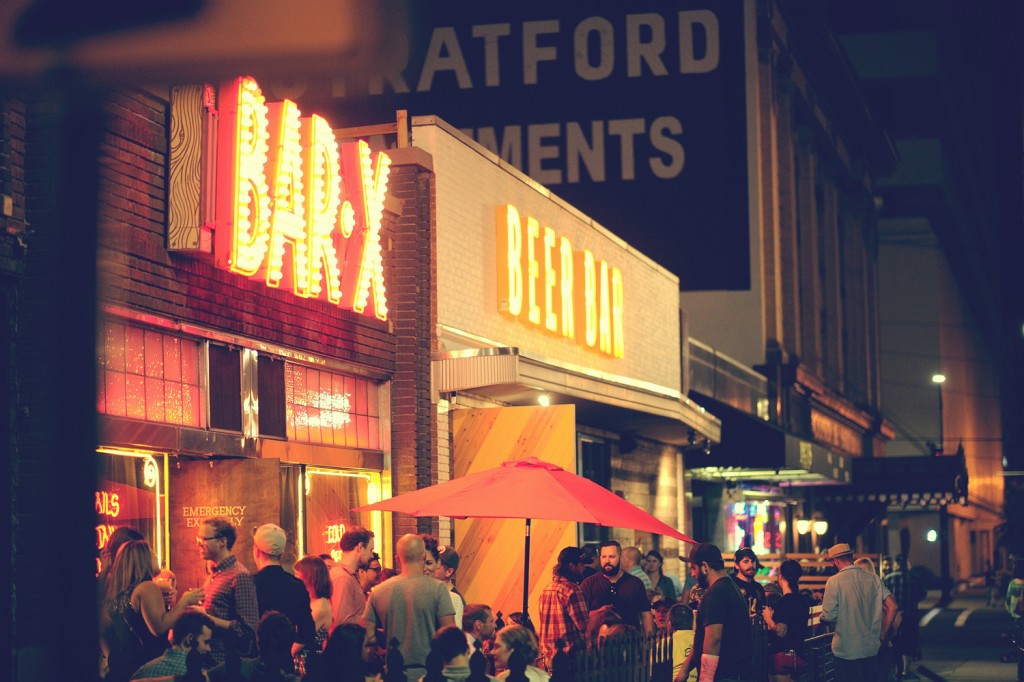 Beer Bar/Bar X
Funny thing is, we have often gone to the Beerhive and then ventured around the corner to Beer Bar.  Established in 2013 and voted into 'America's 100 Best Beer Bars', there is no shortage of new beer to taste. The staff is knowledgeable, friendly and willing to make suggestions based on your personal preferences, delivering your choice swiftly in proper glassware.  Beer Bar is connected to Bar X, a home of craft cocktails – which happens to be the first time we tried Pappy and quickly ruined (or made it better, depending on which friend you ask) by mixing it with a 2015 Firestone Walker Sucaba. This is just one of the many experiences had Beer Bar/Bar X. Create your own by stopping in for a drink and catching a game or classic flick being projected on the walls while enjoying locally made provisions.
---
Proper Brewing Co.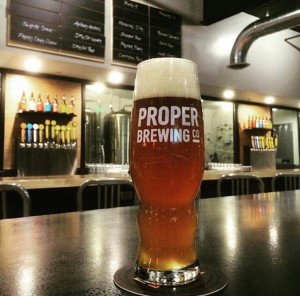 Now that you have sat awhile and drank a bit – time for a walk! Grab a bottle of water to-go and get ready to man the SLC streets. Visit one of our newest craft beer enterprises, Proper Brewing Co. Spawned in 2016 from crowd favorite Avenues Proper, they're leading the way for a rush of new establishments in the area.  Based on their initial launch, the old saying 'go big or go home' is certainly in play here.  The beautiful warehouse-style taproom showcases several taps; you may want to order samples to find the one you like the best.  Once you have settled on your favorite, gear up for a skee ball game or any of the other available distractions. Located just a few feet away is a separate craft burger restaurant. Our proposal – drink a Patersbier Belgian or Lake Effect Gose and construct a tasty burger.
---
The Bayou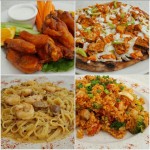 All of the locations mentioned have food available, however if you are feeling some late night hunger, we have you covered. The Bayou down the street rounds out the 2 centrally located beer bars, making this the perfect place to end the night.  Download their app to see the extensive beer list ranging from local to exotic.  The food here is cajun themed and pairs well with practically any beer being served.  Grab yourself some hot sauce and dig in! There is nothing more enjoyable than some authentic tasting gumbo and cracking a Cascade Brewing sour while listening to live jazz music.
---
Day Two
Today is probably an Uber/Lyft kind of a day. Sugar House is a beautiful community just east of downtown Salt Lake City. Attracting all types of visitors, a charming atmosphere with historical landscape alongside hip new additions, this is an area you will want to visit.
The Annex by Epic Brewing
Epic Brewing Company, the creator of Big Bad Baptist Imperial Stout, opened a fine gastropub in Sugar House called The Annex.  The location is perfectly intimate and unpretentious.  Stop by and have them pour you a flight of the Utah Session series, which includes the great Sour IPA.  The Annex also serves Epic's high point series, so of course you will want to try Smoked and Oaked, Imperial IPA and Son of a Baptist. Food options are fancy and fun, stretching your imagination in regards to food and beer pairings.
---
Wasatch Brewpub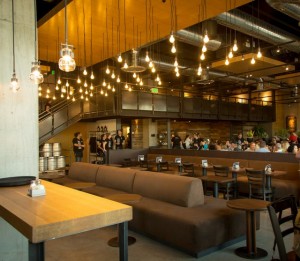 Finished up at the Annex? Take a practical walk right to Wasatch Brewpub.  Another new addition to the Sugar House area, this location allows easier access than the Park City locale for this trip. Wasatch was established in 1986 and is most well known outside of Utah for their Polygamy Porter.  This perfect example of a traditional-style porter recently got an upgrade when a higher abv nitro-version was released.  A Utah-must is the Jalapeno Cream Ale, which we have been begging to be canned for years.  This festival favorite is a clean and super refreshing beer and is always one of the first kegs to empty. Wasatch and Squatters are essentially inseparable siblings, so you can generally get both labels at each other's restaurants. Food here is a blend of traditional bar entrees as well as some gastropub flair.
---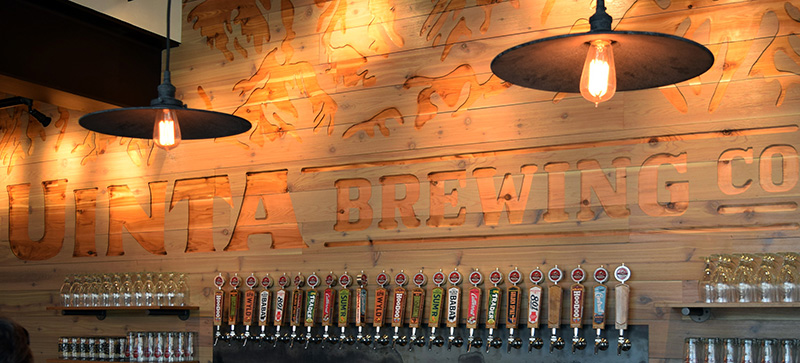 Uinta Brewing Company
It's time to visit Utah's largest craft beer brewer. Uinta Brewing Company (you-in-ta) is named after the mountain range in the northeastern section of the state and is our most recognizable local brewery.  Uinta pushes the limits by producing new beer after new beer.  With the recent remodeling of their taproom, they made it easy to sit down and enjoy any of their core beers along with a great meal. You can enjoy favorites like Uinta (Cutthroat) Pale Ale, Baba Black Lager and the Crooked Line series which includes seasonal selections such as Birthday Suit and Stomping Grounds Coffee Stout.  And don't miss the chance to share a Labyrinth Black Ale.  This rye barrel aged stout clocks in at 13.2% abv and is flavored with licorice.
---
Bohemian Brewery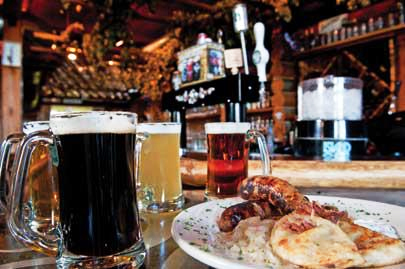 Catch a ride to Bohemian Brewery, located in Midvale. Specializing in traditional German style beers, you will feel like your beer should be served in a glass boot.  Bohemian has defied temptation and stayed true to their convictions by resisting to brew the faster turnaround ales.  It's all water, malts, and hops here folks.  Grab a Czech Pilsener or a Cherny Bock and chow a mouth-watering garlic burger.
---
2 Row Brewing
Here's the best reason to bring an extra suitcase, bubble wrap, and zip lock bags: 2 Row Brewing down the street from Bohemian produces some of the coolest new beers in the state. Grab each of their brewskies (you won't regret it) to take with you.  Sorry, no taproom at the present time, but you can score their beer from their bottleshop to take, or consume at the Beerhive, Beer Bar or The Bayou.
---
Shades of Pale Brewing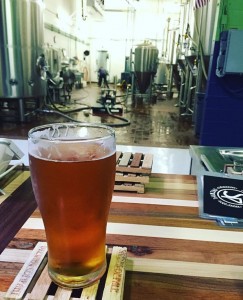 If there was more time, we might have you venture to Ogden, to visit Roosters and Talisman Brewing Company for new beers or Slackwater Pizzeria & Pub, voted '51 Best Beer Bars in America'.  However, it's time to finish out the night.  Originally situated in Park City, Shades of Pale Brewing recently moved to Salt Lake City.  Occupying one of the largest brewing facilities this side of Uinta, we recommend a visit.  If it's a warmer summer night, enjoy the fire pit on the patio, or be greeted with music and game nights inside the tap room.  Core beers at Shades are Publican Pale Ale, Ready to Fly Amber, 4 Play Porter, Jack Wagon Wheat, and Misdirected IPA.  If you luck out and they haven't sold out, you may be able to purchase their Beer X series brews which have included a coffee stout, white IPA and an impressive single gin barrel aged pale ale. Shades doesn't currently serve food, but there is often a food truck hanging around or right next door is Pat's BBQ, so you will be well taken care of.
---
Now, the next best reason to bring an extra suitcase, bubble wrap, and zip lock bag: First Friday Bottleshare. If your stay includes the first Friday of any month, you should look us up.  This epic monthly share was established over a year ago by our buddy Chase, ourselves and several friends enjoying endless amounts of pumpkin beer.  We wanted to have a place where beer geeks can unite, forming lasting friendships while trying enough unique world class beers to make SLC a momentary Untappd hotspot.  FFBS is hosted all over the valley and attended by local industry heavy weights as well as friends just seeking to get into craft beer.  The only rule of the share is to bring a 22 oz. beer (or two 12 oz.) per person not readily available in Utah.  Coming from outside of our state? Pack your favorite share beer and join us.  Where else can you get Black Tuesday, Hunahpu or Cantillion in Salt Lake City?  Gooble gobble, gooble gobble, one of us!
Over the years, Salt Lake has collected an impressive number of labels – some justified, some not, some absolutely hysterical. Regardless, we're always amused with how quickly visitors shed those labels once they're here. Whatever your Utah adventure is – arrive hungry, leave happy. Cheers!
Chris & Sylvia are a #craftbeercouple who love everything beer! Check them out on Instagram @chrishollands& @sylily.
---