2 Comments
Falling Rock Owner Cries Foul on Oskar Blues Brewery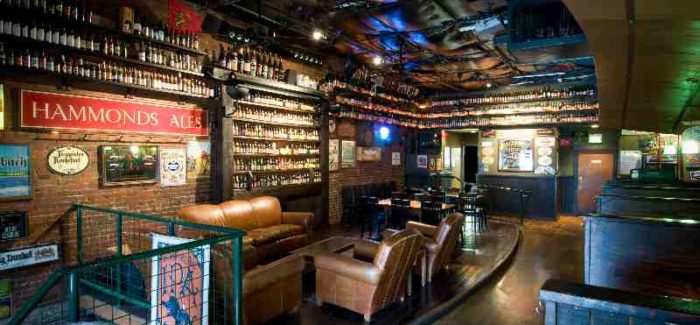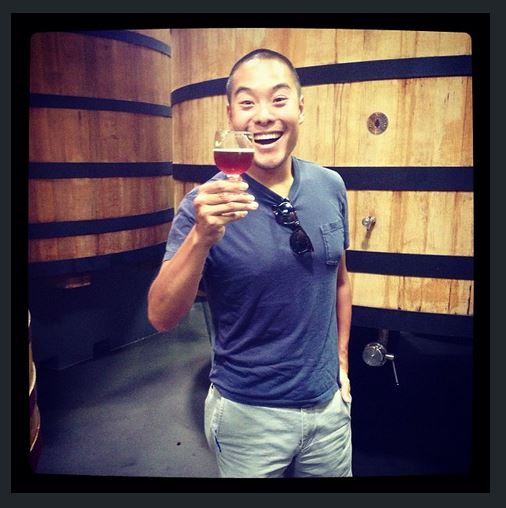 *This post has been updated, as we've been informed that Oskar Blues joined the Texas Craft Brewers Guild last month*
If you ever thought craft beer was all just fun and games, you don't know this industry. This is a craft built on passion, long standing traditions, and the unspoken agreement of mutual investment in growing the industry as a community. However as with any field, business is business. As we've already seen over the past 3-4 years, growing pains have begun taking shape in many different forms for craft beer. The latest of which manifested Friday night, when Falling Rock Tap House Founder / "King" Chris Black, took to Facebook to pen an open letter to Oskar Blues Brewery and more specifically Dale Katechis. Falling Rock, the world-renowned beer bar located in downtown Denver has garnered cult following status, by maintaining 75+ active taps and over 130 bottles of beer on the menu since they first opened in 1997.
Starting this year, you have left the Colorado Brewers Guild. This leaves a large hole in the budget of an organization that has helped & fought for your ability to get to where you are today. You don't belong to the North Carolina Brewers Guild, you informed the Texas Brewers Guild you won't be joining their organization (the latter was the subject of a recent Austin Chronicle article). – Chris Black
While Black touched on a number of the Longmont-based brewery's recent business decisions, including their recent decision to leave the Colorado Brewers Guild, as well as their decision against joining North Carolina or Texas' Guilds (it should be noted that Oskar Blues did in fact join the Texas Craft Brewers Guild as of last month)* sites of their expansion breweries, the third and most timely of Black's contentions with Oskar Blues, stems from Friday's announcement that they would be opening a 11,000 square foot restaurant and music venue at 1624 Market Street. The venue will include 43 taps that will carry both Oskar Blues products as well as breweries from across the U.S.
When you want to sell your own products, I am a huge supporter, when your primary goal is to sell other people's beers, I'm not so much in favor. That's kinda the job for the accounts out in the marketplace. As you might have noticed, there are over 4300 breweries in the US, 300+ in Colorado alone, I have LOTS of choices, & I choose to spend my money on beers brewed by brewers that don't actively & directly compete with me. Oh, I understand it's 'legal' for you to carry other people's beers, that doesn't make it right, or the right thing to do for your brand. You seem to want to be considered a Brewpub when it suits you, and a Brewery when see an advantage in that. Funny, I was always under the impression that there were laws against that here in Colorado (laws designed to keep things from being taken over by the Industrobrewers), but I must be mistaken. – Chris Black
Black's letter continued on to note that Falling Rock was Oskar Blues' first account outside of the Lyons area (original home of Oskar Blues Brewery).
We have reached out to both parties for comment before we lend our own editorial take on the issue. In the meantime, we'd love to hear your thoughts on both points of view in the comments section below.
Below are screenshots taken from Chris Black's Facebook post.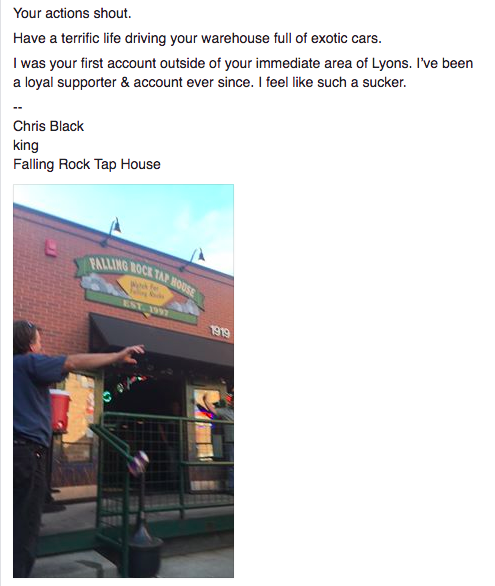 ---