#louisvillecraftbeer Archives – PorchDrinking.com
April 30, 2021 | Kindsey Bernhard
When you think of the city of Louisville, you often think of the Kentucky Derby and bourbon. The founders of the Louisville Ale Trail want people to start adding beer to that list. The first annual Lousiville Beer Appreciation Day will be held Sunday, May 2 to highlight both Louisville's growing craft beer scene and the city's rich beer and brewing history.
April 26, 2021 | Kindsey Bernhard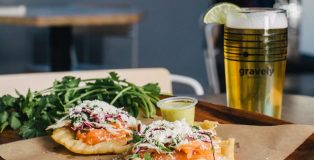 It's officially porch drinking, grass mowing, sitting by the pool and boating season. And some of the best beers to pair with those occasions are Mexican Lagers.
One Mexican Lager in particular that you'll see a lot of Kentuckians pairing with those occasions is Gravely Brewing La Bamba Mexican Lager. La Bamba has been a fan-favorite at Gravely since opening in August 2018.