#peterbouckaert – PorchDrinking.com
August 15, 2019 | Jaclyn Menendez
Avg. Reading Time:
3
min
The second anniversary of Purpose Brewing was really, really hot. I don't mean in popularity, though that would also be true: it was packed from the minute the doors opened at 2pm and stayed bustling throughout the entire weekend. But it was also one of the hottest days of summer so far in the Coloradoan city of Fort Collins, where Peter and Frezi Bouckaert opened their doors two years ago to a thirsty public. Despite the blistering sun outside, crowds stalked the air-conditioned tables inside and huddled up under tents outside to enjoy their beer in some shade. "Yes, it's a million degrees out. And yes, I'm drinking a stout," laughed one patron as he wiped the sweat from his brow. "But come on, have you tried this one?"
April 25, 2019 | Tristan Chan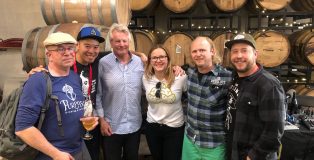 Avg. Reading Time:
1
min
In episode 59 of The PorchCast recorded during the Craft Brewers Conference, we were honored to welcome two legends who literally wrote the book on barrel-aged beers.
Podcast: Play in new window | Download
Subscribe: Apple Podcasts | Android | RSS
May 18, 2017 | Tristan Chan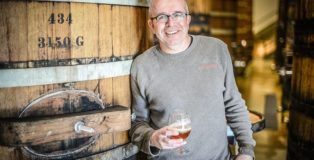 Avg. Reading Time:
2
min
The classic Greek philosopher Socrates was quoted as saying, "Education is the kindling of a flame, not the filling of a vessel." That continuous quest for knowledge and life's next great challenge continues to drive Peter Bouckaert. Bouckaert announced today, that he will be transitioning from his current position as Brewmaster at New Belgium Brewing to team up Zach and Laura Wilson formerly of 1933 Brewing, to form Purpose Brewing and Cellars.