wisconsin beer Archives – PorchDrinking.com
August 10, 2022 | Emma Wargolet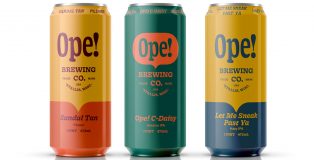 As someone with the Instagram bio of "ope," a visit to Ope! Brewing Co. in West Allis, Wisconsin, was a must. For those unaware of the Midwestern statement, the word "Ope" is used as an exclamation to express surprise, dismay or really anything at all (according to one of the breweries' stickers). Continuing with the theme of Ope! and general midwestern (specifically, Wisconsin) vibes, the three founders, Adam Anders, Kyle Ciske and John Onopa, were able to scatter nods to their home state throughout the brewery, which opened Memorial Day weekend of 2022.
August 7, 2018 | Jessica Spengler 3
In 2001, I was a bartender at a joint in Wausau, Wisconsin called Loppnow's Sports Bar. Our main fare was tap and bottled Bud Light and Miller Lite, but occasionally we sold some Mike's Hard Lemonade, Smirnoff Ice and Blue Moon. I don't remember how many taps we had, but I recall that only one rotated: usually with Point Lager or a stout that wasn't Guinness (we had no nitro). These barrels often took a couple of weeks to cash, with one exception – New Glarus Brewing Co.'s Spotted Cow Farmhouse Ale.