No Comments
Brewery Showcase | Ope! Brewing Co.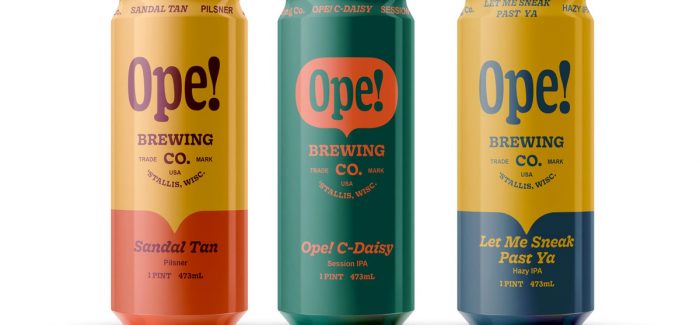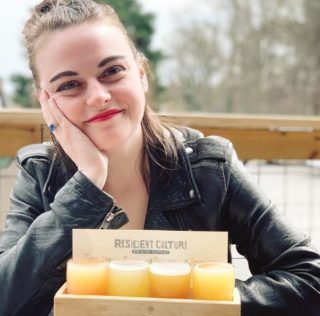 As someone with the Instagram bio of "ope," a visit to Ope! Brewing Co. in West Allis, Wisconsin, was a must. For those unaware of the Midwestern statement, the word "Ope" is used as an exclamation to express surprise, dismay or really anything at all (according to one of the breweries' stickers). Continuing with the theme of Ope! and general midwestern (specifically, Wisconsin) vibes, the three founders, Adam Anders, Kyle Ciske and John Onopa, were able to scatter nods to their home state throughout the brewery, which opened Memorial Day weekend of 2022.
Walking into Ope! Brewing Co., you are immediately hit with how open it is, with lots of seating. garage doors that are open on a nice day and a clear spot where a patio and a spot for outdoor games will soon sit. Speaking with John Onopa, he mentions that they are working on a large outdoor area for bags (or cornhole, depending on where you are from), seating, volleyball and more. The space, converted from an old factory, is enough for a 6,000 square foot taproom as well as a half acre outdoor beer garden.
View this post on Instagram
The taproom feels like it has been opened for at least a couple of years, and part of this stems from the experience of the owners. Kyle Ciske, as Head Brewer of Ope! Brewing, was previously the head brewer at Explorium Brewpub and Silver Creek Brewing Co., while Adam Anders was an assistant brewer at Explorium Brewpub and worked at Northern Brewer MKE in education and sales. This, combined with many trips to other taprooms, helped them know exactly what they wanted when they built the taproom.
Interestingly enough, it is likely the only brewery I've been to where the production of the beer takes up less space than the taproom and beer garden area. Production happens in the back, where beers are constantly brewed and kegs are delivered by co-owner, John Onopa, to places throughout the Milwaukee area and beyond. While not a large distribution, it is clear that it is a good way to get the word out to encourage more people to come visit the taproom.
View this post on Instagram
While a great taproom is a good foundation for a successful brewery, you always need good beer! Fortunately, Ope! also has that going for them.
With beer names like "Let Me Sneak Past Ya" and "Didn't See Ya There," the Wisconsinite in me was very excited to try all the beers and let the accent really shine. When checking out the beer list, you'll notice that they really have something for everyone. On tap in July 2022 was everything from a Hefeweizen to a Sour to a Farmhouse Ale. Of course, the requisite IPAs were there, but anyone could find something that they'd enjoy. There was a seltzer on tap for the non-beer folks, and the owners informed me that most of their beers are incredibly low on gluten. Enough so that friends of theirs with gluten intolerances were totally fine drinking a couple pints. (They did emphasize that it isn't fully gluten-free, so the beer isn't available for someone with Celiacs or another gluten allergy).
Personal favorites included Hefeweizenheimer, a (you guessed it) Hefeweizen, and the Zing Boom Tararrel, a White IPA with Amarillo, Centennial and Galaxy hops fermented with Belgian Wit yeast. The aforementioned Didn't See Ya There was high up on the list as well, as a great Hazy IPA. After only a couple of months, Ope! Brewing is making some great beers, and the next couple months will see even more innovation and beers from them.
If you are in the Milwaukee area, it is definitely worth the visit, especially if you love a good game of darts, a variety of beers to choose from and many dogs to pet!
Featured image courtesy of Ope! Brewing Co.
---