No Comments
Rogue Brewery | Voodoo Doughnut Bacon Maple Ale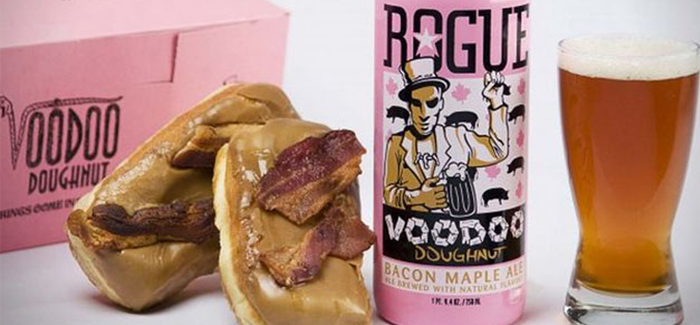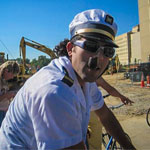 ABV: 5.6% | IBU: 30
*Editor's note. Today we bring you a unique treat to kick off the start of your work week. For a beer that has already cultivated such a cult following we felt it would be interesting to provide you with two beer reviews of the same beer, Rogue's Voodoo Doughnut Bacon Maple. So our early morning beer review will be brought to you by Pat Karousis and our afternoon by Adam Muniz. Enjoy and have a great start to your week.
Bacon. Don't worry, I'm not talking about the actor—and I use that word loosely—Kevin Bacon. Nor am I talking about the thing Canadians call bacon. I'm talking about the food that should be at the top, middle and bottom of the food pyramid. Bacon. American Bacon. Bacon and pancakes. Bacon-wrapped bratwurst. Bacon-wrapped Filet Mignon. Bacon-wrapped Oreos. Bacon-wrapped anything, edible or not. Bacon in salads (for you so called "vegetarians" who can't give up bacon and all its delicious glory). Bacon ice cream. And lately, bacon soda and bacon-infused vodka.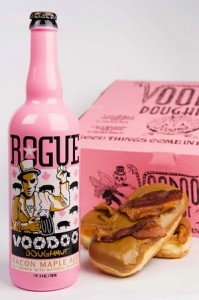 What's that? You're a big proponent of breakfast for dinner, formally called brinner? Or you just need a decent beer for a Sunday morning breakfast? Luckily for you, the almighty pork god (Rogue Brewing Company) has brewed a delicious beer for such the occasion. Rogue's Voodoo Doughnut Bacon Maple Ale. That's right, I said Doughnut Bacon Maple Ale. This is a well-balanced brew that captures all the essence of bacon and adds your other favorite breakfast items: doughnuts and maple syrup. A variety of smoked malts, applewood-smoked bacon, pure maple flavors, and pacman yeast make this beer the perfect drink for any breakfast meal. It's light enough to pair with a heavier breakfast, and yet has a full flavor that could substitute your breakfast entirely.
Why doughnut bacon maple you ask? Portland Oregon's Voodoo Doughnuts', a 24/7 doughnut shop where "each doughnut is magic", signature item is their Bacon Maple Bar. A combination of pancake, bacon and maple syrup flavors packed into a doughnut compose the Bacon Maple Bar that inspires this beer.
Rogue's Voodoo Doughnut Bacon Maple Ale is as bold as Babe, full bodied and jolly like Porky Pig and yet portrays the complexity of the philosophical Old Major. I paired my Doughnut Bacon Maple Ale with blueberry pancakes and bacon for breakfast. I could not have had a better breakfast! Could not be happier at 8:30am! Thank you, Rogue for making the best meal of the day that much better.
Try this beer in a bacon mug. Why? Bacon, duh.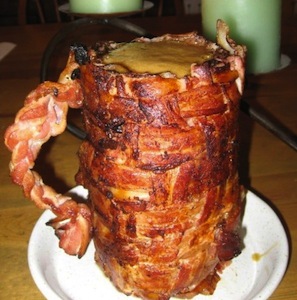 ---