No Comments
Night Shift Brewing – Snow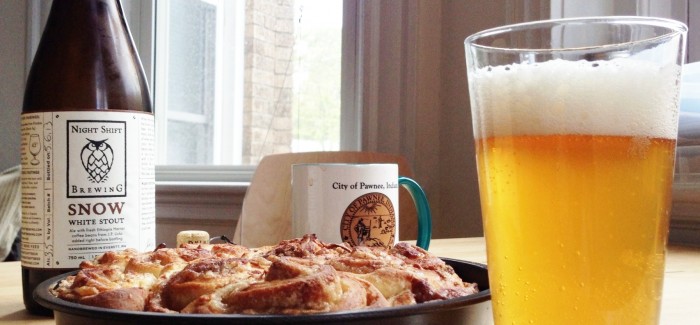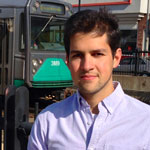 ABV = 3.4%
It's easy to get jaded about being a "grown-up". Here at PorchDrinking.com, we try to help you navigate adulthood as best as we can because we understand it can be challenging. But it can also be a lot of fun. Need an example of it? Look no further than beer for breakfast, something you would never try to get away with in your parents' house that's an extremely fun, satisfying, delicious option, especially when paired with a beer as interesting as Night Shift's curiously named, decidedly weird, sometimes confusing Snow.
This should go without saying, but I like to cover my bases: a lot of the egregious morning drinking you did in college does not count as a proper "beer for breakfast" occasion. For instance, finishing up an open can of lukewarm Natty when you wake up does not count. Nor does drinking beer for breakfast because that's the only thing in your fridge. Or waking up at 5 AM and dumping green dye in your beer. Cool? Cool. Find a beer that pairs well with your breakfast and have a reasonable amount of it with food and coffee, but this is breakfast: don't overdo it.
Snow is a particularly good choice because it has a very low ABV. But since it is a Stout, it is still quite flavorful and satisfying. You will feel Snow more on your palate than in your head, which is a good thing first thing in the morning. Now is about the time you look at pictures of Snow and question my sanity for claiming it is a Stout. I insist it is definitely a Stout, albeit a white one, which I had never seen before. It's also a warm weather seasonal release named Snow. Yes, the good folks/ crazy wizards at Night Shift are playing with your expectations, but trust them, they know what they are doing.
The first trick Snow played on my palate was how strongly it tastes like coffee. If I weren't writing about beer I would probably be writing about coffee, so I really enjoyed it. I was particularly surprised by the way it tasted like a freshly brewed cup of "craft coffee" because I often find beers brewed with coffee to have an unpleasant, bitter, cold old coffee taste. Night Shift claims this beer smells like a cup of espresso and I can definitely see that. If you usually dump a ton of sugar and milk in your coffee, chances are you will not love this beer. There is also an understated sweet and mellow wheat flavor in the back that counterbalances the coffee acidity well without covering it up. The second trick is how not low ABV it looks and tastes. Snow pours with a thick snow-white head and all the oatmeal brewed into this beer gives it a nice thick body. One of the more distinct and rewarding aspects of drinking a traditional Stout is the velvety smooth mouth feel and Snow mostly replicates that, or at least as much as it could with no chocolate malts added and that 3.4% tag.
As seen by the fact that I am writing back-to-back reviews about Night Shift beers, I am buying what they are selling both literally and figuratively. They are clever, bold, and I have yet to dislike one of their beers. I also enjoy their attention to detail and touches of whimsy. For instance, with every one of their bottles, they suggest food pairings from local Boston restaurants. This is convenient because the pairing will make or break this whole beer-for-breakfast enterprise and it is helpful to know what the brewers think goes well with their beer. They suggested Flour's world-famous "sticky buns" but since they don't serve beer at Flour and my girlfriend makes a better version I adapted their suggestion a little bit but to very rewarding results. If you are not as lucky as me to have a very talented baker as your partner/ roommate you could certainly pair this with French toast, pancakes or waffles. Heck, throw some Eggos in your toaster for all I care, just have fun with it. This isn't to say it needs a pairing at all times, but I found that having a sugary taste brings out crisper notes within Snow.
Even if you can't find Snow in your neighborhood store, I do encourage you to go out and try having a beer with an occasion breakfast. Bloody Marys can be overpowering and Mimosas are just plain boring, so beer is a good alternative. I would stick with either a coffee-brewed beer or one with smoked malts and/ or bacon added, but even under those guidelines there's still plenty of room to explore. Snow showcases coffee better than most beers but it's not the only beer that can be drunk before noon. Ultimately, Snow and adulthood are a lot alike: every bit as confusing as it is satisfying.