No Comments
Left Hand – Wake Up Dead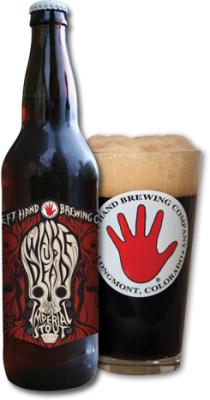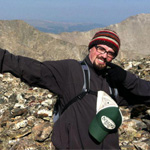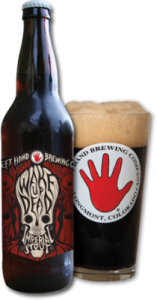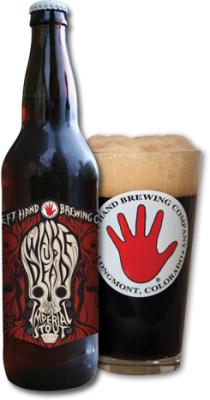 Wake Up Dead Russian Imperial Stout – Left Hand Brewing, Longmont, CO
ABV: 10.2%
IBUs: 50
With it starting to get cooler (relatively) and breweries starting to release the bigger, darker beers, I find myself drinking dark beer more and more now. The first Colorado beer I had, outside of Fat Tire, was Left Hand's Milk Stout. It changed every perception I had about stouts. Today, I grabbed a Left Hand Wake Up Dead. It is a barrel aged Russian Imperial Stout. *Editor's Note: Coincidentally yesterday marked National Left Hand Day to celebrate all of the lefties in the world!
Right off the bat I can smell that barrel smell, roasted coffee and a bit of booze. I'm immediately intrigued. Every once in a while, I crave a HUGE beer and today is one of 'em. On first sip, the wood and stout flavors do a tag team to my palette, but I don't mind. It is a welcomed taste. I sip again to see if I can get some underlying notes or finishing flavors. But no subtlety with this beer, just a big stout giving you the 1-2 of stout and barrel. I keep drinking just to see if it tames a bit, yet it hasn't. I'm still into this beer.
So this fall or winter, if you find yourself snowed in and freezing to death or just in the mood for a BIG stout, then pick up this beer. Or better yet, buy it now and cellar it to see if time can tame it!