No Comments
Blue Point Brewing Company Pumpkin Ale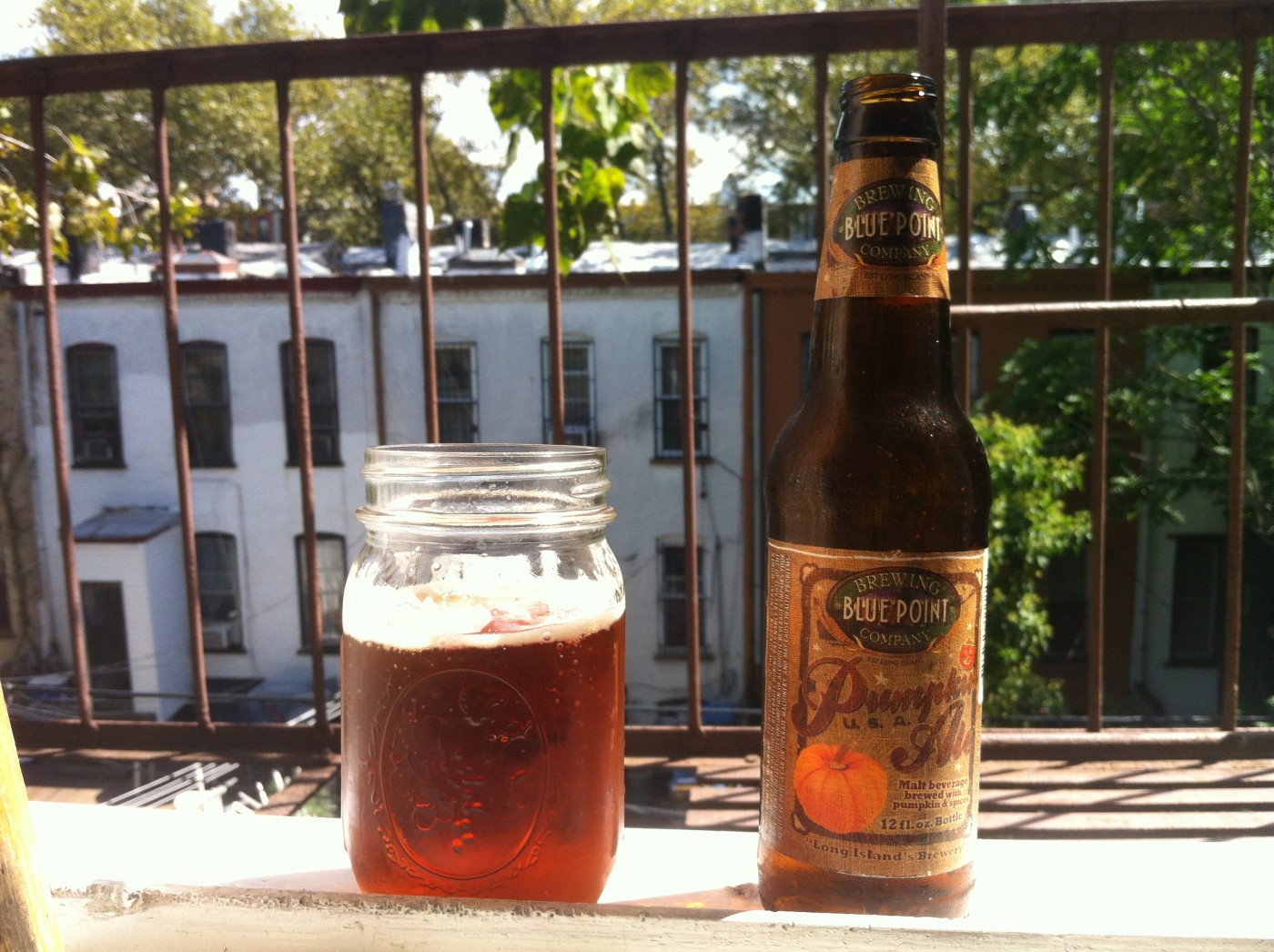 ABV: 6.0%
IBU: 26
Availability: Mid-August-December
The dog days of August have ended; cooler weather has prevailed. And with the changing weather comes a slew of seasonal beer offerings—a surefire sign winter is fast-approaching. Oktoberfests, pumpkin beers, winter ales—as the heat subsides, they all brave Indian summers to wet our palettes and whet our appetites for blazing fires and snowball fights.
While browsing my go-to craft brew bodega (Los Limones Deli, you're sweeter than your name lets on) I was happy to see a few new offerings from Long Island's Blue Point Brewing Company. Really they were just back on the shelf after a summer-long hibernation, but they were new to me.
Normally I don't go for fruit-and-spice beers—they're often too sweet or otherwise too un-beer-like for my taste—but a conversation with a friend during the previous week had planted a seed that must have sprouted. I went for the Pumpkin Ale.
Admittedly, there was no coriander-induced heaving or sweet surfeit bellyache. There was no subsequent sugar coma. It was really quite good, which leads me to BPB Pumpkin Ale's biggest weakness, or at least its biggest point of contention: the flavor isn't that strong. Now, for me, this is a bonus, but the matter can be a delicate issue. Typically, people who like their dessert beers like them because they're, well, dessert-y. So, while I enjoyed the brew, it may leave someone seeking a sugar high unsatisfied.
It's low-key, lightly sweetened and has a feather finish of nutmeg and cinnamon that works well with the pumpkin flavor. There's just enough to let you know the spices are there without making you feel like you're drinking a Yankee Candle. The Pumpkin Ale was a nice change of pace given my aversion to fruit infused brews, and I may just get this one again.
Incidentally, this beer pairs extremely well with curry. The beer's sweetness will counteract your curry's heat while the nutmeg and cinnamon mesh delightfully with curry's earthier aspects. While it's questionable whether Blue Point's Pumpkin Ale would work with tangier fare like hot wings, I'd wager it sits nicely with chili or a spicy stir fry. I might try to use it in some pumpkin soup.
All in all, I'd recommend picking one up for yourself. Particularly if you don't stray from chest-hair-inducing IPAs and Black Ales. If nothing else, save this one for that random October heat wave—you know, the one that reminds you you're not outta the thick of it yet—and then sit back, sip some spices, and think of impending coat (and for some of us blanket) weather.