No Comments
River North Brewery- Denver, CO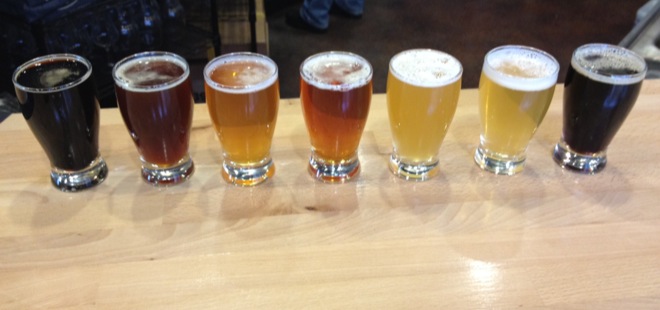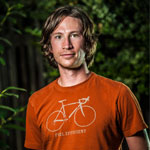 River North Brewery opened a little over six months ago, specializing in Belgian style ales. I happen to specialize in drinking Belgian style ales, so RiNo quickly became a favorite local brewery. Scratch that, a favorite anywhere brewery.
It was founded by a former engineer, and the science nerd* inclinations still pop up with beer names such as "Hoppenberg Uncertainty Principle" and "Unified Theory". Quick fact: "Hoppenburg"—which is a top notch double IPA—was originally called "Hypothesis." It was changed when some fun-hating vineyard sent them a cease and desist letter because they had a wine of the same name. While that kind of lawyeriness is lame and the world is certainly big enough for two hypotheses, at least it resulted in "Hoppenberg Uncertainty Principle," a cooler title.
The tap room is straightforward and exactly what it needs to be. No TVs or shitty jukeboxes, just some grey walls and a bar, so the focus is on good beer and good conversation. The minimalist approach is pretty refreshing, actually. And each visit, the person tilting the taps has been very friendly and super knowledgeable of the beer. My only complaint with the room is that the bare walls play some acoustic tricks and sitting in the corner can seem unbearably loud at times. But if that bothers you, simply order another beer. By the time you finish it, you won't care about the sound anymore.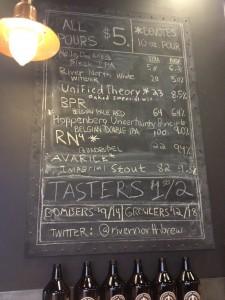 The two must tries are "Hoppenberg"—the double IPA—and "J Marie", which is an excellent Saison. Occasionally you can find J Marie and a few others offered in a barrel aged variant, which is certainly worth a shot, but I prefer the original.
"Unified Theory" is an oaked imperial wit and comes in a close third on the list. It's delicious and deceptively strong. Their Belgian pale red (BPR) is also solid and—along with the "River North White"—more sessionable.
As the weather cools down, their imperial stout "Avarice" will probably move up the list of favorites. It's rich, malty, and tasty, and it would be a great compliment to a snow day.
River North will be at GABF, so be sure to check them out. They also distribute select bombers to many local retailers and the tap room (just north of Coors Field) is open everyday.
*As a current engineer and also a science nerd, I can say this. We're offended when outsiders use it, though**. It's kind of our word.
**That's actually not true.