No Comments
Firestone Walker Crafted Thru Hops IPA Mixed Pack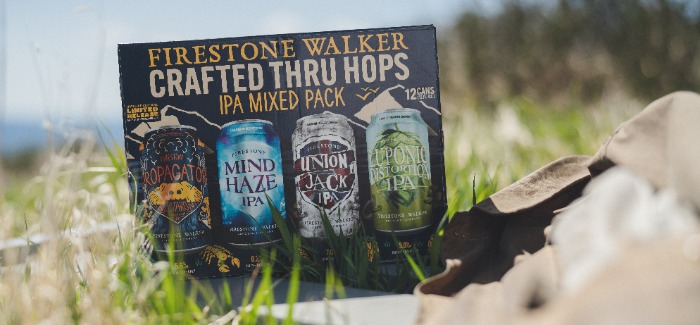 The flavor. That enticing aroma. Ah yes, there's just something special about that first hoppy-beer experience. When Adam Firestone and David Walker founded Firestone Walker 25 years ago, West Coast IPAs helped convert multitudes of beer fans into craft beer fans. These days, of course, the IPA is more than just a West Coast treasure as hops are now grown and distributed throughout the world, and that's demonstrated fully by the Firestone Walker Crafted Thru Hops IPA Mixed Pack.
Indeed, the Firestone Walker IPA Mixed Pack expresses one of IPA's most favorable attributes: versatility. Each case comes with three cans each of the classic Union Jack West Coast IPA, the Hazy Mind Haze IPA and two New Zealand hopped beers: the 18th batch of Luponic Distortion and the hazy, single-hopped Propagator Series.
A Single New Zealand Hop | Propagator: Nectaron Single Hop Hazy IPA
5.6%
Hop (from New Zealand): Nectaron
The Propagator Series, brewed at the Firestone Walker R&D pilot brewhouse in Venice, California, "sets the pace for what's next from Firestone Walker." By purchasing the Mixed Pack, fans can get a sample of what's coming soon from the brewery by enjoying the Propagator Nectaron Single Hop Hazy IPA. Nectaron, a relatively new hop grown in New Zealand, took seventeen years to develop and provides bountiful tropical notes such as passion fruit, grapefruit, pineapple and peach.
Writer's Notes
The tropical qualities make Nectaron a lovely hop for featuring in a hazy beer. Propagator Nectaron drinks exceptionally clean and finishes dry. To draw on a term we don't use much these days — it's quaffable; Propagator Nectaron goes down fast and it's easy to open a second can.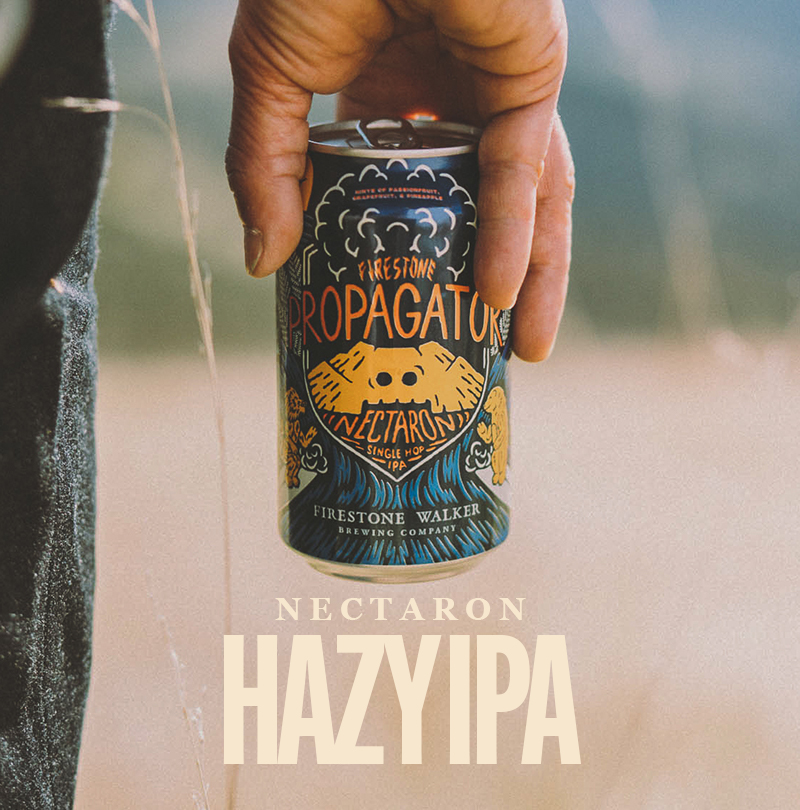 "A blend of 100% New Zealand-grown hops." | Luponic Distortion, Batch #18
5.9% ABV / 50 IBU
Hops (from New Zealand): Nectaron, Nelson, Motueka and Riwaka.
Nectaron again makes an appearance, but this time it's joined by three other New Zealand hops. The blend is all part of the strategy behind each Firestone Walker Luponic Distortion. Each batch base remains consistent but also contains a varied blend of experimental hops that provide unique flavors without the aid of any adjuncts. As Firestone notes, "No fruits. No flavorings. No shortcuts. Just the magic of 100% natural hops."
"This edition of Luponic Distortion is a celebration of our new grower and merchant relationships that we've forged over the past couple of years in the Southern Hemisphere," said Brewmaster Matt Brynildson. "It's the first time we've had enough supply to go all-in on a blend of 100% New Zealand-grown hops."
This might be the beer that personifies the Crafted Thru Hops name of the Mixed Pack. For batch #18, Firestone Walker used a blend of four New Zealand hops in dry-hopping the beer: Nectaron, Nelson, Motueka and Riwaka. "All of these hops play so well together and seem to spawn their own unique alchemy of flavors," Brynildson said. "This Luponic Distortion just pops with flavors of white grape, citrus, gooseberry and melon, and there's this light diesel-like dank note that frames it all perfectly."
Writer Notes
An excellent demonstration of New Zealand terroir, Luponic Distortion Batch #18 enjoys all the clarity and aggressive hops typical among West Coast IPAs. Still, one will notice toned-down bitterness, full floral character and wealth of fruity notes, which provide superb balance. It goes to show you that plentiful hops don't always mean abundant bitterness, but it sure does render a lot of flavor.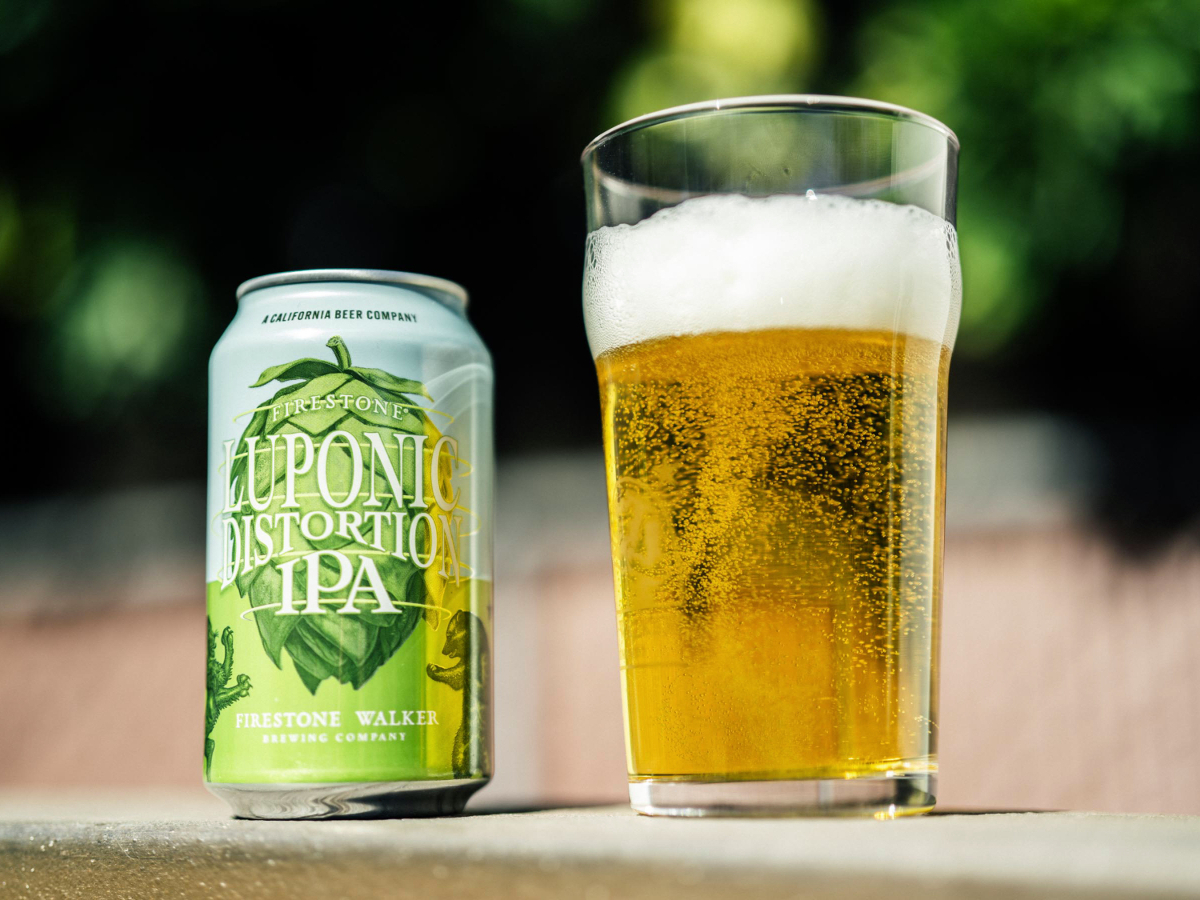 "Hopped to High Hell." | Union Jack West Coast IPA
7% / 60 IBU
Hops:  Kettle: CTZ, Cascade, Centennial Dry Hop: Cascade, Centennial, Simcoe, Citra, Amarillo, Chinook
If you are going to have a mixed pack called Crafted Thru Hops, you better include a West Coast IPA. Firestone Walker introduced the Union Jack West Coast IPA in 2007. "Union Jack is hopped to high hell yet eminently balanced from start to finish. This is a fad-proof IPA for any hop head." One can expect "pronounced pineapple, citrus and pine aromas with intense flavors of grapefruit and tangerine, all balanced by a hint of malt sweetness."
Writer's Notes
One need not say more about this beer than to note it is a classic, superbly executed IPA — crisp, clean and without flaws. There's nothing subtle about Union Jack; expect bold hop bitterness and flavor. Hop heads will appreciate the aggressive hops, but the malt in this beer is no role player.
"Created after a full year of experimentation." |  Mind Haze
6.2% / 40 IBU
Hops: Kettle: Mandarina, Cascade Dry Hops: Azacca, El Dorado, Mosaic, Chinook, Cashmere, Callista, Idaho 7
How delightful that this Mixed Pack contains both a recent, hazy Propagator release and Mind Haze, which was "created after a full year of experimentation at our Propagator R&D brewhouse in Venice, California."
Writer's Notes
The robust aroma evokes images of tropical islands and hammocks. Mind Haze also provides all the desirable flavors and mouthfeel associated with a New England IPA. Nothing in Mind Haze will destroy your palate; there's just an exquisite balance between the beers' juicy and hoppy traits. Also, its presence in the Crafted Thru Hops IPA Mixed Pack lets you know that despite being both hoppy and enjoying all the characteristics of the New England style, the beer enjoys a healthy shelf life.
And have you heard about the new Mind Haze Double IPA? Read our coverage here.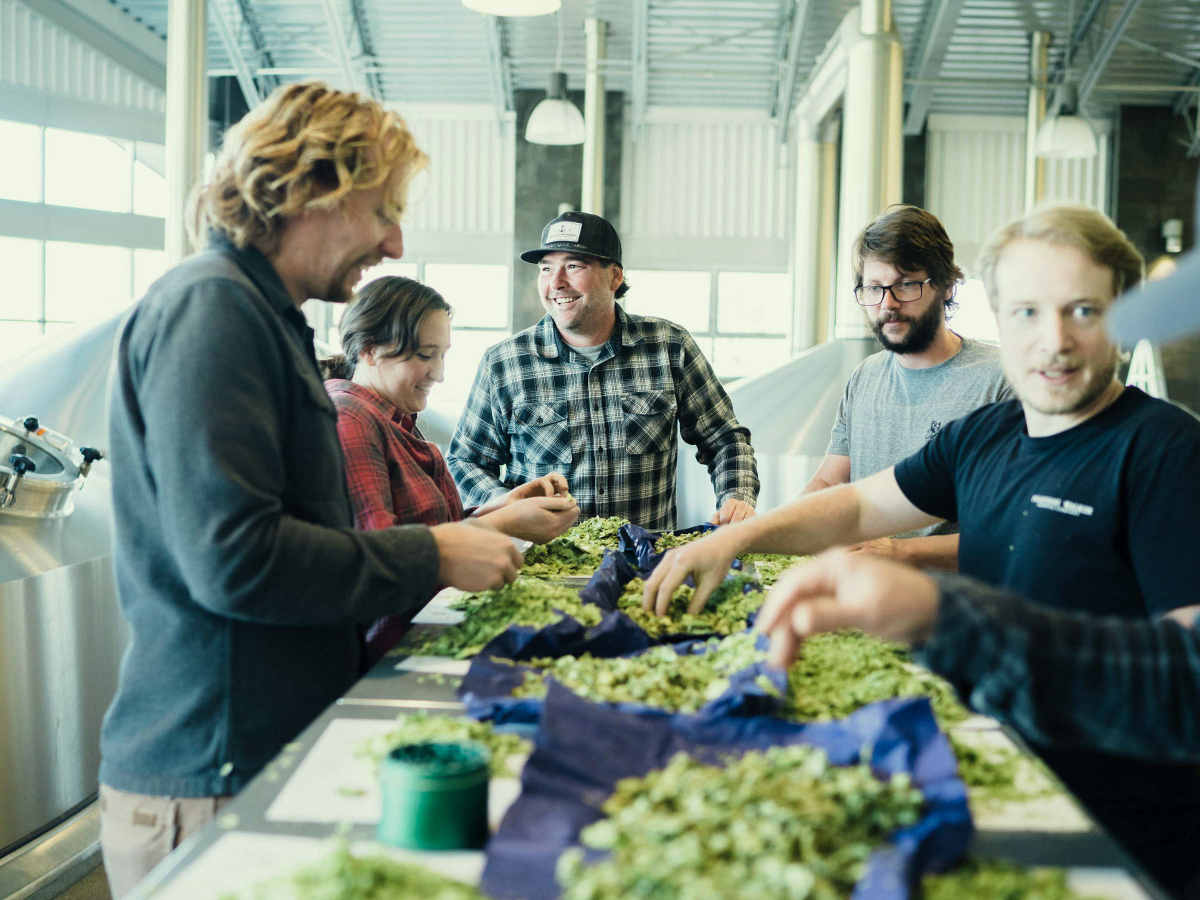 ---