No Comments
Dogfish Head/Sierra Nevada – Rhizing Bines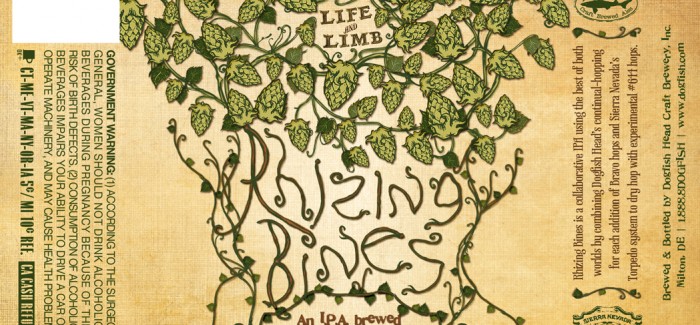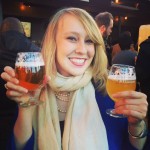 Dogfish Head/Sierra Nevada Rhizing Bines
ABV: 8%
IBUs: 70
Rhizing Bines is the delightful product of a mind meld between the kings of innovative hopping processes: Delaware's Dogfish Head and California's Sierra Nevada. What happens when two craft brew heavyweights from each coast combine their powers for good? Well, pretty fantastic beer, of course. This Imperial IPA is the second installation in these breweries collaborations, the first of which – the dark, maple brewed "Life & Limb" – debuted in 2009. Though I feel that more diehard hops fans will be left wanting for a bigger punch of bitterness, this is a beer that will please even those on the fence about IPAs.
The first pour produces a dense, heavy head that barely dissipates; even after the beer has a chance to warm slightly and settle, the pour still boasts a thin but solid foam. The nose is malty – almost earthy – which I did not expect from a DogFish IPA. And unlike many IPAs, the Bravo and 644 hops of Rhizing Bines don't smack you in the face with a bitter, citrusy taste. Instead, the hop is delivered in a much more subtle manner that still leaves a slight tinge of bitterness at the back of the palate and a lingering delicate caramel flavor.
What struck me the most about Rhizing Bines is the unique constitency. It tastes like a beer but drinks more like a port: it enjoys a more robust viscosity very rare in my experiences with IPAs. This beer should be served with a slight chill due to the slightly syrupy texture and the surprisingly delicate delivery of hops (as the beer warms to room temperature, the hoppier notes begin to fall flat).
If you love IPAs or are merely curious, Rhizing Bines is one of the best new beers I've tried in 2013 – and it will likely maintain that standing. On behalf of beer lovers everywhere, I sincerely hope that these two breweries will continue to combine their forces and introduce even more innovative beers to the market.