One Comment
PorchDrinking 1 Year Anniversary Party Recap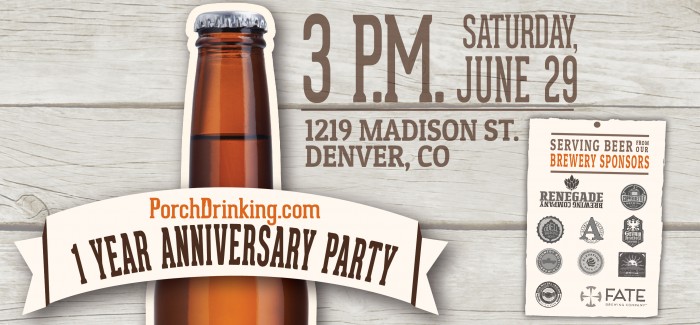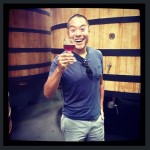 This past Saturday we celebrated our 1 year anniversary with a good old fashioned bottle share. What resulted was one of the greatest collections of beer I've ever been around at one time. We saw the likes of Heady Topper, Wisconsin Red, Black Note, Bourbon County, Hunahpu, Hair of the Dog Adam, Hopslam, Old Rasputin, 2007 Samael, 2011 Hibernation, oh yeah and a little guy named Dark Lord.
Even more amazing were the people we met. It still baffles me to this day that people other than my own friends read the site, and nothing was more mind boggling than those who we met this weekend. Once again a huge thank you to everyone who has supported us along the way.  It was a fantastic first year and we're looking forward to several more to come!
The event also showcased some tremendous generosity from a lot of people. Thanks to Ball Canning for supplying mason jars for the event, also thanks to FUN Booth Denver for supplying 3 hours of free photo booth photos which made the event even more awesome, and of course thanks to all of our brewery sponsors: Copper Kettle, Avery, Asher Brewing, FATE, Elevation, Our Mutual Friend, New Belgium, Odell, Grimm Brothers, Renegade, Country Boy, Mountain Sun, Pateros Creek. And thanks to all the generous people who shared their amazing beers.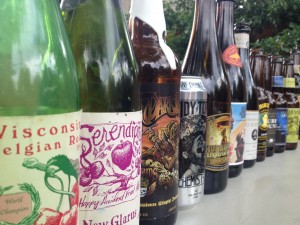 Here's a rough list of some of the beers we had on hand at the event:
Mountain Sun Brewing and PorchDrinking.com Collaboration Porch Pounder Hibiscus Witbier
Country Boy Brewing:
Ghost Gose

Papaw's Red

Snicklefritz Spruce

Lazy Rye

Legacy IPA
Renegade Brewing
Golden Shower

Redacted

5 O'Clock
Avery Brewing White Rascal (pin keg)
Black Bottle Brewing Hipster (pin keg)
Copper Kettle Brewing
Mexican Chocolate Stout

Imperial Red
River North Brewery
Hoppenberg Uncertainty
FATE Brewing
Laimas Kolsch Style Ale

Norns Roggenbier

Moirai India Pale Ale
Our Mutual Friend Brewing IPA 2
Great Lakes Brewing
Wright's Pils

Edmund Fitzgerald

Commodore Perry

Lake Erie Monster

IPL Anniversary
Elevation Brewing
7437

False Summit

Lil Mo Porter

Browns Canyon Ale
Bells Brewery
Hopslam 

Oberon

Two Hearted

Black Note
Great Lakes Brewing
Wright's Pils

Edmund Fitzgerald

Commodore Perry

Lake Erie Monster

IPL Anniversary
New Glarus
Raspberry Tart

Serendipity

Wisconsin Red
Goose Island
2012 Bourbon County

Sofie

Matilda
New England Brewing Company Gandhi Bot
The Alchemist Heady Topper
Terrapin Hopzilla
Fat Head's Head Hunter IPA
2007, 2009-2012 Deschutes The Abyss
2004 Avery's The Beast
Cascade Kriek
JW Lees – Harvest Ale aged on Lagavulin Casks (2005)
Great Divide Brewing Barrel Aged Hibernation (2011)
Ballast Point Seamonster Imp. Stout (2011)
Brooklyn Brewery – Brooklyn Local #2 (2012)
Gluten Free: New Planet, Redbridge and Epic Beer Glutenator