No Comments
Fort George Brewery – Sunrise Oatmeal Pale Ale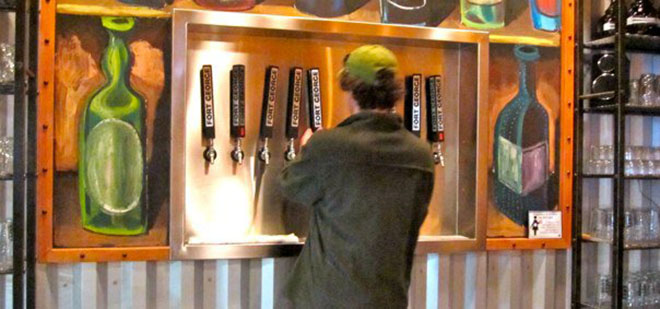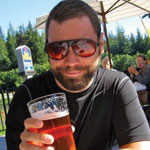 ABV: 5.2%
IBU: 49
Ninety-seven miles Northwest of Portland, where the Columbia river meets the Pacific Ocean, is the gritty fishing town of Astoria, Oregon. This former center of thriving fishing and canning industries is a recognizable locale to anyone who has seen The Goonies (1985), Short Circuit (1986) or Kindergarten Cop (1990), all of which were filmed in this hilly, oceanside town. Coastal tourists, Oregonians and Washingtonians alike flock to Astoria for the charming downtown area, Columbia River Maritime Museum, Sunday market, playful harbor seals, Goonies house and, especially since 2007, the beer.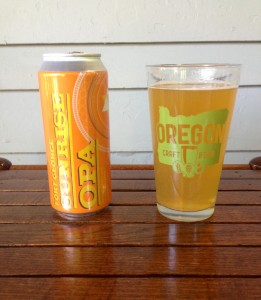 The Astoria Brewing Company, located in the picturesque tourist-friendly downtown area in the Wet Dog Cafe, was established in the late 1990s, and a short jaunt up the hill sits the now iconic Fort George Brewery. Opened in 2007 in the historic Fort George building, Fort George quickly earned a sparkling reputation among Oregonian beer geeks with its wide range of delicious craft beers and pub menu featuring local seafood. In 2011, partially supported by a grant from the Oregon Lottery to restore canning-based industries in Astoria, the brewery expanded into the adjacent Lovell Building where it began canning three of it's most popular beers: Vortex IPA, 1811 Lager and Cavatica Stout. In the summer of 2012, Quick Wit and Sunrise OPA were added to the year-round canned release roster. In 2013, seasonal releases of the Tender Loving Empire NW Pale and 3-Way IPA, a Fort George, Gigantic and Lompoc collaboration, were also canned. Fort George cans and kegs are currently found in Oregon, Washington and Idaho.
In the summer of 2012, Sunrise OPA (Oatmeal Pale Ale) became available at my local Portland bottle shop, Belmont Station. When I first laid eyes upon the bright orange 16 oz. can, I am fairly certain I blurted out a Napoleon Dynamite-esq, "Yessssss!" This was most certainly an uncool move in the most pretentious of all of the pretentious bottle shops in Portland, but I couldn't help it. I had made the 200 mile round trip journey to Astoria many times to return with a growler or two of OPA, but I could finally buy it in my neighborhood on a regular basis. Since then, this beer has been a regular in my refrigerator, in my insulated growler at the beach and in my cooler at a campsite.
This highly unique pale ale, which is the proclaimed staff favorite, pours an unfiltered hazy dark yellow-orange, with a generous amount of visible brewers yeast when poured from a can. The foam is a thick off-white, which is surprising for a pale ale that weighs in at 5.2 percent ABV. The aroma is unmistakably Amarillo hops, though the 49 IBU OPA also contains Centennial, Summit and Challenger hops. The first sip yields the oat flavors that dominate the beer. In the second sip, the spicy and citrusy hop profile is extremely apparent. The sweet organic two row crystal malt, the base of many a Fort George release, adds a lightness to the creamy oats and spicy hops. I had the fresh-hop version of the OPA at the 2012 Oregon Bounty Fresh Hop Tastival, and is, without a doubt, one of the beers on my "Top Five of All Time" list. Since I can't have the fresh hop version year-round, the standard formula serves just fine as a close second to the fresh-hopped perfection. I recommend this beer to anyone and everyone looking for a refreshing, hoppy and unique pale. Cheers to Jack Harris and the other brewers at Fort George for Sunrise OPA.