One Comment
Golden Road Brewing on "Workaholics"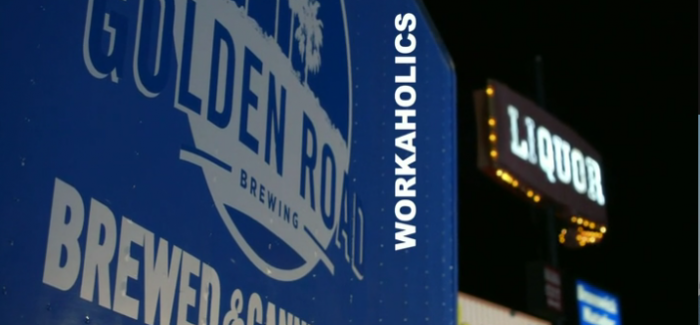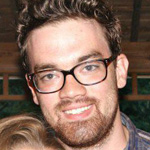 This week, two of my favorite things collided: "Workaholics," the Comedy Central show about three slackers who live together in LA, and Golden Road Brewing, the fast-rising and absolutely amazing craft brewery from LA. The "Beer Heist" episode (season 4, episode 8) found Adam, Ders, and Blake trying to impress some young co-eds by stealing them beer. Hilarity, of course, ensued. So did the very first TV product placement that I actually enjoyed watching.
Backstory/full disclosure: I've showcased Golden Road here on PorchDrinking.com before. I love the place. It ships its beers in cans, it's only a few years old, and already it's one of the hippest and most sought-after craft beers in Los Angeles. True story: I started shopping at Whole Foods because they have a wider variety of Golden Road beers on their shelves. It's that great.
Anyway… PorchDrinking was founded on the principle of telling stories of friends who have adventures over great beer. This week's "Workaholics" was just that. Let's recap.
If you've never watched "Workaholics" before, here's what you need to know. Adam, Anders (aka Ders), and Blake are guys in their mid-twenties who work at a telemarketing company. They live together in the LA area, and they're kind of D-Bags, but in a lovable way. They also enjoy drinking on their roof, presumably because they don't have a porch.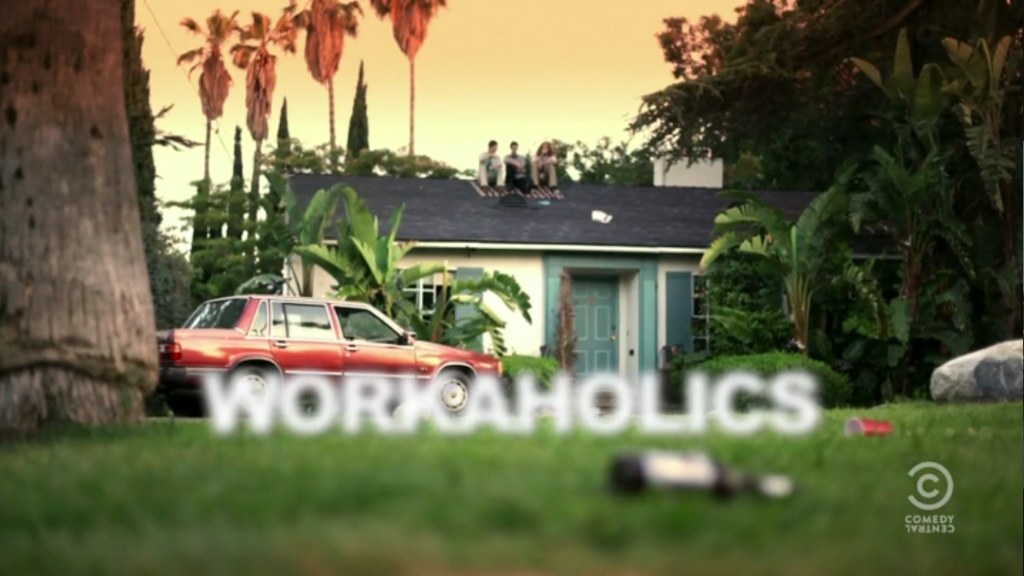 On last night's episode, the guys were at a liquor store when some college girls asked them to buy beer for them. While the guys considered the offer, a Golden Road delivery truck made its first appearance of the episode.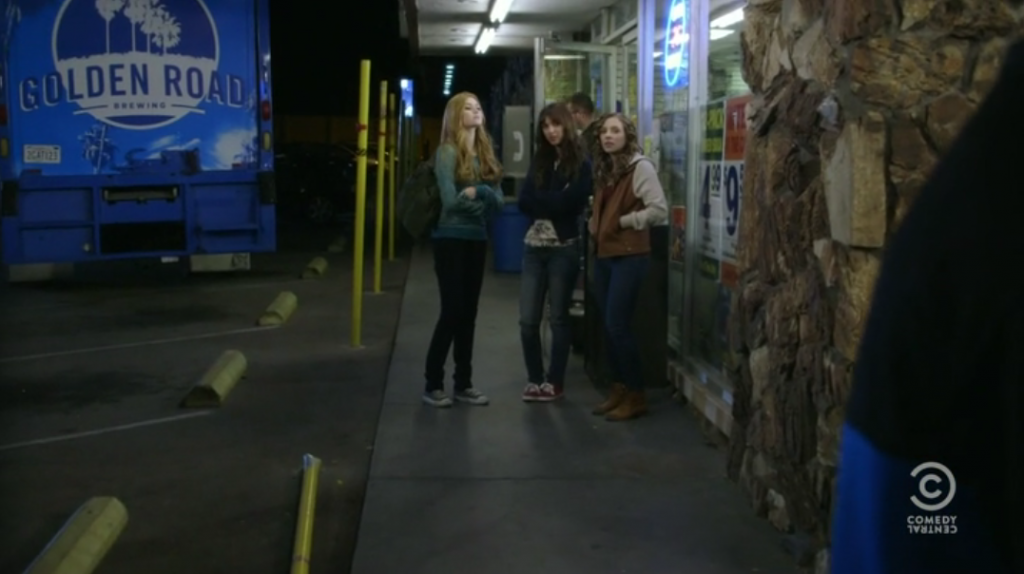 The "brewed and canned in LA" label on those kegs actually gave me a weird sense of pride. Fun fact: Golden Road has crafted a few beers the proceeds of which go to charitable endeavors around the Los Angeles area, including efforts to protect California watersheds and a project that will turn the concrete LA River into a natural green space by the year 2020 (try the 2020 IPA if you can; it's great!)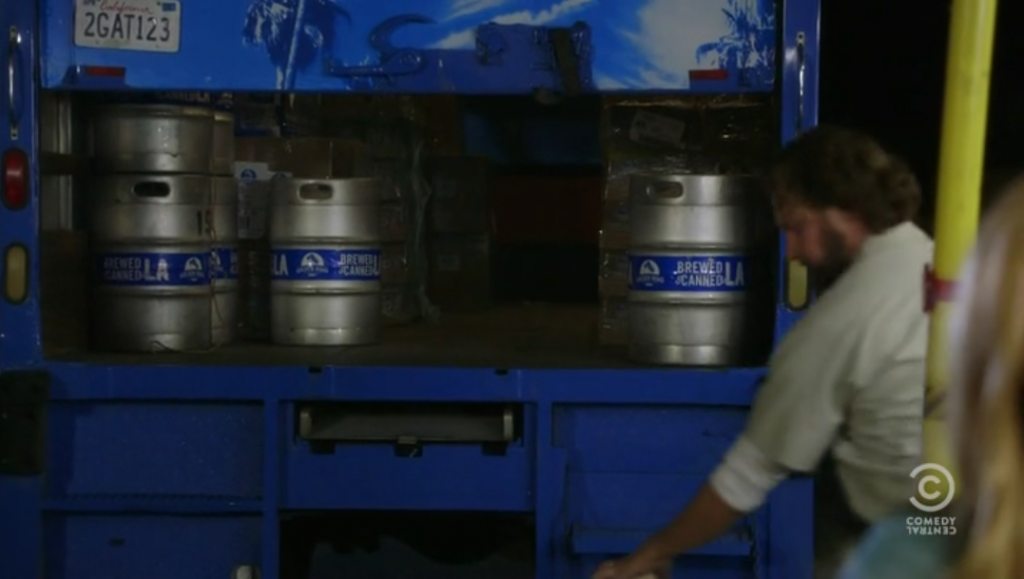 Adam tries to get Blake on board his plan while standing next to a palate of Point the Way IPA, which is not only Golden Road's most popular beer, but has been featured on PorchDrinking.com in the past!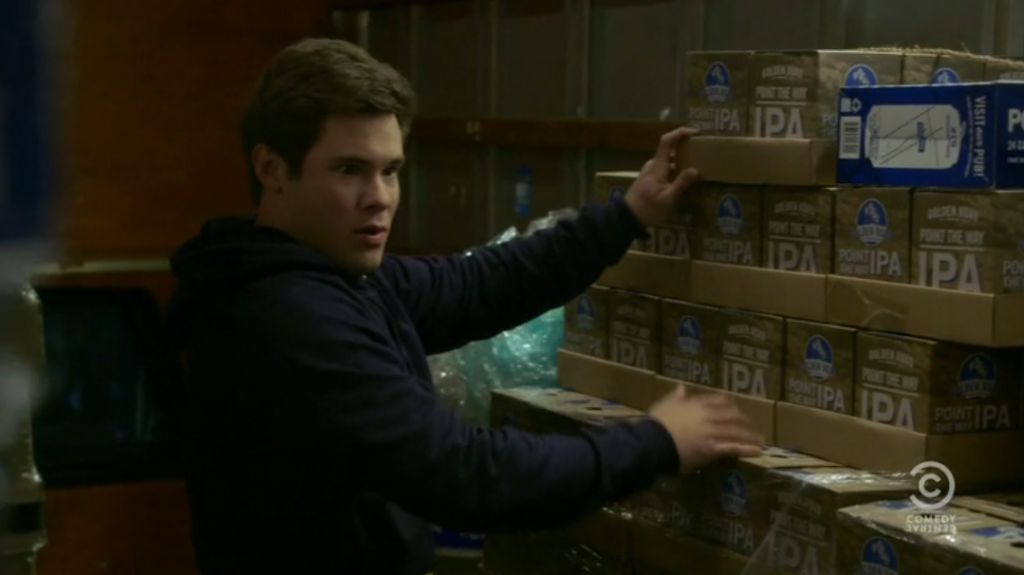 The guys got stuck when the delivery guy came back before they could steal the beer.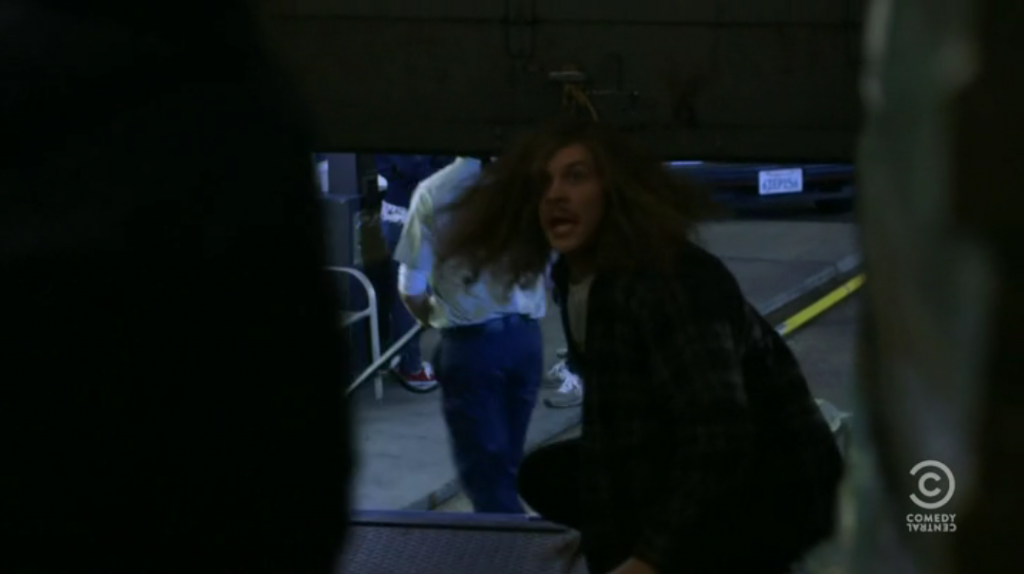 So next thing you know, they're throwing beer from an open truck driving down the road into the sunroof of Ders' Volvo. Seriously.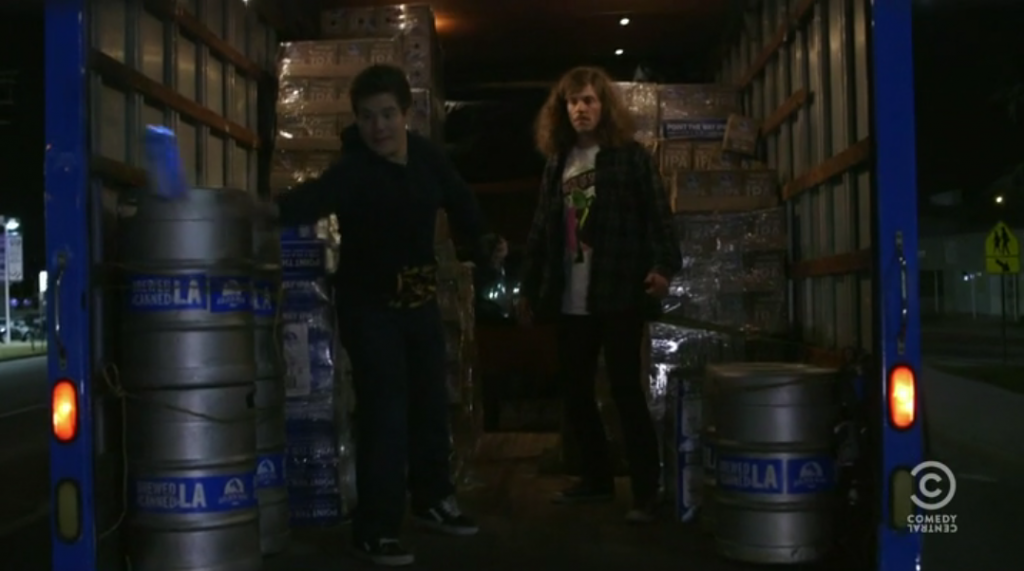 Aaaaaand then the Volvo crashed into the truck.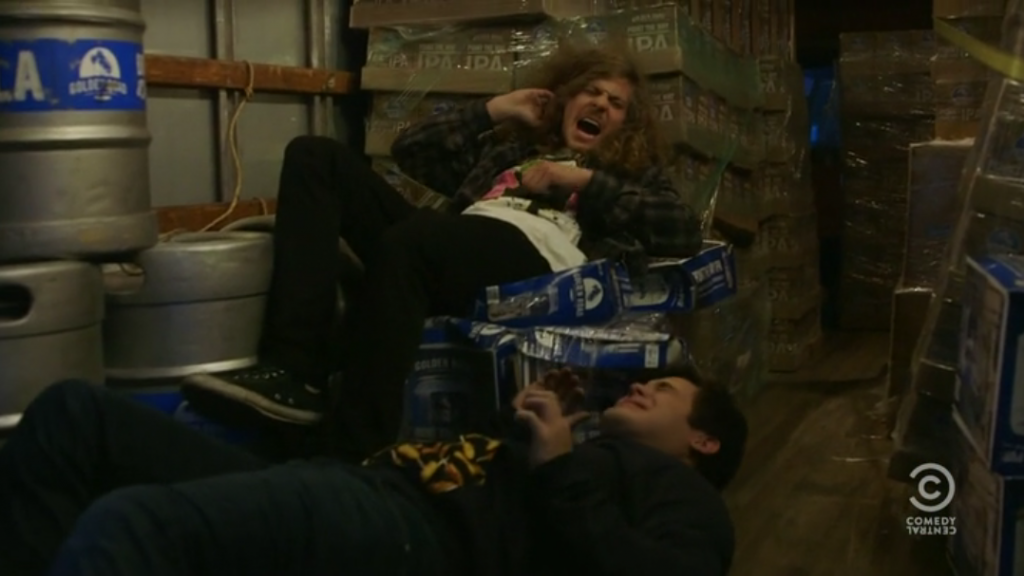 The truck eventually pulled up to the actual brewery in Glendale, CA. One of the girls on the show referred to the area as "Super ghetto," but I disagree. Glendale is beautiful; the San Fernando Valley in LA can be called lame or hot or far away from the beach, but not ghetto. PLUS: the Valley has Golden Road.
Viewers get a behind-the-scenes peek at the Golden Road brewery!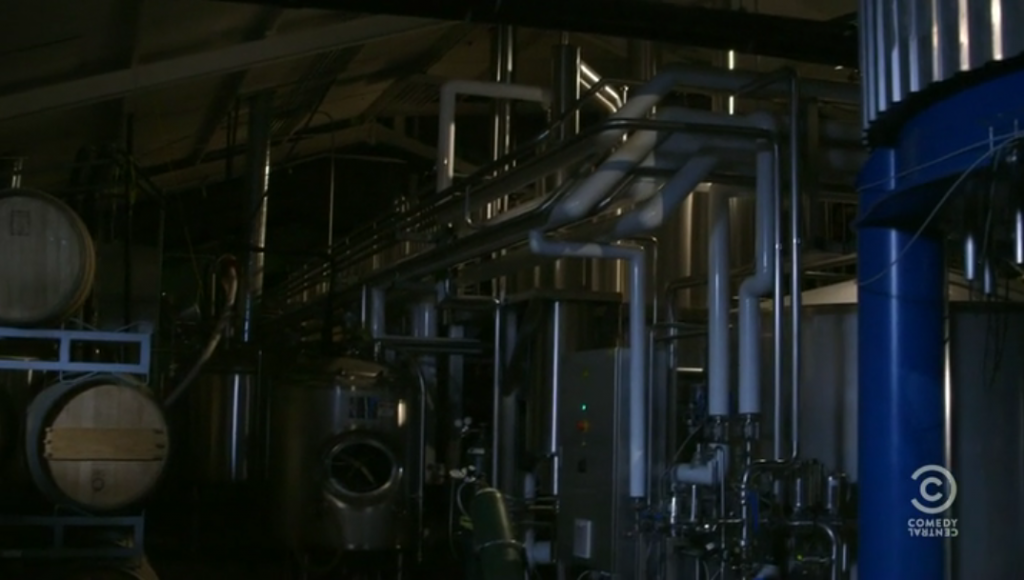 Adam and Blake poured some beer into a hardhat. No telling which brew this was, but Blake seemed to like it, even if… again… he was drinking out of a hardhat.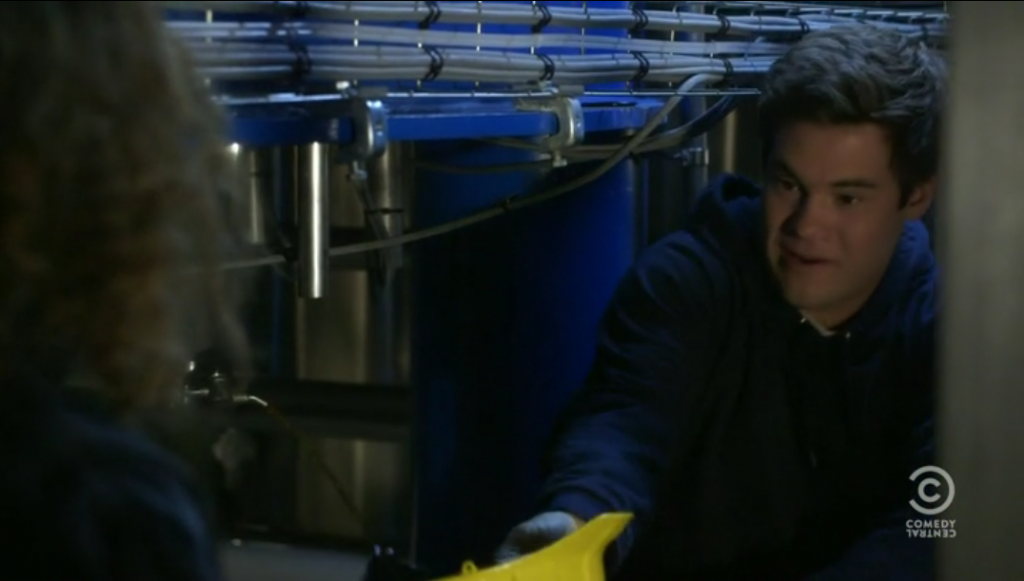 The guys rigged a hose out the window to pour beer into a mobile hot tub (don't ask; just watch). Remember the episode of "Breaking Bad" where Walt, Jesse, and Todd rob a train? This was like that, but with beer. I don't know which scene excited me more.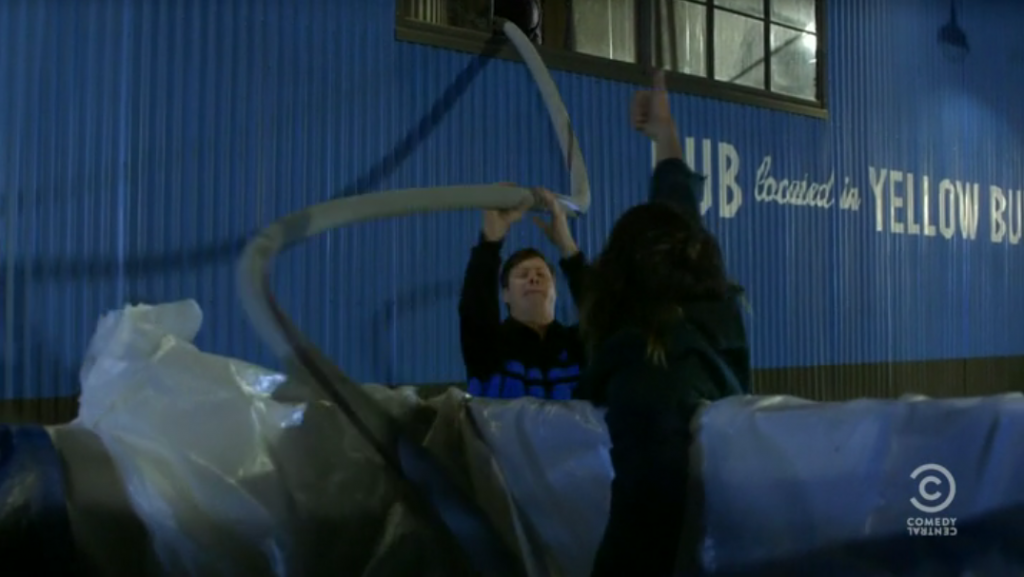 Oh, and then Adam caused a leak in the hose and tried to drink it shut.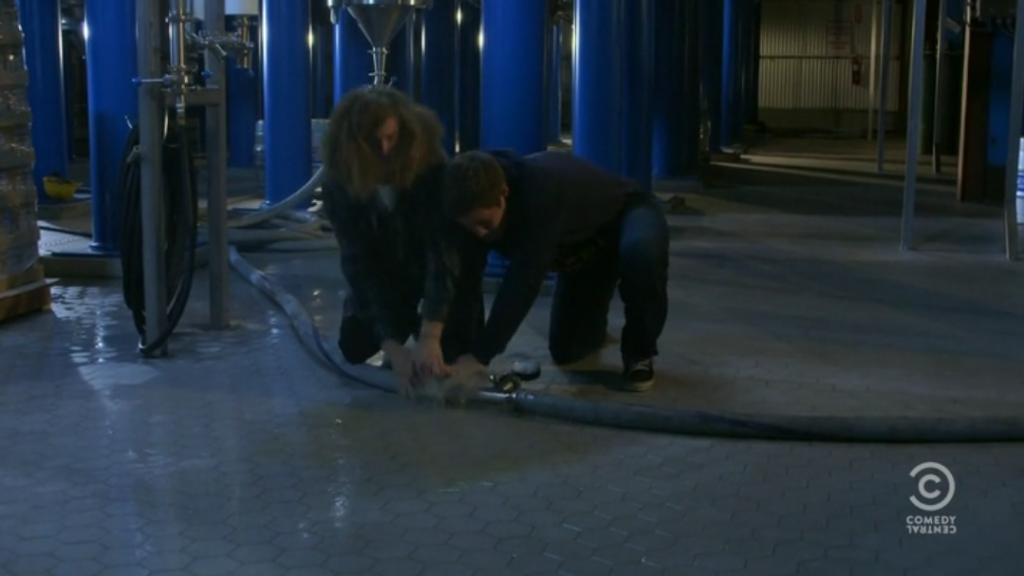 This was honestly one of my favorite episodes of "Workaholics" ever, and a great excuse for me to have a Golden Road beer or two in the process.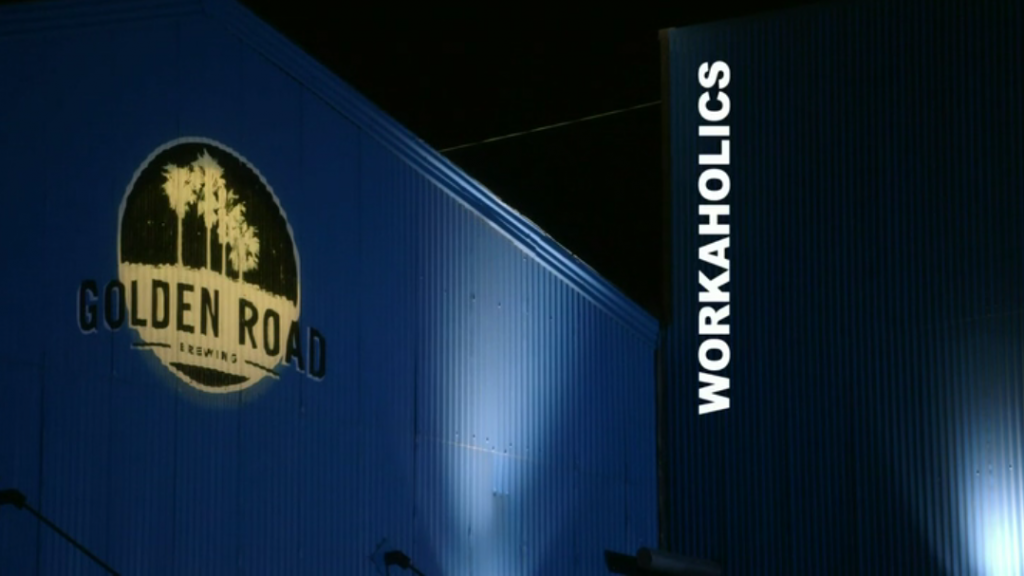 "Beer Heist" episode of "Workaholics"
---