No Comments
2014 Regional Bracket Breakdown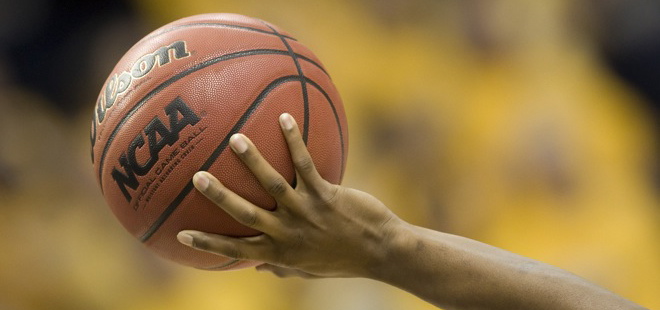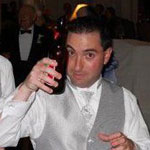 Our panel of sports writers bring us their 2014 Regional Bracket Breakdown with potential upsets, best match ups, and their picks to emerge from each region.
South Region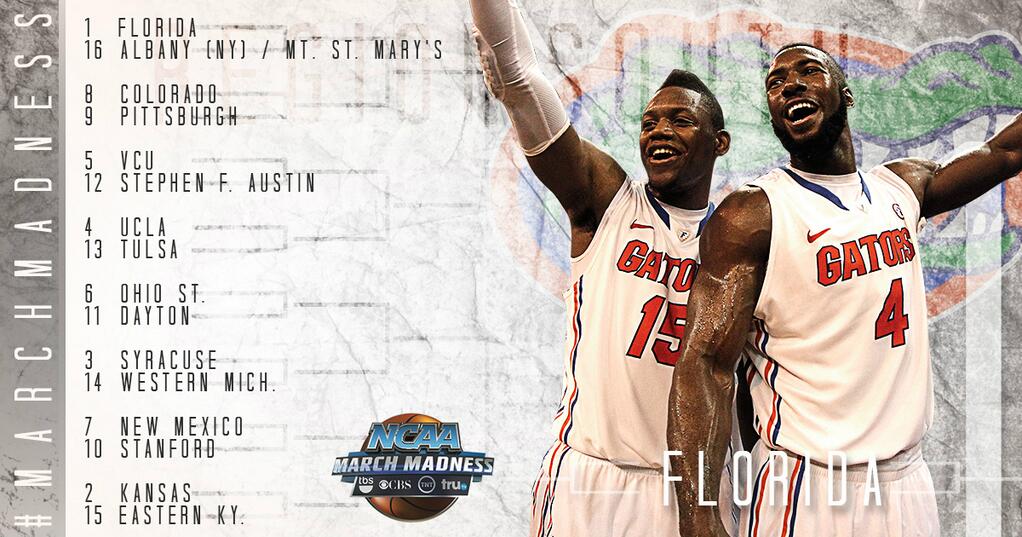 By Jason Behler
Florida, Kansas, Syracuse, UCLA: the South Region looks top heavy, but only Florida has been playing consistently well out of those top four seeds. This bracket has potential upsets strewn throughout the first two rounds, but could be as simple as 1, 2, 3, and 4 if those top four seeds play like they have at various points in the season. How likely is that? Not very. So let's see how this region will really shake out.
Best Matchup:
I think the Dayton v. Ohio State game is really intriguing. They both have played well at points in the season; both have beaten highly ranked teams, both have suffered some terrible losses and losing streaks. Ohio State had the tougher schedule, no question, but they have lost to some bad teams (Indiana once and Penn State twice). The only team that has beaten Dayton since the end of January is St. Joe's (but they did it three times). Call it the honorary Flyer in me, but I think UD is fired up for this game, and their depth outlasts a slightly more talented bunch of Buckeyes.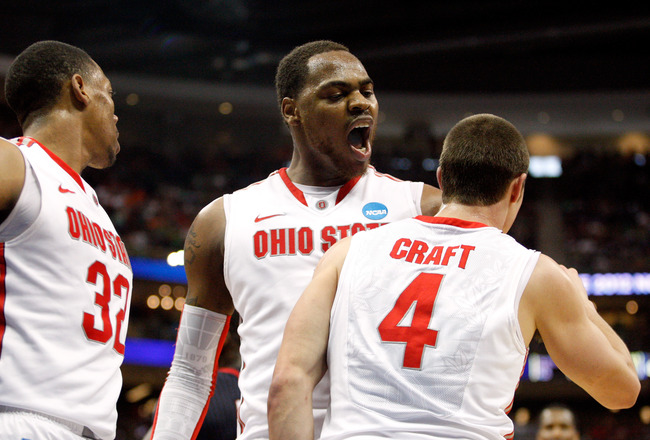 Potential Upset(s):
Some people like Tulsa over UCLA, but UCLA has been rolling the last few games, and despite Tulsa's eleven game win streak, UCLA has played tougher competition all season. Dayton over Ohio State for the reasons I mentioned above. My big upset (assuming they take care of Stanford in their first game) is New Mexico over Kansas in the round of 32. Kansas has had some ups and downs this year, and while still a very talented team they are quite beatable, especially away from Phog Allen Field House. Their only home loss came to San Diego State, a team that lost to New Mexico twice this year. No Final Four for Rock Chalk Jayhawk this year as the Lobos send them home the first weekend.
Biggest Question Mark:
The biggest question mark in this region is Syracuse, hands down. After going two-thirds of the season undefeated, they have lost five of their final seven games, and their offense, at times, looks impotent. They will be in every game, as their defense is ranked 9th in points allowed, and Boeheim's trademark 2-3 zone suffocated competition the majority of the season. Their question mark will be scoring. Against most teams their season average 68.2 ppg will get them the win, but they haven't hit that average but once since February 1. Look for Syracuse to go out early if they can't hit that 68-70 point mark. They could be on upset alert against W. Michigan, but I see them getting to the Sweet 16 before getting bounced by the Lobos.
Bold and not so bold picks: New Mexico and Florida in the Elite Eight for the South with Florida owning the overall #1 seed all the way to the Final Four.
East Region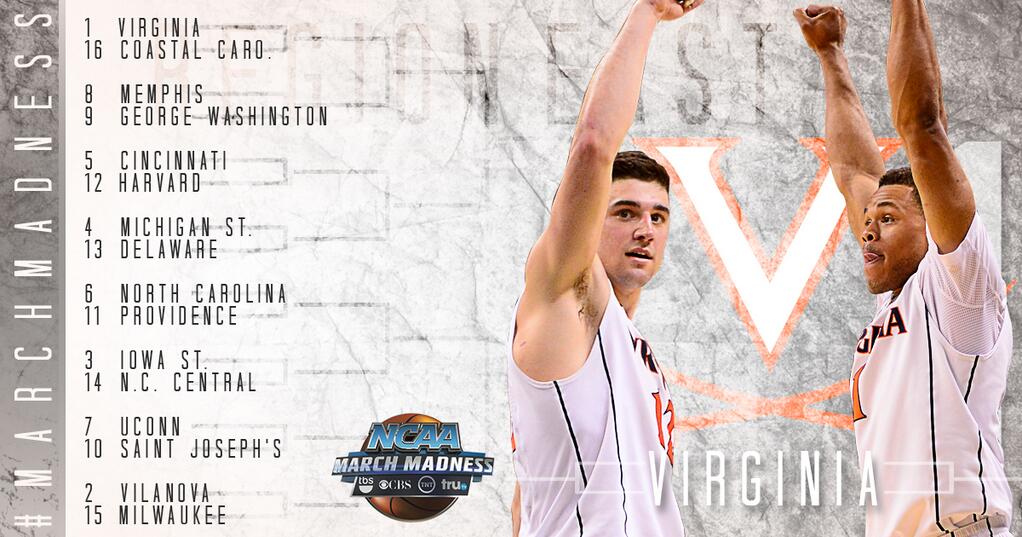 By Josh Buchanan
Next to the Midwest Region, the East has plenty of power that warrants notice. While some of the buzz has been targeted towards Villanova and whether they truly deserve the 2nd seed in the region (ahem, Michgan fans), it is the other team from Michigan that everyone has been talking about. Finally healthy and playing at the level many expected during the pre-season projections, Sparty has to like its chances of getting to Dallas this year. That being said, it appears to be a safer bet to most prognosticators that going with this 4th seed and Iowa State as the 3rd will yield better long term results. but don't count out Virginia and the Wildcats that easily.
Best Matchup:
Villanova vs SJU/UConn
There are plenty of excellent matchups in the East that make this tough to pick just one, but by looking to the bottom of the bracket, you can almost hedge your bet. In the one scenario, you have the potential Saturday rematch of the Holy War between SJU and Nova. Villanova laid down the law, punishing the Hawks back on December 7th 98-68, burying 59 in the second half. More likely, we will be seeing a classic rivalry burn one more time as the huskies take out the hawks in the opening round and put on a show many classic Big East mourners would love to see in the second round  Big East or Big 5, take your pick.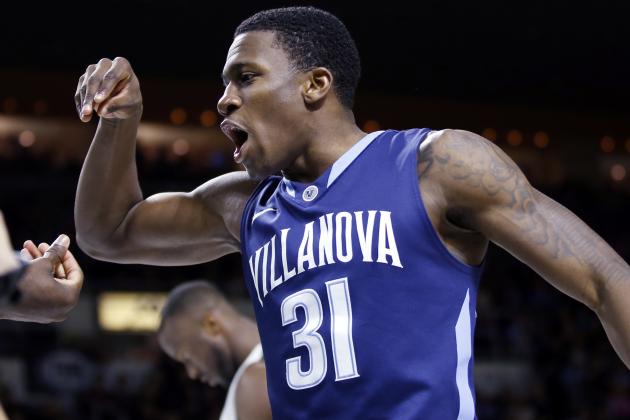 Biggest Question Mark? 
How far does Virginia go?
After an impressive handling of Duke in the ACC championship and winning the regular season, there still seem to be some lingering doubts about the Cavaliers. While I am hardly in the camp that thinks that since Tennessee beat them by 30 back in the beginning of the season, they will be the first top dog to go, you still need to look at the difference between their conference schedule and some of the teams from North Carolina and New York. Over performing  by most people's standards, UVa took advantage of not having to see certain teams that second time around. Notwithstanding, this team has been focused and is more than up to task of proving people wrong again under the direction of likely coach of the year candidate Tony Bennett.
Best Potential Upset:
Providence over the Tarheels
When you look at the UNC and UK models of basketball, you rarely see the cohesiveness of a team truly come together to accomplish a goal. We saw it back when Al Horford, Joakim Noah, Corey Brewer. Taureen Green all decided to come back for their Junior seasons and take another shot at back-to-back championships. Providence didn't have quite the expectations or long term goals, but they took themselves off the bubble after everyone saw Doug McDermott's senior night performance of 45 give the friars a very slippery slope to climb heading to MSG. I am sure you are seeing the theme to some of my madness, but the last two years have certainly paid off.
With all thet being said, it probably won't come as a huge shocker to pick Michigan St. to advance to the Final Four…but I am not going with to do that. I am going with my gut, and I say after Villanova advances to the Sweet 16, chances are they won't be seeing Iowa State, just Sparty and then it's anyone's game.
West Region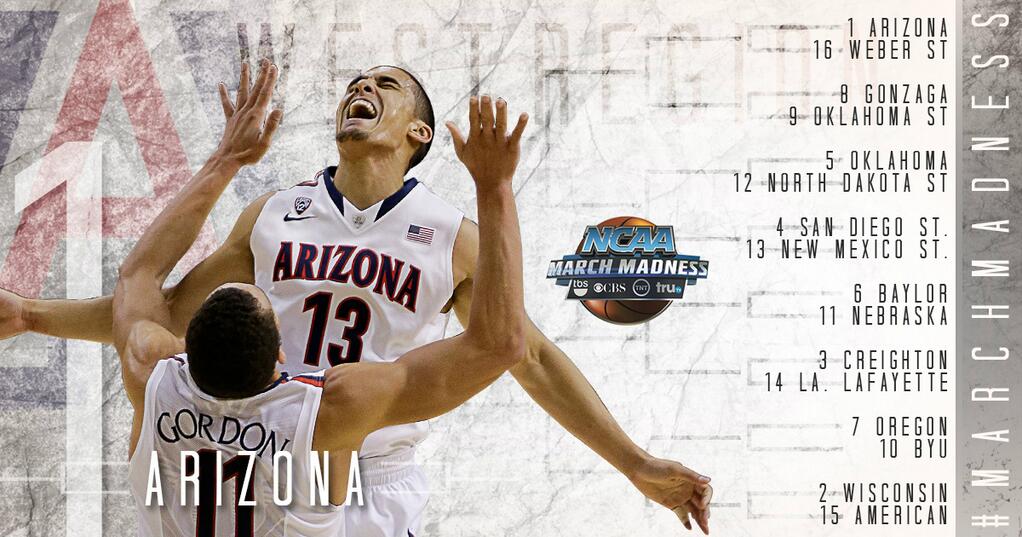 By Patrick Murray
I don't know… I guess the 1-seed looks pretty good, maybe, right?  No team in the West Region jumped off the bracket and hit me over the head with a mallet.  There are intriguing (potential) matchups and players (see below), but none of controversy and obvious storylines that are eye-catching as in other regions (at least to my untrained eye).  So I'll take Arizona.  Wisconsin seems too boring, Creighton too dependent one guy, and everybody else… meh.  So there's your bold prediction – the top seed advances.  Next question!
Best matchup:
The most intriguing matchup in this quadrant could come in the second round of the tournament (in NCAA parlance, the third round – I'm talking about the round with 32 teams).  If Creighton holds serve against Louisiana-Lafayette in their first game, a 3/14 matchup, and the 11-seeded Nebraska Cornhuskers manage to upset Baylor in Round 1, we could be treated to what everyone has waited all season for – an Intra-Nebraska Grudge Match.  It's the first trip to the NCAA tournament since 1998 for Nebraska, where NU fans spend most of their time rooting for Cornhusker athletics by pretending that the school is still a football powerhouse.  (Side note: if anyone can explain why fan bases in the middle of the country refer to their schools as __U, when the schools are called "The University of __________," please do.)  In Omaha, Creighton has built a solid basketball reputation with nine NCAA appearances since 1999.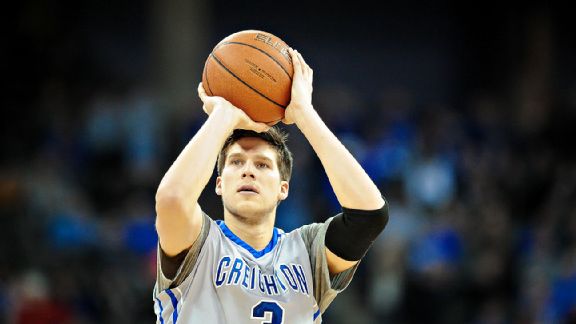 Potential upset:
I like Nebraska to make the matchup above happen.  The Cornhuskers have won 12 of their last 15 games, and two of those losses came to Michigan and Ohio State (a 4-point loss in the Big Ten tournament).  Looking ahead for the Huskers, if we dare, Creighton has been solid all season in the new-look Big East, and feature probable National Player of the Year Doug McDermott.  Creighton blew out Nebraska by 15 in December, and it really wasn't that close – the Bluejays lead by 26 at halftime.  With the Huskers playing their best basketball as of late, and with the rivalry matchup looming in the second round, I give Nebraska a not insignificant chance to make the Sweet Sixteen.
Biggest Question Mark:
Does Wisconsin's grind-it-out style translate into tournament success?  The Badgers are led in points per game (13.6) by a guy named Frank Kaminsky, whose name and ethos scream, "Wisconsin!"  In an inscrutable year for the Big Ten, Wisconsin finished second in the league, but they hadn't lost a game until January 15.  If the Badgers can play a solid, if perhaps uninspiring, brand of basketball, perhaps they can emerge from this regional.
Midwest Region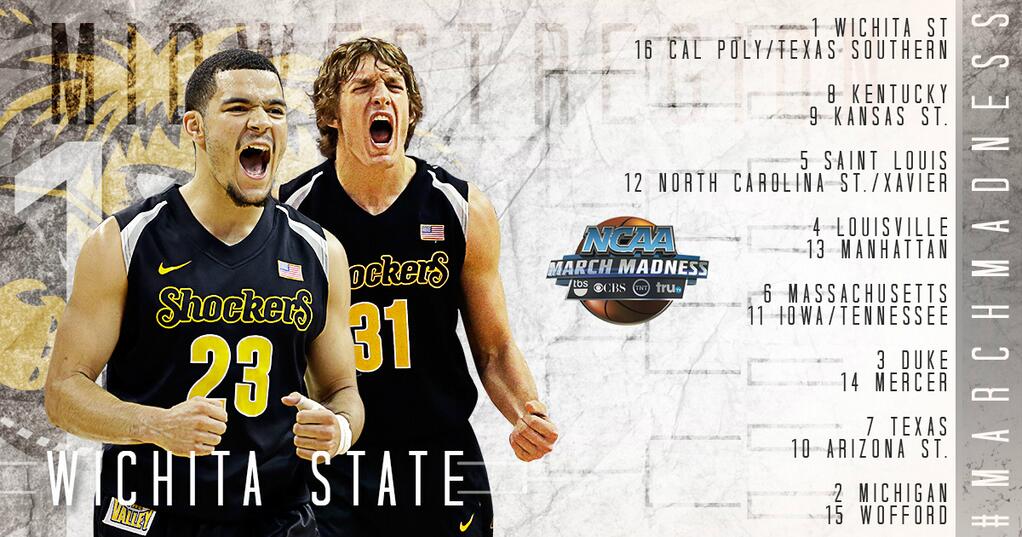 By Mike Zoller
Perhaps the second weakest region, behind only the West, the Midwest Region is topped by Wichita State. While it's not surprise that the Shockers are a No. 1 seed, they have yet to prove themselves during their undefeated season and will be in for a rude awakening against the top-level teams they might face. The biggest surprise is that Louisville, the defending national champion and AAC Tournament Champion was placed as a No. 4 seed. In the tournament it's all about who is hot now and that is exactly what the Cardinals are. Expect them to head to the Final Four for the second straight year.
Best Matchup:
I'm excited for a potential Sweet 16 matchup between Duke and Michigan. Both teams lost in their respective conference tournament championships and have been up and down all year. Both teams at one point were looking like top seeds and ended up falling just short of that honor. Duke is lacking a big guy, but if National Freshman of the Year Jabari Parker plays the way he has down the stretch the lack of size might not hurt Duke. Out of those two I like Duke's chances of advancing but losing to Louisville in the Elite 8.
Potential Upset:
Wichita State is a weak No. 1 seed. Look at their schedule from this past year. Yes, they are undefeated but the best team they played all year was St. Louis. The Shockers just haven't faced any high-caliber teams this year and when they face Kentucky in the 2nd round expect them to be out of their league. Wichita State will be the first No. 1 seed out of the tournament and while this would be considered an upset, I don't think it would surprise that many people.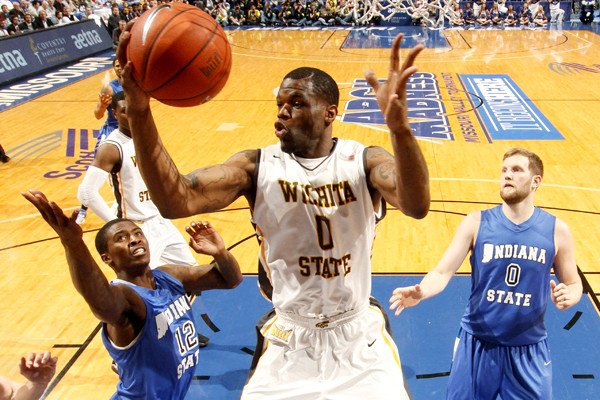 Biggest Question Mark:
Besides Wichita State, the biggest question marks in this region are the mid-major schools in seeds higher than they probably should be in. I'm specifically talking about St. Louis as the No. 5 and UMass as the No. 6 seed. Both teams will face the winner of "play-in" games and both are popular upsets in the first real round of games. But who knows how they will fair. St. Louis, like Wichita State just hasn't played anyone good this year so who knows how they will do.