No Comments
CBC 2014 Recap | The Seminars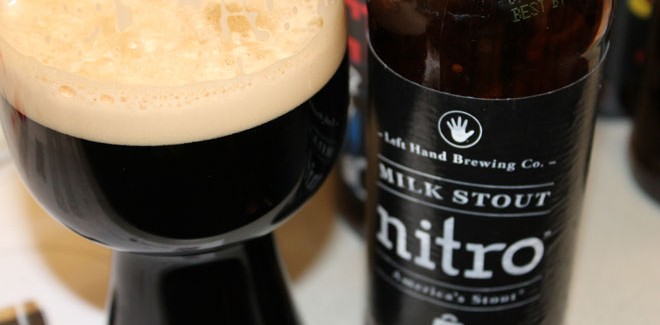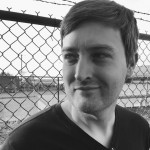 In the second week of April, over 9,000 brewing professionals traveled to Denver, CO to attend the 2014 Craft Brewers Conference. Aside from beer and networking, what could lure brewers from all around the world to the mile high city? Well, fortunately PorchDrinkers Tristan, Cory, Chris, and Phil were on hand to find out. Below is our coverage of some of the 80+ educational seminars presented during the conference.

Wednesday, April 9th
What's Going on in the Fermenter – What We Think We Know
Phil:
This was a technical presentation given by R. Alex Spears of the International Center for Brewing and Distilling directed towards breweries. Much of the presentation discussed yeast and fermentation characteristics associated with multiple "micro fermentations" happening simultaneously in the same fermentation vessel, especially in single tank multi-brew fermentations. Synopsis: We actually know very little about what goes on behind the closed doors of fermentation. It's an organic process consisting of many metabolic pathways that scientists are still learning about. Much of what we do in the brewhouse is because it's habitual and it worked for the brewer before us.
Thursday, April 10th
Brewers Association Craft Beer Server Training Manual with Guest Speakers Tom Dargen, Ginger Johnson, Annie Korenjak, and Sebastian "Sebas" Wolfrum.
Cory: 
This was a panel discussion from the Brewers Association's brewpub committee presenting an introduction to the Craft Beer Server Training Manual that is being created to educate brewpub/microbrewery/restaurant staff on best practices for developing a knowledgeable staff. Have you ever been to a brewery or restaurant and wondered how a server got the job? Do you feel undersold or oversold on your beer choices by the server? This panel was able to offer great insight on how to best train and then provide ongoing training to ensure that your brewery is promoting the best-version-of-itself in each and every pour of sweet, delicious beer. An eye-opener for novices and experts alike; keep an eye out for this new manual coming out soon from the Brewer's Association including templates and a curriculum on how to train and maintain your staff.
Spiegelau – Sponsored Demonstration
Cory:
Forever changing the way I think about serving and enjoying craft beer. The Spiegelau Beer Connoisseur tasting seminar showed me how. We were able to learn firsthand how color, clarity, aroma, temperature, and effervescence are all dramatically enhanced with Spiegelau glass versus the standard type of beer glasses we have all become accustomed to. After waiting in line for half an hour, we were eschewed in to the seminar. Each place setting contained a handful of Spiegelau glassware and a "joker" pint glass. The others were different variations of Spiegelau's pristine crystal glassware that was proper to its given style. A pilsner glass situated to the left. The ever recognizable, pistol grip ipa glass straight ahead. A couple of the new stout glasses (similar to the IPA but with a broader bowl and no pistol grip) also accompanied the other glasses. A barrage of knowledge and sampled taste-testing and we were all hooked. Lefthand and Rogue each sponsored the beer as they are the forerunners of the new stout glass. It's the only place you can buy the stout glass for the next year as they have exclusive rights! Every component of enjoying a beer was better in the crystal glassware. Sight/Clarity, smell (Oh the smell! The smell was so much better than a shaker pint or regular pint glass), taste, even the mouthfeel as your tongue cupped the beer instead of moving it to the sides of the tongue like a conventional glass. Do yourself a favor and pick up the Spiegelau Beer Connoisseur set; you will not be disappointed. I've never had a better Nitro Milk Stout than out of this glass!
Craft Malt Sensory Workshop
Chris:
Presented by a panel of craft maltsters from around North America including our own Colorado Malting company, this seminar explained the importance of malt quality in beer and covered some of the factors driving the boom in craft malting, while also giving attendees an excuse to drink five beers first thing in the morning. Craft maltsters can offer brewers unique benefits including gluten-free, organic, and heirloom grains while satisfying demand for locally-produced ingredients. As maltster Bruno Vachon explained, "beer is an agricultural product consisting primarily of grain" and the effect of malt terroir on the flavor of beer cannot be ignored. All five beers presented during the seminar were brewed with the same recipe but featured different craft pale base malts, including one millet malt. The substantial differences in flavor, aroma, body, and appearance granted by each malt were stunning.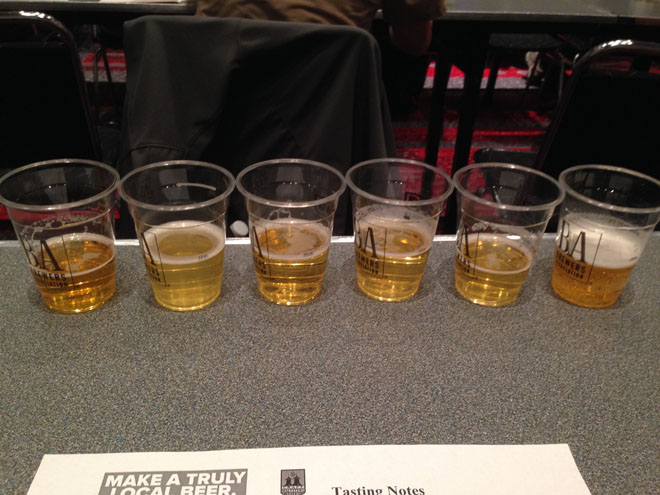 A Funny Thing Happened on the Way to the Fermenter – Technical presentation given by Head of Brewing Operations Lary Horwitz of Iron Hill Brewery.
Phil: 
This presentation proved very interesting as Iron Hill operates numerous locations and performed their study on different equipment operated by different brewers. Iron Hill borrowed a fluid density meter from Anton-Parr to analyze lauter efficiency and compared time, speed, grist ratios and wort density across multiple breweries and batches of beer. Iron Hill found that for efficiency and flavor production, they mashed and lautered with equal amounts of water at 1BBL water/100 lb grain ratio over 90 minutes. Many of their pubs were over lautering, increasing the potential for tannin extraction from the barley husks. This ratio and time proved to provide the best and most consistent results. In over lautering situations, Iron Hill implemented these techniques and topped up the kettle to achieve the desired pre-boil volume. The result was higher quality wort and more consistent lauter performance.
Launching Three New Hop Varieties
Chris:
This seminar showcased Tahoma, Cashmere, and Triple Pearl, three new hops released by Washington State University and the USDA-ARS in 2013. Colorado's own Odell Brewing crafted three single-hop pale ales to highlight their unique flavor and aroma characteristics such as:
Cashmere: melons, lemon and lime peel, coconut, and pineapple
Tahoma: lemon, grapefruit, cedar, pine, and spicy notes
Triple Pearl: orange rind/zest, melon, resin, pepper
Based on the tasting, I'm excited to see what craft brewers do with these hops in the coming years.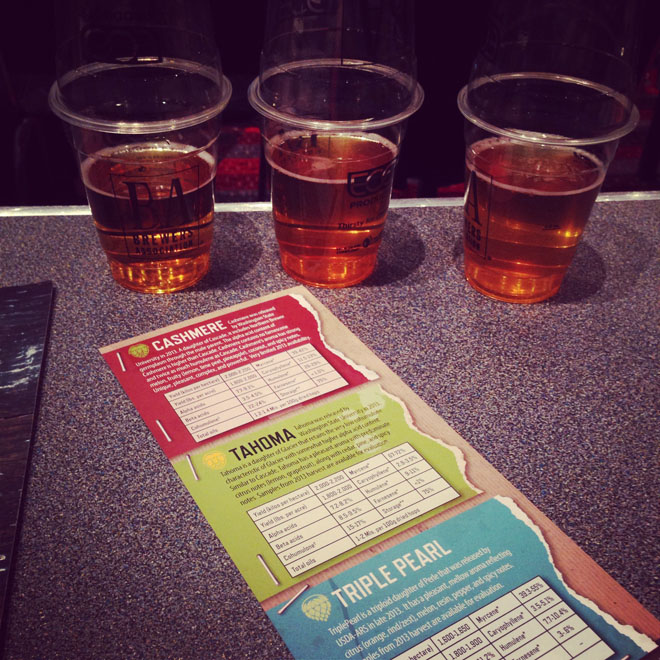 Friday, April 11th
Promoting the Positive with Jay Brooks of the Brookston Beer Bulletin
Cory:
Economic benefits, job creation, sustainability, charity, community involvement, health benefits, specific occasions and intangibles like food pairings and the simple enjoyment of life – customers should know about beer's positive aspects. This presentation gave its attendees the tools to promote all the good craft beer does for the local, regional and global economy.
Economics of Craft Beer Festivals
Chris:
Presented by economist Bart Watson and Professor Jeff Dense, this seminar covered economic analysis of craft beer festivals in terms of the benefit they provide to the communities hosting them. Beneficiaries of beer festivals include not only local businesses and services such as hotels, car rentals, dining, etc., but also local and state governments through tax revenue. Armed with facts about the substantial economic benefit — for example, the 2013 Oregon Brewer's Festival had an estimated impact of $21.3M over five days — the brewing industry is in an excellent position to negotiate politically in favor of festivals. An interesting detail exposed in the analysis of that festival was the fact that more than one in three of the attendees were women. Professor Dense's data underlined the importance of marketing events to everyone, as the days of beer festivals being sausage fests are (thankfully) over.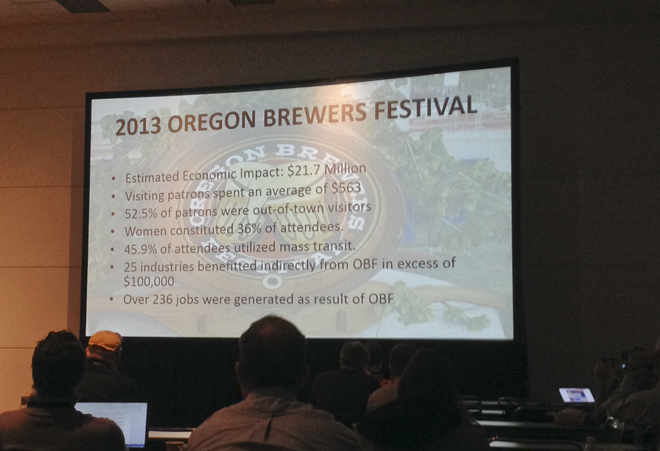 Sensory Panel: Training, Validating and Motivating with Lindsay Guerdrum
Cory:
In the fast-paced craft brewing environment it is both vital and challenging to maintain a strong sensory program. This session presents solutions to the challenges craft brewers face in starting, sustaining, and growing a sensory panel. Topics also included: training, validating, and motivating panelists so that it is possible to acquire sensory data. Interested in being on a panel? Ask your local brewery if they have a sensory panel, and offer to provide your palate to science! And free beer!
Chris:
Quality was a dominant theme at CBC this year, and I was happy to see this seminar packed with attentive brewers. Lindsay explained the importance of maintaining a strong sensory program consisting of individuals who continually sample and evaluate a brewery's products. Regardless of the many technological advantages today's brewers have, humans are still the best tool for quality analysis as we can discriminate more than one trillion (!) olfactory stimuli.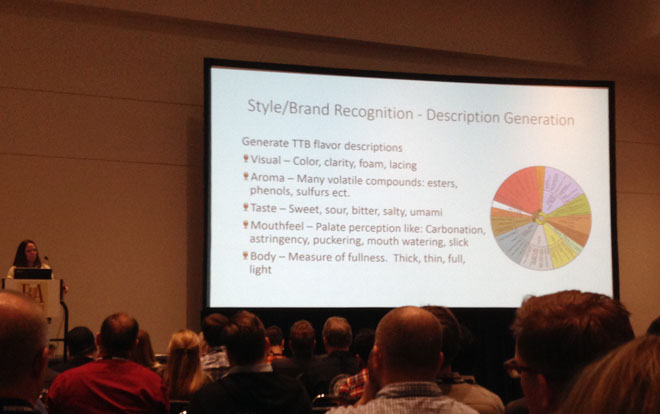 Beyond the Growler: An Analysis Packaging Options for Brewpubs with Scott Metzger from Freetail Brewing.
Cory:
After a morning of brewpub themed sessions, I was in the mood for a bit of bigger scale seminars. I was able to sit in on the Beyond the Growler session. What a great session to provide some locus-of-control on the heartbeat of the growing brewpub/microbrewery/regional shift to distribution. It was great hearing how some of these small breweries are stepping up into the can world and the 750ml artisan game right from the get-go while others are taking their time to hone their craft.
This seminar provides a detailed analysis of packaging options for brewpubs, including handbottling, mobile packaging services and small scale packaging equipment, and looks at operational/technical, marketing and legal ramifications.
Educating Your New Team: What Start-Up Sales Reps Don't Know with Scott Kerkmans
Cory:
Ready to train your first sales rep but unsure where to start? In this seminar, one of the premier distributor training consultants in the country showed how to educate and empower your fledgling sales reps with the information and the relationship building skills needed to be successful in the competitive craft beer sales world. Specific topics included beer education and certifications, and strategies for approaching distributors. This seminar provided a great deal of information about educating a sales team and distributor in order to empower them to sell a specific brewery's beer. I think this may be the biggest obstacle in the three tier system, and I believe future seminars would be appropriate to elaborate on the importance of maintaining a strong presence of loyal fans buying a brewery's beer outside of the taproom.
Aeration for Dummies – presented by Neva Parker – head of Laboratory Operations at White Labs
Phil:
Great piece on how much aeration is needed for proper yeast health. The presentation began with an anonymous audit of various breweries aeration regime, of which more than 50% were under-aerated, and a few that were hugely over-aerated. The simple addition of a flow-rate based regulator and best practices could vastly improve the yeast and fermentation health of MANY of America's craft brewers. Unfortunately, there is no replacement for the proper measurement pre-fermentation, which requires expensive equipment that may be cost-prohibitive to the microbrewer. Rules of thumb were presented, and it was one of the best, well-rounded presentations I attended during the week. It included not only theory, but practical application methods in the brewhouse.
Using Belgian Yeast: Three Belgians' Perspectives
Chris:
This seminar offered brewers an opportunity to hear experts from heavyweights such as Brasserie De la Senne, Duvel Moortgat, and Boulevard Brewing explain how they use Belgian yeast to generate interesting and unique flavors. This was a tech-heavy presentation that seemed to be the brewers' favorite.