No Comments
Ultimate 6er | 6 Reasons to Love Bale Breaker Brewing Company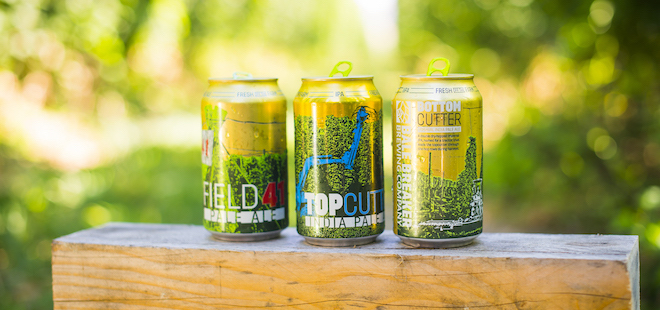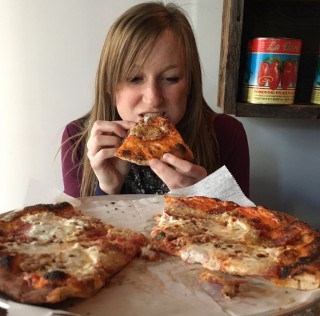 The Yakima Valley in Eastern Washington accounts for nearly 80% of the United States hop crop, and the team at Bale Breaker Brewing Company have established themselves as leaders in the Yakima Valley hop scene, both as growers and as brewers. The brewery is located amongst hop fields that were first planted in 1932, and the brewers at Bale Breaker have made a point of showcasing Yakima Valley hops in virtually every Bale Breaker brew. Though a relatively young brewery (they opened in 2013), Bale Breaker has become one of the most well-known IPA producers in Washington and is a leader in the Eastern Washington brewing scene. Today we present an Ultimate 6er dedicated the people who made Bale Breaker what it is today: 6 Reasons to Love Bale Breaker Brewing Company.
1) They're a family establishment.
ABV: 4.5% | IBU: 38
The great-grandparents of owners and siblings Meghann Quinn, Kevin Smith, and Patrick Smith began planting hops in the Yakima Valley in 1932. This year, the siblings are beginning their family's 86th consecutive hop harvest. The brewery itself is surrounded by their family's hop fields and is located specifically on Field 41 – the namesake of their flagship pale ale.
2) They celebrate women.
ABV: 6.2% | IBU: 50
Leota Mae IPA is Bale Breaker's newest year-round offering. It's named after Leota Mae Loftus, great-grandmother of Bale Breaker's owners. Leota and her husband planted the family's hop farm in 1932, and throughout the 1940s Leota was the only female hop drier in the Yakima Valley. She not only worked the farm, but raised her family, had a multitude of hobbies, and, according to the family, also made time to attend all-night parties at the local Elks club. Her work ethic and spirit has inspired the family through generations, and Leota Mae IPA is a tribute to their strong, resilient matriarch.
3) They set the bar for West Coast IPAs.
ABV: 6.8% | IBU: 70
Bale Breaker's flagship IPA, Topcutter, is a shining example of the hoppy, citrus-heavy West Coast IPA style. Local Yakima Valley hops deliver a complex, bitter punch with crisp notes of grapefruit and a dry finish. It's a staple of Washington IPAs.
4) They hit the slopes.
ABV: 7.3% | IBU: 80
Like all good Pacific Northwesterners, the team at Bale Breaker has a soft spot for their local mountain. The High Camp Winter IPA was named after the lodge at White Pass ski resort in Eastern Washington. The chocolate malts and relatively high alcohol content (7.3%) are a cozy combination for a mid-day ski break or an après-ski accompaniment.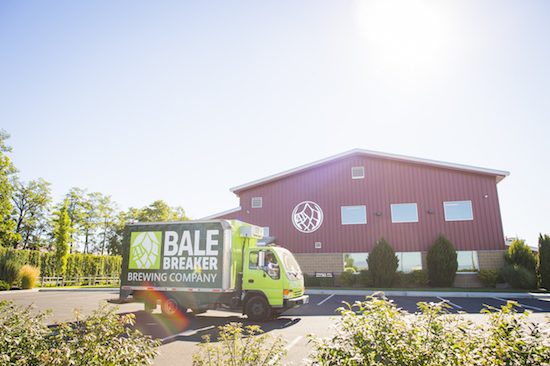 5) They're local – super local.
ABV: 8.2% | IBU: 100
The heavy-hitting Bottomcutter IPA is double dry-hopped with homegrown Yakima hops. The use of Simcoe, Citra, and Ekuanot hops is intended to hammer home an appreciation for Yakima Valley hops, and this beer delivers. It's intense up front, complex in the middle, and smooth throughout; a spot-on Imperial IPA.
6) They support their workers and their community.
ABV: 5.9% | IBU: 30
Sesiones del Migrante Mango IPA is a collaboration between Bale Breaker and four other breweries (two from California, two from Mexico) to celebrate the Mexican migrant workers who travel to the Yakima Valley to harvest hops for breweries across the globe. A portion of the proceeds from the beer and related events benefit La Casa Hogar, a non-profit in the Yakima Valley that connects and educates immigrant Latino families.
Photo Credit: Bale Breaker Brewing Company
---