No Comments
21st Amendment | Lower De Boom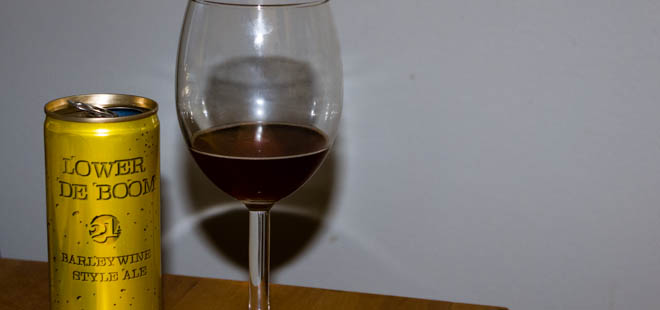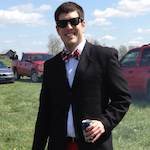 ABV: 11.5%
IBU: 92
I normally do not drink things out of small cans. The only things that come in small cans are energy drinks and pineapple juice. I was, however intrigued when I spotted a four pack of 21st Amendment's "Lower De Boom" Barleywine on an endcap. It was on sale – the deal was sealed.
First, the can. It's gold. It makes me feel fancy. Moreover, it's not just the outer diameter; the top lid is gold too. I may have to drink this one with my "pinky up." When I go to rummage through my cabinet to find a tulip glass, Io and behold, I had nothing but a long-stemmed and heavily decorated Urthel tulip – not the best for a PD photo shoot. I decided to eschew the tulip glass and go with a wine glass. After all, this is a barley wine, right?
It pours a coppery reddish-brown, with a thin ring of white head. The nose has strong notes of dark candied sugar and grapes (I know a cicerone would probably call it raisins and stone fruit, but I like my version). There's definitely some alcohol in the nose as well – this provides an effervescent quality when mixed with the sweet, sugary notes of the candied sugar. The first taste hits your mouth with a flood of sweetness – like the juice squeezed from a thousand raisins. It washes past your tongue and, upon hitting the breakwater of your tonsils, erupts with a hoppiness like so many balloons (balloons full of hops?). When the flood recedes back down the breakwater of your throat, you are left with a silky smoothness. The distinct feeling each taste bud is being individually hugged.  The body of this beer is silky smooth. Quite pleasant. I'll have another sip.
Don't be fooled, this breaker can bite like a snake. At a whopping 11.5% ABV, Lower De Boom will make you remember that it's probably better off that the pours are a little smaller when you stand up after two glasses. This beer really reminds me of an aged imperial IPA that has had its hop-forward profile blunted. However, this beer is far from blunted – a high, sharp hop note would drown out the complex, rich sweetness lurking at the back of this beer. I'd be interested to see how the hoppy back end and sweet front end fare after fighting for a couple years in my aging cellar. While aging canned beers is a hot topic, I think I'll stow one of these away and try again in a year or two.
The high ABV of this beer may provide a bite, never fear though, the best way to get back at snake after being bitten is to bite back (most snakes are allergic to human saliva). I'll bite back by cracking another one