2 Comments
Why Are Blood Orange Beers Suddenly So Popular?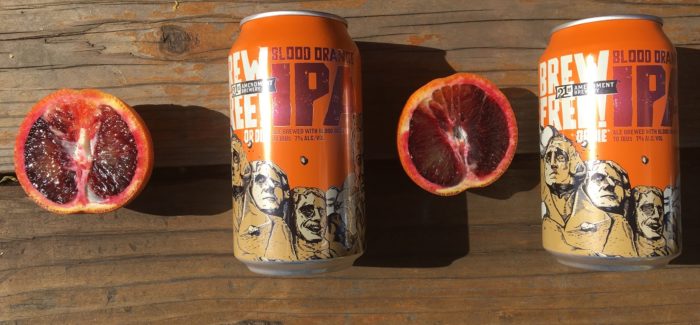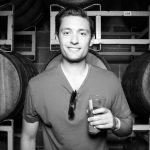 *Photo from 21st Amendment Brewery
If you read over almost any tap list these days, you're bound to find a fruity IPA or Wheat Ale sandwiched between a bevy of other tasty options. And while many breweries these days make fruit-forward beers due to their general appeal and drinkability, there seems to be one fruit being listed more and more in the ingredients list: blood orange.
Why the sudden popularity? Maybe it pairs well with the hops or maybe it's just the current craft beer crown jewel soon to be replaced. To get some clarity to my assumptions, I did what any sensible craft beer drinker would do: Ask the brewmasters. The results are interesting.
The Beer: Blood Line Blood Orange Ale, 7% ABV

Bloodline premiered at the 2013 at the Craft Brewers Conference and quickly became one of Flying Dog's best-sellers, experiencing double digit growth each year. For brewmaster Ben Clark, Bloodline's popularity can be attributed to its approachability to new craft beer drinkers who are looking for a solid hop profile: "The blood orange character compliments the citrus hop profiles so well and create a perfect balance of sweetness and bitterness."
For the larger blood orange trend as a whole, Ben looks to the hops:  "I think the rise in popularity of blood orange is reflective of the evolution of hop profiles that we've seen over the past 10 years. IPAs tended to have more earthy and pine characteristics with a lot of upfront bitterness, but newer varieties like Citra and Galaxy (both of which are used in Bloodline) have more citrus fruit character."
---
The Beer: The Walking Dead Blood Orange IPA, 7.7% ABV

For Athens, GA-based Terrapin Beer Co., the focus of their blood orange IPA is as much about fandom as it is about flavor. Launched back in 2015, The Walking Dead Blood Orange IPA was made in partnership with Skybound Entertainment and the uber-popular zombie drama series, The Walking Dead. And while the beer doesn't include any brrrrrains, the feedback from both craft beer fans and comic book lovers has been very positive – according to Terrapin Beer Co Marketing Lead Leah Kuck.
To Leah, the popularity of blood orange is indicative of the larger trend towards fruity beers and less because of the individual flavor. "We've seen a lot of fruit forward beers over the past 4 years, and have seen success with our Luau Krunkles that is a Passionfruit Orange Guava IPA" as well.
---
The Beer: Blood Orange Traitor IPA, 7% ABV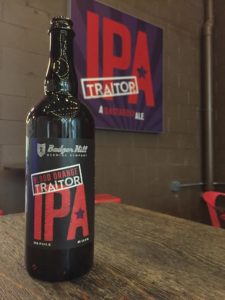 The blood orange variety of Badger Hill's popular Traitor IPA first debuted in 2016 at the All Pints North beer festival. Similar to what Ballast Point did with it's now legendary Grapefruit Sculpin, Blood Orange Traitor IPA is a simple combination of Traitor IPA infused with blood orange flavor. I've had this beer before, and it is really, really good as it does exactly what a fruit-forward IPA should do: deliver a combo of refreshing fruit and juicy hops throughout.
Since its debut last year, Badger Hill continues to make small batches of the Blood Orange Traitor in their taproom throughout the season due to its popularity, which craft beer fans across Minnesota feverishly drink up whenever it's available. As for the larger beer trend, Badger Hill attributes the blood orange craze to its ability to "compliment so many hop flavors."
---
The Beer: Blood Orange Belgian Wit, 5.1% ABV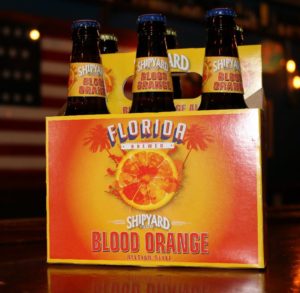 Shipyard Brewing's blood orange-infused Belgian Wit was born out of convenience. To the brewers at their Florida brewery, it only made sense to incorporate Florida oranges into a beer, which launched in 2015. The final combination is equal parts "tart blood orange and sweet Florida orange peel" that creates a light, tart beer that pairs well with sand and beach chairs.
For Shipyard brewmaster Bobby Brown, the shift towards orange is due to consumers' continual quest to try the latest and greatest – with fruit-focused beers being the cup of choice this year. That said, Bobby thinks the blood orange trend might fall by the wayside and actually plans to discontinue the blood orange wit next year and replace it with a "new exciting recipe" that is sure to tempt craft beer lovers taste buds.
---
The Beer: Blood Orange Brew Free! or Die IPA, 7% ABV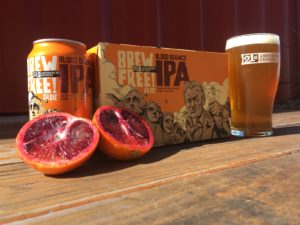 Fruit forward beers across the board have been a very popular seller for 21st Amendment. After the breakaway success of Hell or High Watermelon Wheat Beer, brewmaster Shaun O'Sullivan decided to go the blood orange route with Brew Free! Or Die, which began selling earlier this year. Ever since Shaun first introduced Brew Free! Or Die to the beer festival circuit, there has been a palpable buzz from patrons who can't get enough of the citrusy combo of hops and orange that Shaun perfected: "We've had a good time getting this beer right and capturing the citrus and tart notes of blood orange in flavor and aroma. It's quite remarkable."
As far as the trend, Shaun echoes other brewmasters in saying that the combination of hops and savory citrus just makes sense: "I think when you use a fruit like blood orange with its citrus and tart notes it compliments and enhances the hop flavors and aromas in IPAs that share similar characteristics."
What's next for IPAs? Tongue-in-cheek, Shaun goes as far as to mention that chocolate peanut butter IPAs could be on the horizon – just kidding…but with the way IPAs are evolving, never say never.
---