No Comments
Brewery Showcase | Weyerbacher Brewing Company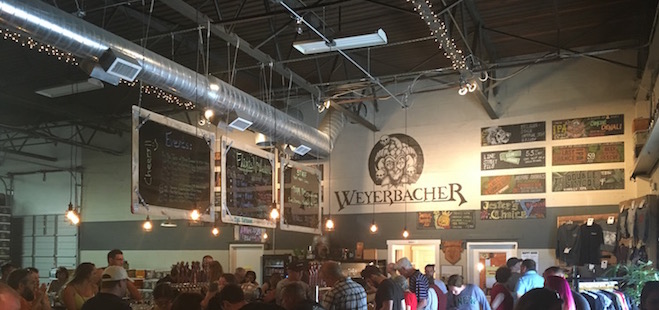 Beneath the gaze of the iconic court jester, you'll find a set of glass doors, which bear the number "21." That's 21 years of defying expectations. 252 months of eschewing style guidelines. 7,665 days (give or take a few leap days) of perfecting their craft.
Dan Weirback started a brewing company in a livery stable in Easton, Penn., in 1995. By 1997, after brewing a raspberry imperial stout, Weyerbacher Brewing Company had found its calling: crafting big, bold, high-quality brews.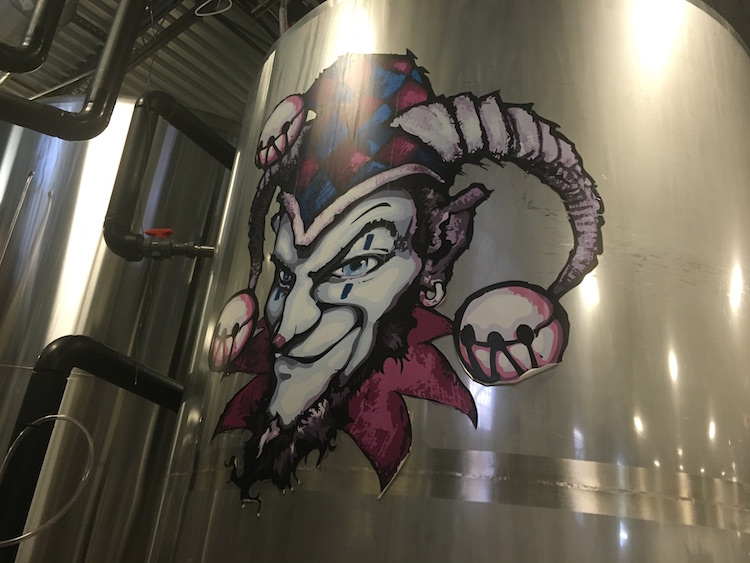 When Weyerbacher brewed an English-style barleywine, they really began to turn heads. This big, complex beer was unlike anything that was previously available in eastern Pennsylvania at the time, and its name gave an apt description of anyone who underestimated its 11.1% ABV: Blithering Idiot. Weyerbacher didn't stop there. They started tackling Belgian-style ales, brewing a tripel, which would go on to become a year-round favorite and World Beer Cup bronze medalist, Merry Monks, and a quadruple that would become the popular limited offering, QUAD.
Outgrowing their livery stable, Weyerbacher moved into a former carpet factory on the edge of Easton, PA. The smooth, flat concrete floors and poor drainage didn't make for ideal brewing conditions, but Weyerbacher's brewers made the best of it. The later expansion of their cellar included gently sloped floors and drains, but they still do their brewing in that original drain-less room, albeit on a brand new 40bbl brewhouse.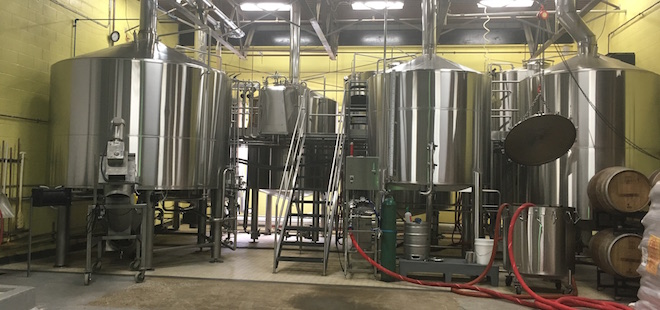 Weyerbacher believes that great ingredients become great beer. The water is municipal water from the city of Easton, which the brewery then runs through a charcoal filter. Since most of Weyerbacher's beers are based on European styles, they bring in most of their malt from England, Germany and Belgium, allowing them to recreate those styles more accurately. All of the hops come from the good ole' U.S. of A. Celebrity chef and traveler Anthony Bourdain once said of Italian cooking, "The pure desire to take great ingredients and try very, very hard not to screw them up." I believe this philosophy holds true at Weyerbacher.
At the front of the house is the Weyerbacher Tap Room, which is a tasting room and gift shop all rolled into one. There are pre-planned flights, but you can also make your own or just enjoy a full pint. The bartenders (many of who double as tour guides) all know their products inside and out. They take the time to answer your questions and will even blend different beers together to create amazing concoctions.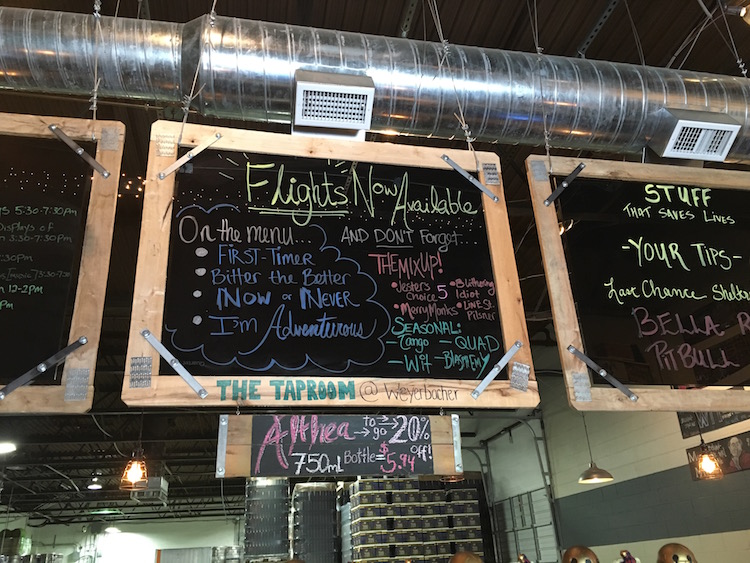 Since so many of Weyerbacher's brews are big, complex beers, barrel aging was a natural path for them to take. Insanity (Blithering Idiot aged in whiskey barrels), Sunday Morning Stout (imperial stout aged in bourbon barrels) and Blasphemy (QUAD aged in bourbon barrels) are just a few of the amazing barrel-aged options. These beers all smooth out really nicely in the barrels and pick up layers of oak and vanilla flavors from the wood.
A huge amount of importance is placed upon experimentation at Weyerbacher. There are several beer series in place, which allow brewers to get those creative juices flowing. The IPA series creates four new small-batch IPAs (two double IPAs and two "single" IPAs) each year, which are packaged in 12oz bottles and sold as drafts in the tap room. Brünicorn is a series that truly lets brewers exercise their creative muscles, creating beers with fruits, new yeast strains, or anything else they can come up with. Last is the Jester's Choice series that deals with experimentation with traditional styles, such as märzens, hefeweizens, pilsners and pale ales. If this brewery ever settled for the status quo, I think you would find it closed down and shuttered the next day.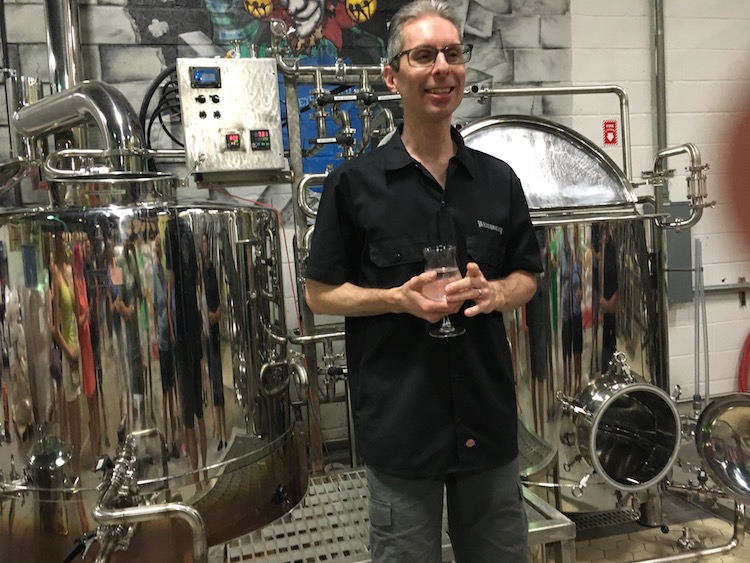 Aside from the pride they take in their brews, Weyerbacher Brewing Company also takes pride in giving back to the community. A portion of the proceeds from Last Chance IPA are donated to small animal shelters within their distribution area, and every bottle sold of their Belgian Dubbel Althea means a dollar donation to the Lehigh Valley Health Network's Pink Ribbon Fund (a total of $13,385 in 2015) to help women with breast cancer with travel costs, child care, prostheses and more. In addition to championing those fine causes, they also participate in Ales for ALS.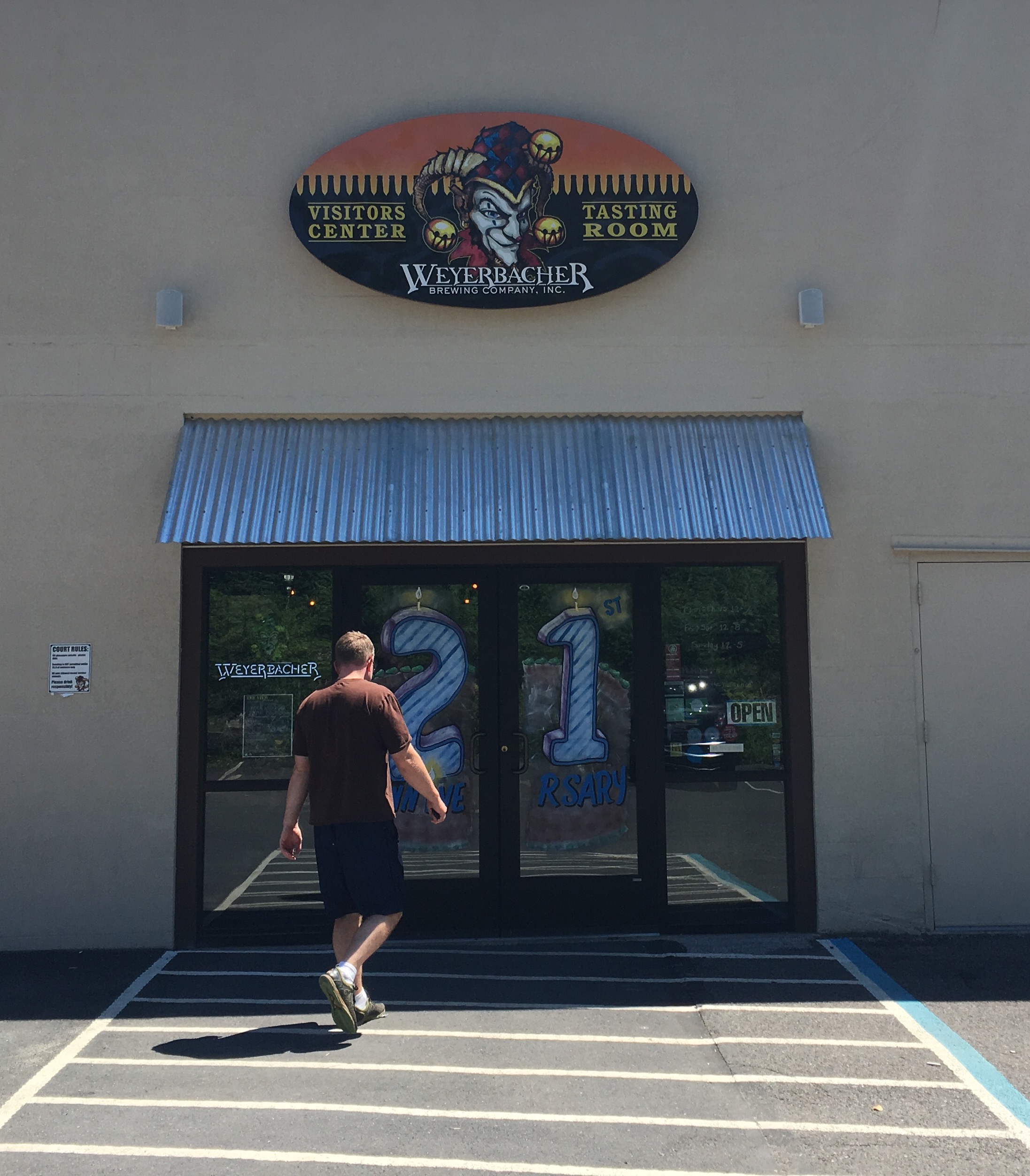 The tap room at Weyerbacher Brewing Company opens daily at noon, but a weekend visit may be in your best interest. The room may be a little full, but it's worth braving the crowd to take the tour. Tours are well led and, best of all, free.
Weekends also offer fun events such as Pints and Poses (yoga in the brewery), food trucks, live music and art exhibitions. If you're a beer nerd who lives in (or travels through) eastern Pennsylvania, you should definitely make a stop at Weyerbacher.
If you are unable to visit the brewery, Weyerbacher distributes to most of the Eastern Seaboard and to the Great Lakes region, so keep your eyes peeled if you live in those areas. You might just find something special to lay down to age in your cellar.
Location and Hours
905 Line St., Easton, PA 18042
Monday through Thursday: Noon – 7 p.m.
Friday & Saturday: Noon – 8 p.m.
Sunday: Noon – 5 p.m.
Tours
Friday: 6 p.m.
Saturday: 1 p.m., 3 p.m., 5 p.m.
Sunday: 1:30 p.m. and 3:30 p.m.
---