No Comments
Atlanta's Orpheus Brewing | How a Fantasy Brewery Became a Reality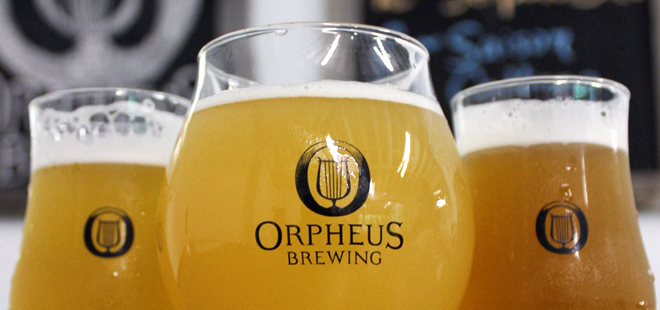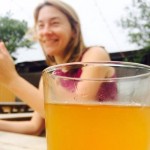 Success in life is a combination of timing, who you know and luck. Jason Pellett and Orpheus Brewing are living proof of how good things happen when all three of those come together.
Orpheus is one of Atlanta's newest breweries, opening its doors on a humid and rainy Memorial Day 2014. The brewery is in a prime spot, with double-decker porches overlooking the very north end of the city's Piedmont Park.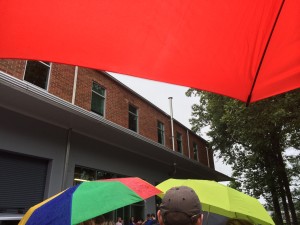 But don't come to Orpheus expecting the typical lineup of pales, IPAs and a stout. When Orpheus opened its doors Memorial Day weekend, it opened with gusto: Saisons. Sours. Farmhouse IPAs.
Pellett, a former professional trumpet player, says he never planned on opening a brewery.
"I brewed for the first time ten years ago or so, and I tried to do a Hobgoblin clone," Pellett says. "I brewed one batch. I helped someone else brew another batch, and then I was like 'I don't have money for this.' So I put it away for many years."

But visiting beer bars and local breweries remained a hobby for him and his fiancee.
"We got to know the owners of The Porter Beer Bar, Nick [Rutherford] and Molly [Gunn]," he says. "Nick and I would just sit there and talk about beer and all the beers I wanted to drink but no one was making."
All the beer talk triggered the urge to brew, so Pellett started again. Opening his own brewery remained a mere fantasy — one of those ideas that breezes into your mind, that you dismiss as quickly as it comes.
Meanwhile, in New York, Andrew Lorber, a former classmate of Porter owner Molly Gunn, was looking to get out of hedge funds and invest in craft breweries. At the same time in Atlanta, Will Arnold, also a friend and former classmate of Gunn's, was bitten by the entrepreneur bug.
Lorber was looking for an investment. He wasn't interested in Orpheus at first, since Pellett didn't have a business plan and still thought of having his own brewery as a "fantasy." But when Gunn told him about Lorber, Pellett figured he might as well draw up a business plan, which he passed along to Gunn, along with some beers to share.
"He had my beers. Then he met with breweries he was actually interested in, and then he called me right after that. He liked the beer."
Pellett and Lorber were on the same page, and shortly after that, Gunn would introduce Arnold into the picture. Together, the three became partners, and Orpheus Brewing took a step from dream world to reality.
Orpheus: Behind the Name
With a name like Orpheus, and a line up of beers including Calliope, Lyric Ale and Aristaeus, you'd assume one of the founders is a Greek mythology buff. But the name actually comes from Pellett's first life as a trumpet player, when the jazz standard "Black Orpheus" rolled around in his head.
"Every time I played that song or saw the name written somewhere, I thought about how awesome that name was. And I finally looked it up and thought, 'That's a great story.'"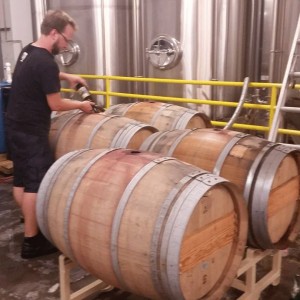 According to Greek mythology, Orpheus was a great poet and lyric who could charm anyone with his song. His music was so powerful, it convinced Hedes to let the musician's wife, Eurydice, out of the underworld, under the condition Orpheus not look behind him as she emerged.
But the musician couldn't resist, and he glanced back to see her step out of the underworld, breaking his deal with Hedes, which resulted in the death of both Eurydice and Orpheus.
The story ends sadly, but the message "Don't look back" has become a powerful one for Pellet and his partners, who are only looking forward. The next project coming out of the midtown brewhouse will be barrel-aged beers. Nearly two dozen barrels, from dark rum to Cabernet to Sauternes, are lined up in the back of the brewery waiting to be Pellett's latest playground in this fantasy-come-true brewery.

Orpheus Brewing Tasting Room Hours
Thursdays & Fridays: 6 p.m. – 9 p.m.
Saturdays & Sundays: 2 p.m. – 5 p.m.
Comedy Night with Anthony Todaro [first Wednesday of every month]: 7:30 p.m. – 10:30 p.m.
---